Arts in Lockdown #22: Bi-Racial Arts Champion Entrepreneur & Mom Ashley Woods Hollister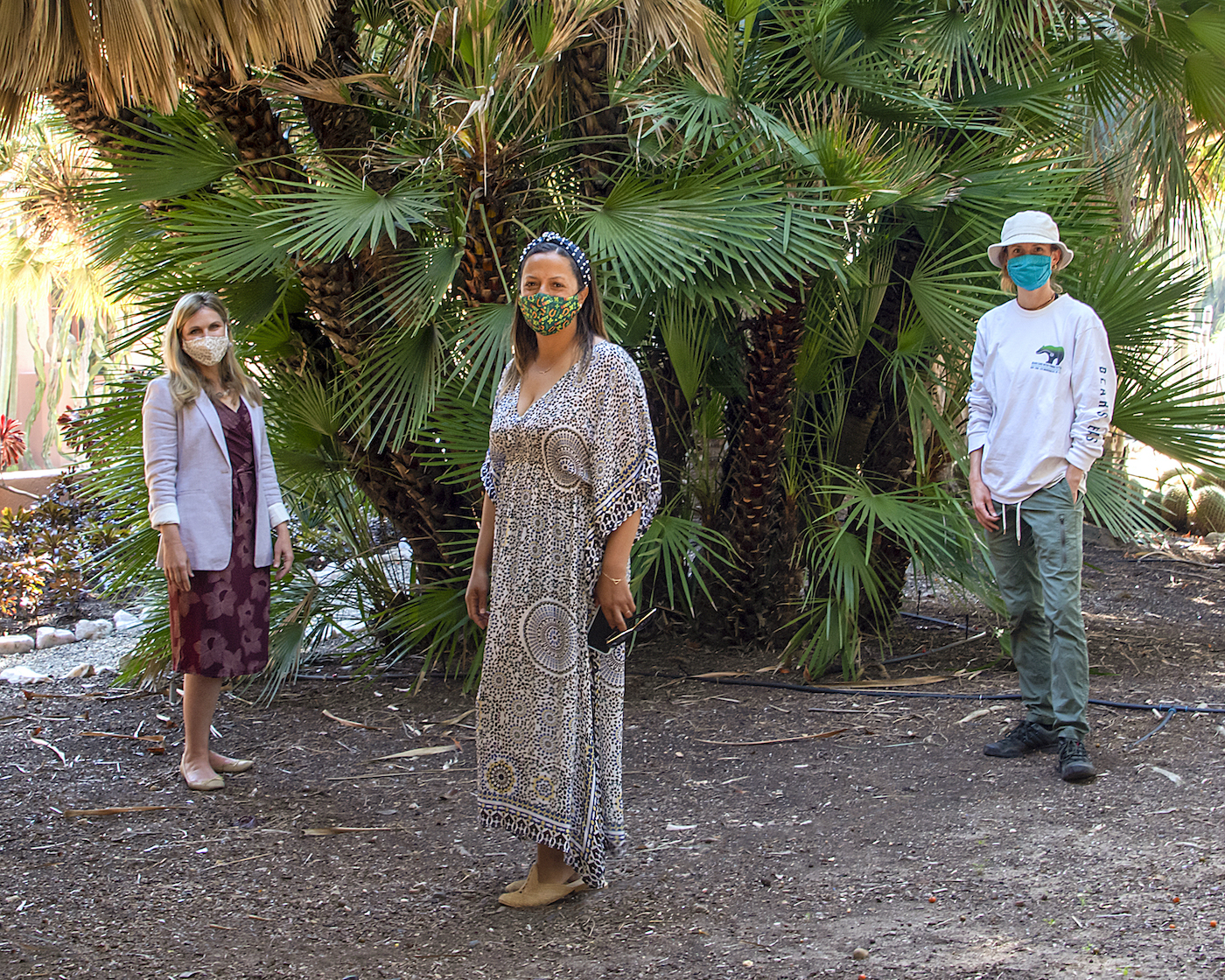 The multi-faceted bi-racial Ashley Woods Hollister is an arts champion and curator, and supporter of the Santa Barbara nonprofit community. She's served on the boards of Explore Ecology, on the Santa Barbara Mental Wellness Center since 2007, and just joined the board of the Foundation for Climate Change Action. She is the co-founder of T.W. Hollister & Co. with her husband, Kyle; is the co-curator of "Sanctuary," Lotusland's 2021 spring art exhibition; and is the mother of two young children who have been at home with her since the pandemic hit.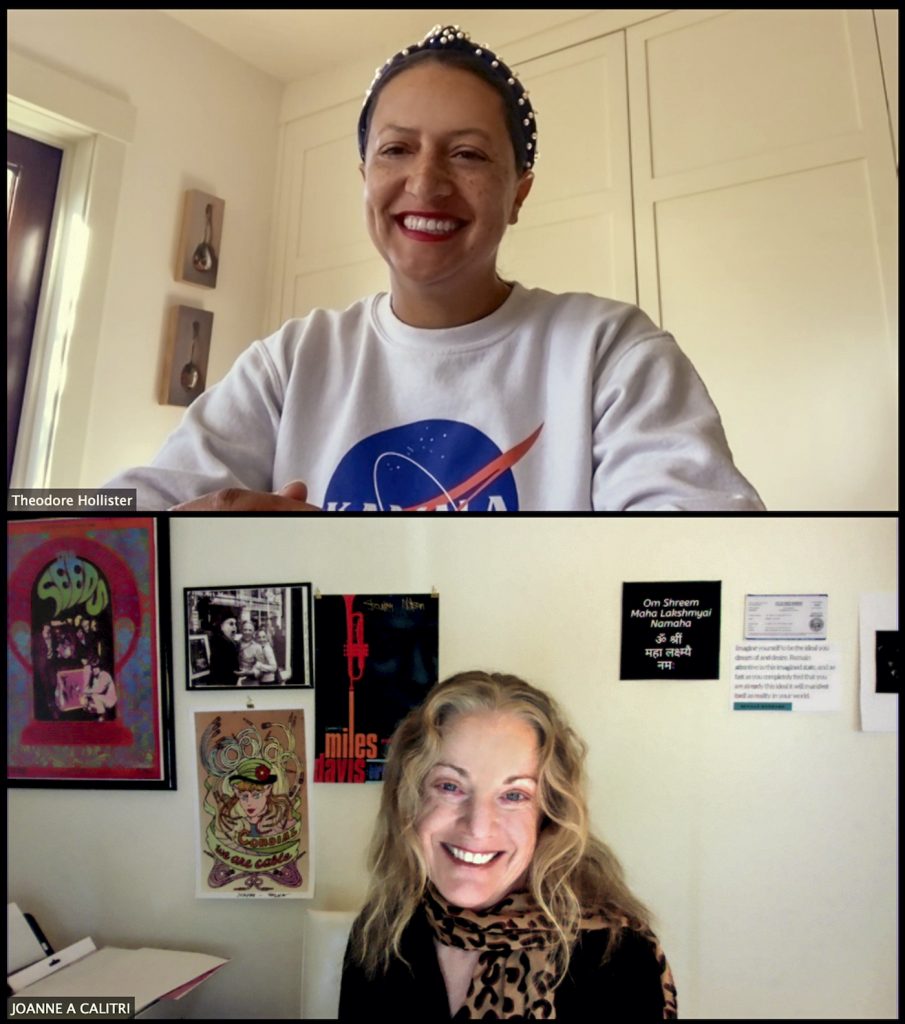 In 2020, Ashley was a recipient of the prestigious Arts Champion 2020 Award from the Californians for the Arts Organization, which honored her innovative programming as the Executive Director of The Squire Foundation Santa Barbara for twelve years. She worked with founder Morris B. Squire to form the charity arts foundation as his legacy to promote entrepreneurship for the public good in education and the arts. The foundation does this through its four main programs: Artist in Residence; Community Artist; Public Outreach; and the Lending Library. Ashley was also on the curator team for "Visions in Light: Windows on the Wallis" in November 2020, which was a free COVID-safe drive-by public art exhibit in Beverly Hills.
She holds a Master of Fine Art degree from Sotheby's Institute of Art 19th and 20th Century Fine and Avant Garde Art; a Bachelor of Art degree from Pitzer College; and is a graduate of Cate School Carpinteria. She received a J.P Getty Trust Foundation Research Librarian Grantee Award during her studies at Pitzer College. Ashley was born in Westport, Connecticut and grew up in Malibu.
How does she do it? I followed Ashley for half a day, photo-documenting a typical morning in her life for this story, socially distanced and masked. I also conducted a Zoom interview with her as she transitioned from mom-time with her youngest child to taking calls from clients. Here we go:
Q. Do the arts influence the human condition?
A. Art fosters understanding between communities. Being a bi-racial woman in 1980s Connecticut, I was surrounded by gender, racial, and economic inequalities that my family's circumstances and position in society were fortunate enough to be able to shield me from at home and in our intimate circle. But in the world around me I saw how some people were considered 'the help' or being in a service position just because of their race. I saw how women were valued more for who they had a wet lunch with and what they were wearing rather than how they contributed to society. As we've grappled with inequalities over the course of history, art has been used as a tool to create stronger communities and pathways of empathy and connection where there's been division. Art allows us to not just understand ourselves, but to understand each other on a deeper level.
We have about 30 fantastic artists who have been lucky enough to use the gardens at Lotusland to create while they're in lockdown.
Is art a plus for you?
My mother was close friends with Lori and Ira Young when I was growing up in Malibu. The Youngs were business partners with Eli Broad on several projects and had a fantastic art collection as does he and his wife, Edythe. During the 1993 Malibu fires, I remember helping my parents drive artworks from the Young's Malibu beach house to our hotel in Santa Monica, where we escaped the fire. We took the art pieces to help them avoid possible damage. That night, I slept in a bed surrounded by Willem de Kooning works and Robert Rauschenberg paintings. The next week, as we waited news about our homes, I lost myself in the magical worlds to which the art transported me.
I learned then to rely on the arts to help me get through difficult times. Art reminded me that I was not alone. Through art, I began to feel a shared human experience. Through art then and now, I've found deep emotions that have led me to process experiences, find connections, and create positive impact in my life. My mom always tells her friends that I found my love of the art world in that experience of living intimately with the Young's art pieces. But I think I simply found a universal language to embrace.
How do you stay creative and inspired?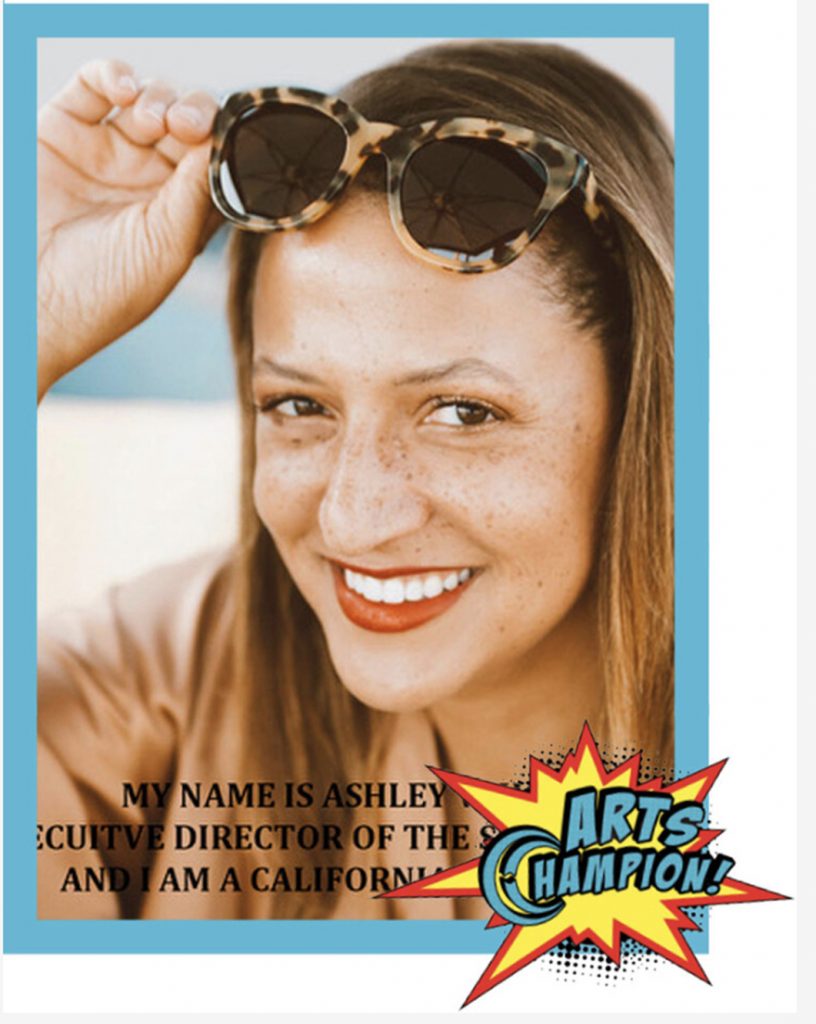 Growing up, I was very close with both my grandmothers. My Granny would send me wonderful books that taught me the love of the English language and how it can translate the beauty that we see. My Grandma Gerry loved to take me to the Metropolitan Art Museum's Costume Institute shows every spring, we would window shop for hours in New York City and in New Canaan, Connecticut. My passions for English and art were seeded by them; they taught me to view creativity and the beauty it inspires as essential to life as breathing.
Art signals how people should interact and behave within a space, a surrounding, even within a feeling. Art can mimic or critique social cues that help us understand how we fit into space; it also makes statements about what a community values.
I thought it was interesting how creatively the insurrectionists adorned themselves during the January 6 siege in Washington, D.C.
Public art can be used in a crisis to express ourselves and/or to benefit our general well-being, such as when artists create public work featuring masks that reflect our current experiences. In November 2020, I was honored to be a part of the curatorial advising committee for a COVID-friendly, nightly drive-by public video art project for the City of Beverly Hills, directed by Torie Zalben and Liana Weston of TZ Projects Los Angeles with the Wallis Annenberg Center. The overarching themes of the show were the power of humanity and the celebration of culture and diversity. I nominated Santa Barbara artists Manjari Sharma and Tom Pazderka, who were included in the exhibition.
How do you manage your schedule?
I vividly remember when my son was three and my daughter was just born how work was intensely busy. I was gearing up to work with disenfranchised art communities and the charity event circuit was at full speed. It's mind-boggling to think about the chaos of those days that seem so far away right now. The early morning wakeups, the feedings, the workouts, the rush to preschool, to meetings, to home and dinner, then back out for an event packed an average week. I can't think about being around that many different people every day, especially with no real public health measures in place. Today the support system is different; as a society we're adjusting to a global pandemic. It's tough to work and raise children, let alone to add the role of teacher on top of everything else.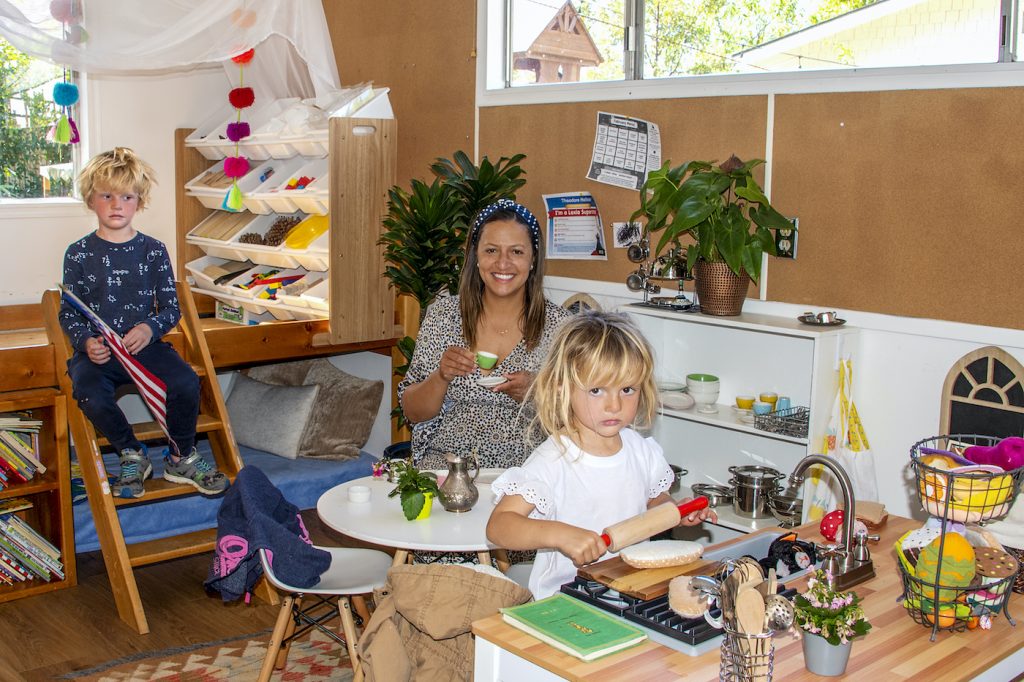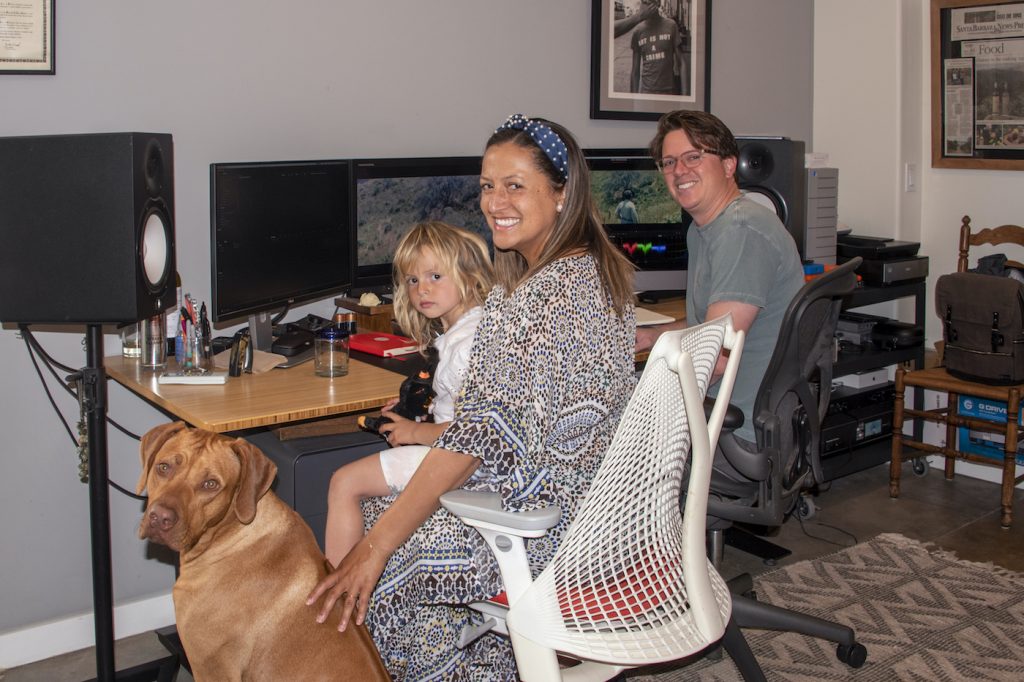 It's only by communication and with support that I've been able to manage and stay productive. I encourage everyone to start listening to those around them because we are in this together. That is the mindset that will get us through this period. I've enjoyed talking openly with women about what they do to get through, to be supported by them, and to support others, too. I have a walking circle, be it in my neighborhood, at the beaches or mountains, walking alone, distantly with friends, or with my children and my husband. These things have allowed me to get through, and to help others get through, the day.
What's next for you?
Living in a pandemic, I plan about a season out, so this spring I am the curator of a multimedia art event at Lotusland titled "Sanctuary." It features art that demonstrates the majesty of that botanical nirvana and the talent of California artists. The Sanctuary Art Sale & Gallery Exhibition will showcase an exclusive group of talented artists selected and invited by myself and co-curator Casey Turpin to create work inspired by Lotusland. The works will be exhibited by the generous donation of gallerist Ruth Ellen Hoag at GRAYSPACE Gallery this year from April 22 to May 3 and will concurrently be featured in an online art sale. We have about 30 fantastic artists who have been lucky enough to use the gardens at Lotusland to create while they're in lockdown. I couldn't be more excited about how they translate the garden as gems for us to have to create a vortex of wonder, awe, and peace in our homes as we feel so viscerally at Lotusland.
What is your dream career path?
I'm still manifesting that, but currently, I'm looking forward to doing an art residency review for a seasonal snapshot of Ojai called "The Vortex," from my friend Julia Weissman, on the new program at Taft Gardens & Nature Preserve.
What are your views on diversity, equity, and inclusion in the arts?
I was fortunate to enter the art world via the Getty Museum's program that aimed to encourage more diversity in professions related to museums and the visual arts. The Getty Marrow Undergraduate Internship program in Los Angeles supports substantive, full-time summer work opportunities for college undergraduates who come from backgrounds that have traditionally been underrepresented. Since the program began in 1993, 161 local arts institutions, including the Getty, have hosted over 3,200 interns, exposing students to career possibilities in the arts. I've remained an active alumna supporter of the program that set me on the path of devotion to equity in the arts.
For your generation, what does the world look like now?
In a word, "unsettling." I graduated from college in 2007 at the start of the worldwide financial crisis. Now, a little over 10 years later, we have a global pandemic. I believe that great opportunity comes with great change so this time is fantastic and scary all at once. The division between Main Street and Wall Street has never felt bigger. People are making massive wins in stock trades while others are feeling underpaid in their hourly work. I'm not sure how this will play out, but it's definitely going to be a big issue for our generation.
What would you want to change?
I'd like to see equality for men and women. Equality for all races and genders.
Do you have advice for professional artists, museum workers, and curators?
The art world has shown what it's capable of during the past year. In its response to COVID-19, it's proven itself to be resourceful. I'd like to see art continue to innovate in the face of adversity, and (to tap) the immense creativity bursting from within it. We've needed other platforms, modes of access and transparency. Hopefully, 2021 will build more portals – technological and otherwise – for all of us to see more art more truly.
411: https://twhollister.co
Instagram @twhollisterco
You might also be interested in...