The Story Behind the Fountain on Sycamore Canyon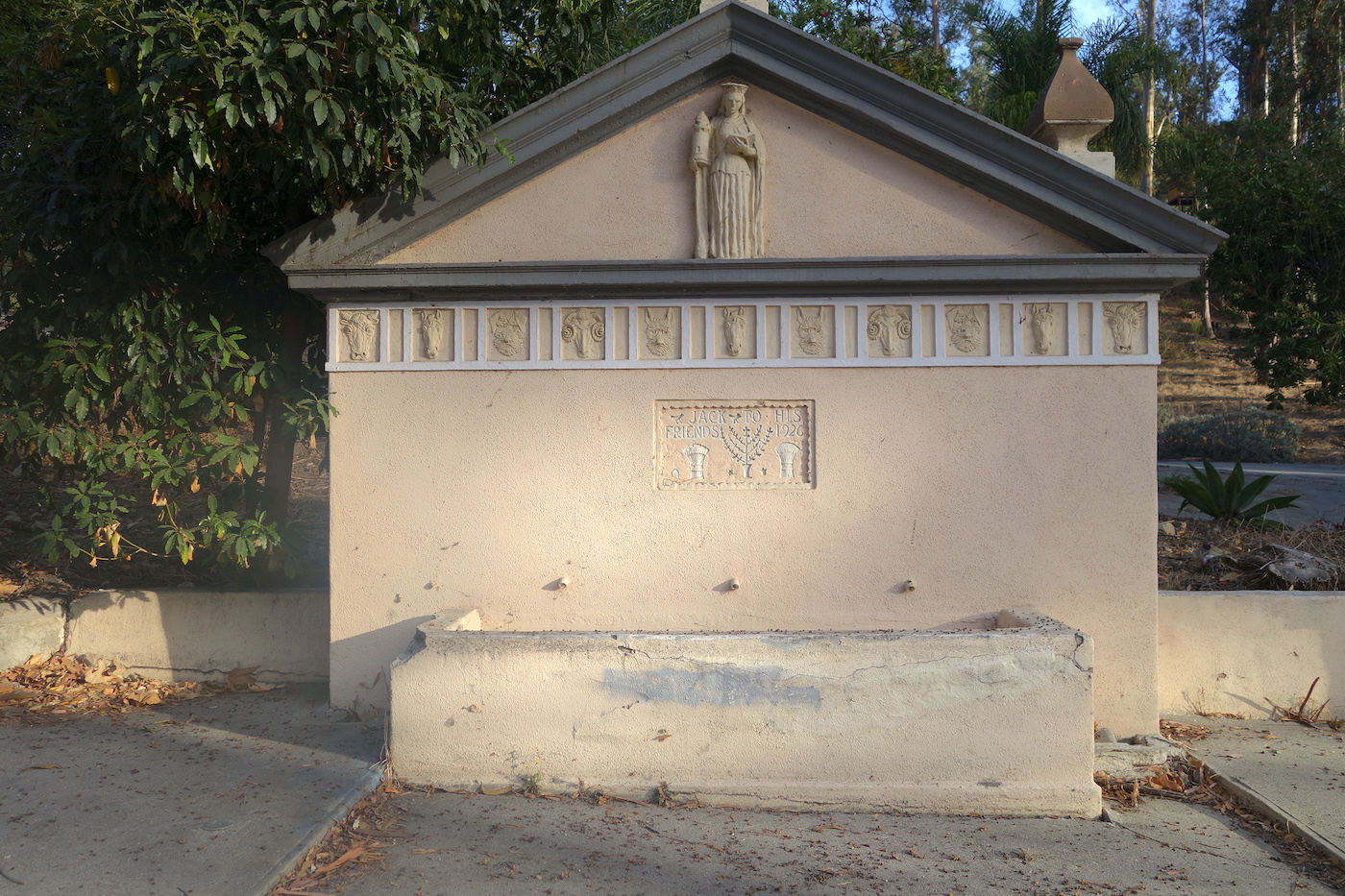 At the intersection of Stanwood  Drive and Sycamore Canyon Road, a memorial fountain approaches its 100th year. Known as Jack's Trough or Courtney Fountain, it was designed in 1925 by Lutah Maria Riggs of the George Washington Smith architectural firm for thrice-married Marguerite Doe.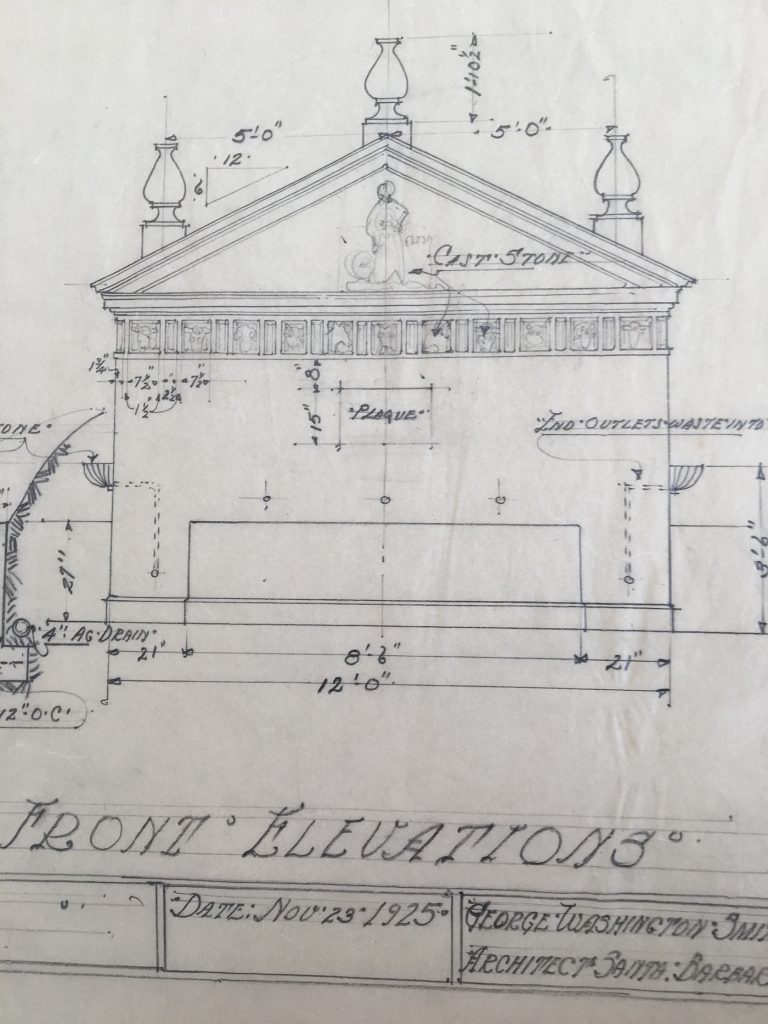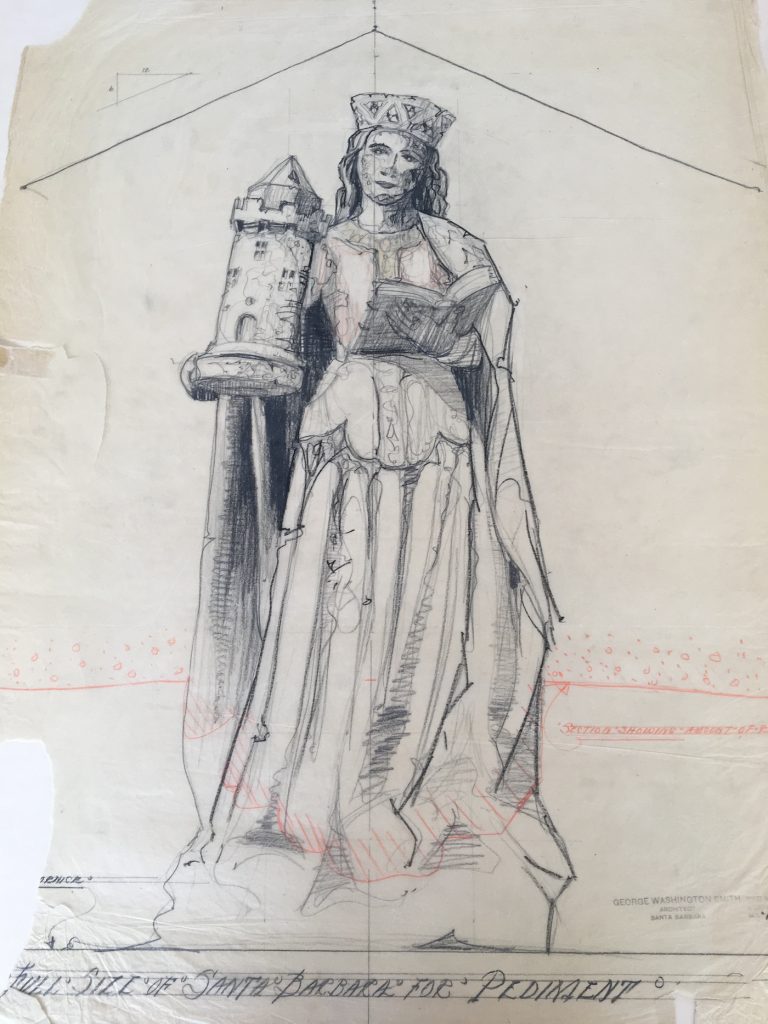 Known as the "Million Dollar Heiress" in her hometown of San Francisco, Marguerite moved to Santa Barbara in 1911 when she was 21 years old. She built a grand home designed by Russell Ray on property between today's Lotusland and El Mirador and became an indefatigable socialite who entertained and was entertained with a dizzying array of parties and events.
Peggy, as she was known to her friends, was also an avid horsewoman and animal advocate. During her lifetime she funded dozens of animal hospitals and shelters throughout the world. She even recruited her friends to work at a thrift shop to benefit animals. It was located on Anacapa Street near Anapamu. She engaged George Washington Smith's office to design three animal hospitals in California. 
Upon her death in 1970, per her instructions, the Marguerite Doe Foundation was established. Its purpose was to benefit projects that assisted animals through shelters, ambulances, spaying programs, hospitals, and more.
Completed in 1926, "Jack's Trough," a memorial to her favorite saddle horse, was a gift to the horses and riders and other animals of the area, a reliable watering hole at which to quench their thirst. Two ground level basins flank the trough to accommodate smaller animals. Saint Barbara graces the classical pediment, and cast stone heads of dogs, horses, cattle, and sheep are inlaid into the frieze. The plaque includes images of oats, a tree of life, stars, birds, and a hoof print. It says, "Jack, to his friends, 1926."
In 1983, the fountain, which stands on private land, was designated a Santa Barbara City Historic Landmark. The venerable fountain, however, shows its age despite a superficial makeover circa 2017 that painted the walls a subtle pinkish orange color, the cornice brown, and the framing for the frieze white. Nevertheless, structural repairs were not completed. Its waters have not run for a long time because there were problems with vandalism, and the fountain had continually overflowed, creating several additional problems.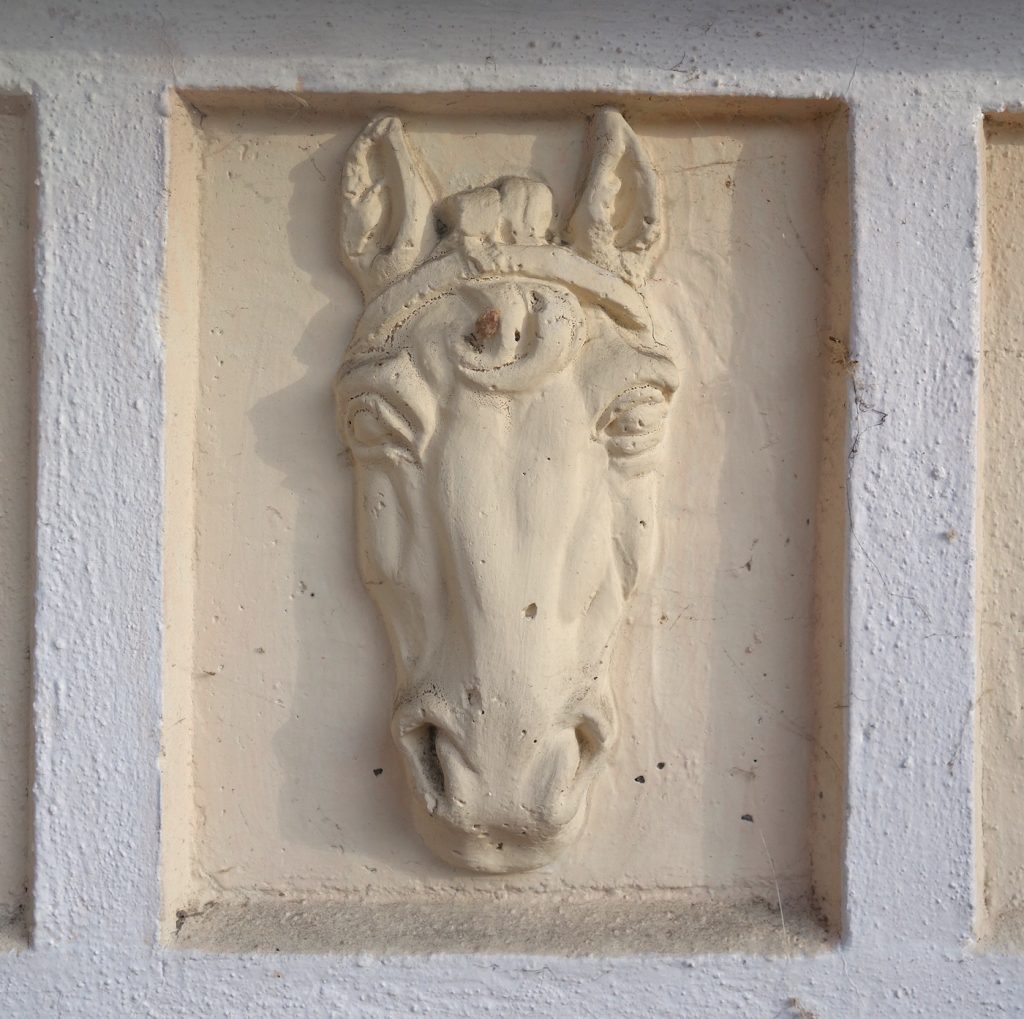 Currently, the City of Santa Barbara is engaged in a project to repair and restore the Courtney Fountain (so named because Marguerite was married to Geoffrey Stuart Courtney at the time). Using the approved National Park Service historic preservation guidelines, the City will repair the rock wall, weld the railings to their original configuration, repair cracks and paint the entire fountain a subtle shade of white, to return it to the original look of a marble Greek temple.
It is not known if the fountain will be put back into working order. The City Memorandum on the topic quotes Ruth Days, who grew up on Mountain Drive in 1950s and 60s when many Montecito kids still rode their horses to school, and bridle paths were common. There was once a path along Sycamore Canyon, and Days recalls that they'd ride their horses to Jack's Trough, and would sit there and relax while the horses watered up. Wider roads, asphalt, and increased traffic make it unlikely that horses will return to drink from the fountain, but the charming landmark is a reminder of the way it once was in Montecito. 
(Sources: San Francisco Call and Morning Press articles of the time; City of Santa Barbara Planning Division Memorandum of May 1, 2019 and staff report; Elane Griscom's "The Remarkable Peggy Ravenscroft," Santa Barbara Magazine, Spring 1990.)
You might also be interested in...