Fiesta del Museo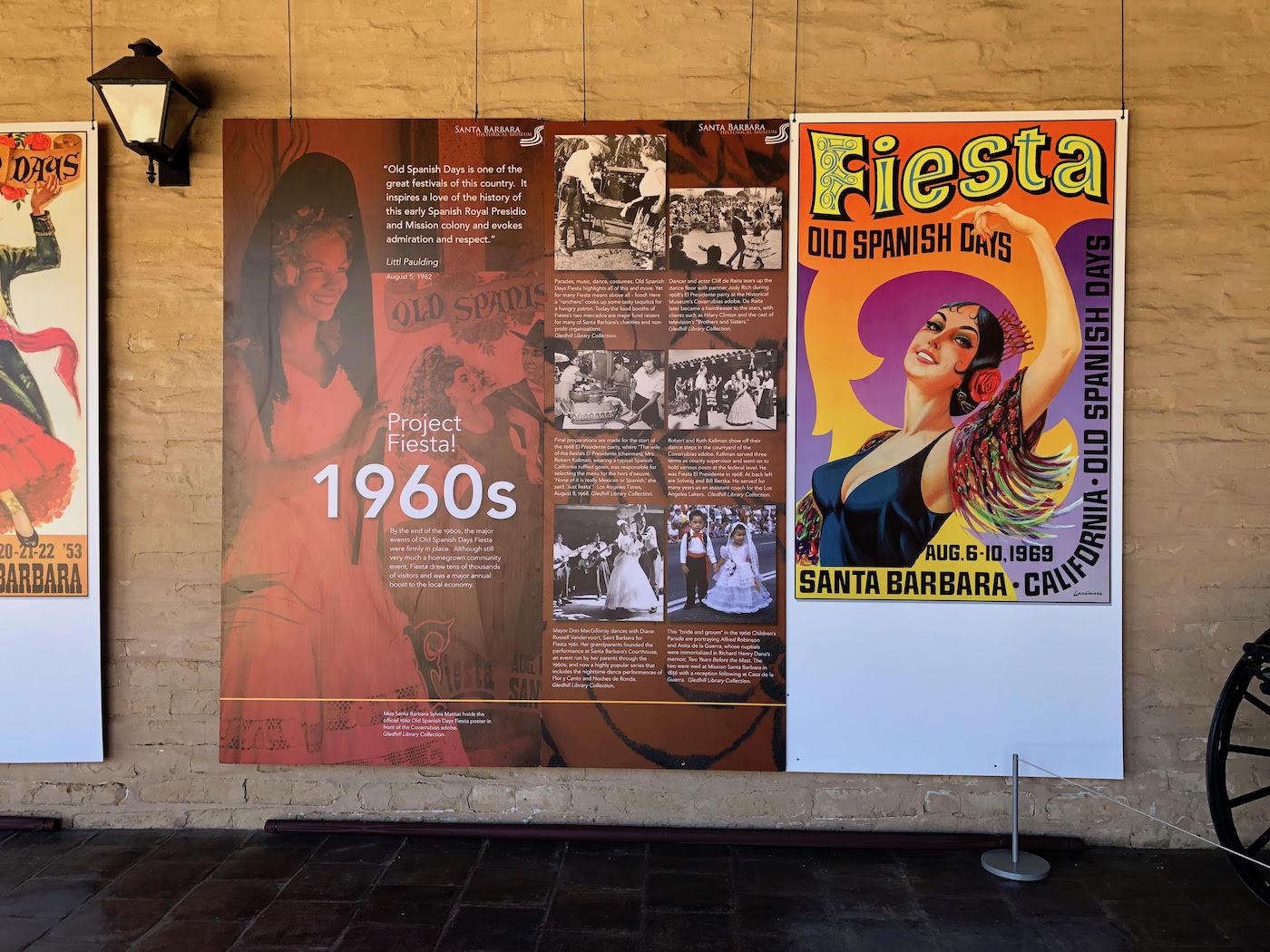 Though the beautiful and elegant Fiesta del Museo is cancelled this year, Project Fiesta: A History of Old Spanish Days is not. And what better place to see the latest exhibition than outdoors in the spacious and beautiful courtyard of the Santa Barbara Historical Museum, where fresh air and social distancing create an idyllic environment?
In addition to panels highlighting five decades of Fiesta, two new exhibitions are on display in the arcade. One comes from the postcard collection of John Fritsche, an avid local historian and collector who donated dozens of albums to the museum because he wanted people to enjoy the thousands of images he'd collected, archived and preserved. Eclectic in nature, the albums include a section filled with Fiesta postcards that span the decades.
Several panels display selections of these images and a streaming video of additional postcards plays nearby. Sometimes what's written on the cards is as interesting as the pictures. For the photo of a carreta carrying six costumed revelers and drawn by two long-horn oxen, the witty self-styled auto salesman wrote, "8 cylinder motors – streamlined body – disc wheels. Excepting for 4-wheel brakes, this speedwagon embodies the very latest specifications."
A postcard from 1936 shows a large crowd of spectators in front of the post office. This building was remodeled to become today's Museum of Art, which is in the midst of another remodel today. On the back of one card, a visitor wrote that in late summer Santa Barbara always has "…a wonderful parade. Wealthy people have so many fine horses on their big ranches and they like to ride horseback. So much silver on their bridles and saddles… Cindy."
One of those saddles is on display as well; its hand-tooled leather, silver medallions and turquoise embellishments are a fine example of Fiesta equestrian finery. The Oreña family carriage from 1885 is also on view. Gaspar Eugenio Oreña had married into the historic De la Guerra family. The carriage was passed down through their descendants and when one of them, John "Jack" Rickard, served as El Presidente in 1948, he rode in the family carriage. The carriage was donated to the Carriage Museum, but in 2014, when John's son Dennis Rickard served as El Presidente, the pioneer family again rode in their historic vehicle.
Recently, as the museum embarked on a significant upgrade to the safe storage of their archive, they uncovered a large collection of Fiesta photographs, all unidentified. Several of these have been enlarged to almost life sized and make quite an impact on one wall of the arcade. The museum said it would be thankful for any assistance identifying the people who are portrayed. Longtime residents of Santa Barbara are encouraged to come by and help with this. Who knows, you might find granny posing as a young romantic señorita!
Though we are all missing the gaiety of Fiesta this August, the charming courtyard of the Santa Barbara Historical Museum with its splashing fountains and dappled shade offers an inviting afternoon and an evocative look at Fiesta's past.
The exhibit is free to the public and open on Thursdays, 12 pm to 5 pm; Fridays, 12 pm to 7 pm; and Saturdays, 12 pm to 5 pm. Everyone is welcome. Donations, of course, would be gratefully accepted.
You might also be interested in...