St. Paul African Methodist Episcopal Church – Part II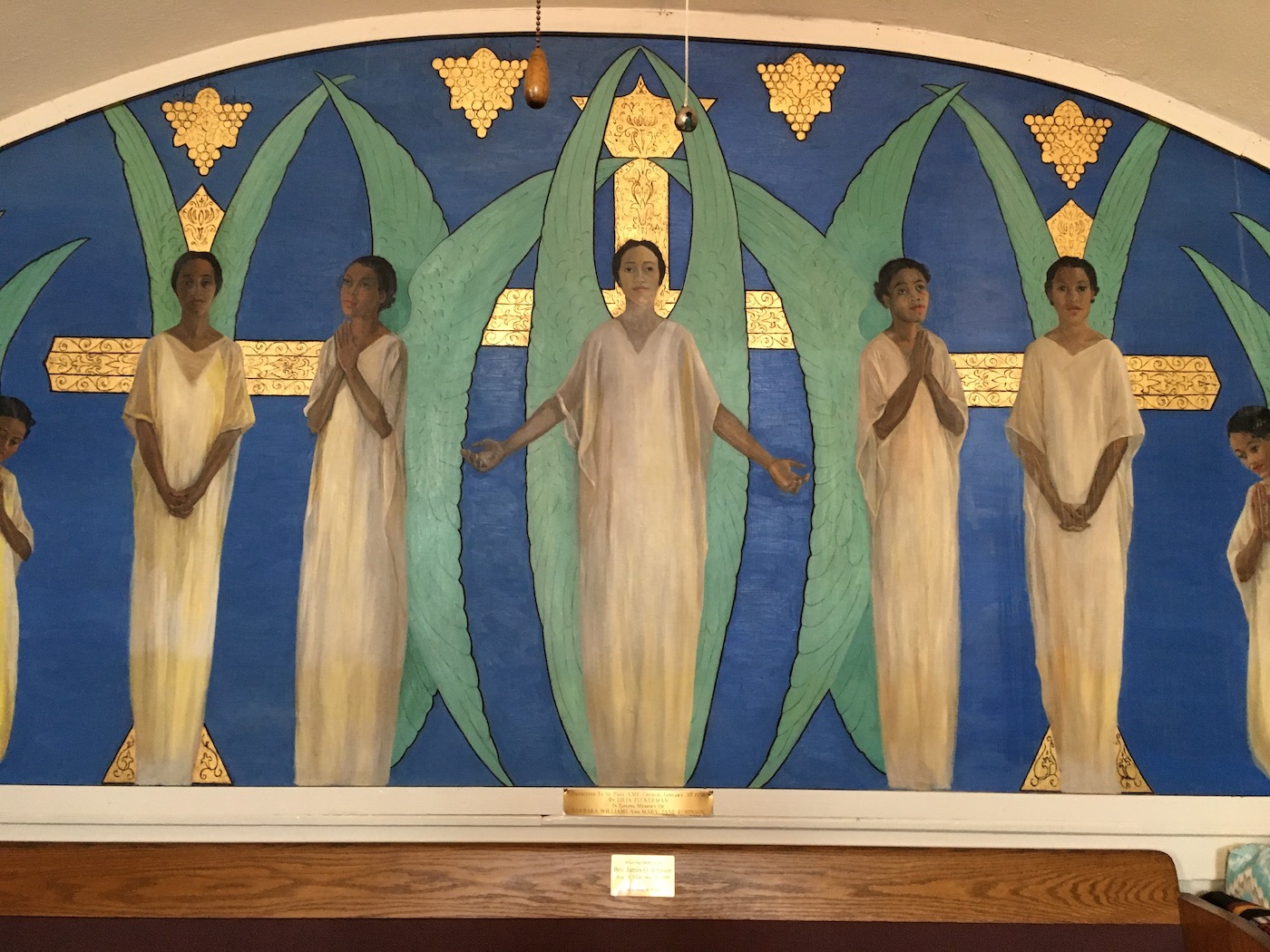 St. Paul's has been nominated for inclusion on the list of Santa Barbara City historic landmarks and is working toward state and national recognition as well. Organized by architect Robert Ooley, F.A.I.A., a group of volunteers has been gathering historic information about the church to support the nominations; I was lucky enough to be among them. Part I revealed the story of the founding and early years of the church. The following is Part II.
The year 1916 began with the women of the African Methodist Episcopal (AME) Church giving a three-day bazaar to benefit the building fund for their new sanctuary. Things were looking up for the church. The membership, which had dwindled to 12 at the time of Rev. Duncan's arrival in November 1915, had grown to 44 by March. By August 9, the new Carpenter's Gothic church building was complete, but there was a problem. The cost, which was initially estimated to be $3,000, was actually $3,500. Before the building would be turned over to them, they needed to raise $500 more. Reverend Duncan made an appeal to "the kind and generous-hearted" public to send donations. And they swiftly and happily complied.
On September 1, the Right Reverend Henry Blanton Park, presiding bishop of the California conference of the AME, came to Santa Barbara to deliver a sermon and inaugurate the new building with its new name, St. Paul African Methodist Episcopal Church. All were invited, and indeed, it was no segregated congregation that heard the notable bishop speak.
As the years progressed, the church would become known for its musical programs such as "The Galilean," a sacred Cantata performed by its choir and other local talent. The church agreed to be used as a polling place in 1917 when Supervisor Sam Stanwood made an urgent request. They hosted the controversial Prince Kaba Rega of Africa who claimed to be a missionary of the AME and wanted funds to bring Christianity to his people. (He was investigated by the FBI, and scorned by Marcus Garvey and other black leaders who believed he was a fraud and a con artist.)
Pastors came and went. Revival meetings were hosted. Noted guest preachers took to the pulpit. A fellowship hall and a parsonage were added. Church organizations were created, such as "Buds of Promise," a children's organization, the men's Forum Club, and the literary society. Funerals and weddings, guest preachers, chicken dinners, choir practice, Halloween parties, and Sunday school, all became part of the yearly pageant of the AME. And music, of course, always music.
The Angel Mural
It was music that brought Lilia Tuckerman to St. Paul's in 1936. Born Lilia McCauley in Minnesota, she grew up Washington, D.C. in a well-to-do family. She and her siblings were cared for by an African American nursemaid and nanny named Barbara Williams, whom they adored.
As a young woman, Lilia studied art with several notable artists in the area and took classes at the Corcoran School of the Arts and Design of George Washington University.
In 1903 she married Wolcott Tuckerman at the fashionable St. John's church in Washington, D.C., which was reported to have been the smartest function of its kind that had taken place in Washington that season.
Wolcott and she had five children, for whom she hired an African American nursemaid named Mary Jane Robinson. About 1920, the Tuckerman family moved to Carpinteria where they purchased a ranch on Craven's Road and named it Arroyo del Paredón. From this peaceful abode, Lydia continued her career in art and her work with, and for, people who were blind.
Her granddaughter, Roxanne Lapidus Isaacson, tells that Lilia was a very devout woman, who believed that her artistic talent was a God-given gift. "Whenever she sold a painting," says Roxie, "she would give the proceeds to charity."
Sometime in the mid 1930s, Lilia and her husband attended a service at the St. Paul AME church. As she studied the bare space in the nave behind the choir and listened to the beautiful spirituals resonating throughout the church, she became inspired to paint a mural in honor of her and her children's loving caretakers.
She envisioned a mural of black angels and began work at her ranch house studio. The pastor's wife, Mary Prioleau-King, is depicted as the central angel. According to her daughter, Anna L. (King) Gonzalez, she posed for the bodies of the other angels, whose faces were those of ladies of the church.
Five other members of the church were immortalized on the mural: Dorothy Chapman-Mayer; Sally Smith Walton; Lillian Telfair; Eva Buckner; and Dorothy Forney-Wright. Though Dorothy Forney was not a direct descendent of the incredible and famous Jerry Forney, who came to Santa Barbara in 1874, they may have been kin. Her grandfather had been born on the Forney plantation near Morganton, Burke County, North Carolina. Her grandparents had moved to Fresno, California by 1890, and her father and his siblings moved to Santa Barbara around 1908.
Unveiling the Power of the Angels
The late Litti Paulding, journalist for the News-Press, described the painting at the unveiling and dedication service on January 20, 1938. "The painting is simple, reverently done and impressive… All [angels] are in soft deep yellow robes and have wings of soft green that make a simple effective pattern. In gold leaf and black behind each figure is a cross. Decorative symbols of clusters of grapes ornament the panel… It was painted as a loving thought and this love is reflected in the work."
The dedication service opened with the processional hymn of "Holy, Holy, Holy," and moved toward the presentation of the painting by Reverend Ralph R. King who ended his speech as follows: "We dedicate this picture to the healing of life's discords, and the revealing of the hidden soul of harmony; to the lifting of the depressed and the comforting of the sorrowing; to the humbling of the heart before the eternal mysteries, and the lifting of the soul to abiding beauty and joy by the gospel in infinite love and good will."
The painting had a profound effect on all who saw it. One woman wrote, "I have only seen the cut in the News-Press, but it fairly staggered me." The effect was somewhat marred, however, by its coverage by those self-same papers. In a 1992 article about the church, Mary P. King recalled that the newspapers kept referring to Tuckerman's colored mammy and referring to the painting as the Mammy Mural. "It was not taken very well," King said.
The insensitive language was somewhat washed away by the response of those who actually saw the painting. Grace Ruth Southwick, then principal of the evening high school and later director of adult education for City College, wrote to Tuckerman. "Because my heart is full," she wrote, "I must write you before I sleep some hint of the gratitude I feel for your gift to us all in Santa Barbara. On my teaching staff are four negro teachers, college graduates, of whom Mr. King is one. So I dimly sense the starved sense of beauty their confinement by us whites to ugly surroundings constantly denies… The solvent of your genius made us for a few minutes truly 'brothers.' It was a deep spiritual experience to believe for a while that God did make of one blood all the nations of the earth, and that even white people could sometimes know it! You have given to us a greater gift than to the African church and people in lifting us for a moment to a Mount of Vision where our degrading race-consciousness fell away before the beauty of your own spirit and its incarnation in the painting. For its noble beauty and power and poignancy, I have no words – only a very humble 'Thank you.'"
(Sources: Pastor Jeffery Clark of St. Paul A.M.E. church, contemporary newspaper articles; https://www.ame-church.com/our-church/our-history/; letter from Anna L. (King) Gonzales to Jessica Schley and transcribed by Roxanne Lapidus, Lilia Tuckerman's granddaughters, plus author's email communication with Anna. Scrapbook articles and notes belonging to Lilia Tuckerman and passed along by Roxanne; Deceased membership list from St. Paul A.M.E.; ancestry.com resources of censuses, slave schedules, voter registration lists, city directories, etc.; online historic newspaper resources; AME district website; Sanborn and other maps; Santa Barbara News-Press, 1992; Santa Barbara Magazine, Fall 1994, p 132; Dedication Service program, St. Paul African M.E. Church, January 20th, 1938)
You might also be interested in...