California's Car Camping Possibilities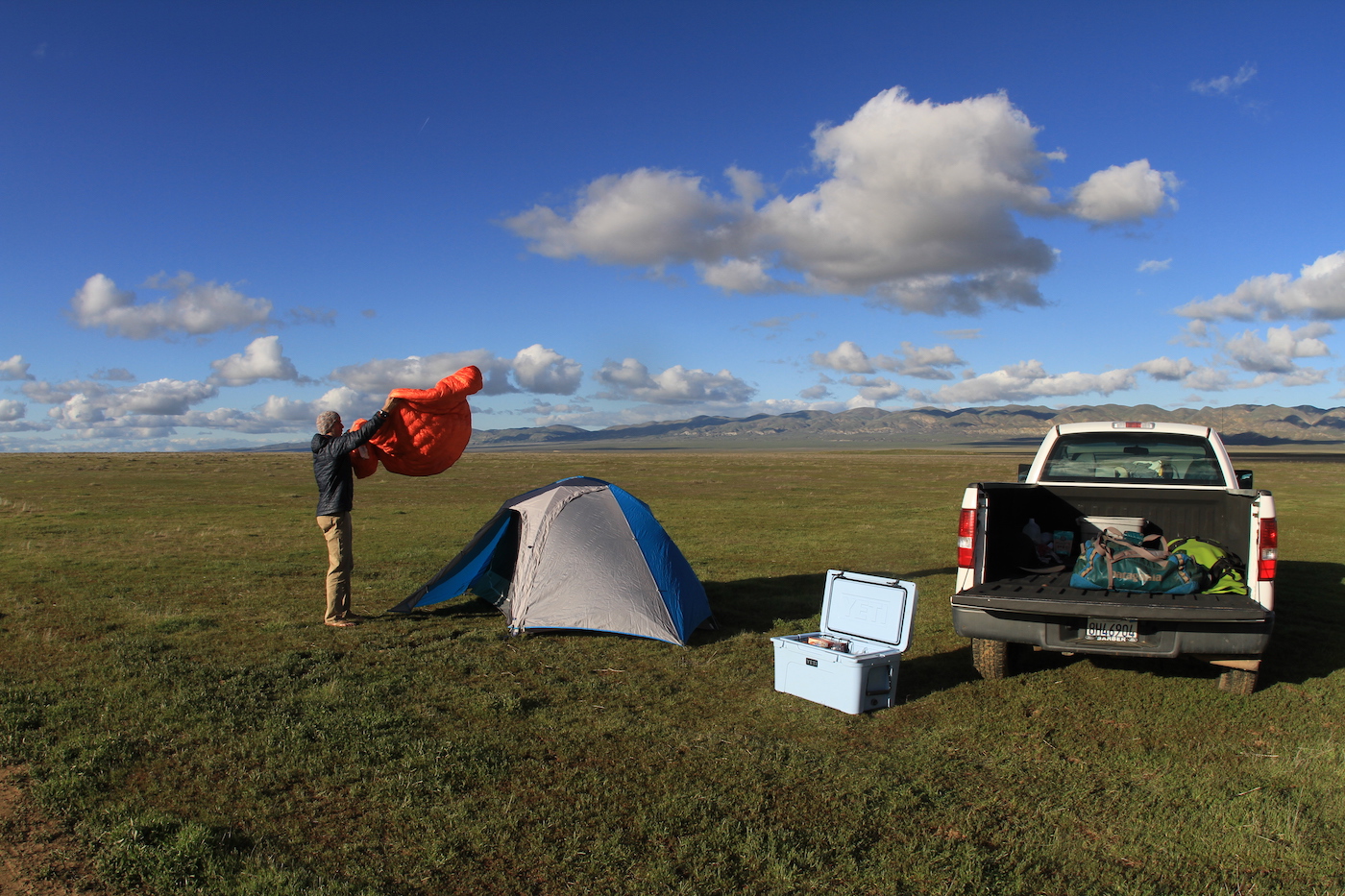 It's the mobile basecamp transporting you to hidden natural wonders, where time slows down and the only set schedule moves along on its own course. You're just along for the ride because you chose to be there, making the drive with enough provisions to see you through on your car camping excursion. All you need is for happenstance to deliver, but when you put yourself out there into the unknown, expect the unexpected and enjoy the ride while soaking in the many surprises at some of California's best car camping locales.
Alabama Hills, Eastern Sierra
There really isn't another car camping site quite like it in North America. I guess there's a reason why, that over the years, the Alabama Hills have been a coveted site for movie directors. This high desert escarpment of mounting granite clusters has an even more stunning backdrop. Some of the Eastern Sierra's tallest peaks loom to the west, including Mount Whitney, the tallest peak in the contiguous United States at 14,505 feet. Managed by the Bureau of Land Management, dirt roads lead to scenes from early Westerns like Joe Kidd and Nevada Smith and to more recent Oscar winning flicks like Gladiator and Django Unchained. Sunrises and sunsets are typically epic every day and there's a couple of granite arches to search for that perfectly frame those iconic peaks. www.lonepinechamber.org/…/sightseeing-in-the-alabama-hills.
Anza-Borrego Desert State Park
Being that it's California's largest state park at 600,000 acres, vanishing from the mainstream and into the desert isn't that difficult. Biodiversity is where it's at in this unique arid transition zone where the Mojave and Colorado Deserts converge and fortified on its northern fringe by the Santa Rosa and San Jacinto Mountains National Monument. Anza-Borrego is named after the 18th century Spanish explorer Juan Bautista de Anza (that must've been a helluva slog) and Borrego, Spanish for sheep, as in the nimble desert bighorn sheep that thrive in the steep, craggy canyons. If the state campground isn't your bag, there's plenty of places along nameless tracks for an authentic desert experience. It's all on offer amongst the fan palm oases, desert iguanas, ocotillo, seasonal arroyos, and daunting badlands. www.parks.ca.gov.
Wind Wolves Preserve
At 93,000 acres this ecologically unique region is another transitional hotspot and is the West Coast's largest nonprofit preserve. Imagine a mindboggling diverse pocket where the Transverse and Coast Ranges converge with the San Joaquin Valley, the Eastern Sierra and western Mojave Desert. Car camping is free. Just call ahead to make a reservation and then go explore immense San Emigdio Canyon. Hike the paths along the creek up the wide-open canyon where browsing mule deer and Tule elk traverse the steep hillsides. More trails lead above the canyon in a preserve with elevation gains ranging from 600 to 6,000 feet. www.wildlandsconservancy.org.
Carrizo Plain National Monument
The last of California's grasslands became a National Monument in January 2001. Jointly managed by the Bureau of Land Management, The Nature Conservancy and the California Department of Fish and Wildlife, the Carrizo Plain has two free campgrounds made for car camping. Nameless dirt roads are also open to car camping in the foothills of the Caliente and Temblor Ranges. Just remember that services of any kind are 50 miles in any one direction, so go over that gear list before heading out to what is also known as "California's Serengeti" for its herds of pronghorn antelope, Tule elk, and black-tailed deer. If there's one item not to forget before venturing to the Carrizo Plain, it's a pair of binoculars.  The grasslands are teeming with other wildlife, the most endangered species in the Golden State. Some of those include the giant kangaroo rat, San Joaquin kit fox, antelope ground squirrel and blunt-nosed leopard lizard. And if you're a bird nerd, those binos will come in handy scanning for all those hawks, falcons, and eagles patrolling the grasslands.
Hearst San Simeon State Park
Located along Pacific Coast Highway 1 (PCH), on California's stunning Central Coast, 35 miles north of San Luis Obispo, is a state park that offers easy access to driftwood-strewn beaches but also hikes into dense riparian areas. Five miles to the north is Hearst Castle, certainly worth a tour into William Randolph Hearst the newspaper tycoon's residence. Two miles further to the north and you'll find a marine mammal spectacle where thousands of northern elephant seals congregate on windblown beaches and beneath eroding bluffs. The Boucher Trail leads 1.5 miles to the north from there where the Piedras Blancas Light Station towers over daunting offshore pinnacles loaded with seabirds and bellowing pinnipeds. www.parks.ca.gov.
Big Sur Coast
When it comes to car camping along what is arguably the most scenic stretch of coastline in California, there's lots to choose from above the sheer, wave-battered cliffs along this iconic drive. Abundant campgrounds can be had along the coast or in the dense redwood forests fed by dewy fog just across PCH. A myriad of trails leads to waterfalls, crashing waves, old smuggler routes, dizzying, scenic overlooks, and secluded coves. www.bigsur-coastline.com.
Wildrose Campground, Death Valley National Park
When most think of Death Valley National Park, the wind-groomed sand dunes and Badwater quickly come to mind, but Death Valley is a vast place and includes significant mountain ranges, including the Panamints. The highest summit is Telescope Peak at 11,049 feet and just adjacent to the north is Wildrose Peak at 9,064 feet. These peaks offer some amazing views, certainly a different and more grand perspective of one of the most unique National Parks in North America. The campground is just down the road from these trailheads and the historic charcoal kilns. The campground is at 4,100 feet and is first come first serve. www.nps.gov/deva.
Van Damme State Park, Mendocino
The breathtaking Mendocino Coast in Northern California, is one of the more scenic stretches of the Golden State. Highway 1 meanders right through Van Damme State Park, and their easy to moderate hiking trails within the park offer easy access to towering coastal redwoods, weathered pygmy forests, spawning salmon and some of the best kayaking and standup paddling on the entire West Coast. Making a reservation in advance is recommended. www.parks.ca.gov, www.kayakmendocino.com.
You might also be interested in...