Montecito's Latter Day Adobes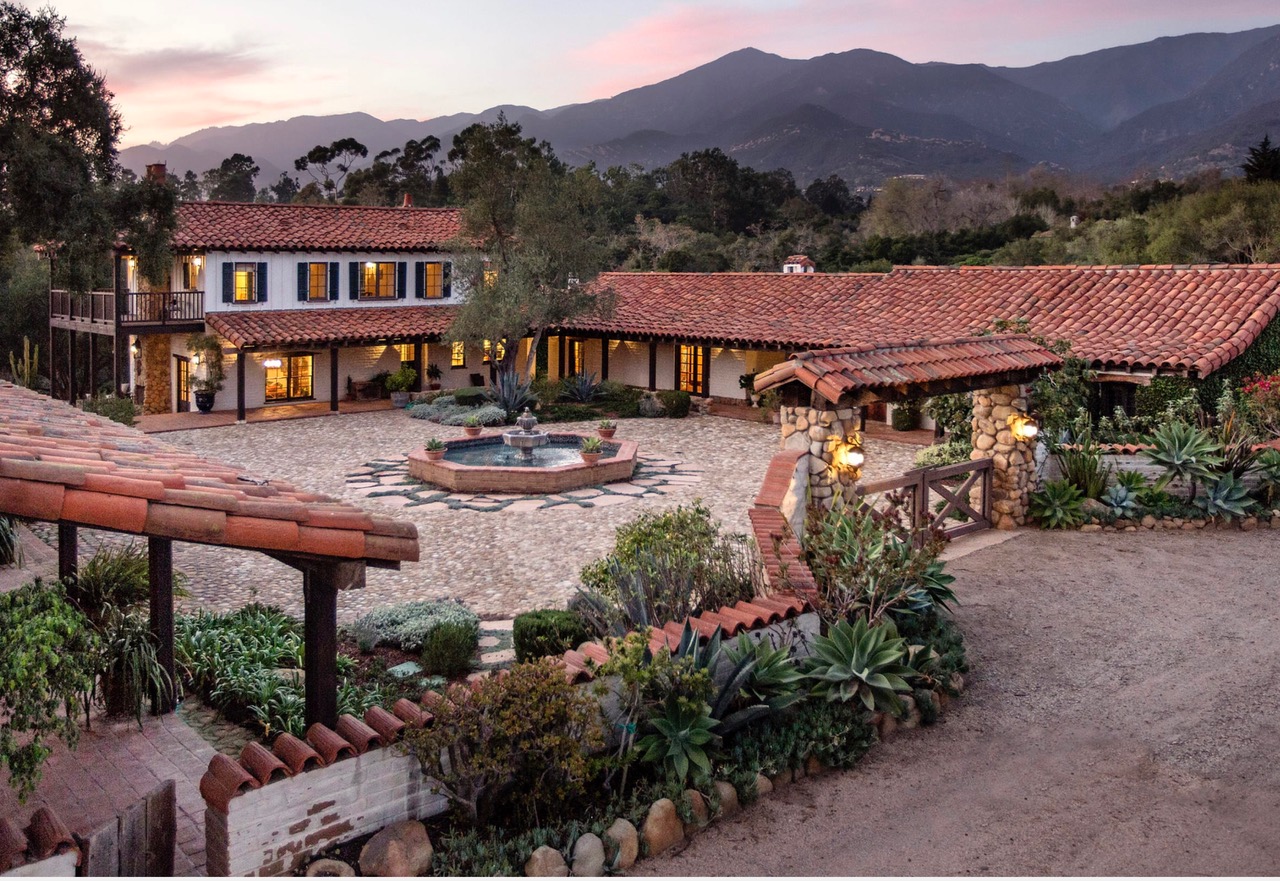 Isolated from most of my historical resources, I am turning to the work of those who have come before me, most especially, my friend and mentor, the late Maria Herold, longtime volunteer curator of the Montecito Association History Committee. Maria's passion for the history of Montecito led her to walk every street, knock on every door, photograph every barn, adobe, garden and historic house in her hometown. She, like Maria Churchill and Kit McMahon before her, together with teams of volunteers, created an impressive collection of historic memorabilia, photographs and memories from Montecito's pioneer residents. David Myrick, in the acknowledgements to his two-volume Santa Barbara and Montecito, expresses his gratitude to the hardworking volunteers of the Committee for their excellent collection and their assistance.
Though both Kit and Maria Churchill had passed before I came on the scene in 2004, I was privileged to know David Myrick in his later years, and I was embraced and mentored in all things Montecito by Maria Herold, who had an impressive recall of all she had learned. Equally impressive was the warmth of Maria's greeting and genuine delight in sharing her knowledge, a job that has been heartfully assumed in these later years by Trish Davis and her team of Leslie Power and Debbie Hughey.
Maria passed on All Saint's Day 2009, and I'm sure each and every saint was present to welcome her. I am blessed to have known her.
One of the Committee's many projects was to chronicle the Montecito adobes that were built or restored in the 20th century. The old adobes were disappearing at an alarming rate by the turn of the 20th century. Luckily, in both Santa Barbara and Montecito, long-time residents and an influx of part-time residents from the east, who were enamored with the area's romantic Spanish past, began promoting the idea of saving them. In town, the Carrillo, Ramirez and De la Guerra Adobes (to name a few) were restored thanks to this movement, yet only the De la Guerra was restored to its original state.
Rancho San Leandro's Dominguez Adobe
In Montecito, the dilapidated Dominguez Adobe on San Leandro Ranch (today's Ennisbrook) was either restored and renovated in 1918 or replicated, but its current condition little resembles the original 1830s structure or even the 1918 version. Like so many of the adobes in Santa Barbara, it was first romanticized into an imaginative Spanish hacienda and then it was modernized. Nevertheless, its central core is testament to a succession of owners' desires to lovingly preserve a piece of the past.
In 1845, Neomecio Dominguez had been granted the 356 acres which he had improved, as was required by the rules for Mexican land grants, by building an adobe house and a small horse racetrack as well a subsistence farm. He sold the ranch in 1868 to Edward Doty who made a quick profit when he sold to the Swift family. They built a two-story wooden frame house and set out to create a working farm. They fitted up the old adobe ranch house as a dairy house with all modern conveniences.
In 1916, Herbert C. Cox purchased 239 acres of the dwindling Swift Ranch in Montecito and planned to develop a summer estate. Cox was a wealthy insurance executive of Toronto, Canada, whose father was considered the top financier in the country. To indulge an extravagant lifestyle, Herbert built Ennisclare, a horse training and breeding farm in Oakdale, Canada. The estate possessed substantial stables, a polo field, and an arena for the thoroughbreds he raised and trained.
In Montecito, Cox hired a man named Frederick Cooper as caretaker and estate manager and moved him and his family into the old farmhouse. In a 1991 interview, Cooper's daughter Dulcie remembered, "We first lived in this house, but it was very uncomfortable as there was no electricity and the house was not well kept up."
Shortly after the purchase, Cox had a small, one-story frame gatehouse constructed, and the Coopers moved into the gatehouse when he demolished the old farmhouse. (Over the years the gatehouse would see many additions and alterations, and in 1991, its address was 1710 San Leandro Lane.)
The Cox/Boeseke Adobe
In 1917 Cox began building the east-west wing of an adobe, possibly with the old Dominguez adobe at its core. (According to Dulcie, the north-south wing was not part of this original plan.) Dulcie remembered watching the ongoing construction of the adobe, and her family celebrated their last Christmas on the estate in the unfinished house. They brought their presents to the adobe and hung their stockings above a cheerful fire in the fireplace. The Coopers moved back to town in 1918 where Frederick became a machinist at Ott's Hardware.
 Cox had quickly become involved with the local polo club and played his first match on the team of Elmer J. Boeseke, Jr., Charles Dabney, Arthur Ogilvy and Frederick Leadbetter at Bartlett field in Montecito. Cox provided the silver cups for the match. For the next several years, his name appears on the roster of the Santa Barbara Polo Club even though he and his wife spent only part of the year in Santa Barbara. The rest of their time was split between Ennisclare in Toronto and with the fox hunting set in Gloucestershire, England, where they were neighbors to the Prince of Wales.
In keeping with the water theme of his house overlooking Lake Ontario, Cox named his Montecito estate Ennisbrook, which is an Irish word meaning land by a river or water. After the adobe was completed, he and his wife Louise hosted an operalogue of the Belasco-Puccini opera, The Girl of the Golden West. The Morning Press of October 1922 said, "In opening her lovely home, Mrs. Cox is lending a peculiarly fitting scene for the program… The house is an ancient adobe, which Mr. and Mrs. Cox preserved and restored when they purchased the property on which it stands several years ago."
The presentation was to be illuminated by fire and candlelight and many of their neighbors purchased tickets for the opportunity to see the performance in the "pristine charm" of the renovated adobe.
In 1923, Cox developed two polo fields on his property and two years later sold the estate to Elmer J. Boeseke, Jr. Elmer's father had been instrumental in establishing the Santa Barbara Polo Club in 1899, and Elmer Junior became known nationally for his polo prowess. He participated on the 1924 silver-medal-winning U.S. Olympic Polo Team and on the 1933 team that won the National Open Championship. Both he and his horse, Red Ace, have been inducted into the Polo Hall of Fame.
Boeseke added stables at Ennisbrook and later sold the fields to a private syndicate, which leased the fields to the Santa Barbara Polo Club. In 1988, new owners subdivided the property, and the Ennisbrook residential tract with its 44-acre wooded preserve was developed.
Today, the adobe, which served as a model for the clubhouse for Ennisbrook Estates, is in private hands. Over the years, the adobe was modified and modernized, and in 2010, a completely separate one and two story L-shaped structure was added. The humble adobe summer cottage that Cox built, which cost 1.8 million dollars in 1998, sold for 7.37 million in 2016.
(Sources: contemporary news articles; "Reminiscences of Dulcie Cooper Montgomery," 1991; ancestry.com; city directories; ownership maps; History 101 by Michael Redmon; "The Adobes of Montecito" by Willard Thompson, Noticias, Vol. LIII, No. 2; "Early Polo in Santa Barbara," by Hattie Beresford, Montecito Journal, summer/fall 2013; interview with Harry Kolb; Inventory Report: 40 Cox Drive, Ennisclare, by Laurie Smith Heritage Consulting.)
You might also be interested in...