Surfing the Curve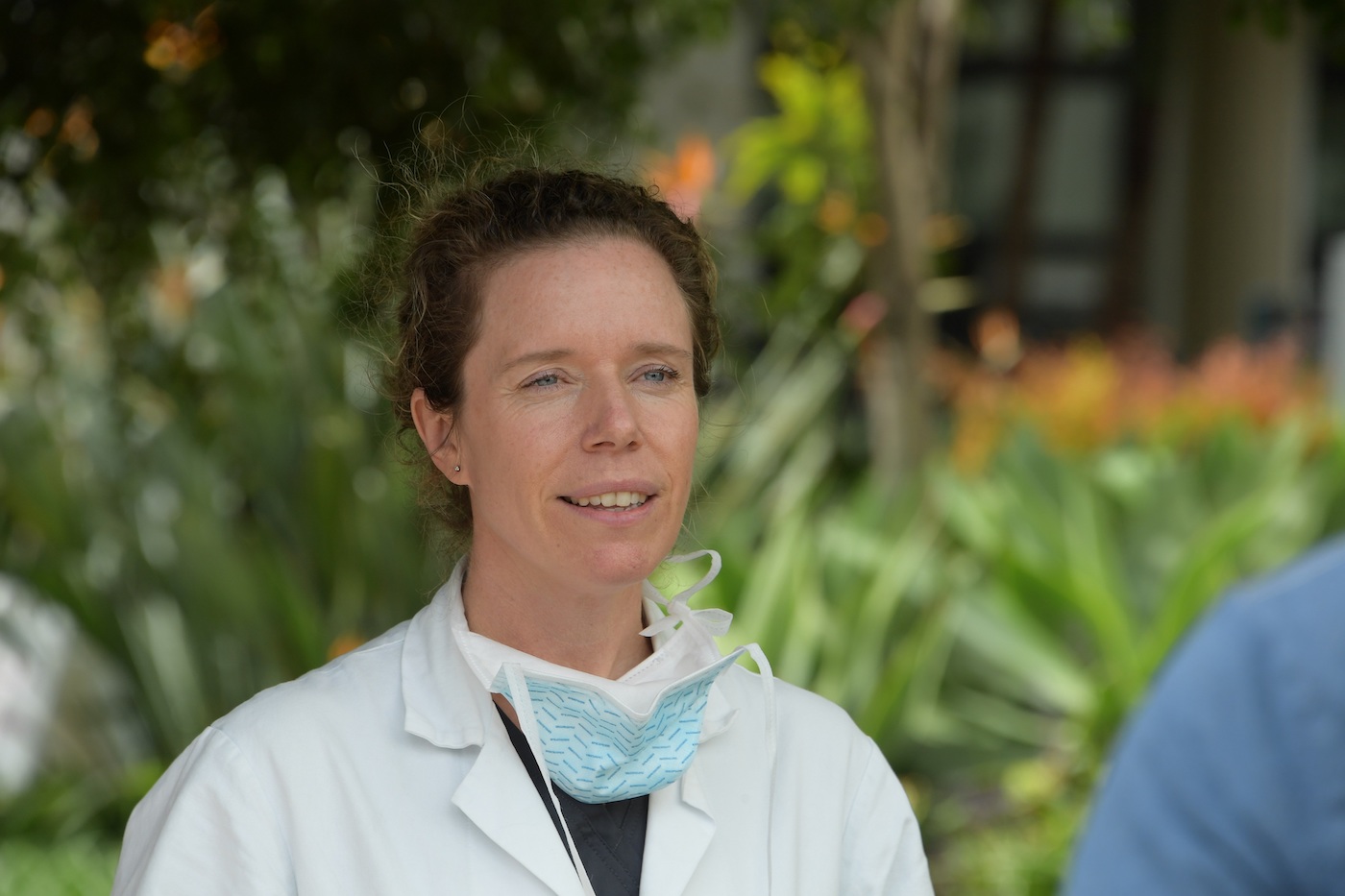 When you ask Dr. Lynn Fitzgibbons what's new, you don't hear stories about reordering her spice rack in quarantine, streaming the latest show on Netflix, or growing her own victory garden. She's kind of busy. Quarantine is a luxury for others. She did mention that she's taken up marathon running, which is pretty remarkable, considering she's running an all-day marathon, day in and day out at the Cottage Hospital.
As the Cottage Hospital specialist in Infectious Diseases and Internal Medicine, at the front lines of the coronavirus pandemic, Dr. Fitzgibbons goes where others fear to tread. She has treated Ebola in the Congo, been on the front lines for other epidemics as well, focusing on the world's deadliest diseases with enormous precision, thoughtfulness and understanding.
Turns out Dr. Fitzgibbons is also a Division One athlete. A graduate of Santa Barbara High School and UCSB, she's been on soccer and swim teams at both institutions, a surfer as well, familiar with all the local beach breaks. Shortly before the wave of infections began, she took up running with every bit of the determination she's shown in fighting the coronavirus.
"I coached her through her first marathon," Rusty Snow of Santa Barbara Running and Racing remarks. "Division One athletes are at a different level. With very minimal training, she qualified for the Boston Marathon, something that people take years to do. Her focus was amazing, so strong. We're lucky to have her in our community during a crisis like this."
She was supposed to run her second Boston Marathon this week, needless to say she won't be attending. No one will.
Cottage Hospital from the Inside
Q: If we could see what you see every day, what would that look like?
A: I think you'd see a tremendous amount of very successful preparation and really excellent care for people in our community who are already suffering from this disease.
Is that because Cottage Hospital started working on this a long time ago or is it because you've been able to catch up?
Our community is in a fortunate position where we had excellent social distancing before our first big wave of cases. That has served us well. It's meant that over the last six weeks while we have had cases throughout the Santa Barbara area and clearly community spread, there's also been good social distancing. That's kept our local curve very flat.
Are there other community factors that have supported your efforts?
We have a community that is very committed to doing the right thing. We have the good fortune of excellent weather and a population that is fairly spread out. We've had excellent commitment from our public health officials, from our local business leaders and from our local school districts that have made social distancing feasible.
How do we continue to hold fast and for how long? How do we to keep it up?
We cannot continue to live with the degree of social distancing that we've undertaken over the last weeks. At some point, for a variety of reasons, we will have to start to reintroduce some of our interactions. As May and June come, we have the opportunity to consider re-introducing some of our social interactions in a controlled stepwise way. As we do so, we need to implement really excellent infection control practices. For example, schools could be thinking ahead to hand hygiene opportunities. Businesses need to have the same thoughts with regards to infection control practices and how to keep their employees as safe as possible.
Concerns Related to Success
Are you concerned that people will let go of their safe practices and become more vulnerable again?
Yes, one concern I have is actually related to the success we've had so far. Here in Santa Barbara, the vast majority of our community has not been exposed to this virus which means as a community, we are relatively non-immune. We can assume that many in our population may not have had this virus. That in and of itself may be a vulnerability.Communities where a large proportion of the population has already experienced this disease are actually less vulnerable when social distancing relaxes.
Obviously, the whole community hasn't been tested. Are you able to say that based on indicators that you have?
Even though a large proportion of people who catch this infection are not going to need to come into the hospital, some percentage will. Based on the numbers in our local hospitals, which have been relatively flat, we can presume that the number in the community has also likely been relatively flat.
Misinformation has been a frequent hallmark of this crisis. Are there any issues out there you're concerned about?
The biggest fear I'd like to dispel is the fear that our healthcare systems in Santa Barbara are high-risk areas for coronavirus infection. I have tremendous trust in the infection control practices at Cottage Health and at all of our community health partners' offices. Do not be afraid of the hospital. Have trust that our hospitals have good systems in place to keep everyone safe and healthy.
Keep Your Other Medical Conditions Well-Controlled
From other sources we know that co-morbidities – the simultaneous presence of two or more chronic diseases in a patient – are one of the biggest factors in COVID related deaths. Is that one reason you're making a point of regular health care?
Absolutely. Keeping your other medical illnesses well controlled for the next few months is actually as important as avoiding COVID-19. If you have an emergent medical condition, please get the care you need. Stay well connected to your physicians. Now is not the time to let your diabetes become uncontrolled because you're afraid to go to your follow-up appointment. We want to make sure we don't have the experience that happened in New York, where there was an increase in people dying at home without seeking medical care.
How do you prepare yourself for your day? How do you deal with the fact that you and your fellow healthcare workers might get sick?
I think we cannot be cavalier with this. We know that unfortunately around the world, healthcare workers in hotspots for this disease have been some of the greatest casualties. But we are facing our local epidemic with far more information than many of our colleagues around the world. I cannot say that either I or any of my friends and colleagues working in the healthcare system in Santa Barbara are perfectly comfortable, or that there is no risk. But I think most people are really up for the task at hand. That applies to the nurses, the patient care techs, the physicians, the resident physicians. Really everyone that keeps the hospital moving has stepped up. The actual risk is really much lower than many of the physicians ahead of us in Italy, China, and elsewhere.
Is there a great sense of purpose, being in the middle of a crisis? That kind of energy that you might feel fighting a common cause or even in sports endeavors.
Our community has had its share of tragedies. There was an incredible camaraderie that came together after the mudslides and the fires. What's happening now feels different though because of how long this has been with us. I will say I've been humbled by the gratitude and support that I have personally felt from friends, acquaintances, and even people I don't know. I think the community has propped me up and I know that's the case for many of my colleagues. I've never felt so appreciated and supported in my career. That definitely helps me wake up in the morning and do it again.
The Luxury of Visitors – Cottage Adapts
On a darker side, how do you prepare your patients for difficult procedures and outcomes?
These are tremendously difficult situations, no matter what the disease is. What's unique in this situation is related to the infection-based social distancing measures whereby patients do not have the luxury of visitors. This applies to not just COVID-19 patients, but all patients who have come to the hospital for other procedures, other problems. It's tremendously difficult for most patients. Visitors are a critical part of the care of our patients. Visitors help support a patient for better outcomes. Visitors help provide additional information to doctors and nurses. Visitors are our eyes and ears for a lot of the care that we deliver. Many patients have someone at their bedside most of the day. The hospital feels very quiet right now.
Has the hospital instituted video chatting or "Zoom meetings" between patients and their families, so they can talk to their mom or their son even if they don't have the technology themselves?
Yes, there's been a huge shift towards using iPads throughout to let patients connect outside of the hospital, as well as within the COVID units. There's an iPad in every room. Every single patient room on the COVID unit has a hospital-issued iPad. We're using iPads to do some visits with patients as well with physicians and the nurses outside the closed door.
What about the stories we hear on certain drugs being a cure?
Today we have access to information on the internet long before it has been peer reviewed. The information is flying by, virtually unchecked and unfiltered. There are several examples where there has been a lot of interest in specific treatments based on limited information.Many of them look very promising. There are now a lot of very well-designed studies on these drugs. Even if it eventually is proven to be beneficial, these treatments need to be targeted. We have to clarify for whom is it going to be most beneficial.
In terms of our area are we still waiting for the curve to peak? Are you concerned that it might flatten so much that it drags out?
I think we're going to have a more choppy curve, a more bumpy curve. We have not yet seen our peak. There is going to be some relaxation of the social distancing and what Dr. Fauci has predicted we are going to experience. As there is more social interaction, and we start to interact more, there will be people who become infected. The good news is we have tremendous preparation in place and a much better understanding of treatment opportunities. I'm hopeful that the rebound will be of a small magnitude. It's quite unlikely we will ever have a curve that looks like New York City's.
As an individual how should we think about the increase in social interaction? Many are concerned about being exposed.
"Inevitable" is the adjective I would use. It's inevitable that we're going to have some relaxation of social distancing at some point. Whether that's in two weeks, six weeks, or two months. I do think in this area most of us have not yet been exposed to this virus. The virus will likely still linger in the community and will do so for months, if not years. There are going to be people exposed, and we may see the numbers go up.
The Future of Testing
Should it not open because there is not wide-scale testing?
I think testing has dramatically expanded in the last few weeks. We are able to test everyone with suspected infection in the hospital and everyone at high risk. We are hopeful that we may have capacity to test most people outside the hospital who have symptoms consistent with COVID-19. We are looking ahead to a time when we can test groups who are high risk such as those in senior living facilities, and those who are preparing for a surgery or for another medical procedure.The impact this is having on the economy and on people's livelihoods is sobering. The challenge is responding to that pressure safely.
What considerations should someone have for their own personal health? Will reopening become an individual health decision?
Yes, I would advise people to really make the best decision for themselves. Even if there is an increased opportunity to return to work, to return to school. I would encourage people who have not had this infection, and who may still be vulnerable particularly those over the age of 60 or those with complicated medical problems to continue to take good precautions and keep themselves safe. That involves strict hand hygiene, staying away from people who are sick and staying away from places where there are crowded conditions. Regardless of what changes we see over the coming weeks or months in public policy, I encourage people to remember to make the best decision for themselves and their own situation.
Surfing the Curve
On another note, I've heard you're a really good surfer and terrific athlete. Do you still get to go out and exercise?
I run a lot now. Running is my newest athletic career. I was actually scheduled to run the Boston Marathon last Monday.
Do you miss being in the surf? Does the coronavirus get into the ocean?
I do, but I'm not too worried catching coronavirus surfing. That said, I've thought about surfing lately and I have a surfing metaphor for this situation. It's felt like we spent a number of weeks running around the shore, preparing for a tsunami and building up these walls with a lot of anxiety that the tsunami was going to hit at some point. In the last couple of weeks, we've realized that we've had some really big sets, not a tsunami, and we've handled them well. We certainly had some very sick patients and unfortunately some deaths in the Santa Barbara area. I think there's still the potential for a bigger set to hit us. But increasingly we're realizing – it's likely not going to be the tsunami.
You might also be interested in...