Field & Fort Opens in Summerland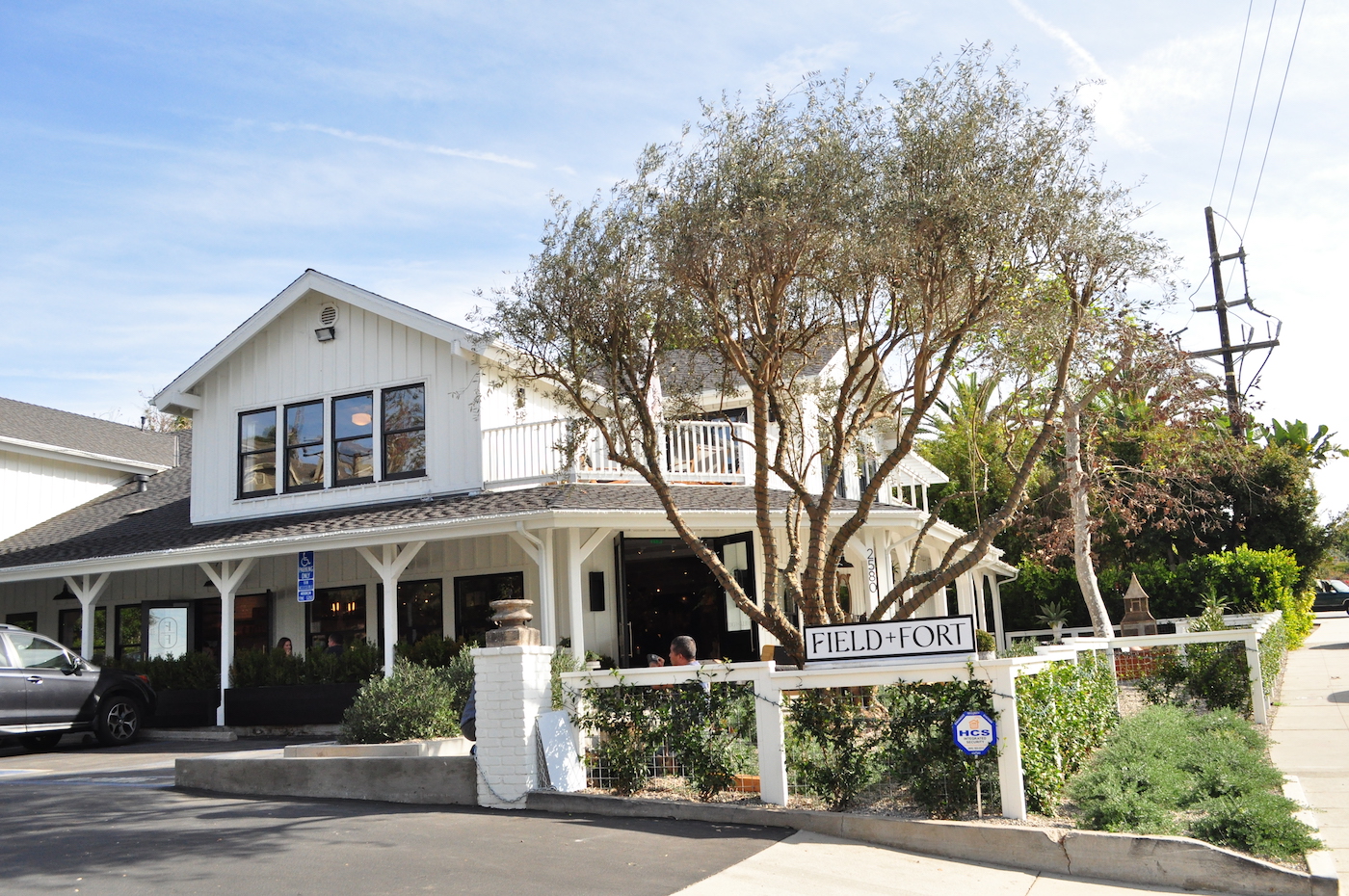 Nearly two years after the closure of Cantwell's in Summerland, a new furniture and décor shop, as well as a café, has opened in the prominent building on the eastern end of Lillie Avenue. Field + Fort is the brainchild of Santa Barbara designer Kyle Irwin and his business partner and friend, Susie Bechtel, who say the shop offers essentials for elevated living.
Irwin was one of the original owners of Botanik in Summerland when it opened in 1999; he moved on several years later, opening his own design office in an historic Spanish adobe in downtown Santa Barbara. His business soared, as he collaborated with both local and international clientele on large-scale luxury interior design projects. Irwin and Bechtel worked together on several projects, and for years had plans to open a retail store together. "After the Thomas Fire and mudflow, we began seeing the toll the disasters were taking on local businesses. We believed that if we committed to opening up a retail space, and committing to the community, that others would follow," Irwin said.
When the Cantwell's building became available in Summerland, the duo knew it would be the perfect fit for their new venture. With a retail space on the main floor, Irwin houses his design business upstairs; there is also a residential space on the property.
The building, which was purchased in April 2018, has been completely remodeled, including the addition of a commercial kitchen. "Originally we wanted to offer just coffee and tea, and it soon evolved into a café," Irwin said, adding that they recruited Austin Moore, a burgeoning chef from Portland, to head up the café program, using local produce from small farms, and organic products whenever possible. The menu, which will be expanded in the coming weeks, includes breakfast and lunch items such as gourmet avocado toast, frittata, farmers' market salads and sandwiches, and a variety of in-house baked goods as well as croissants and bread from the Baker's Table. Future plans include offering dinner items to take home. Guests can sit outside at one of several tables or lounge chairs, at an interior long communal dining table – an antique from an old convent in France – or take their food to go. "It's been really special to watch people gather here and reconnect with each other. That was always our goal: to offer a gathering space," Irwin said.
The retail space is filled with a mix of antiques, furniture, and various home goods, including accessories, bedding, kitchenware, candles, gifts, and much more. There is also a variety of gourmet pantry items, from artisanal honey and nuts, to organic pasta sauce and dried pasta from Italy, to organic teas and coffee. "The entire store is a curated mix of our absolute favorite things," Irwin said. And while many of the offerings are not easily found elsewhere, there are also tried and true brands like Staub cookware, which Irwin uses in his own kitchen.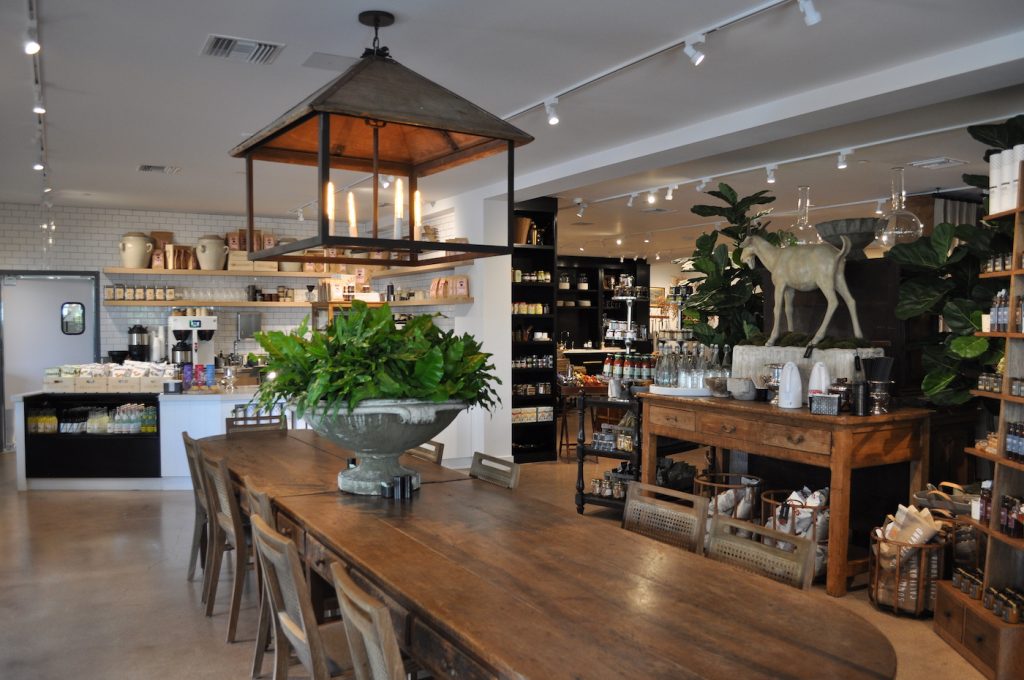 Irwin says the majority of the furniture pieces at the shop are one-of-a-kind antiques, sourced from buying trips all over the world. Field + Fort's own line, F+F, offers locally made furniture designed by Irwin, which is customizable in size and textiles. Because the vast majority of the pieces in the store are for immediate sale, the offerings, as well as the aesthetic, will change. "Already we've been moving things around as items have sold, and we will incorporate the textures of the season into the design of the space," Irwin said.
The store opened on Monday, November 11, and has been warmly welcomed into the community. "It's been very special to see," he said.
Field + Fort is open seven days a week from 9 am to 5 pm; 2580 Lillie Ave in Summerland. For more information, visit www.fieldandfort.com.
Insurance Updates
Last week Insurance Commissioner Ricardo Lara announced that he is taking meaningful action to help homeowners find adequate coverage to protect their homes throughout California. Lara has ordered the California FAIR Plan to offer a comprehensive policy in addition to its current dwelling fire-only coverage by June 1, 2020, with traditional homeowner features, such as coverage for water damage and personal liability.
"I am taking this action after meeting with thousands of California homeowners across the state who are struggling to find coverage to protect their homes," said Commissioner Lara in a statement. Lara was in Montecito in August, in a meeting arranged by Assembly Member Monique Limon. The meeting included the Montecito Association's Insurance Committee, which includes Montecito Fire Chief Kevin Taylor, Lisa Valencia Sherratt from the Office of Supervisor Williams, MA board members Aimee Miller, Houghton Hyatt, Robert Kemp, MA executive director Sharon Byrne, and community member Patty Swenson, as well as members of the Mission Canyon Association and several Montecito residents who had been faced with the issue of insurance non-renewals.
We've been reporting on the issue of non-renewals since January of this year, when hundreds of Montecito residents were issued non-renewals from their insurance companies following the one-year anniversary of the 1/9 debris flow. The topic has been discussed at length on online forums such as NextDoor.com, and has been taken up by the Montecito Association, whose Insurance Committee conducted an in-depth survey of non-renewals in our community. Respondents reported that they have struggled to find alternate insurance policies, or faced significantly higher premiums for less coverage. For those unable to find a carrier, the last resort has been the California FAIR Plan, which is a Los Angeles-based association comprised of all insurers authorized to transact basic property insurance in California. Coverage is available to all California property owners, as long as required guidelines are met­ (there are limits on vacant homes and homes with existing damage). Because FAIR coverage is capped at $1.5 million, which has been unadjusted since the early 1990s, voluntary insurance companies have been offering special subsidy programs that will provide for excess coverage. "People forced to use the FAIR Plan as temporary insurance deserve the same coverage provided by traditional insurers. This crisis requires the FAIR Plan to provide a comprehensive option for Californians who have no other option for homeowners insurance," Lara said.
Effective April 1, 2020, the FAIR Plan will increase the combined dwelling coverage limit from $1.5 million to $3 million. Increasing the FAIR Plan's dwelling coverage limit makes sense in today's real estate market in Montecito and other areas of California; in many areas where people are forced to turn to the FAIR Plan for coverage, they find the $1.5 million coverage limit is not enough and need to find additional coverage, often through the surplus lines market. The Commissioner also ordered the FAIR Plan to offer consumers a monthly payment plan and to be able to pay by credit card or electronic funds transfer, all without fees.
These changes are in addition to other changes that Commissioner Lara convinced the FAIR Plan to undertake earlier this year, including providing more transparency in their meetings and allowing the Department of Insurance to participate in those meetings and mandating the FAIR Plan obtain Department approval prior to disbursing operating profits back to participating insurers. The FAIR Plan is established under California law as the homeowners' "insurer of last resort," and requiring the FAIR Plan to offer a comprehensive homeowners' policy, known as HO-3 coverage, will save consumers from having to purchase a second companion policy to cover other hazards such as liability, water damage, and theft.
Lara stated that while the FAIR Plan is intended as a temporary solution, it is important that its product mirrors traditional coverage as much as possible. "Many of the affected California homeowners have already been inconvenienced by planned power outages by utilities, mandatory evacuations, and repeated wildfire threats year after year. Requiring these same homeowners to have to piece together multiple policies to achieve full coverage is needlessly burdensome," he said. "Restoring stability to the homeowners and fire insurance marketplace will take everyone working together to find solutions."
For more information, visit www.insurance.ca.gov.
You might also be interested in...