Montecito's Winter Residents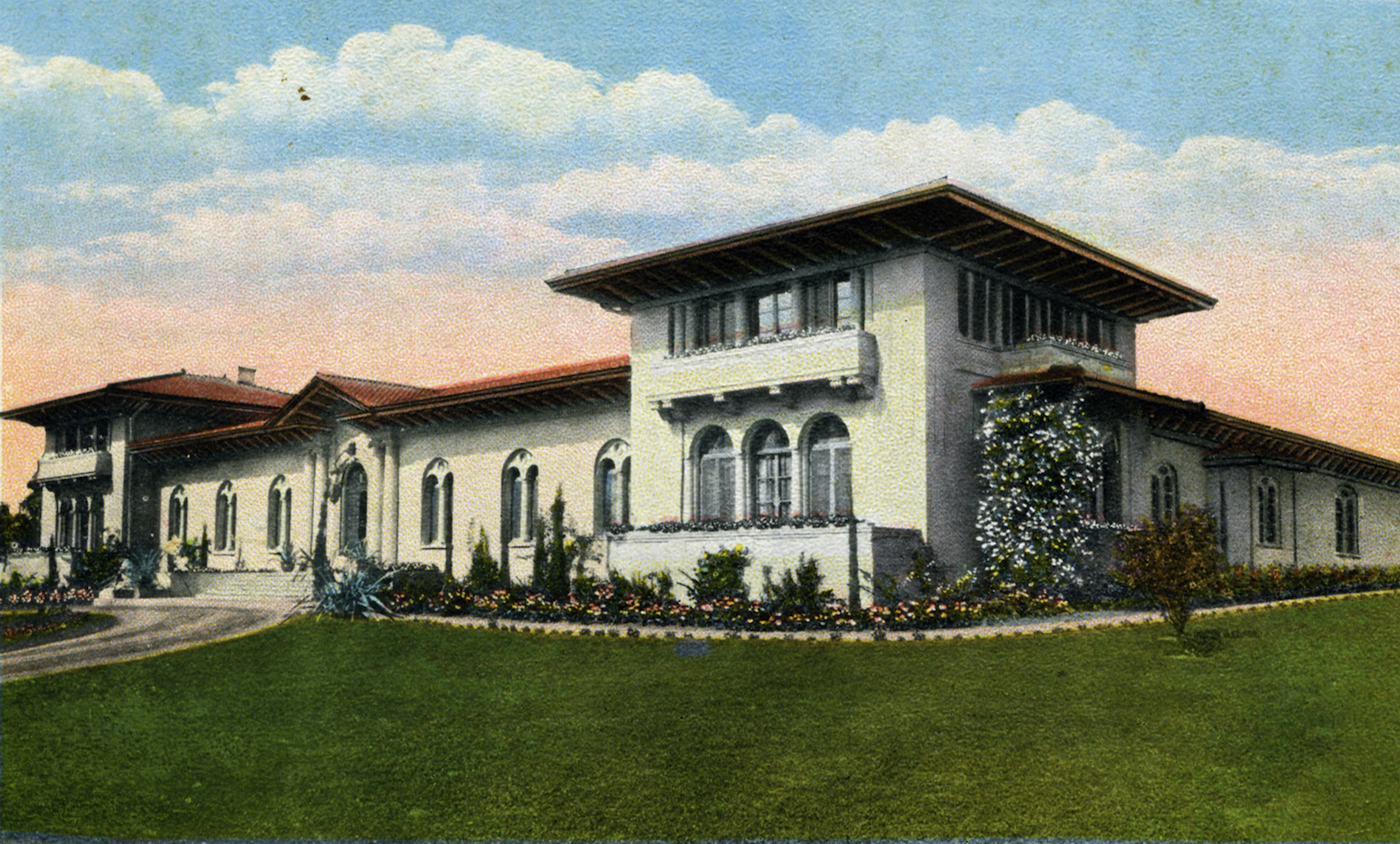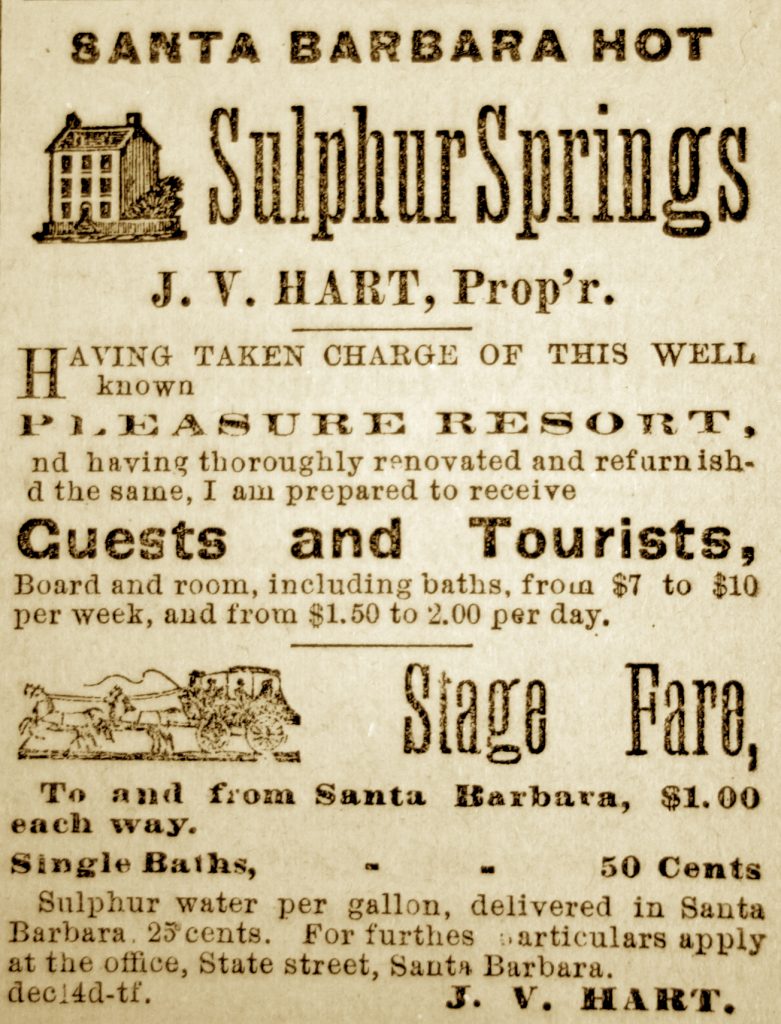 In 1874, author Charles Nordhoff, at the behest of the Southern Pacific Railroad, published a second edition of his California for Health, Pleasure and Residence. In it, he languished praise on Santa Barbara as the loveliest spot in California and promoted its health benefits. Soon the small influx of Easterners escaping the harsh winter months and flocking to the salubrious climes of Montecito and Santa Barbara became a flood. Nordhoff claimed to have met men and women who had been restored to health by their residence in Santa Barbara, and he credited an equable climate, lack of mosquitoes, and numerous sulfur springs for its healthful environment. Additionally, the area could boast that it had a pleasant society, good schools, a circulating library and numerous excursion sites such as the old Mission, the beaches, and the big Grapevine. 
In Montecito, the hot sulphur springs, which had been used by the Chumash and then the Spanish residents for times immemorial, had been developed as a resort by Wilbur Curtiss in the late 1850s after they restored his health from years spent in the mines. As word spread, more and more invalids had come to take its waters. By the time Nordhoff visited in the early 1870s, he found a cozy nest of New Englanders and western New Yorkers already established. Adding to the enticements to take up residence, the Common Council of Santa Barbara allowed people to claim large parcels of land in Montecito for $10 an acre. Hopeful farmers and land speculators rushed to stake their claims. Soon, some visitors started building winter residences, as well. Among the earliest of these were Captain Absalom Anderson, famous Hudson River boat pilot and owner, who built Stonehedge, and John Murray Forbes, descendent of a New England China Trade family and president of the Chicago, Burlington and Quincy Railroad. Forbes purchased a home and developed an estate called Mount Saint George in 1881 because he wanted to move his grandchildren, who had fallen ill while staying at the Arlington Hotel, into the healthful countryside.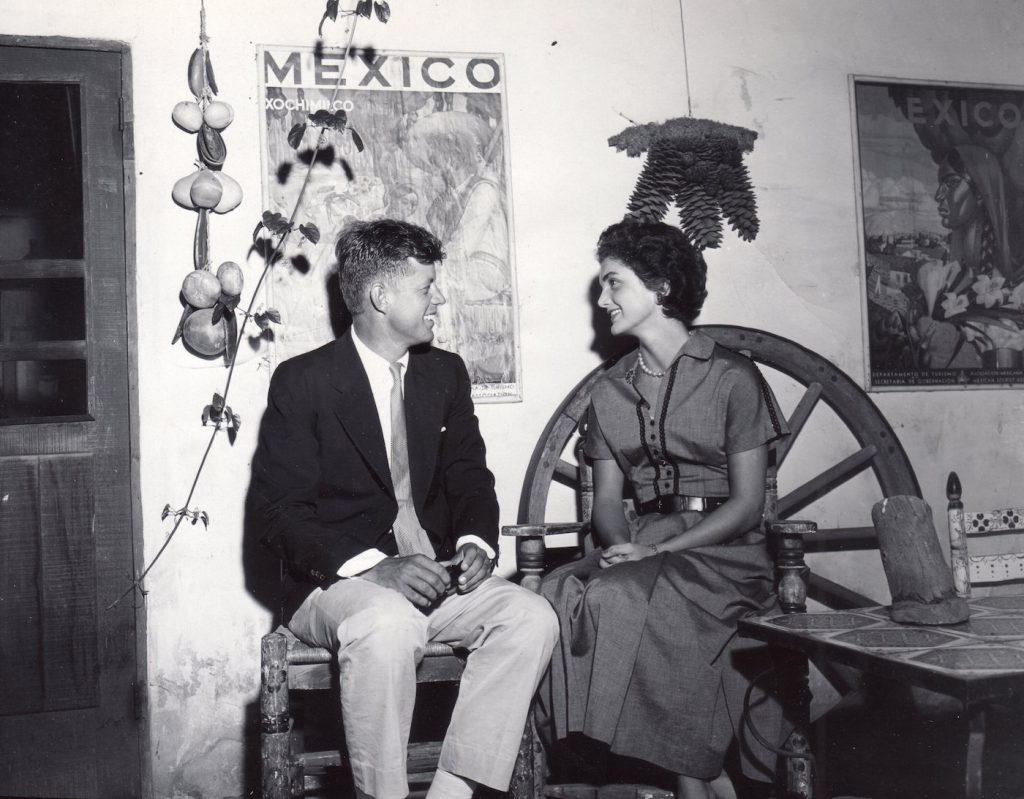 As the pace of winter residencies skyrocketed, it inspired the visits of national and international dignitaries. European royalty have been drawn to the area since the week-long visit of Princess Louise, the daughter of Queen Victoria, in 1883. Among others, King Albert of Belgium and entourage sojourned in Montecito in 1919, and Prince William and Catherine, the Duke and Duchess of Cambridge, were dropped by helicopter at the Santa Barbara Polo fields in 2011. U.S. presidents, also, have been welcomed. William McKinley had a three-hour date with Santa Barbara in 1901, Theodore Roosevelt alighted in Montecito in 1903, and soon-to-be president John F. Kennedy and Jackie spent their honeymoon at the San Ysidro Guest Ranch. Ronald Reagan established the area as the "Western White House," and a host of other presidents have tarried a while in Montecito.
Wintering in Montecito
In 1915, the annual migration to Montecito was quite extensive. Two great expositions celebrating the completion of the Panama Canal lured tens of thousands of visitors to California. One, the Panama-California Exposition opened at midnight on New Year's Eve in San Diego, and the other, the Panama-Pacific International Exposition opened a month later in San Francisco. Santa Barbara was located conveniently half way between the two. By the end of January the Morning Press was able to report that that the season was well underway and that the ranks of the winter colony was increasing weekly.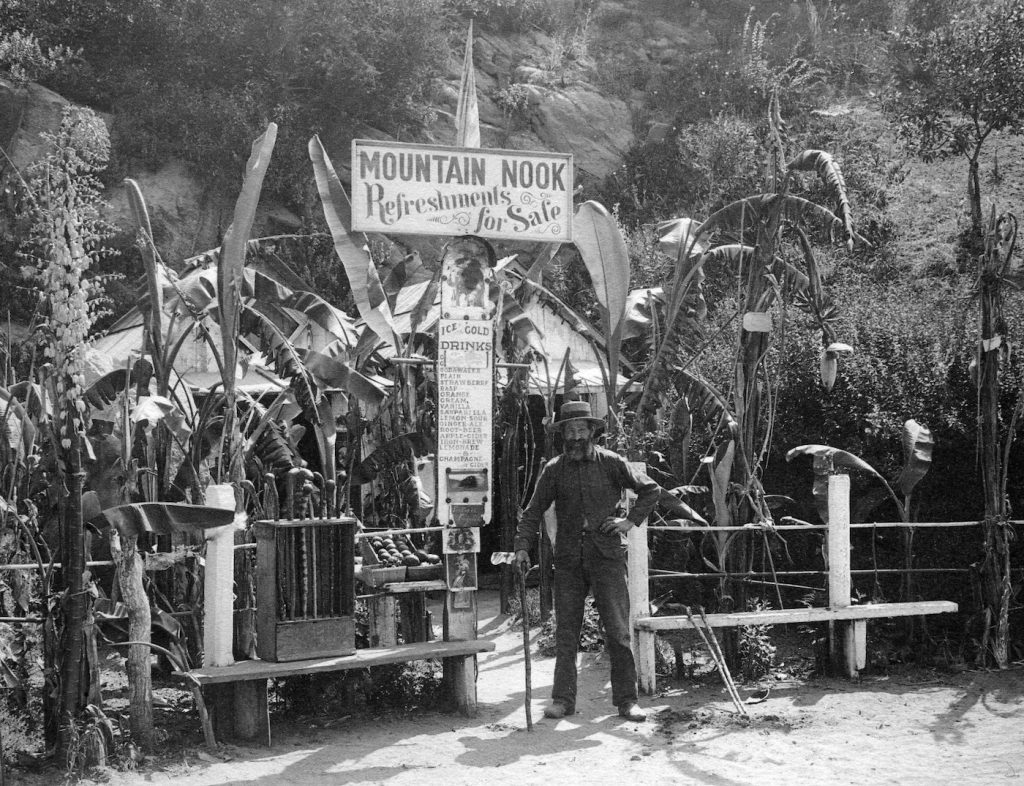 Many well-heeled Eastern visitors stayed at the new and exclusive cottage hotel of El Mirasol owned and created by the artists Albert and Adele Herter. (Its location is today's Alice Keck Park Memorial Gardens.) Others rented private homes in Montecito or owned their own vacation homes. Still others chose to stay at the Miramar Hotel or rent one of nine cottages at Montecito Park on Channel Drive. (Site of today's Four Seasons Biltmore.)
Winter guests usually stayed for two or three months, enjoying the social season in Santa Barbara, touring local sites like Ferl's Banana Farm and Sawyer's Hot Springs Resort on Mountain Drive, and taking excursions by horse, rail, boat, or automobile.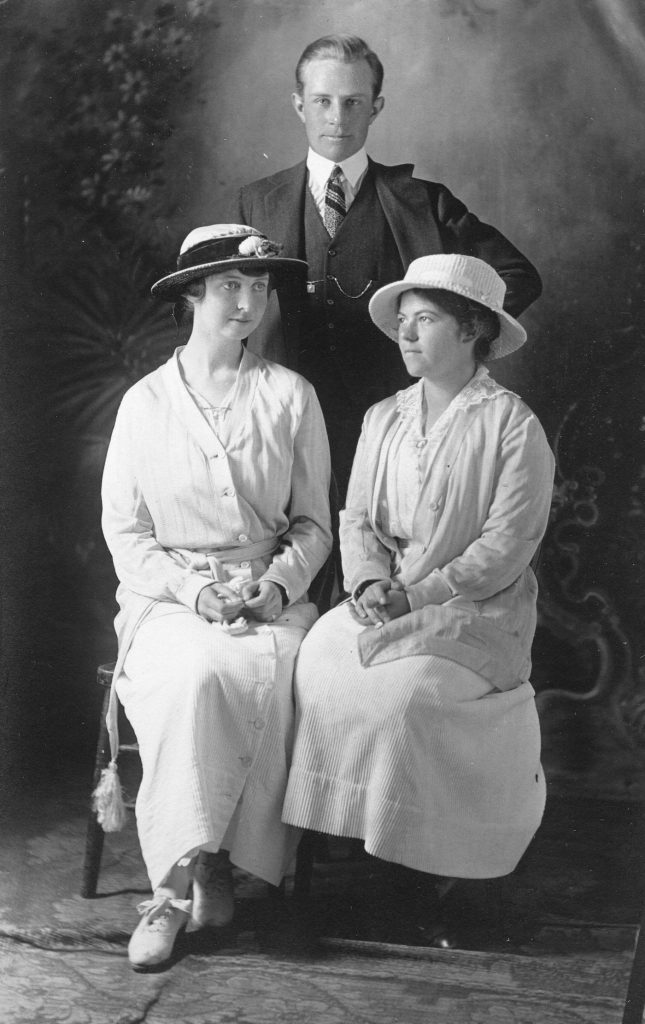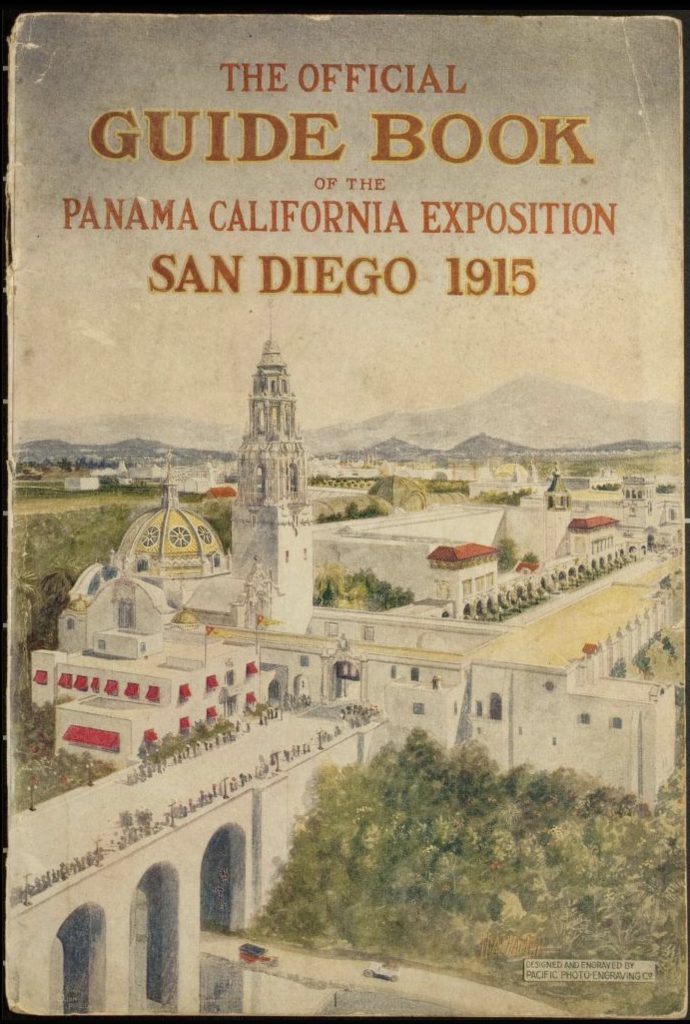 By 1915, the Alfred Landon Bakers had been wintering in Montecito for years. In 1904, they had rented one of the cottages belonging to the Montecito Country Club and Mary Corwith Baker spent her days at the beach or wandering the Montecito countryside with her two daughters, Isabelle (7) and Mary (3). Alfred L. Baker was a stockbroker and president of the Chicago Stock Exchange from 1898 to 1900 as well as president of the National City Bank.
In 1907, Baker purchased a lot on Channel Drive, once occupied by the ninth hole of the Santa Barbara Country Club. (Today, 1060 Channel Drive.) In 1913, he engaged José Curletti to design the house he named Cedar Cottage and construction commenced. When the Baker family returned to Santa Barbara in 1914, they were met at the train station and escorted to their new two-story shingle home, which, according to an interview with Isabelle Baker Welch, "was completely furnished, down to the china, silver and linens." Diehl's world famous grocery had even provided a Chinese cook who had dinner on the table waiting for them.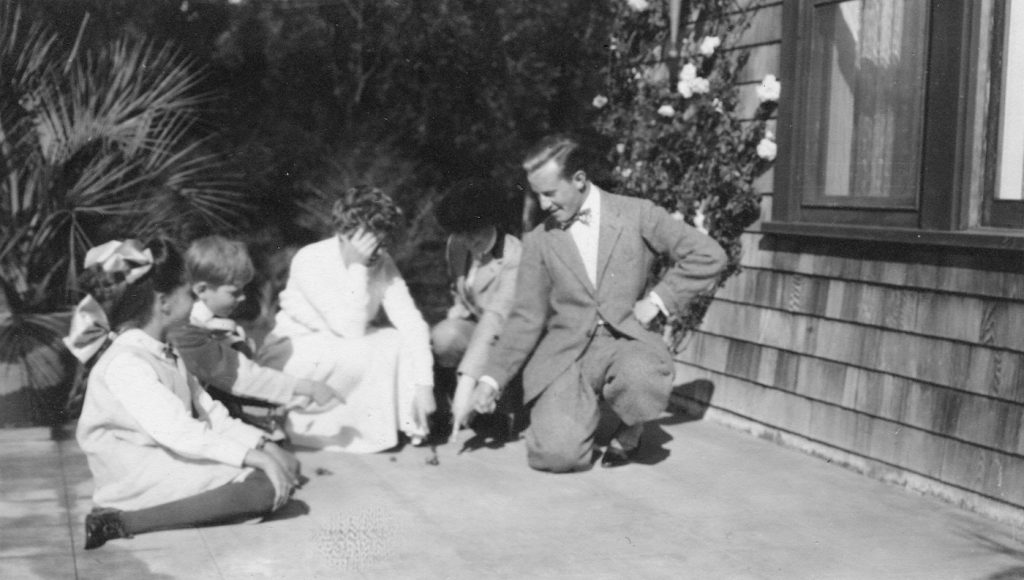 The following year, the Bakers arrived in Montecito in February. Their friends, the Arthur Meekers of Chicago, who had missed several seasons in Montecito, had rented Montecito Park Cottage #4, the former clubhouse of the Santa Barbara Country Club on Channel Drive, and had sent their children, who were escorted by their governesses, ahead of them. Arthur Meeker, manager of Armour Packing Company, and his wife Grace Murray Meeker, would arrive later.
The Bakers embarked on hosting a series of luncheons at the Country Club and at Madame Jacoutot's French restaurant, Le Chalet, located on a corner of Humphrey Road and today's South Jameson. Alfred teamed up with another winter visitor, Watson Blair, to host a reception for August Schvan, former secretary of the Swedish delegation to Russia and peace advocate.
Isabelle and Grace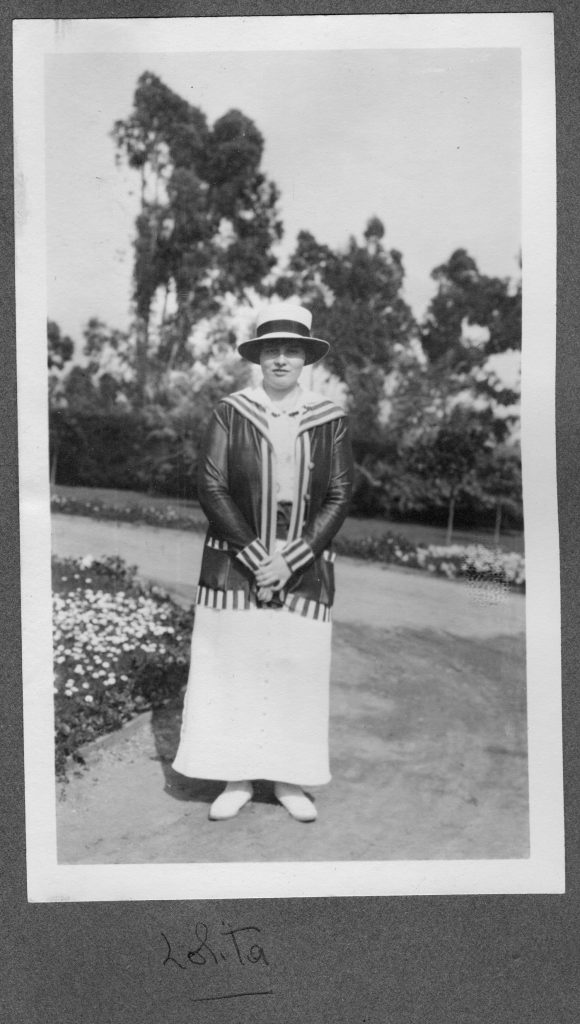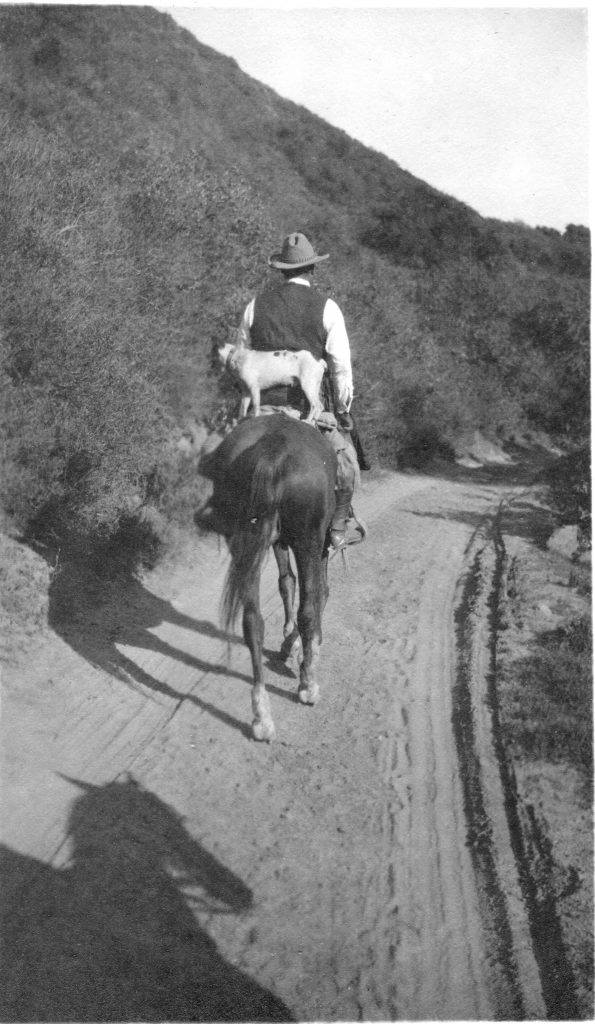 Isabelle Baker (18) and Grace Meeker (20), were great friends. They found many ways to entertain themselves while wintering in Montecito. Favored among the varied activities were horseback trips into the Montecito backcountry and beyond. José del Carmen Romero of the Montecito Livery on Cota Lane was engaged to assist in these excursions. He brought saddle horses to Cedar Cottage and escorted the riders up Cold Spring and other local trails, all while his dog Pipkin rode pillion. Picnics in Franklin Canyon in Carpinteria and trips over San Marcos Pass filled the days. When life became tedious, there were always snail races to entertain the troop of children.
Excursions into town found the two girls visiting Diehl's Grocery Store, a favorite local meeting place known for its gourmet inventory and exceptional service. Like her mother in 1904, Isabelle and Grace visited Larco, the fishmonger, and his white pelican on lower State Street. This pelican was said to be a harbinger of bad weather, for when he was in residence, there was sure to be a storm on the way, and when he was far out at sea, sunny days would prevail. He was a famous and popular tourist attraction for many years.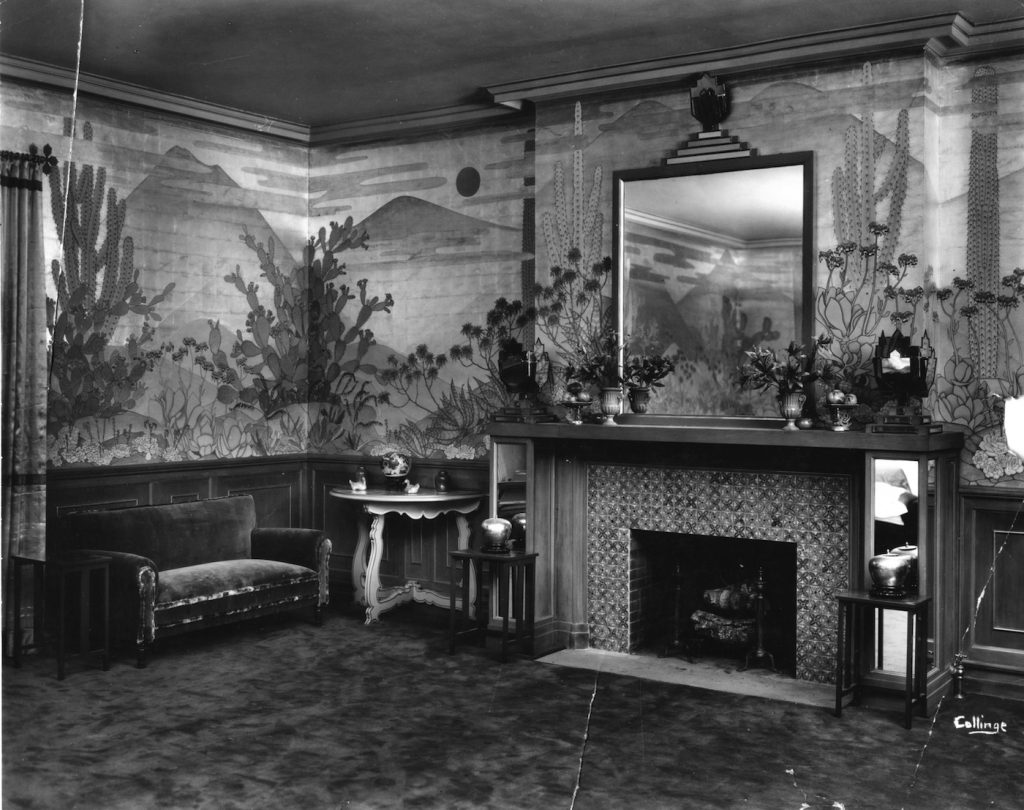 Of course, a trip into Santa Barbara would not be complete without a visit to the Santa Barbara Mission. In those days, visitors could climb into the bell towers for amazing city and ocean views as well as views of Arlington Heights where the new State Normal School (today's Riviera Park) and extension of the trolley were the dominant features. One time the girls were invited to lunch at the new El Mirasol Hotel by Lolita Armour, granddaughter of the Chicago meat-packing magnate, who was staying there for the season.
Another visitor was 22-year-old Ambrose C. Cramer, scion of a wealthy Chicago family and an architect, who was courting Grace Meeker. The two married the following year. Though they divorced ten years later, Cramer would remain in the family, for after designing a Cape Dutch style home named Constantia for his in-laws in Montecito, he married Grace's sister.
Montecito Amenities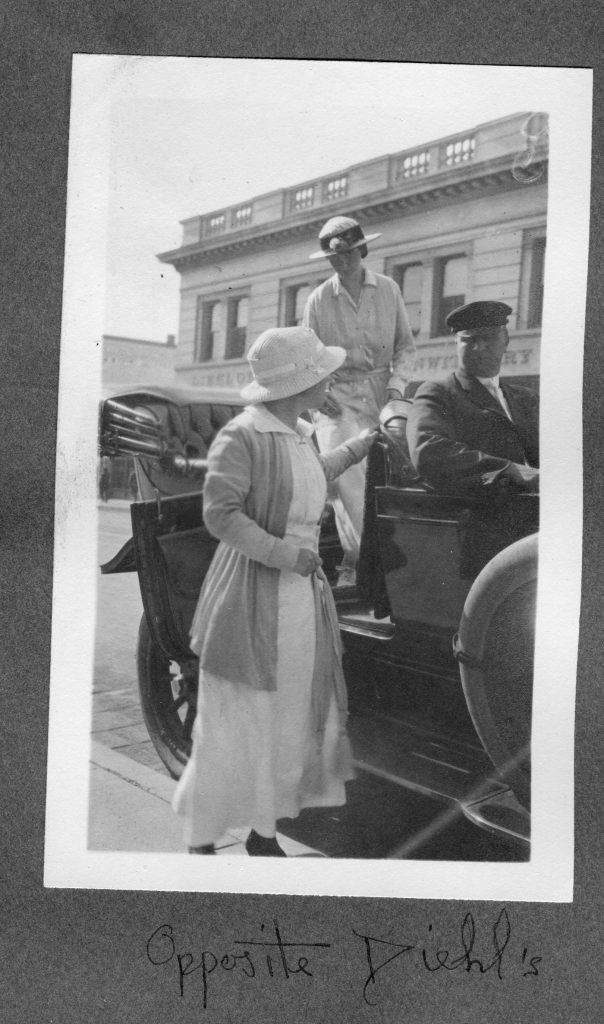 Montecito in 1915 stood poised to grow beyond the collection of farms and ranches and citrus groves that dominated its countryside. Already, several mostly ornamental estates had been established, most notably Tanglewood – 1882; Stonehedge – 1884; Riso Rivo – 1887; Riso Rivo – 1887 (today's El Mirador); Mount. Saint George – 1881; Mira Vista -1891; Arcady –1894; Vegamar – 1897; El Fureidis – 1906; Bellosguardo – 1903-06; Bonneymede – 1906; Stewart House – 1909 (designed by Frank Lloyd Wright); Eucalyptus Hill – 1913; and Solano – 1915.
Farming and ranching did occur on some of these estates, in fact, Charles Frederick Eaton and Ralph Kinton Stevens were integrally involved in the horticulture pursuits of the community, and many estates sported small citrus groves. By 1916, however, 30 large homes were in the planning stages or under construction. In the next ten years, estate building would proliferate and subdivisions make patchwork of the formerly large parcels and farms.
In 1915, Montecito boasted three churches, several water companies, a riding school, public library, three public elementary schools (Cold Spring, Montecito and Ortega) and two private schools, Deane School and Howard School. The Santa Barbara Country Club provided social and recreational opportunities for members and the Montecito Home Club provided the community with classes, a library, bowling alley, movies and a tennis court. In 1915 the Community Playhouse opened in Montecito next to the Bartlett Polo Field. Cultural life was thriving.
Potential residents no longer had to worry about a lack of essential amenities for there were a grocery and meat market, two dairies, two restaurants, a blacksmith, livery stables, automobile liveries, and a telephone and telegraph company. Roads continued being improved and the County Road as well as a few major arteries had been paved since 1909.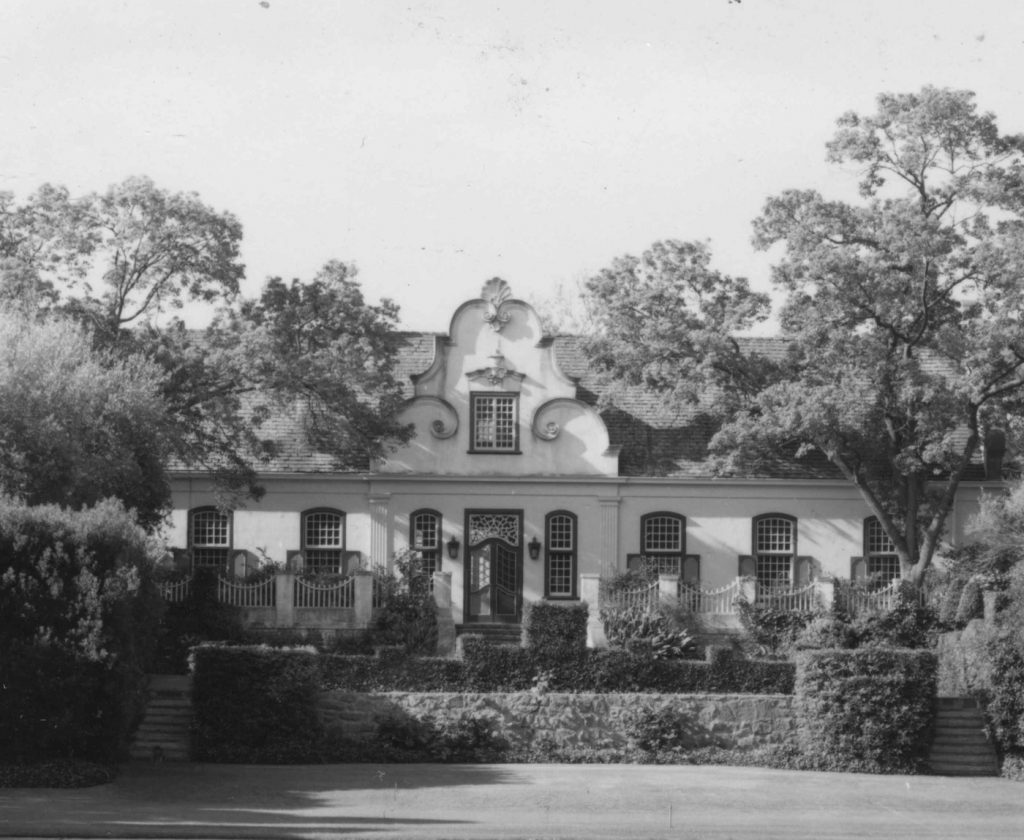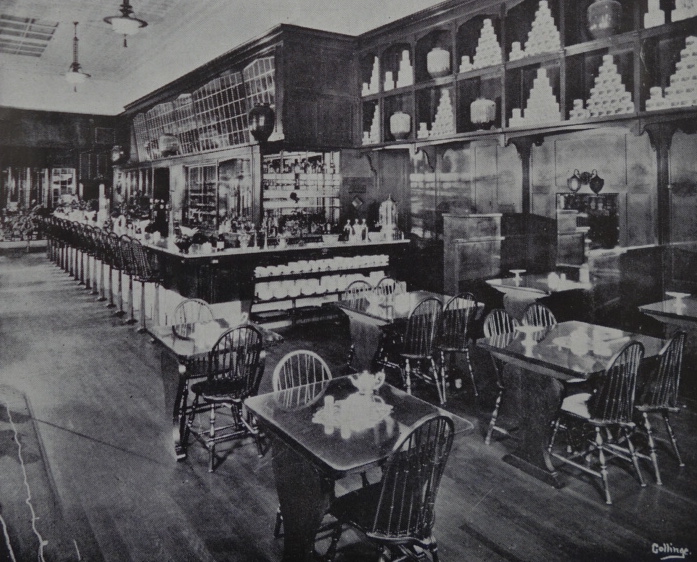 Electrifying Excursions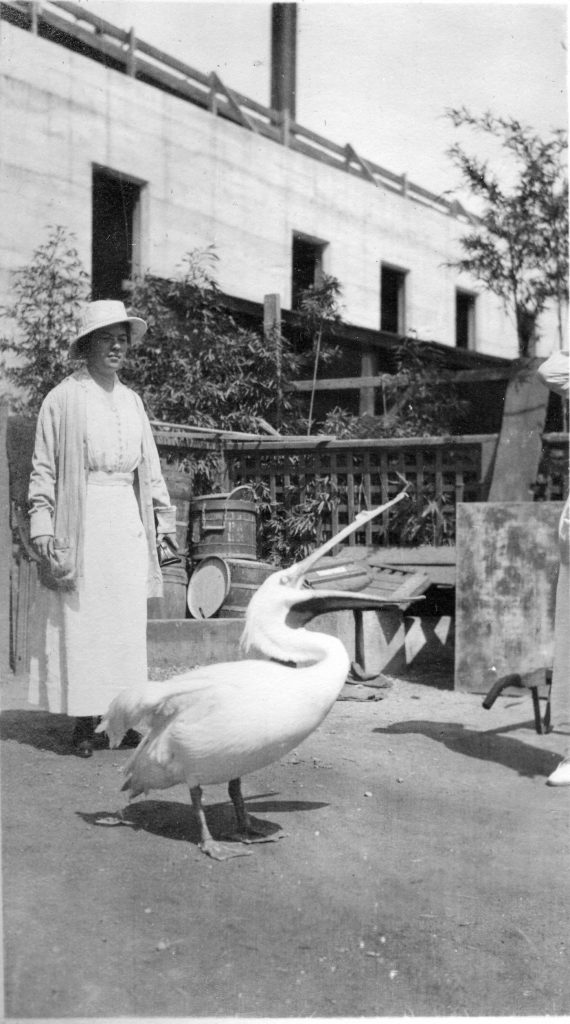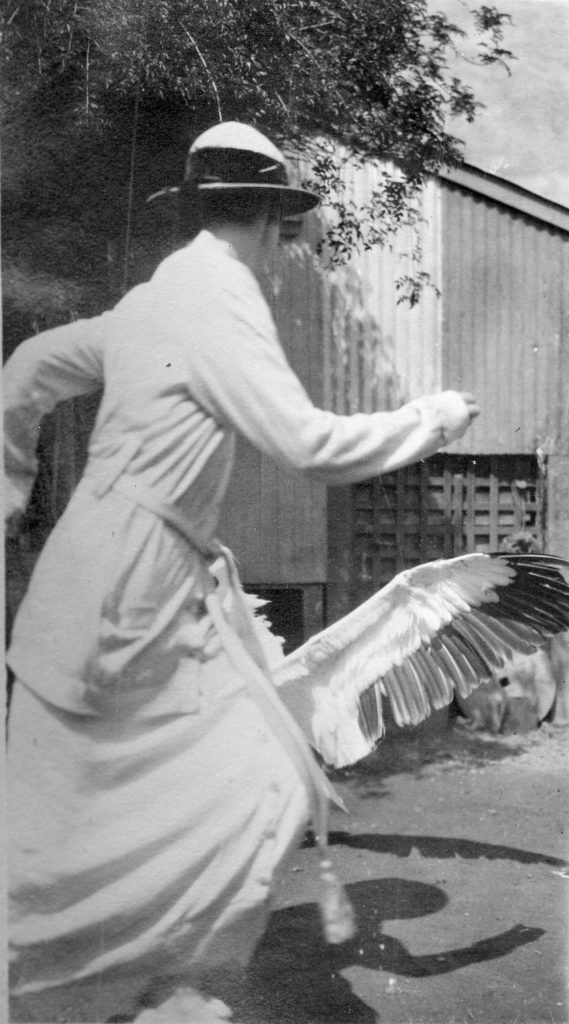 The Baker family and friends were not immune to the allure of the Panama – California Exposition in San Diego. Gathering into several automobiles, the group rambled down to San Diego, stopping at various touristic sites, like Mission San Buenaventura, along the way. In San Diego, the family entered an idealized replica of a 17th century Spanish town. Bertram Grosvenor Goodhue was the lead architect of the 400-acre village that included an amusement park, model ranch, Indian village and exhibits from various industries and California counties. The Exposition is credited with popularizing the Spanish Colonial Revival architectural style throughout the United States and had an enormous impact on the future of Santa Barbara. (Goodhue had designed James Waldron Gillespie's El Fureidis on Parra Grande Lane back in the early 1900s and would return to design the 1918 clubhouse for the Montecito Country Club, among other projects.)
In San Diego, the Bakers and friends found the Exposition to be enormous, and to get around, they rented electric wicker carts and went electriquetting along El Prado (the main street) and the Puente Cabrillo, cameras in hand. 
At the end of March, the Meeker and Baker families headed back to Chicago via the Panama – Pacific International Exposition in San Francisco. The Bakers continued to use Cedar Cottage off and on until 1921 when they sold it. In 1952, its second story was removed, and since then it has been remodeled several times.
Like many former winter guests, the two friends eventually returned to live permanently in Montecito. Grace in 1923 and Isabelle in 1942. Grace was named Santa Barbara "Woman of the Year" for her many philanthropic and cultural contributions to Santa Barbara. Isabelle married twice; her second husband was Edwin C. Welch with whom she moved to Montecito.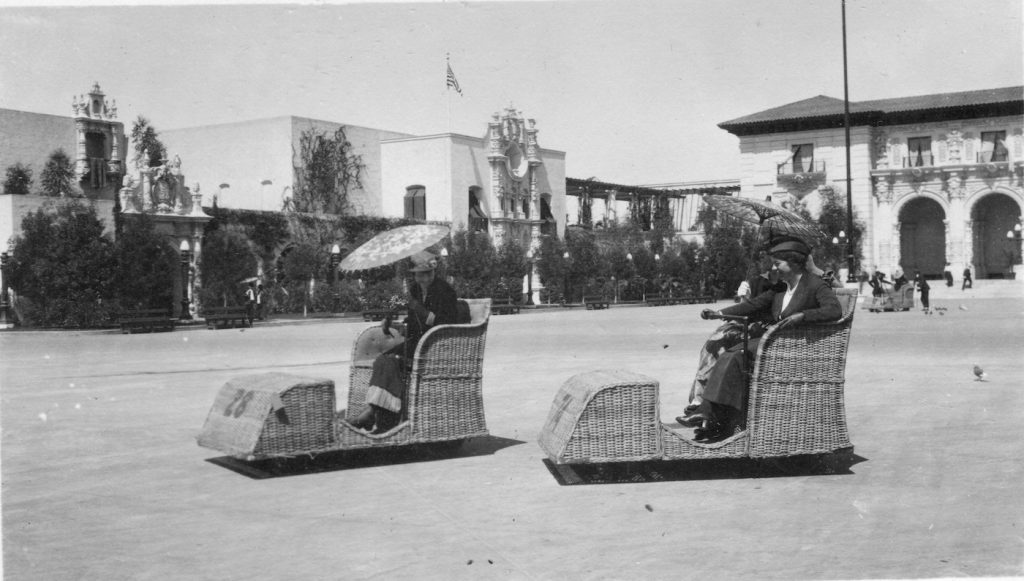 For more stories about Santa Barbara and Montecito's famous visitors and attractions, pick up a copy of The Way It Was: Santa Barbara Comes of Age by Hattie Beresford. Available at Tecolote Book Shop, Chaucer's Book Store, Read and Post, the Santa Barbara Historical Museum, and Accents at the Four Season's Biltmore, the book contains nearly 300 historic photos and chronicles the rich and fascinating history of the area.
(Sources: David Myrick's Montecito and Santa Barbara, Baker Family Photo Albums, files of Montecito Association History Archive, recorded interview with Isabelle Baker Welch, The Morning Press of 1915, various U.S. Censuses)
You might also be interested in...