Half Moon Bay: A "Country Mouse" Getaway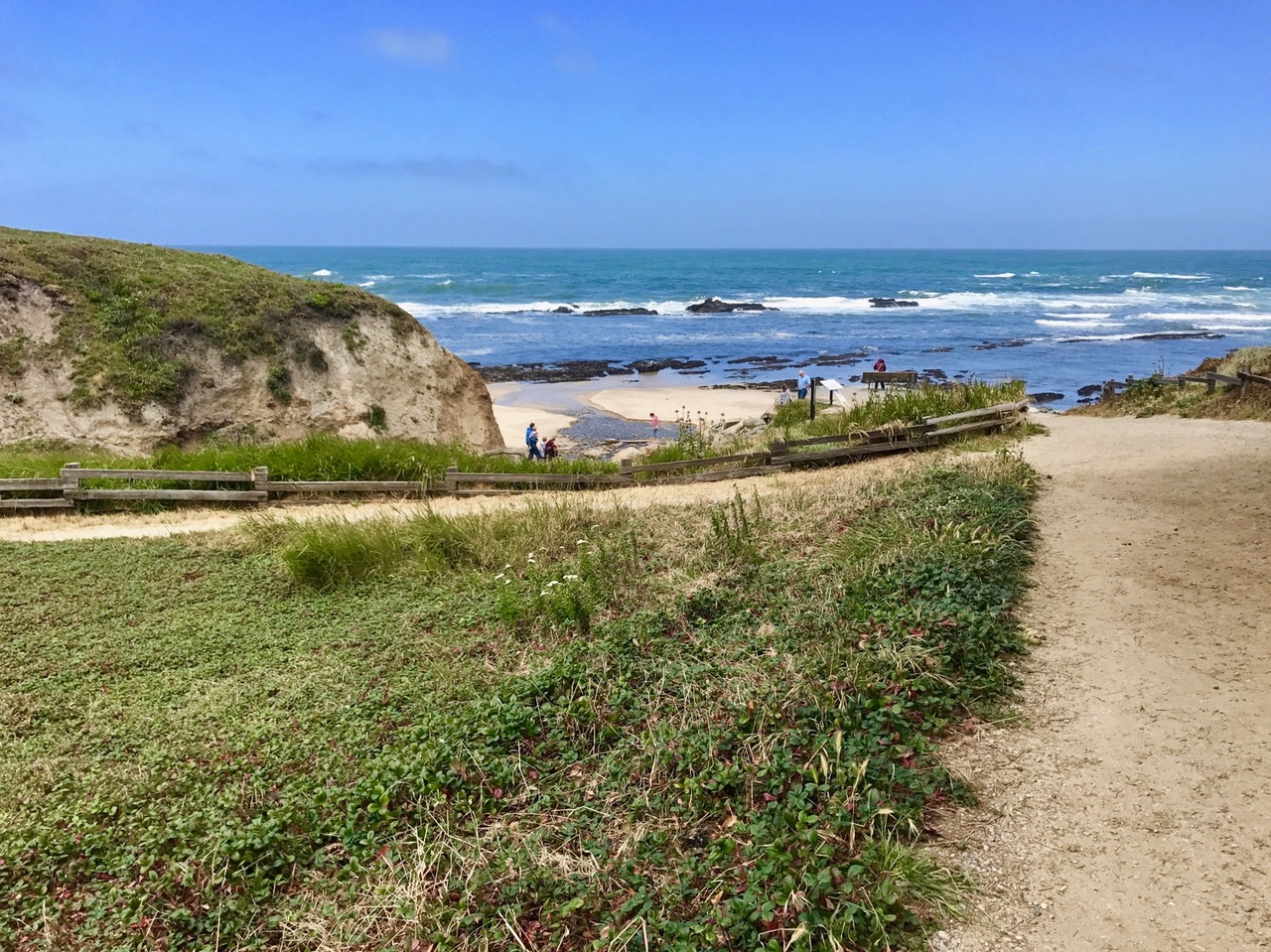 To get to Half Moon Bay, we had driven up U.S. 101 through crawling traffic in San Jose, dodged the pushy Porsches and Tesla jockeys of Silicon Valley, and finally twisted and turned our way over a busy road through the Santa Cruz Mountains.
At the end, though, waited a quiet little farm town called Half Moon Bay, set on a bluff above the blue ocean. It had an endless view across the water and a backdrop of deep forests. Ahhhh.
As a local resident observed: "People come over the hill and exhale."
HALF MOON BAY is edged by a string of nearly empty beaches where you can ride horses on the sand, galloping alongside the tide. But it is probably best known for Mavericks, a surfing spot where some of the world's biggest and most frightening waves rise out of the ocean like the Incredible Hulk. Surfers discovered the break in 1967, naming it for one guy's German shepherd, Maverick.
Riders plunge down walls of water as tall as a four-story building. (When the 60-foot waves crash, they actually register on seismographs.) The giant swells don't always appear, however. Surfing competitions take place only when they do, in the window from November through March.
I did see riders catching waves at gentler Surfers Beach as my wife, Merry, and I drove to Fitzgerald Marine Reserve. Tucked away on the edge of a residential neighborhood, the reserve's tidepools are a live bouillabaisse of colorful crabs, sponges, sea stars, anemones, seaweed, and fish. A friendly local had advised me to get to the reserve right away, because the tide was so low it was actually in the minus numbers. Oddly, I didn't see a lot of sea critters, but joined parents and kids happily wandering around the vast tidepools in search.
I did get an intuitive, deep sense of the ocean's power. Surging waves were being held back in a sort of suspended animation – not by the rim of low black rocks that guards the tidepools, but by the mighty force of the moon that pulls the tides. It felt as if a powerful boxer was being held back, bouncing in his corner, by his manager.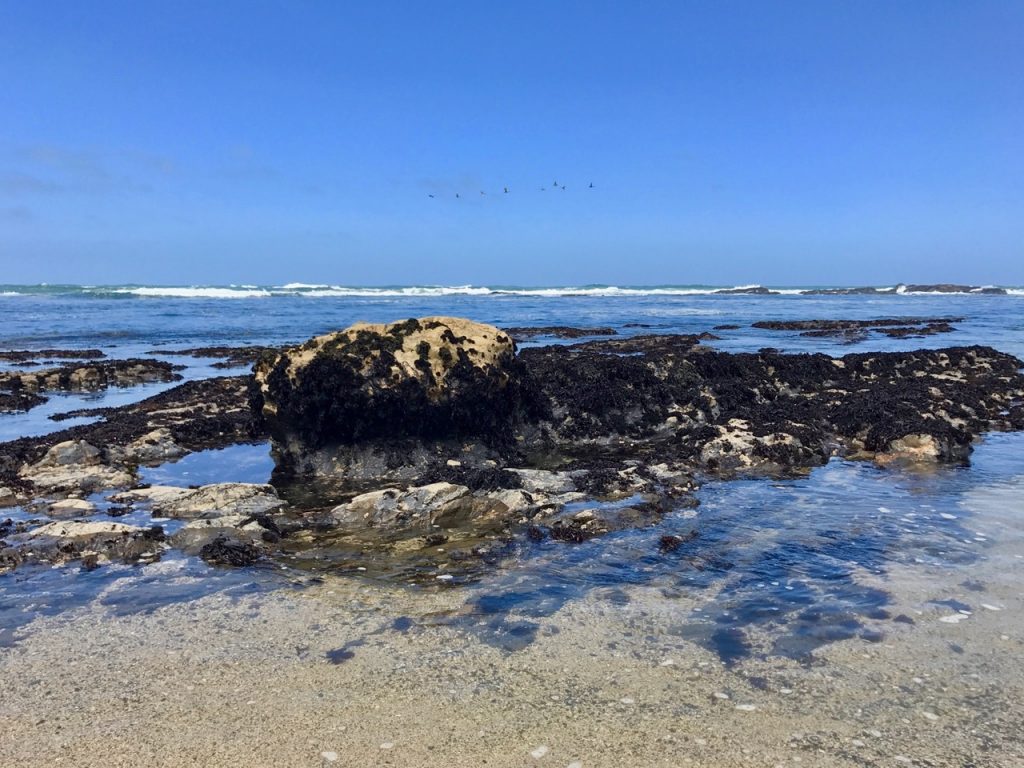 Looking at waves as they crashed against hidden rocks and exploded in white foam, Merry had a different take: "It's like a bad seascape painting with everything exaggerated for drama. But it's real – and so beautiful!"
A while later, exploring the adjacent residential community of Moss Beach, we happened upon a piece of history: the Moss Beach Distillery. This cliffside restaurant was once the notorious Frank's Place, a speakeasy popular during Prohibition with silent film stars and San Francisco politicians. Writer Dashiell Hammett (The Maltese Falcon) frequented the joint and even set one of his stories here.
Because Frank's sat above a secluded beach, it was the perfect spot for rum runners to row ashore, under cover of fog and darkness, with illegal whiskey for transport to San Francisco. Booze also found its way into Frank's basement – no surprise – and no problem, since the owner used his excellent social and political connections to avoid being raided.
The Moss Beach Distillery still has one customer from early days, a resident ghost known as "The Blue Lady." It's said that she moves furniture in the night, whispers in people's ears, and performs other disembodied stunts – rating a spot on television's Unsolved Mysteries. Unlike many other haunted places, this one serves a very nice seafood platter.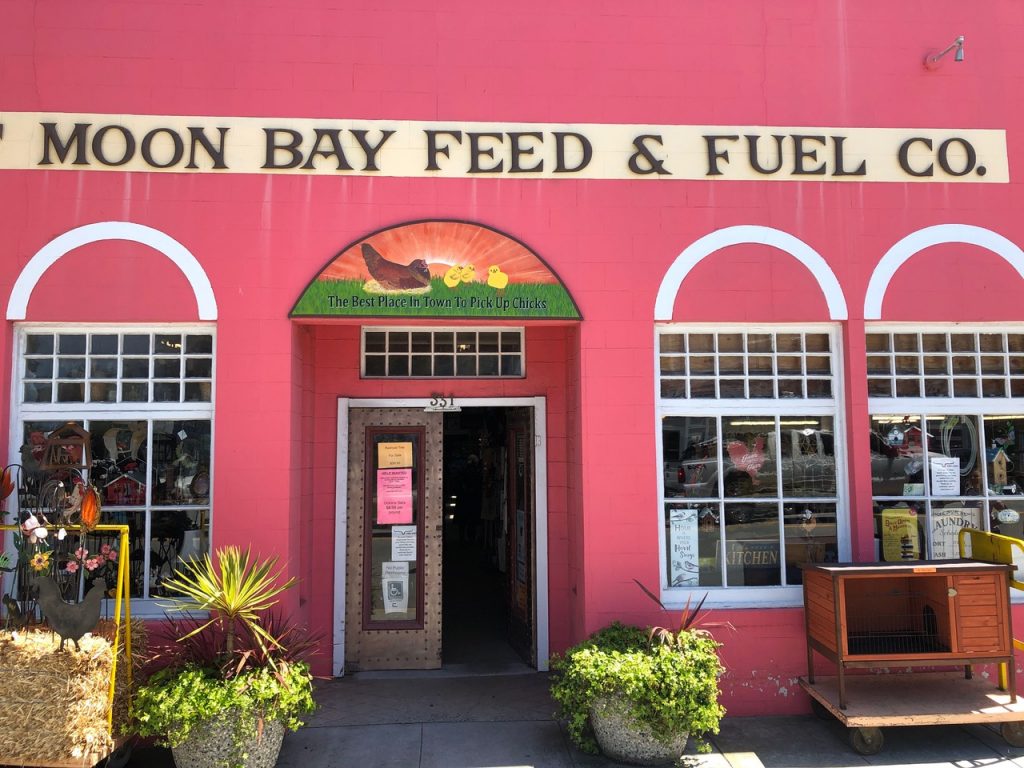 AFTER AN AFTERNOON OF EXPLORING, we headed to the Ritz-Carlton on a point just south of town. The luxury resort's shingled buildings sit on a bluff whose ruggedness is softened by a swaddling of green golf courses.
When we checked in, the friendly desk attendant told us our room number and added, "Sunset is at 6:45." Hmmm . . . good to know, but odd to mention? Later, sitting in Adirondack chairs on the Ocean Lawn, Merry and I realized that in Half Moon Bay, sunset is the day's big event. As guests sipped wine, the resort's bagpiper appeared in full Scottish regalia to herald eventide. The pipes' lonely sound was a fitting accompaniment to the fading light.
After a night's sleep, we went exploring Half Moon Bay's historic Main Street, where houses and buildings from the 1800s and early 1900s have been converted into shops. At Abode, a home-décor store, we bought a handcrafted wooden box overflowing with local moss and lichen – very NorCal. 
Next we checked out the region's main enterprises, flower growing and farming, which yield everything from bedding plants to brussels sprouts to Christmas trees. Half Moon Bay is also the self-declared "Pumpkin Capital of the World," celebrating the great gourd with a festival in fall. (Naturally, there's a pie-eating contest.)
On Highway 92 just east of town, along a stretch of hothouses, we stopped at "Pastorino Farms: Artisan Growers." One place featured orchids, one potted flowers, and another carnivorous plants (!). We liked Ouroboros Farms, a huge greenhouse devoted to aquaponics, a growing method that combines aquaculture (raising fish) with hydroponics (growing plants in water).
We were welcomed by friendly Ken Armstrong, whose title on his business card is "Big Fish." He explained that some of the large tanks hold koi and rainbow trout. Water carrying their waste products (aka "fertilizer") is pumped to other tanks where floating plants such as lettuce and kale make use of the nourishment to grow. This process cleans the water, which is then circulated back to the fish. It's a closed, pure system that replicates nature's rivers and lakes.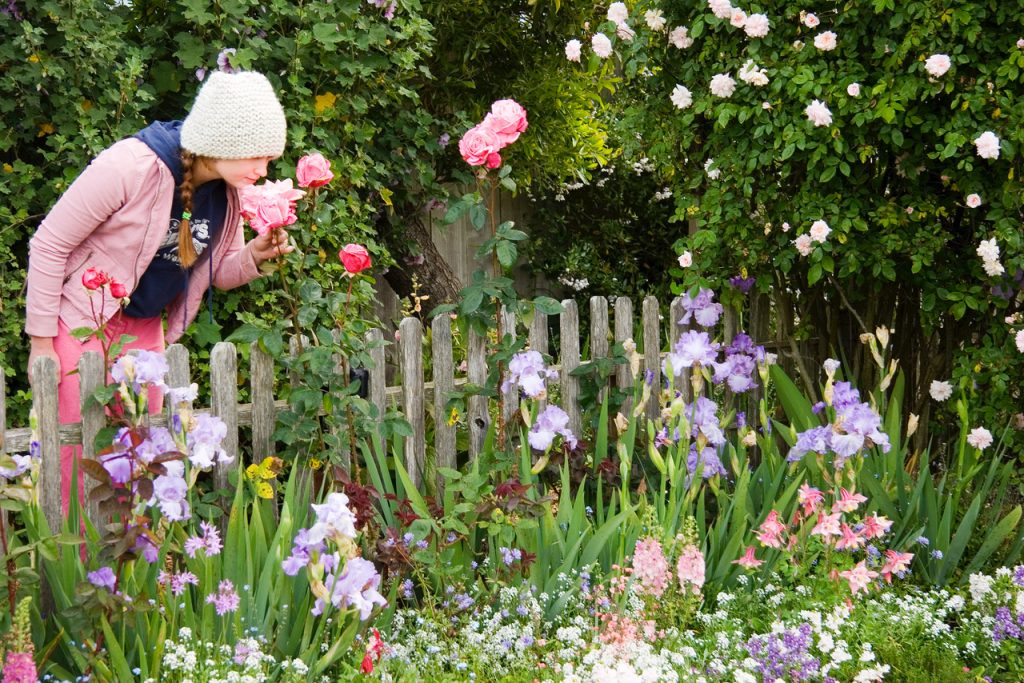 Visitors can take home fish and fresh greens to eat. A regular customer, we learned, is Duarte's Tavern, a legendary roadhouse in nearby Pescadero, so we headed there. "It all started in 1894," says proprietor Kathy Duarte, "when my great-grandfather, Frank, brought a barrel of whiskey from Santa Cruz and placed it on the very bar you see today." Since then, four generations have run the place, doing everything from tending bar to scooping ice cream and making pies.
When we walked in through the bar, though, all the lights went out. I guess this isn't uncommon in rural Pescadero, and the tavern simply switched on their generator. The lamps flickered like gaslights, dancing on dark pine walls.
Merry and I ordered the famous cream of artichoke soup that makes big-city food critics rave. (Local tip: You can also ask for half-artichoke, half-green-chile soup, even though it's not on the menu.) First, we attacked a basket of fresh-baked, hot-out-of-the-oven, crusty sourdough bread, the best we've ever tasted. (Take that, San Francisco!) I sipped a glass of cold, fresh-squeezed apple juice from the organic orchard in back of the tavern.
Sitting there in the funky old roadhouse, I realized that we'd been doing what "country mice" do – darting about from one intriguing spot to another, enjoying the food we found, and generally taking it easy. In Half Moon Bay, city mice can learn a life lesson: Ahhhh . . . exhale.
COMPASS POINTS
GETTING THERE: Half Moon Bay is located 28 miles south of San Francisco and 32 miles northwest of San Jose; take Hwy. 92 west from U.S. 101 or Hwy. 280.
VISITOR INFORMATION: www.visithalfmoonbay.org, 650-726-8380.
WHERE TO STAY
THE RITZ-CARLTON HALF MOON BAY (One Miramontes Point Road, 650-712-7000 or 800-241-3333, www.ritzcarlton.com/hmb) A luxury resort inspired by the grand seaside lodges of the 19th century, it has 261 rooms and suites, many with coastal and ocean views, some with patios and firepits. Rooms have featherbeds, marble baths, 42-inch televisions; services include twice-daily maid service and a "technology butler." There's a 24-hour fitness room (where this country mouse never set foot), a swimming pool, and a spa with an array of body and facial treatments. The staff is friendly and genuine, quietly taking care of you without fuss; all seem to remember your name after one meeting.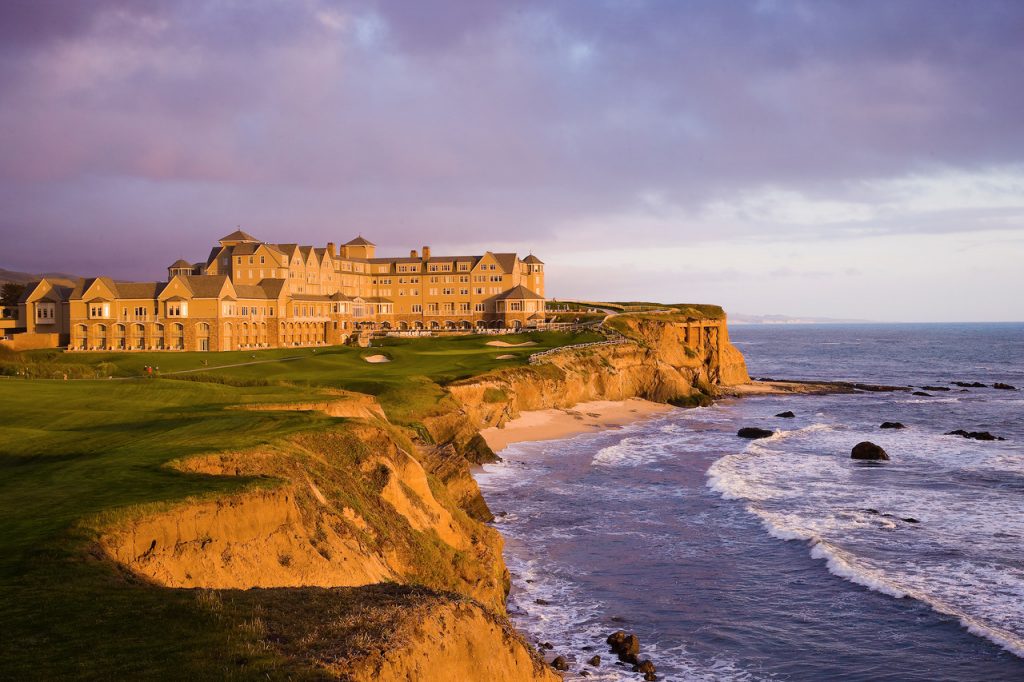 Two championship golf courses include an oceanfront Scottish-links style course, designed by Arthur Hills, whose challenges come from nature – e.g., gusty breezes. The Old Course (design by Arnold Palmer, updated by Hills) is a Parklands-style course flanked by cypress trees; its challenges are narrow fairways and lots of doglegs.
Dining options include Navio's artfully presented sustainable seafood and steaks; dinner, breakfast, weekend brunch. The Conservatory feels like a casual beach house, serving California comfort cuisine; lunch through late night. The Ocean Terrace offers a raw bar and grilled bites; noon to sunset.
Rates: $399 to $1,699 nightly; Ritz-Carlton Suite $3,500.
WHERE TO EAT
I asked a longtime local and hospitality professional, Joel Costa, for recommendations:
SPICE ME THAI CUISINE: "It won't win any design awards, but has the best Thai food in the entire Bay Area." (500 Purissima Street, 650-560-0076)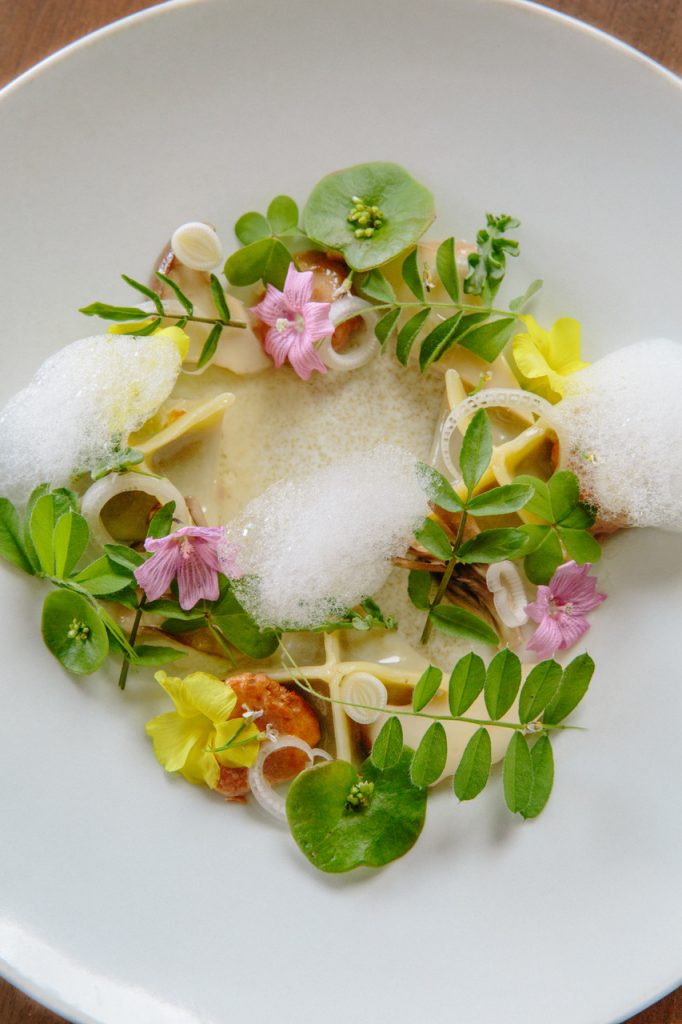 VIA UNO: "Stellar Neapolitan pizza, plus pasta and fish." (2810 Cabrillo Hwy. North, 650-560-8858, www.viaunorestaurant.com)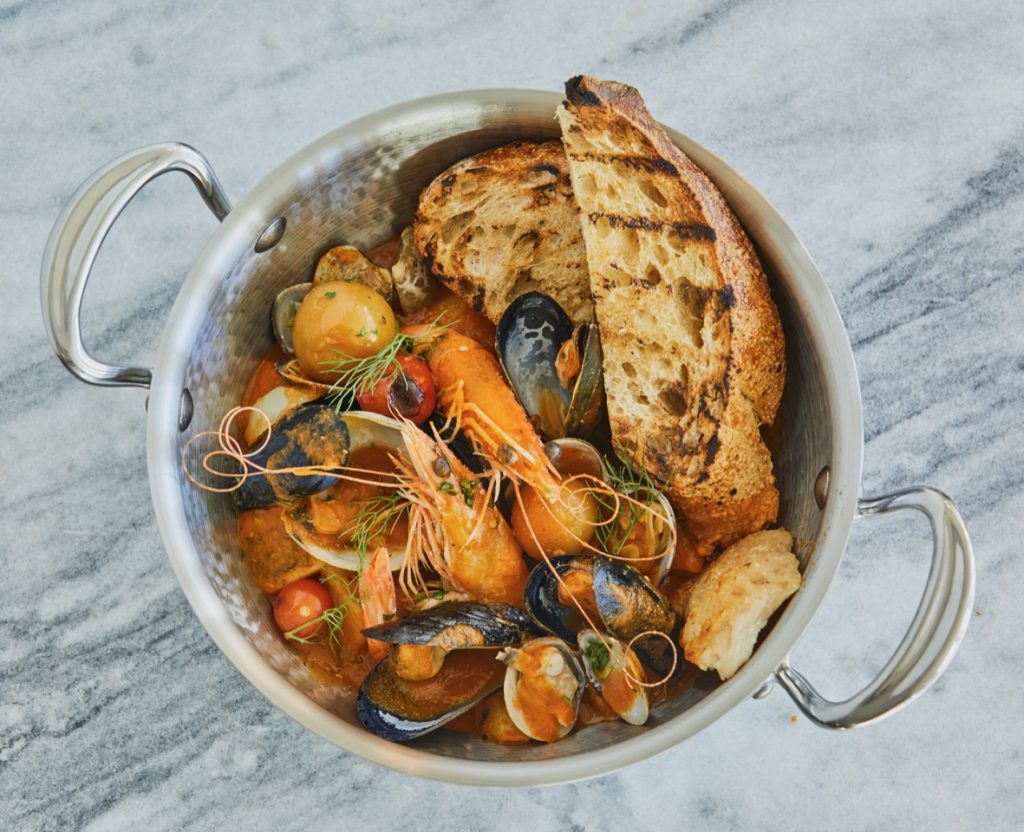 PASTA MOON: "California-modern Italian, fresh local ingredients." (315 Main Street, 650-726-5125, www.pastamoon.com)
HALF MOON BAY GRILL: "Old coffee shop, great omelets." (547 Main Street, 650-726-5300)
DAD'S LUNCHEONETTE: "A three-Michelin-star chef serves a simple menu of sandwiches, burgers, and mac 'n' cheese in a retired red caboose." (225 Cabrillo Hwy. South, 650-560-9832, www.dadsluncheonette.com)
Also:
MOSS BEACH DISTILLERY (140 Beach Way in Moss Beach, 650-728-5595, https://mossbeachdistillery.com) Fresh California coastal cuisine, ocean view from every table, heated outdoor patio.
DUARTE'S TAVERN (202 Stage Road in Pescadero, 650-879-0464, www.duartestavern.com) Local fish and farm produce; don't miss the homemade pie.
WHAT TO DO
FITZGERALD MARINE RESERVE (200 Nevada Avenue in Moss Beach, 650-728-3584)
OUROBOROS FARMS (12511 San Mateo Road, 650-522-0542, www.ouroborosfarms.com) 
ODDYSSEA (617 Main Street, 650-440-4555, https://oddyssea.com) A place for kids to make a terrarium necklace, build a catapult, fashion a knotted-rope sailor bracelet, etc.
GLASSBLOWING LESSONS (Half Moon Bay Art Glass, 12341 San Mateo Road, 650-283-5626, www.hmbartglass.com) Make a piece of glass art (pumpkins are popular) after a brief lesson, priced from $69.
You might also be interested in...