Chronicling CAMA's Centennial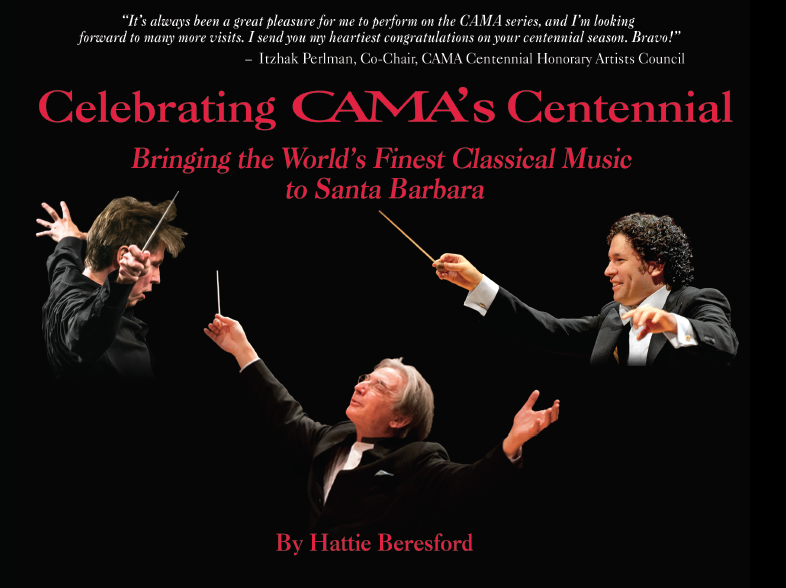 Community Arts Music Association (CAMA) is deep in the midst of its centennial season that celebrates the major milestone with a crowded calendar of events. The 100th anniversary kicked off early in the fall with a gala honoring philanthropist Sara Miller McCune at the Four Seasons Biltmore, staged a red carpet reception before the annual appearance in October of the Los Angeles Philharmonic, the orchestra whose celebrated history not coincidentally coincides almost exactly with CAMA's, then hosted the Los Angeles Chamber Orchestra in a free community concert at the Granada in December for which tickets were snapped up months in advance.
Earlier this week, CAMA's flagship International Series also presented a sixth concert with one of the world's most treasured soloists, the legendary violinist Itzhak Perlman, whose association with the organization dates back more than half of CAMA's 100 years to a performance as the 21-year-old soloist with the Los Angeles Philharmonic in 1967. But while eight more concerts are still to come in the centennial season, plus sponsor and subscriber dinners, a special partnership event with Opera Santa Barbara, the competition finals for the new performing arts scholarship, and the official 100th birthday bash at the Santa Barbara County Courthouse Sunken Gardens in mid-May, perhaps one of the more intriguing events of the special season – or at least its most enduring in a physical sense – takes place this weekend, when CAMA fetes the publication of a new book chronicling the remarkable milestone.
Celebrating CAMA's Centennial: Bringing the World's Finest Classical Music to Santa Barbara was written by local author and researcher Hattie Beresford, the retired teacher of English and American history who writes the column "The Way It Was" for this newspaper and in the Montecito Journal Magazine. Comprising more than 240 pages and featuring hundreds of photographs, historical illustrations and images of artifacts, newspaper article clippings, and much more, the book is an exhaustive study of the organization's evolving history from its antecedent as a community initiative in the fall of 1919 to its current role as the region's premier presenter of classical music concerts with touring artists. It's a fitting testament to its remarkable achievements, which include bringing an astonishing array of legendary artists to our local stages, among them Pablo Casals, Sergei Rachmaninoff, Vladimir Horowitz, Jascha Heifetz, and Igor Stravinsky.
CAMA Executive Director Mark Trueblood had nothing but praise for Beresford's book, noting that she was able to put together information from a wide variety of sources, including by her own count the minutes of the Community Arts Music Branch/CAMA, the CAMA Women's Board scrapbooks, newspapers, and other files at the Santa Barbara Historical Museum's Gledhill Library, and additional files at UCSB Library Special Collections Department. "We're absolutely delighted," he said. "CAMA has a rich history, and this book captures our place as an important piece of the musical side of Santa Barbara history. She more than did justice to our story."
Celebrating CAMA's Centennial: Bringing the World's Finest Classical Music to Santa Barbara is organized chronologically with its five chapters covering distinct periods in the CAMA's history: "The Early Years," "Through Boom, Bust and Wars," "Post-War Changes," "The Arlington Years," and "Into a New Millennium." It closes with a 65-page archive detailing every CAMA performance over its 100-year history.
Beresford will discuss the background, context, and formative years of CAMA, largely covering its first decade, in a free public talk at Santa Barbara Central Library's Faulkner Gallery at 2 pm Saturday, January 19. "It was fascinating because there were two philosophies regarding bringing classical music to Santa Barbara in the 1920s," she explained. "One group believed that great music should be performed by the people in the community to enrich their lives as active participants. The other idea was based on quality alone and the desire to share that quality with all the people of Santa Barbara. Hence you have the Civic Music Committee bringing top notch performers and the Community Arts Music Branch working initially to create a local symphonic orchestra. Their entire history shows a blend of these two forces."
One of the most inspiring parts of the organization's history, Beresford noted, was how CAMA "has managed to overcome a host of historic obstacles, and continues to evolve and change to meet the challenges of the future."
CAMA will further establish its legacy in the near future with the conclusion of its 2018-19 season that includes appearances by the Philharmonia Baroque Orchestra, under the direction of Nicholas McGegan (February 5, Granada Theatre); the Russian National Orchestra (February 27, Granada); the Tafelmusik Baroque Orchestra (March 9, Lobero Theatre); London's Philharmonia Orchestra, under the direction of Esa-Pekka Salonen (March 20, Granada); pianist Garrick Ohlsson (March 30, Lobero); the Royal Scottish National Orchestra (April 5, Granada); violinist Augustin Hadelich (April 17, Lobero); and cellist Mischa Maisky (May 6, Lobero).
Celebrating CAMA's Centennial, which sells for $30 (softcover), will be available for purchase at the January 19 talk, at the CAMA office, and at Chaucer's Books.
Meanwhile, the book has already resulted in at least one new CAMA admirer in the person of its author.
"I knew very little about classical music [before writing the book]," Beresford said. "I feel very honored that CAMA entrusted me with it, and very appreciative that I was able to attend some wonderful concerts last year. I'm still a neophyte, but [now I'm] definitely a fan."
You might also be interested in...