Going Where the Gym Crowd Goes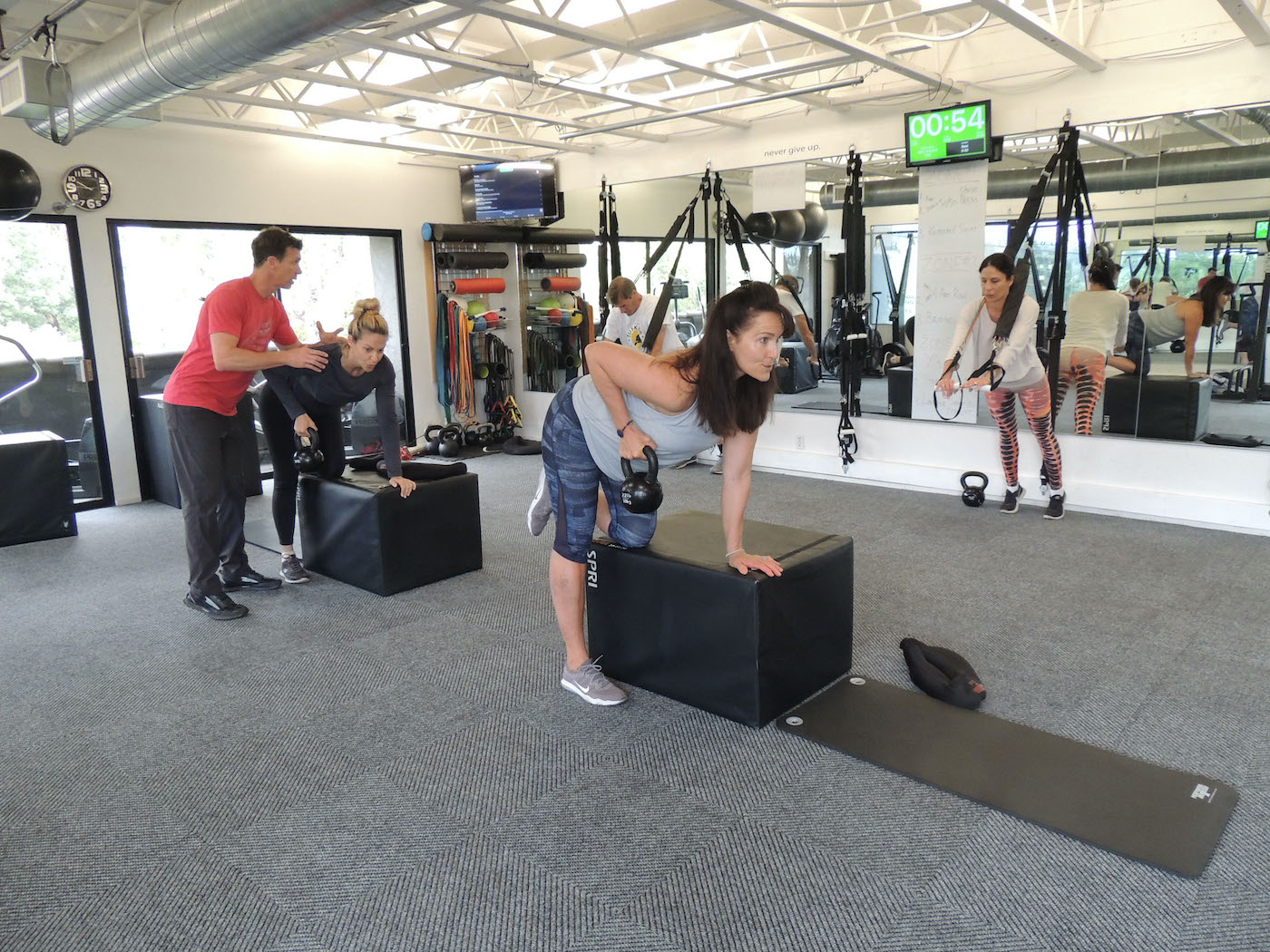 Are you in with the gym crowd? Do you go where the gym crowd goes? If you do go wherethey go, then you know that on arrival, group fitness is the order of the day. The conundrum is the abundance of group fitness classes. Popping up like so many bulging biceps county-wide, where's a Montecito local to go? 
This column narrows your destination down to Physical Focus, a neighborhood gym located at 140 Hot Springs Road, and guaranteed fit for all Montecito-ites: "Our PFx classes are a place for residents to meet, sweat, and build community," owner Kasper Allison says proudly.
The showing-up part is so much easier when it's about friends as much as it is about fitness. Both play a huge role in the PFx classes Physical Focus has recently launched. "Our modality is different than the downtown group fitness centers in an important way," Kasper says, noting the PFx cardio-conditioning class and PFx strength-core class currently available at Physical Focus are capped at 12 participants per session.
"Our nineteen-year history as a training center focuses on movement education and injury prevention. Over the years, we've heard quite a few stories of people getting injured during large group classes because the coach couldn't address a given participant's movement and technique due to the size of the class. That's not the case at our PFx classes," he claims. "Each class is meticulously coached, and proper movement is paramount. We teach each participant how to move correctly and continue this re-education during the entire class. With this formula, everyone is assured a well thought-out and curated experience, ensuring an amazing workout."
Trainer-partner Shane Cervantes was just as enthusiastic: "Starting the PFx classes has been an exciting next step for me and Physical Focus. Being able to bring together a community of people interested in changing their movement, as well as changing their bodies, has been a wonderful experience. We're able to help a lot more people, which has always been a top reason to train for me."
Landmines and Kettle Bells
Ready to bang elbows, build muscle, and become better informed as to technique, I dropped in on the Strength-Core-Mobility Class, despite being somewhat hampered by a recent forearm injury. My lighter-than-usual participation afforded me greater opportunity to really observe the class in action, though – and the skills of Kasper as he led his group through a one-of-a-kind circuit. A mix of landmine lifts and kettle-bell swings, stability ball work and plyo boxes, front lifts, lateral lifts, kickbacks and exercises performed on the suspension-rubber-resistance bands created by Physical Focus known as Pro Sculpt bands.
Kasper never stopped moving for a minute. From demonstrating and explaining the whys and wherefores of proper technique, he paid diligent attention to each class member as they worked it – correcting form by individual example.
Paced by both reps and time, Montecito resident Lisa Rottman glows as she tells me why she likes the class so much: "This class is what got me back in shape after having my children," the mother of two says. "The metabolic conditioning is something I've never tried before; I've never been this fit! You're basically getting the feel of having a personal trainer at class prices. It's very affordable, but the attention is personal."
Happiness coach Holly Ridgeway echoes the same sentiments: "I like the intimacy of the group. They teach technique so well too. These guys pay attention to my functional strength – not just my physique." While the reasons fellow Montecito resident Doreen Sales cited for coming were a bit more poignant: "It's nice to be around my neighbors, especially after the year we had. A lot of us gained weight from the stress of the disasters and displacement. This program is the epitome of 805 Strong," the graphic designer says, her manner heartfelt as she adds: "You have to be a Montecito resident to understand."
There were plenty of neighbors who understand just that at the Conditioning and Cardio class I checked out the following day. A combination of strength and cardio intervals designed to increase energy and maximize calorie burn, there was even a screen broadcasting the results of the heart rate monitors each participant wore, showing the calories expended and maximal BPM each achieved. Broken into three stations featuring a wide range of exercises—from lunges, jacks, and "sled pulls" (achieved by looping secured, suspension bands at the waist) to hurdles, weighted squat swings, and HIIT cardio work – the class schematic was as fun as it was demanding.
So fun that off-duty instructor Lindsay Deaguila was herself in attendance, adding to and clearly enjoying the vital atmosphere: "It's intimate group training that allows for the community aspect of it – rooting each other on is what it's about! Kasper concentrates on the body mechanics, and we all get a great sweat on while we work out." Amelia Carleton has been coming since the outset. "I've never had a total body workout like this before. Kasper's instruction is unparalleled. He's always watching your movement patterns. He truly pays attention!" The mother of three was matter-of-fact as she added: "It's the cleanest gym I've ever been in too. By far and away."
The facility is as well-kept as it is well-equipped, and newcomers Cathy and David Atkinson made good use of the latter during the action-packed hour. "The mixture of exercise is good." David noted, while his wife remarked: "It's very challenging. I like seeing how hard I'm working on the TV monitor." A measurable result that correlates to Kasper's own sense of satisfaction with the new venture.
"Seeing the vast improvements with those that come regularly is very gratifying," Kasper says. "Everything from increased energy, to body weight and stress reduction." More class days and times are slated for a summer kick-off along with new classes highlighting combinations of mobility and yoga, recovery, and relaxation. Explaining that the formula behind the current classes are the building blocks of good health, incorporating both cardio fitness and strength, he concludes: "You can't be fit without being strong, and you can't be strong without being fit."
Well said, indeed. If you want to know more, surf www.physicalfocus.com or call (805) 695-0450.
You might also be interested in...