High Plains Paddling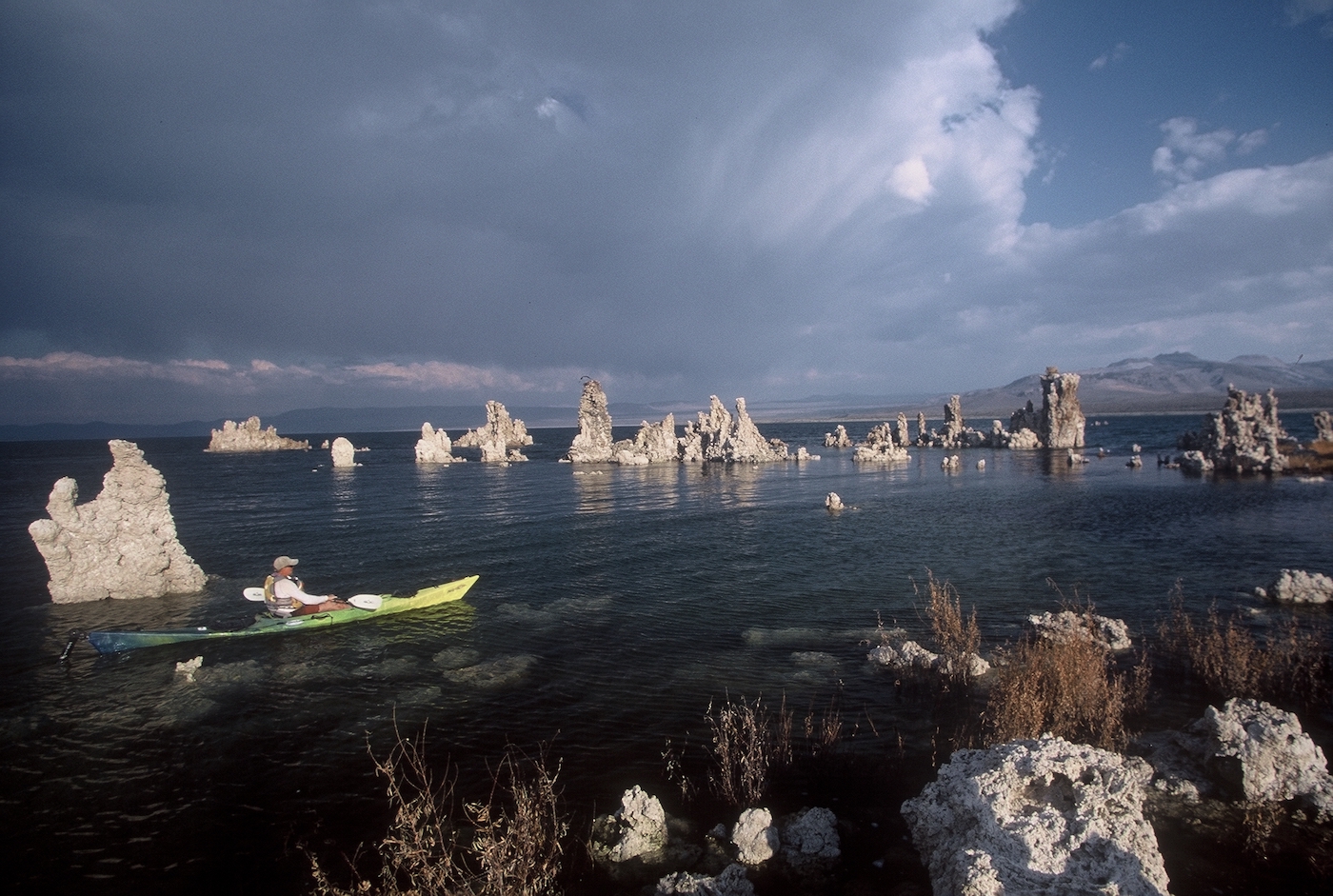 Surely Clint Eastwood didn't envision Mono Lake as a sublime paddling destination during the filming of the 1973 Western classic High Plains Drifter, but today that high-desert realm located in California's Eastern Sierra is just that, with a few surprises along the way.
I had heard you needed a permit to paddle the expanse of the saline soda lake, not because the State of California was trying to rake in some much-needed coin from the kayaking culture, but simply to keep track of folks who might paddle astray. Apparently, there have been a lot of people who have underestimated the potentially vicious winds that can blast out of the desert and Eastern Sierra, transforming a tranquil paddling trip into an unwanted fight for survival.
"A lot of people have died paddling out there," said a weathered park ranger at deserted Navy Beach, located on the south side of the 40-mile circumference.
He was actually there looking/waiting for myself, Danny Trudeau, and Craig Fernandez. We didn't know that we needed a permit, but he didn't seem too upset with us.
"We've had people in the past paddle out and never make it back," he continued, deadpan. "Next time, head over to the visitor's center and fill out the paperwork. It won't take you that long."
I promised I would and apologized for making him worry. I didn't tell him about the two gentlemen with the slick, carpetbagger moustaches, dress hats, and the K-Mart special blow-up raft we encountered on the western shore of the lake. Nah, we were still soaking in our three-day push around the two main islands Negit and Paoha and the maze of tufas clustered around the south/southwest lakeshore.
Thermal Awakening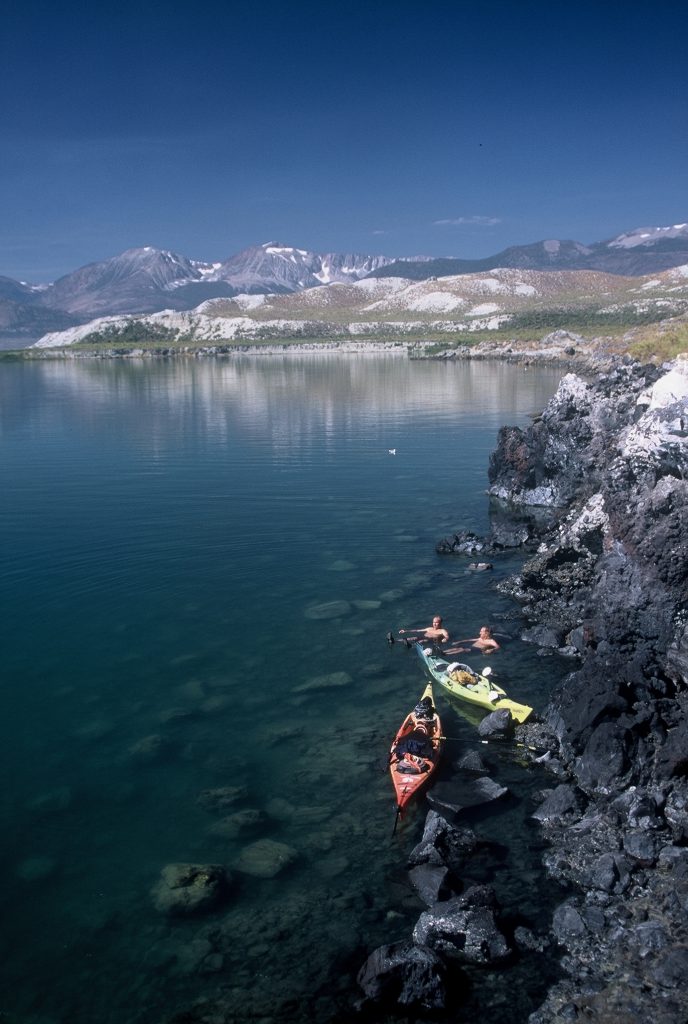 The water was cold in Mono Lake, at least initially. We expected it to be so, especially kayaking at 6,392 feet in the Eastern Sierra and with snowmelt running out of tributaries such as Lee Vining, Mill, and Rush creeks. After launching from Navy Beach, we arrived at Paoha 40 minutes later. Along the way, we all agreed the water was a frigid 40 degrees.
However, when we paddled to the southeast end of Paoha, we felt the water getting increasingly warmer and finally to the point where it was too hot to touch. Thermals were spewing above us and also bubbling up beneath the volcanic isle.
We found a spot that we guesstimated was in the mid-90s, so we had a good soak right out of our kayaks with the Eastern Sierra and Tioga Pass as a breathtaking backdrop. It was a pleasant surprise on the first day of paddling while sharing the warm waters with a bevy of resident California gulls. Something told us the gulls knew about the hot springs as they fluctuated between feeding in the cold waters for those itty-bitty brine shrimp and then warming themselves when the need arose. There are actually several more small islets tucked between and around the two main isles, and the gulls breed and nest on all the islands in the middle of Mono Lake.
After our soak, we paddled for the north side of the island. As soon as the sun dipped behind the Eastern Sierra, the temperature dropped quickly. We found a half moon-shaped cove and conveniently perched atop the black volcanic cobble was a picnic table, a campsite too perfect to be true overlooking shimmering Mono Lake and the vast desert plain beyond.
Tufa Towns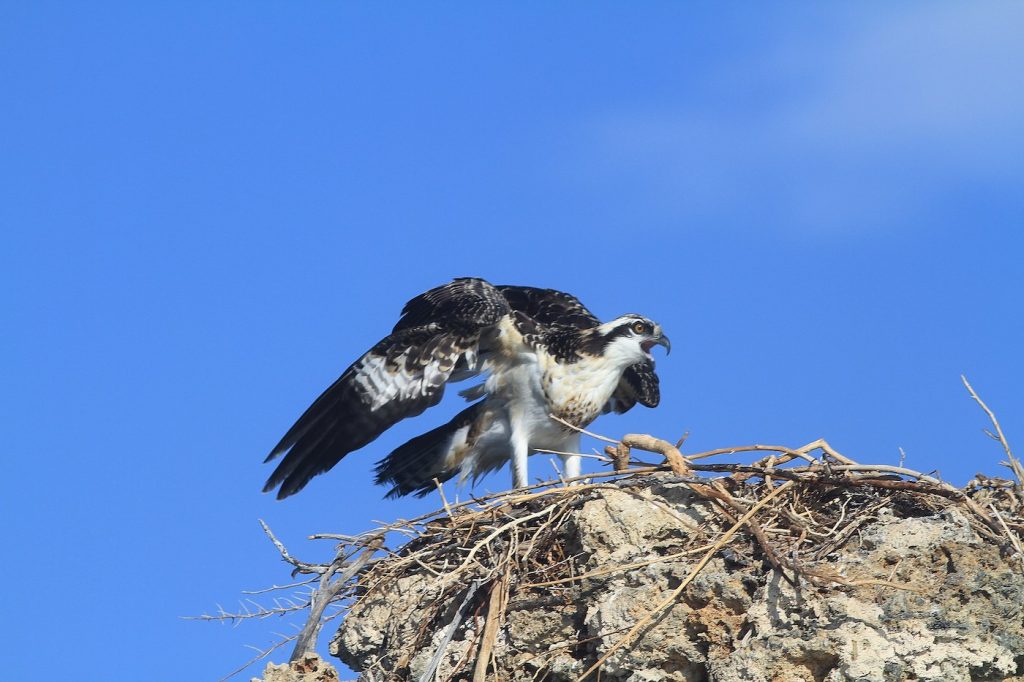 It wasn't easy getting up and out of our tents the next morning. That Eastern Sierra chill was hanging tough. A light wind added a bite to it, so we easily waited until the sun rose above the mountains to the east. After packing up, we headed for the first stands of tufas situated just north of Lee Vining. Over time, the unique combination of freshwater springs and alkaline has created the other worldly calcium-carbonate spires that stabilize the shoreline and enhance wildlife habitat.
We took our time during the two hours to kayak there, taking in the grandeur of the Eastern Sierra with 10,000-foot peaks nearly jutting out of the glassy lake. We were soon joined by hundreds of migrating eared grebes. It was late September and the scruffy little water bird's numbers grow to ridiculous proportions in the fall. According to park personnel, they arrive each day by the thousands in September and October. They bobbed on the water like little battery-operated toys, then quickly porpoised after the tiny balls of brine shrimp clouding the otherwise crystal-clear water.
Even from a fair distance away from the tufas, this region of Mono Lake was much shallower and sandier then anything we'd paddled thus far. As the tufas wafted on the high-desert horizon between the water and mountains, the incessant chirp of ospreys pierced the lake's solitude.
We deemed the majestic ospreys the "keepers of the tufas." They reminded us of angry gargoyles keeping watch over their precious lake. The tufas were not only convenient perches for these fish-eating raptors, but many of the tufas were a nesting habitat for these black-and-white birds. Fortified with tangled sticks and twigs, several of the more prominent tufas were head-dressed with osprey nests. Long before we arrived anywhere on Mono Lake, the ospreys let us know they were nearby.
The Beach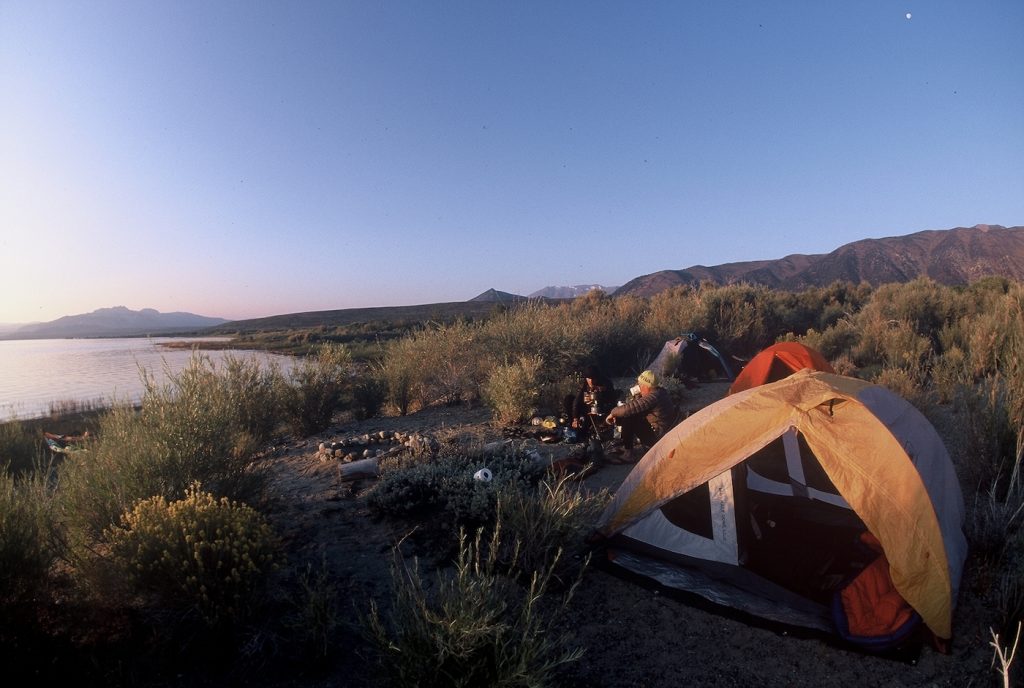 Sometimes the best beaches are found on or around rivers, streams, and creeks. Water can grind up rock and pebble, and winds can groom a beach among the willows and Tule reeds as if a kayaker ordered it up. Instead they're ready-made, awaiting a distant paddler to discover them.
That's pretty much how it happened for us while hugging the westerly shore, hoping to locate one of those concealed nooks and crannies with just enough room for three kayakers. Late in the afternoon with the sun sinking behind snow-capped mountains, we discovered a raised, sandy beach overlooking the lake toward the western flanks of the two main islands.
While pitching our tents and with a fire crackling bright among dense desert scrub, the Eastern Sierra sky performed one of its natural works of art. Late-afternoon monsoonal clouds billowed across the eastern horizon with orange, pink, and purple hues coating those daunting skies. Gusty northeast winds swirled across the lake, and then with dusk descending over the water, the three of us watched bewildered as two schleps motored toward the western edge of Paoha in a flimsy raft straight out of a K-Mart checkout line. As we traded back and forth the only pair of binoculars among us, we came to the conclusion that their makeshift motor resembled something no sturdier than an eggbeater.
They were about halfway to the volcanic isle when something went askew. They were soon adrift, struggling to right their ship against swirling, unpredictable winds. It was nearly dark, but what we could decipher in poor light was this; the captain of the vessel had half of an oar and was sitting in a lounge chair furiously paddling on either side of his raft. His beleaguered first mate was ordered to lay over the bow and perform some sort of hideous breast stroke to assist with their mishap.
Somehow, they managed to paddle back to shore, probably using our cozy fire as a beacon of hope. When they disembarked from their miserable olive-green raft – their battery-operated motor clinging to its fragile stern – we had to ask why.
"We were about to drive through Yosemite and I had this inclination to paddle/motor across Mono Lake," said the man with plaid shorts, a bowling shirt, and a fedora hat. "I just had to be on the water."
Dressed nearly identical, his partner in crime didn't say a word and that was probably a good thing. They originally began their venture at a dilapidated boat launch. Earlier in the day we had paddled past it, and now they were hoping to return there in some fashion.
"Think we could paddle back there?" he asked, as we all looked at him with raised eyebrows.
"You best not," said Danny. "It's dark now and it appears you don't have any lights?"
They ended up dragging their boat back to where they began, not thoroughly convinced that was their best option.
The Great Escape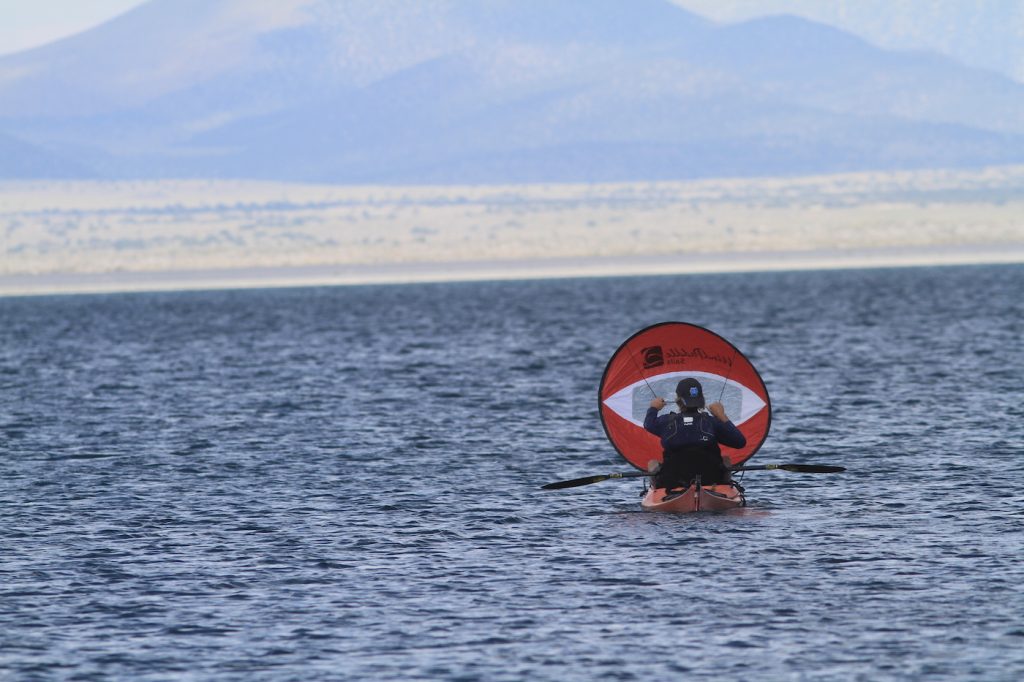 At dawn, we paddled through our third and final tufa maze, the clustered towers standing tall at the base of the desolate Mono Craters.
From our kayaks, we studied a long plume of dust. It wasn't far from where the nameless drifter Eastwood portrayed in High Plains Drifter had the townspeople paint the western town of Lago a ridiculing blood red between the south tufa and Rush Creek.
That long plume resembled a long line of galloping horses. Unfortunately, as we neared Navy Beach, the last of the tufas were besieged by a small army of tourists piling out of a dark passenger bus. A potpourri of tourists stormed the shoreline, taking pictures of us as we picked up our pace and paddled for our trucks. Once again, it made me appreciate my kayak affording me the great escape at a moment's notice.
You might also be interested in...