It's Science at The Lab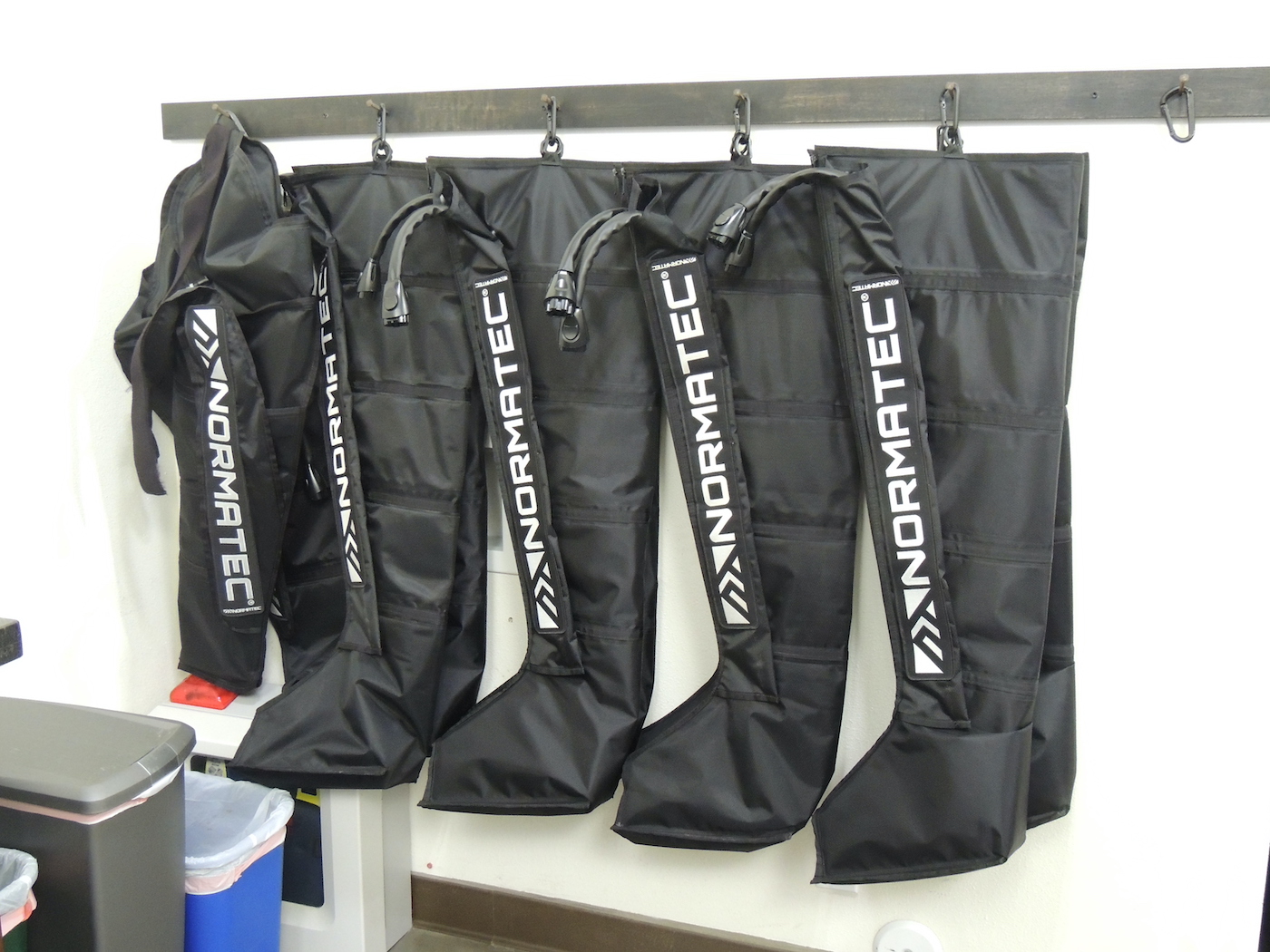 The Lab. Conjures up images of test tubes, beakers, and breakthrough scientific research being conducted, doesn't it? Swap out those containers for athletes, and that imagery wouldn't be far off from The Lab fitness and recovery center located in Santa Barbara's funk zone. The brainchild of partners Dr. Marcus Elliott, Mike Swan, and Dave Odell, the wellness facility established in 2015 is like none other I've seen in all the time I've spent reviewing health clubs. Truly a facility apart from the run-of-the-treadmill gyms with which we're all familiar, The Lab must be experienced to be fully appreciated.
Let's start with the treadmill. No humdrum hamster wheel, the AlterG treadmill The Lab houses is anti-gravity. Utilizing NASA developed technology, the AlterG allows you to control exactly how much load you take while running or walking. Operations manager Bentley Nunes elaborated. "You still get a good cardio workout, using the same gait as you would on a normal treadmill, but your joints aren't taking the same amount of impact. You can control the amount of body weight impacting your joints in 1 percent increments, lessening it up to 80 percent." A runner himself, Bentley confided: "It feels like you're running on clouds when you're on it. Some people have even cried when they first tried it. The anti-gravity aspect gives them back an ability they had lost; allowing them to do something they'd been unable to do for a long time due to injury, age, or other extenuating reasons."
After donning the apparel necessary to make the machine work — a pair of adjustable fitted shorts encircled by a projecting, zippered waist à la Judy Jetson, I went for my own walk on Cloud 9. Increasing my pace to reach Cloud 10 was indeed effortless, and my feet were as feathers no matter what speed I attained. As Brittni Hutton, client-service coordinator said: "I love the AlterG. It's a great tool for recovery if you're experiencing muscle or joint pain. It's great for shake-outs too," explaining that "shake outs" are typically 3- to 6-mile runs geared toward eradicating the lactic acid built up in muscles after a more strenuous workout day. "Your brain doesn't know you're not running on dirt or concrete. You're increasing your heart rate too." A runner with the Mammoth Lakes Track Club, the high-performing athlete with Olympic aspirations was emphatic.
I followed up my moon-run with a relaxing sit-down. Not your ordinary heels up, the chair into which I plopped my quasi-astronaut self was straight-up zero gravity. Eminently fitting, if you think about it, but I wasn't doing much thinking. I was enjoying the sensation the "Human Touch" chair provided by virtue of rotating my recumbent form heels above head. Add to that the Normatec "socks" Brittni helped me don — a stocking-like compression system that enhances blood circulation, and fit toe to hip — and I was orbiting heaven. Worn for a minimum of 10 minutes, I resembled the Michelin Man from the waist down, an effect that could have been increased had I chosen to also wear the Normatec sleeves for hips and arms. My legs felt tingly all over after the session, and the aches and pains I felt from my workout earlier that day were a distant muscle memory.
Moving on to the cryotherapy sauna, I'll admit its temperature gave me pause. Chilled by nitrous oxide, and measuring a cool -140 degrees Celsius, I wondered if I'd be able to withstand the allotted two-minute exposure most beginners try. Monitored the entire time by trained staff, the experience was as out-of-this-world as the prior recovery equipment I'd tried – in a totally different way. The first 30 seconds seemed like an eternity, while the final minute and a half flew by. Shuffling my feet as instructed within its confines, I didn't have time to get cold, though the temperature insisted I should.
The experience was extraordinarily invigorating, both during and after, and the instant I stepped out, a feeling of well-being suffused my mind and body. Proven to increase athletic performance, and decrease recovery time, cryotherapy alleviates the symptoms of a host of ailments too. From anxiety and insomnia, to multiple sclerosis and psoriasis, it even revs up the metabolism! Call me an ice cube and put me in the fridge, because it's one bone-chilling therapy I'd gladly undergo again.
The subsequent chat I had with one of the lucky 30 members The Lab hosts echoed my impressions of the club's uniqueness. "It's a new frontier to explore. A new way of finding out what my body can and can't do," Carpinteria resident John Able told me, referring to the customized workout routines designed for its members. "A way of training to get the most out of my body. A way to explore new ways of living — expanding my physical limits at a time of life when most people are limiting what they can do." The 60-something competitive water skier radiated good health and sound philosophy. "The staff is encouraging too. Friendly and smart, they're just the type of people I like to be around."
Me too. It was a mystery to me how I could bang elbows, though, given its limited membership and waiting list status for the same – a mystery Nunes was able to clear up. "With the exception of personalized training, all our services are offered to the public." Packaged as combinations or available as individual sessions, Nunes recommended the fitness and recovery package, the cryotherapy package, or just plain recovery as the best bang for your buck and balm to your body. "One of the reasons we opened The Lab was to offer our recovery modalities to those looking to recover like professional athletes. Santa Barbarans were asking for it, and we met that need."
The Lab provides Pilates and yoga in addition to its one-of-a-kind recovery tools and fitness assessments. You can peruse its full à lacarte menu by visiting The Lab online, or dropping by the club located at 121 Gray Avenue, Suite 100.
You might also be interested in...