Sansum Clinic Merger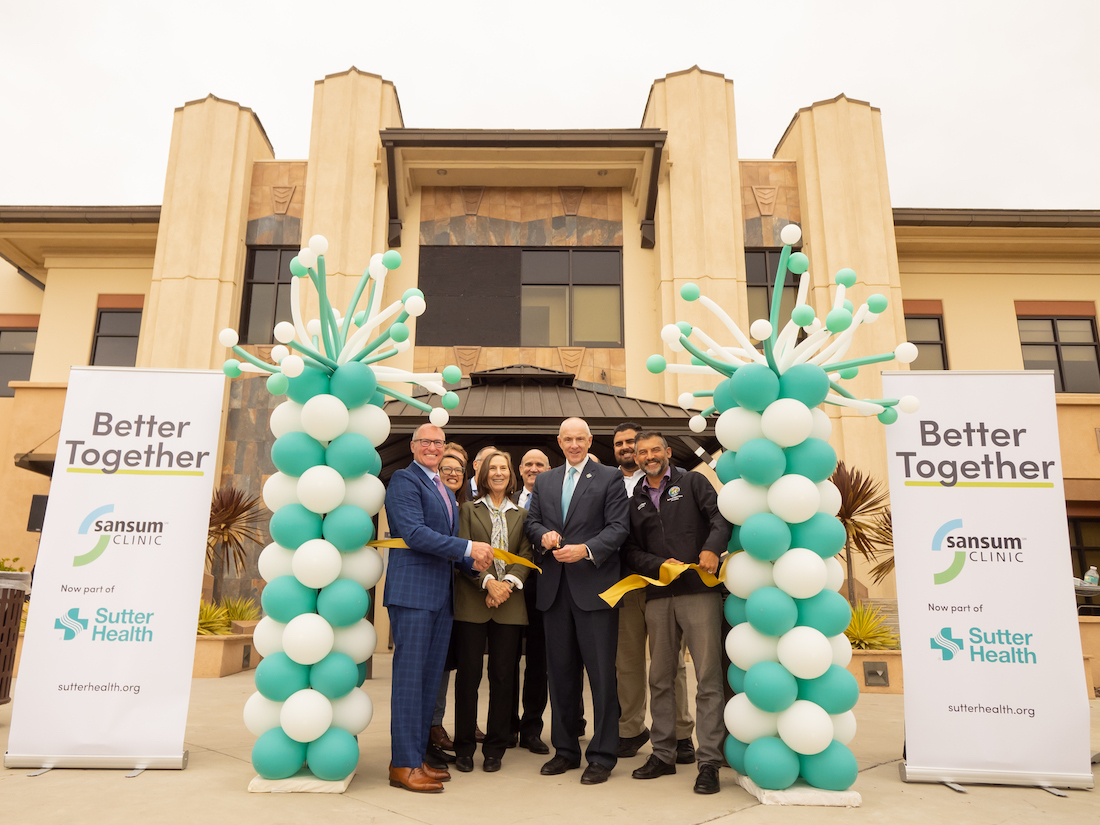 A press conference was held last Friday to announce an exciting partnership between Sansum Clinic – our area's oldest and largest not-for-profit outpatient healthcare provider – and Sutter Health, another not-for-profit system of associated clinicians, employees, and volunteers that supports more than three million patients in diverse communities across two dozen counties. The partnership will expand top-tier multispecialty care and create an investment in state-of-the-art healthcare facilities and leading-edge imaging equipment. It will also help draw new physicians and healthcare providers to our area, according to Kurt N. Ransohoff, M.D., Sansum Clinic CEO and chief medical officer.
Dr. Ransohoff spoke at the press conference, which was held at Foothill Surgery Center and was attended by local governmental leaders, industry experts, and healthcare employees, along with members of the media. Dr. Ransohoff said the idea of partnering with another nonprofit in order to expand local care began in 2007, but was put to the side due to the recession that occurred from 2007-2009. Talks picked back up again in 2022, with the Board of Directors of Sansum Clinic seeking Sutter Health with which to collaborate. "It was a relatively smooth process, as both organizations have similar cultures and views of the future. We look at the world in a similar fashion," Dr. Ransohoff said.
Warner L. Thomas, Sutter Health president and CEO, echoed Dr. Ransohoff's sentiments, calling the partnership a natural fit because both players are "driven to improve healthcare access and quality, provide a seamless, connected patient experience, and offer our dedicated employees and physicians an exceptional environment in which to do their best work and practice medicine."
"This partnership provides a great opportunity for growth and long-term stability for Sansum Clinic," Ransohoff added. "It will increase access for our patients to multispecialty, high-quality care, advance our integrated care model, and provide a more connected, seamless experience for patients."
The location of the press conference was symbolic in that Foothill Surgery Center has been expanded as part of the merger, offering three newly-built operating rooms and associated recovery areas. This expanded capacity is one of many projects that Sutter and Sansum leaders have championed since the beginning of partnership discussions, and part of Sutter's plans to fund the expansion of access to care through several projects in the Santa Barbara region in the coming years.
"We couldn't accommodate the demand for the cases we have," Dr. Ransohoff said to several members of the media after the press conference. "It's been challenging for us being on our own, and it was time to form a partnership to offer better access to care." He went on to address several issues plaguing the healthcare industry in the Santa Barbara area, including the difficulty in attracting physicians and healthcare providers, in part because of the high cost of living here. This equates to long waits for appointments, and residents needing to drive to other areas for care that should be local, Dr. Ransohoff said, adding that the partnership with Sutter Health breeds confidence for medical residents from around the country.
Thomas added that the partnership with Sutter will allow for appealing sign-on bonuses and a competitive compensation structure, which is a key focus of the integration of the organizations. Sutter recognizes that fully engaged physicians, advanced practice clinicians, and care teams are essential to delivering high-quality care and an exceptional patient experience. Together, Sutter and Sansum will be in an even better position to attract, hire, and retain extraordinary physician talent, the two leaders explained.
Expanding access to primary and specialty care in Santa Barbara and neighboring communities, and bringing more advanced diagnostic imaging services and an imaging center dedicated to women's health are also planned as part of this merger. Dr. David Raphael, M.D., who is also a Director on the Sansum Board and has been a practicing OB/GYN at Sansum for 30 years, said that seven physicians and four Advanced Practice Providers (including physician assistants and nurse practitioners) at Sansum provide over 70 percent of the baby deliveries in the county, but there is an overall lack of obstetricians, with many expectant patients traveling outside of the area for care and delivery. Dr. Raphael told us afterwards that the merger with Sutter Health will allow for the hiring of more providers, and potentially more places to birth babies in the coming years. "There is room for improved options, and this partnership is wonderful news for women's healthcare in Santa Barbara," he said.
"Sutter Health will be making significant investments into Sansum Clinic and the community, both now and into the future so that together we can expand patient care across Santa Barbara County and the Central Coast," said Thomas. "Facility and equipment investments, combined with Sutter's success in recruiting and retaining physicians, will have tremendous benefits for the greater Santa Barbara area in the form of more and better access to high-quality healthcare."
Sutter and Sansum's combined management teams are evaluating a variety of capital projects to fund in the months and years ahead – including renovations and improvements at Sansum patient clinics and offices; the purchase and installation of new clinical equipment; and other patient care, physician, nursing, caregiver, and employee priorities.
"As health systems work to recover from the pandemic, costs – including labor, medicine, and supplies – have increased sharply," said Thomas. "At the same time, we have a growing Medicare population, an increasing shift to ambulatory care, and high consumer expectations around digital tools and technology. By integrating our learnings and best practices, we can better address these headwinds and grow, expand access, and invest in the future of healthcare in California."
Headquartered in Northern California, Sutter provides access to high quality, affordable care through its hospitals, medical foundations, ambulatory surgery centers, urgent and walk-in care centers, telehealth, home health, and hospice services. The agreement took effect on October 2. Sansum's integration into Sutter will happen over the next few years, and rebranding to include the names of both organizations is expected as well. 
You might also be interested in...