Vera Cruz Village Housing Grand Opening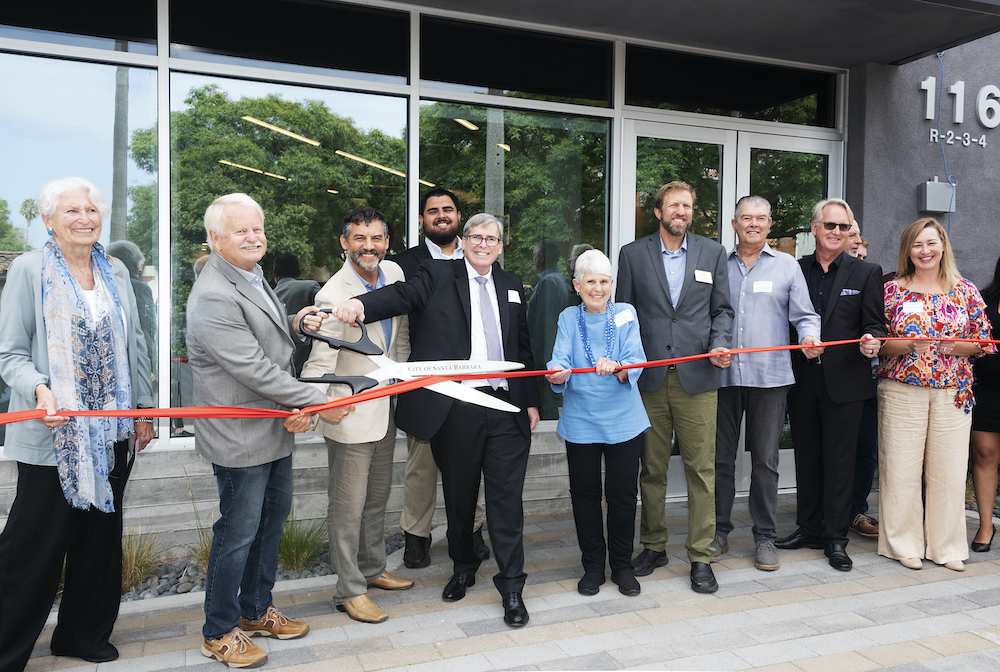 On Thursday, August 31, the latest development in resolving Santa Barbara's housing crisis for the underserved and homeless was celebrated with the grand opening of the Vera Cruz Village apartment complex on East Cota Street. The ceremonies took place in the building's garage with many attendees being project partners with project lead, the Housing Authority of the City of Santa Barbara (HACSB).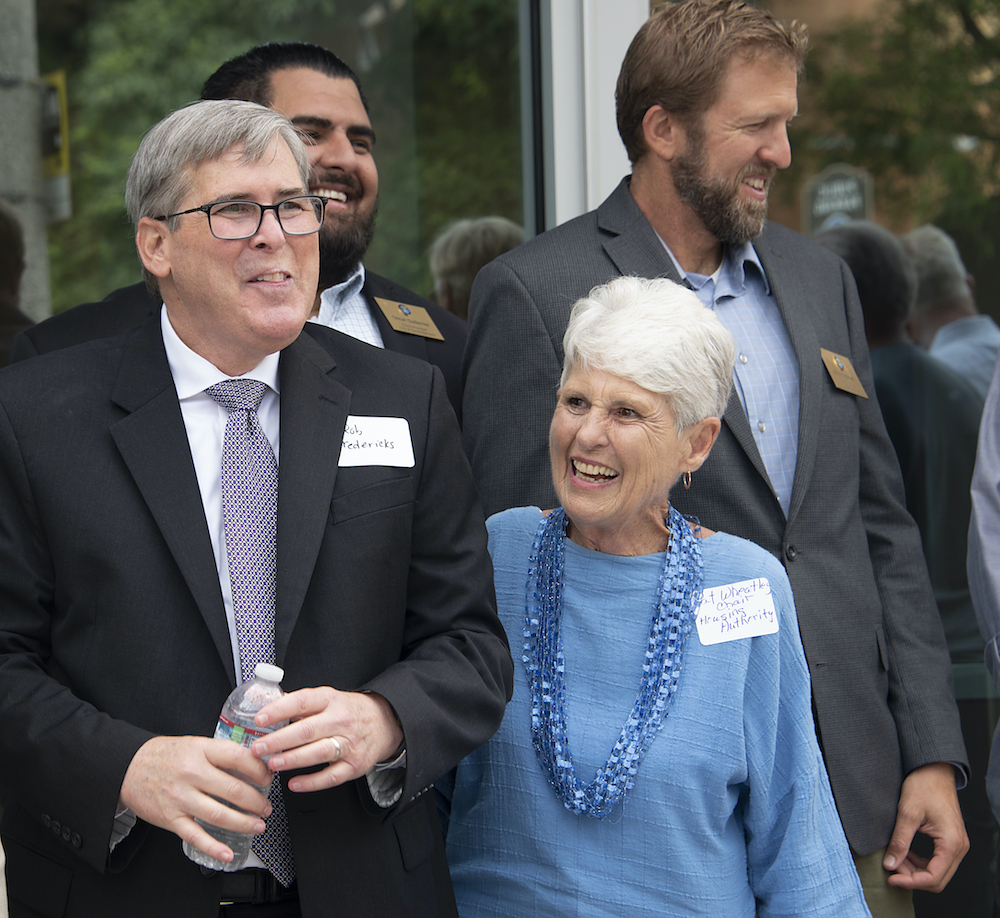 Keynote speaker was Rob Fredericks, executive director and CEO of HACSB. He talked about how the project started in 2020 with the property purchase as a vacant parcel. The complex provides 15 of its 28 units for people coming out of homelessness. Units are based on income ranges from approximately $33,000 to $62,000 per year with rent prorated at $777 per month to $1,554 per month, along with Section 8 voucher supplementals. Unlike the Spanish architecture of the Santa Barbara downtown area, the building is a contemporary design and features 100% energy efficiency with solar panels. It has 28 units at 435 square feet each with a full kitchen, bath, bedroom, patio area, laundry, and parking. It is managed by HACSB with a live-in manager. The project costs are tallied at $20.4 million, with loans of $9.2M from Enterprise Investor Equity, $5.2M from Pacific Western Bank, $3.65M from the City of SB, and $1.75M from HACSB. Fredericks thanked Alice Villarreal Redit, HACSB resident programs supervisor, who led a team that placed the furnishings in each apartment when the three-story building elevator was not working, so that the units would be ready to be occupied on September 1.
He thanked the project partners: 2nd Story Associates; City of Santa Barbara; DesignARC, Inc.; Enterprise Community Partners; Garden Court, Inc.; Housing Authority of the City of Santa Barbara; McGillivray Construction, Inc.; New Beginnings Counseling Center; Pacific Western Bank; Price, Postel & Parma; and Santa Barbara Affordable Housing Group.
Fredericks concluded with statistics he said were the latest on homelessness: in the U.S., 500,000 with 40% unsheltered; in California, 170,000 with 15,000 unsheltered; and in Santa Barbara County, 1,800 with 64% unsheltered.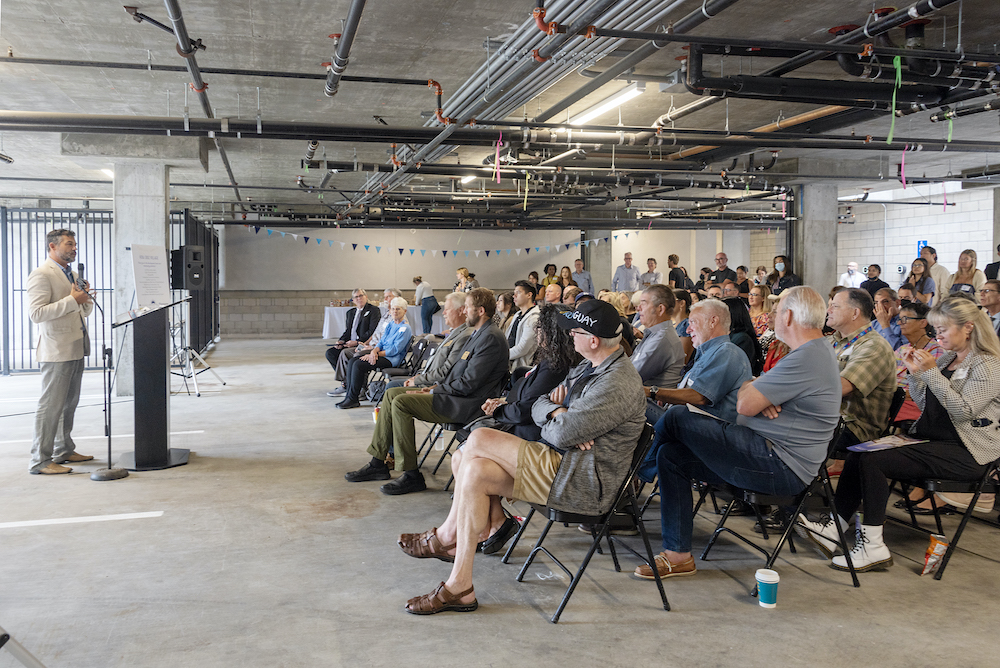 Next, administrative staff representing the offices of Congressman Salud Carbajal, Assemblymember Gregg Hart, and Senator Monique Limón presented certificates to Fredericks. They were followed by speakers Pat Wheatley, Board Chair HACSB Commission; Helene Schneider,U.S. Interagency Council on Homelessness; First District SBC Supervisor Das Williams; and Santa Barbara Mayor Randy Rowse. The speakers talked about the issues of homelessness and support needed for projects like Vera Cruz Village. Then Rowse and Williams talked about leveraging taxes to support more projects. Following the ribbon cutting ceremony, guests toured the facility.
Attendees included: Reagan Maechling, VP Acquisitions Enterprise Housing Credit Investments LLC; the President and Chief Executive Officer of St. Vincent's Santa Barbara Rosa M. Paredes, CPA, NPCC, CPO, SHCM, with Sr. Arthur Gordon, D.C.; Kristine Schwarz MFT and Lisa Falcone from New Beginnings; Kirsten Ellis; Santa Barbara City Community Development Director Elias Isaacson; Senior Assistant to Santa Barbara City Administrator Barbara Andersen; Santa Barbara City Councilpersons Oscar Gutierrez, Eric Friedman, and Kristen Sneddon; attorney Mark S. Manion;and Lynn Karlson from Women's Fund of Santa Barbara.
411: https://hacsb.org
You might also be interested in...