NYC Artist Charles Fazzino at his SB Gallery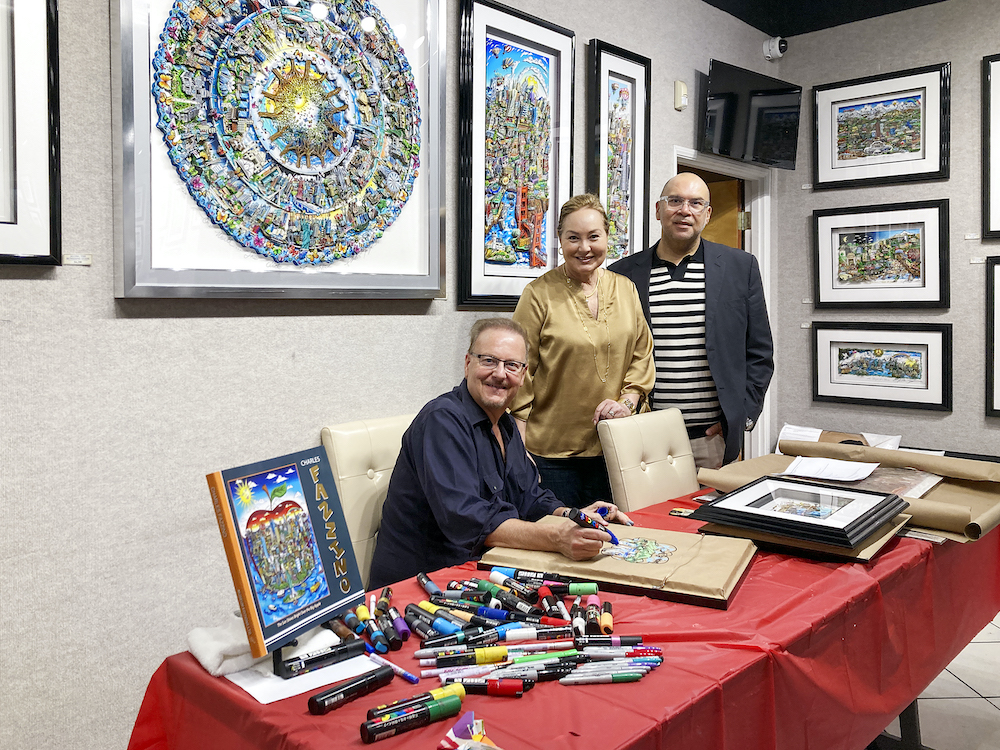 Over the Labor Day weekend, the 3D Studio Gallery at 529 State St. was packed with fans and newbies to the art of Charles Fazzino, as he had arrived from New York City to make his annual Santa Barbara visit. 
Art was flying off the wall into the hands of new lucky owners and collectors who had the unique opportunity to meet with the artist himself and get the works they purchased signed by him. In addition to signing his works, Fazzino was adding a drawing on the back of the artwork purchased, a one-of-a-kind, in-the-moment drawing specifically for each person in his signature color palette done with markers.
His visit coincided with the Santa Barbara gallery's annual one-day event that raises funds for a different local nonprofit in town by way of donating 10% of the art sold. This year they selected the Breast Cancer Resource Center, and Executive Director Silvana Kelly and Director of Donor Engagement Armando Martinez were on hand to talk with prospective art collectors.
Gallery Director Carol Ritz explained that this gallery is the only one owned by the artist himself in addition to his New York-area studio. The Santa Barbara gallery also sells his daughter Heather Fazzino's art. Various artworks contribute to causes Fazzino selects. A recent work titled Love Will Keep Us Together is for the Pride Movement, with a percentage of the proceeds going toward the Trevor Project.
For this Society News reporter, it was great to connect with a fellow New Yorker and meet the artist whose works greeted me (and all passengers) upon landing at the JFK Airport American Airlines' domestic terminal in June to cover art and culture in NYC for this column.
Fazzino talked about his art path and how the work is done.
"I come from and grew up with art around me all the time. My father was a shoe designer in NYC doing private lines for Saks 5th Avenue in the '60s, and my mother was an artist from Finland.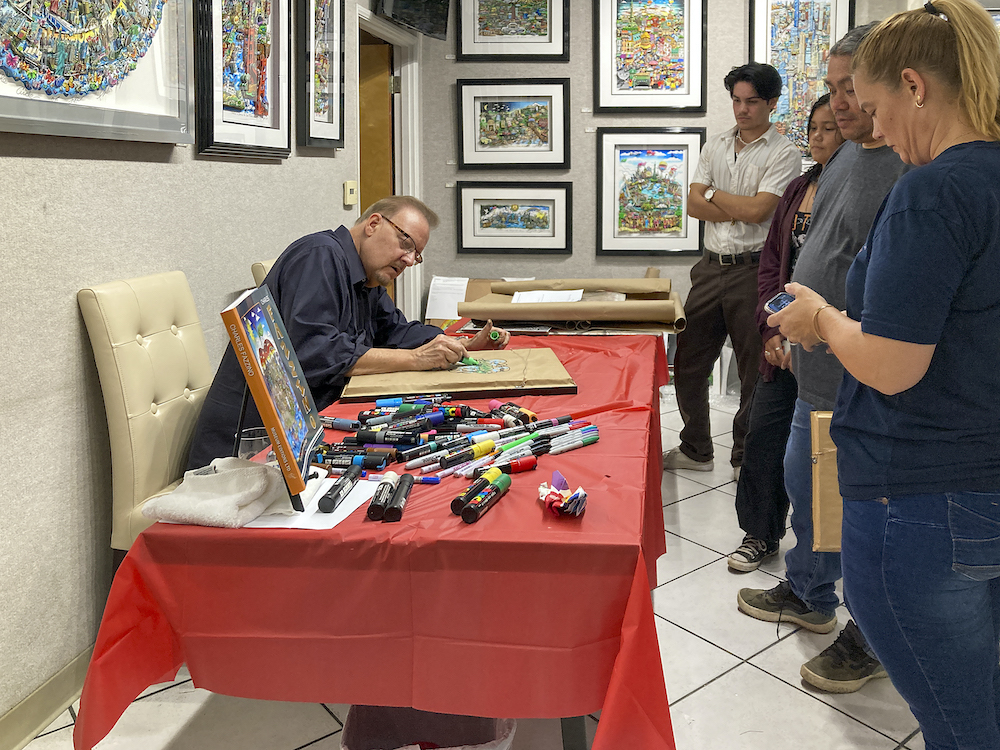 "I was fascinated by the pop-out books my mother would buy for my sister and me. They resonated with me. When I graduated art school in the late '70s, there were no art jobs in NYC, so I thought, I'm going to make a pop-out book. I couldn't sell it but showed them at my first art show in 1981 in NYC, and they were a hit from day one. My art studio is in New Rochelle. It is the original warehouse storage facility for the Terrytoons Studio [Hanna-Barbera animation of the 1950s]. I bought the building. I sell my work in 33 countries around the world. Most of my art is cityscapes, and I do the artwork for major league baseball and the NFL. I have an uncanny knack of remembering details of cityscapes after seeing them a few times and can draw them. To check for accuracy, I use Google images. Each artwork is first drawn by me and sent to my Los Angeles silk-screen printer who sends proofs to me in New York. From there, they make multiple prints on museum boards of varying thickness for the base layer and tiered layers. My art interns use an X-Acto blade to cut the layers by hand, and the layers are separated with foam. Finishing work includes adding Swarovski crystals and hand-painting areas. [Fazzino laughs] The pieces look so good today because I'm not cutting them! I currently have 60 art interns working for me, and there may be five interns doing the cutting and layering on one piece at a time. I spend my time focusing on creating the original art, researching, and hand-painting. I start off with drawings using a lot of color pencils and acrylic paints. Even though they are limited edition works, each one is unique; it can't be cut out and stamped for reproduction because with a silk-screen process each one differs a little bit. I'm only here in SB once a year, and Carol Ritz is my gallery director here all the time. Al Faro, my cousin, called me 27 years ago and told me to open a gallery in SB, so we went into a partnership, and it's been a success ever since."
Fazzino's work is extremely detailed, with colors that surpass a full-on, 120-count Crayola Crayons box. The stories told in the art are timeless. I'm betting that the N.Y. Public Library is holding a few in their antiquities collection. His website is equally detailed, with a blog to get inspiration and tips. Here are his tips for creativity:
"Make It Your Own; Learn from the Past; Break the Mold; Find Inspiration Wherever You Can; Embrace the Ah-Ha Moments; Accept Constructive Feedback; and Practice Every Day! Nothing can replace the time you put into your art. Just like any skill, you have to practice it. Basketball players spend hours, days, weeks, and years on the basketball court. If you want to make art your life, you have to do it a LOT! Draw, paint, sketch, sculpt… whatever your craft. Just keep doing it over and over and over, until you get where you want to go."
411: www.fazzino.com
Carol Ritz SB Gallery director: 805-730-9109
You might also be interested in...