Grammy-Winning Executive Director Is Coming to the Music Academy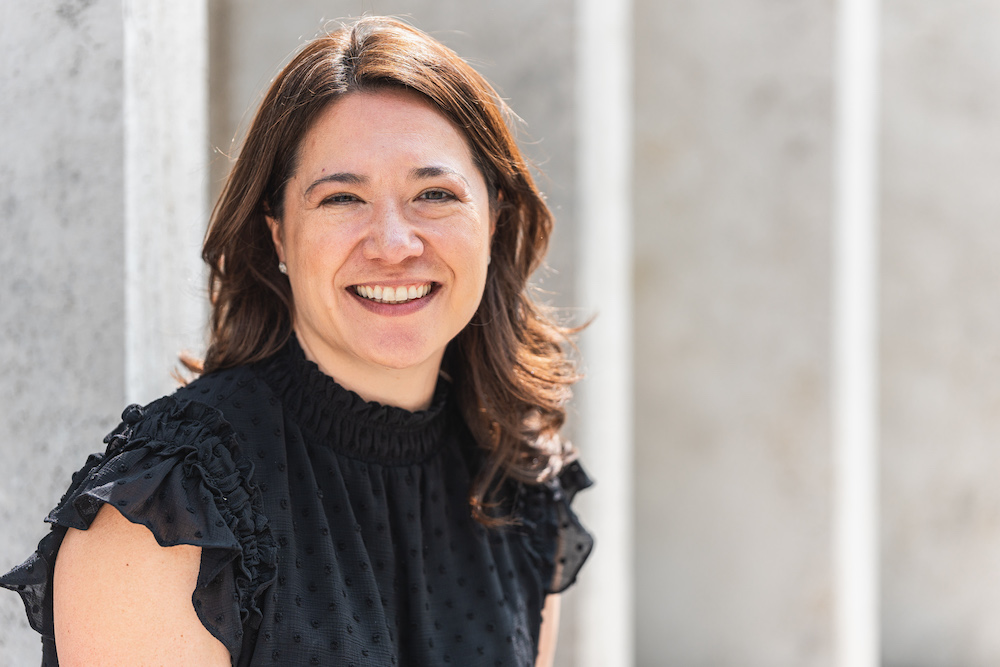 The Music Academy (MA) didn't waste any time finding a successor to Scott Reed, who announced last spring that the 2023 Summer Festival would be his last as president and CEO after 12 years at the helm. Less than a week after the final symphony concert at the Granada earlier this month, the Music Academy officially named Shauna Quill to take over the position beginning November 1. Quill has been executive director of the New York Youth Symphony (NYYS) since 2011 and counts among her accomplishments a Grammy Award for Best Orchestral Performance for the ensemble's first professional recording – a first by a non-professional orchestra – as well as new programs, extensive community partnerships, and performances on several TV shows.
Quill trained as a flutist but was forced to give up a career as a performer due to a series of repetitive stress injuries. Her administrative career includes serving as executive director of the University of Chicago Presents, and senior leadership positions at the Aspen Music Festival and School (where NancyBell Coe, Reed's predecessor at MA, was her mentor) and La Jolla Music Society. Only a few months out of college, she spent three years working for Herbert Breslin, the famed publicist and manager of Luciano Pavarotti (as well as Marilyn Horne, among others).
Even her one apparent left turn, as a paralegal, had a musical connection: Her dad was a union lawyer and a distant cousin of Mike Quill, the famous founder of the Transportation Workers Union of America.
"I thought I'd be a union lawyer too and fight for musicians," she explained. "But it just wasn't for me."
(Being related to Mike Quill was still an asset as a kid, though, she joked: "When a teacher would find out, it would get me out of detention.")
Below are edited excerpts from an hour-long conversation with Shauna Quill last weekend.
Q. It's a good time for you to move on from New York with the youth orchestra just having won a Grammy. I'm guessing that was incredibly gratifying.
A. Absolutely. There was so much about that project that I loved. We recorded during the pandemic, socially distanced with three groups that had to be layered together later. The music was a message for tomorrow for these kids to learn, featuring three female black composers and a NYYS alumni, all strong women, right after all the George Floyd protests. We wanted to teach these messages even though we were so scared of Covid.
But I was shocked we won the Grammy. I never thought it was possible because we were up against the Berlin Philharmonic, the L.A. Phil, and Wild Up. So I was just going to enjoy it, probably my only time I'd get to go to the Grammys. Superficial things like what to wear, and getting my hair done. And then when they called our name, I was just shaking and silent for the longest time.
Turning to the Music Academy, what drew you to this job? Why is this the next right thing for you?
My whole career has been about music education and uplifting artists. I'm excited about returning to the festival lifestyle, which I absolutely loved working when I worked at Aspen. Add the Music Academy's beautiful location and all the possibilities of what could be on top of the 75 years of amazing training and performances makes it an enormous opportunity for anyone. I'm thrilled that they picked me to be part of that atmosphere and that magic.
Not to sound like your job interview, but what can you share about specific plans or vision for the Music Academy, or ideas of directions you want to take?
Everything is going so well there, so it's mostly about what we can add, or how to be more involved in the community. For example, the SING! choral program is fantastic, and I have thoughts about having a similar instrumental program, maybe call it "PLAY!" That's something that would need to be worked out. I'd also like to see the Academy have year-round engagement, not just as a summer festival. That facility is just gorgeous and offers so much potential. I'd love for the community to feel like it's their home of music in Santa Barbara, which means some partnerships, which I have always championed. I don't want us to be a silo. You find the most enriching collaborations when you reach out and say, "What can we do together?"
[Another focus] is to do our best to support the fellows and the alumni there and all across the country. Spreading the Music Academy name and brand is a major focus, too. Out here, the Music Academy means the hall where the Philadelphia Orchestra plays. So we have a lot of work to do.
Overall, though, I want to just get there and listen to people. I'm already setting up meetings here in New York with faculty who are based here to find out what they're most excited about and what they might think needs to be fixed or tweaked. Then we'll start to see what makes the most sense.
Notwithstanding what you just said, I want to bring up that over the last few years, the master classes, which were always the backbone of the Academy's offerings, seem to have taken a bit of a backseat to other performance events and initiatives, which have been spectacular, of course. I'm wondering if you have any thoughts about the concept of education/pedagogy versus performance versus innovation enterprises.
There's no question that the fellows' education and development of their craft through the faculty has to be first and foremost. So all of the rest has to be examined. Thankfully the board has indicated that, too, and wants some data-driven analysis of what's going on. But again, I can't really do any of that until I get there. I don't want to be uninformed in making decisions. Because there are so many options, you really have to use strategic thinking.
OK, let's go to the big picture again. You've been a serious musician. You've had a high-level position at a major festival. You were in Chicago and worked in programming across the arts at the University of Chicago (something akin to UCSB Arts & Lectures here), and then spent a dozen years at the New York Youth Symphony. How do you think all of that varied experience might show up in what you want to bring to the Music Academy?
I am constantly curious. Education never stops. I want to keep learning from experience and I love being exposed to different things. Chicago was great because I was able to not only program, but also work with that incredible faculty who were the subscribers sitting out in the audience. They were way smarter than me and I was thrilled when it became interactive. I'd ask a Soviet specialist to give a pre-concert lecture when we had Russian music on the program to add depth to the experience. Like so many other people, I'm always looking for a deeper meaning and a deeper experience, a way to make things relevant… I have an older sister who is a Broadway theater artist, and my middle sister does digital marketing for pop stars, and I'm the classical musician in the family. I love that our dialogue comes from different perspectives. I think that's basically how audiences are. The world doesn't fit in a box. I love everything, and I go see any kind of concert, classical, pop music, whatever. I'll jump up and down to Flo-Rida at the Grammys. That's what life's about. So I think that's what I am bringing.
You might also be interested in...