Westmont Hosts Christian Climate Advocacy Workshop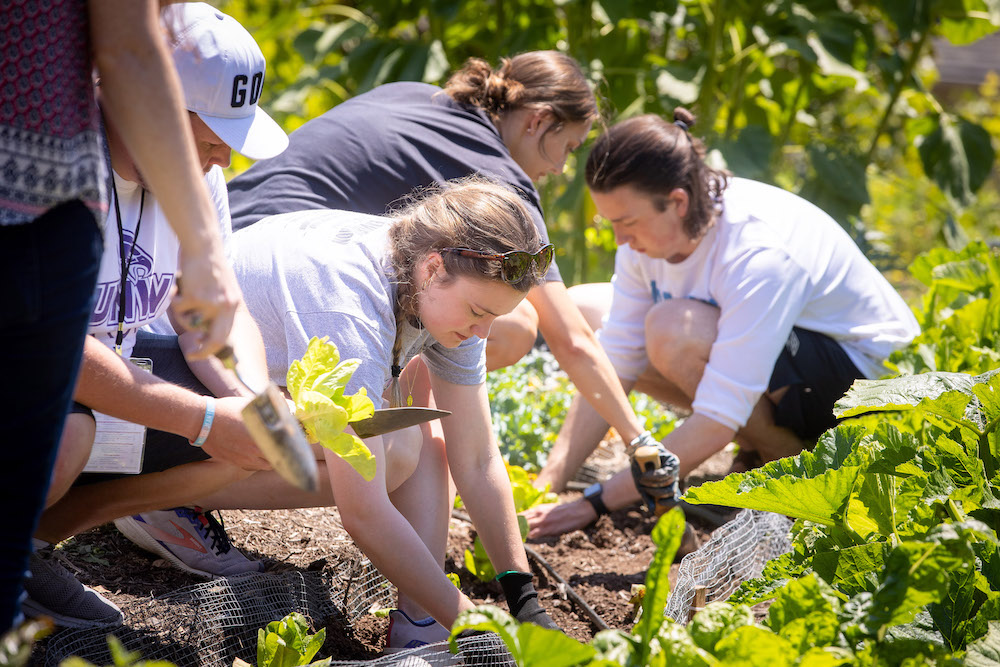 About 40 students and faculty from Christian colleges and universities learned about climate change and its widespread effects at an environmental conference June 25 – July 2 hosted at Westmont's leafy 111-acre campus. More than two dozen top scholars spoke at "Faith. Climate. Action: A Workshop on Christian Climate Advocacy," which included outdoor worship services, hikes, and hands-on planting in the college's garden. 
"They wrestled with how to engage fruitfully with other Christians on these issues – how to listen to each other, and how to speak and act in a way that unites and moves towards unity and resolution, rather than division," says Amanda Sparkman, a Westmont biologist and co-chair of the college's environmental studies program. "They came away with a renewed energy and sense of hope, not least because of the deep and meaningful connections they formed with each other over the course of the week."
The Arthur Vining Davis Foundations generously funded the workshop with a nearly half-million-dollar grant that aims to make Westmont a flagship campus for sustainability while providing valuable student internship experiences.
Katharine Hayhoe, a professor at Texas Tech University and the chief scientist for the Nature Conservancy, said a college class about climate change altered her career path. "What really hit me was when I learned that climate change and pollution and the biodiversity crisis, these human-caused crises affect all of us, but they don't affect us equally," she said in a pre-recorded opening address. "They affect future generations who have no say, and the poor and the marginalized – those who don't have a voice to effect change."
She said solutions are all around us and we can join countries, cities, companies, seminaries, universities, and churches who are also on board to effect positive change. "That giant boulder of climate action is actually at the top of the hill, it is rolling down the hill, has millions of hands on it, and when we add ours and use our voice to encourage others to add theirs, it will go faster," she said.
Jeff Schloss, a Westmont biology professor and co-developer of the international Creation Care Study Program, explained the importance of recognizing the intrinsic value and beauty of things outside ourselves, and that through education we can recognize these nuances. He stressed the importance of restructuring our individual lives in order to change the larger systems and structures. "What would our lives look like if we disentangle from the current social priorities?" he asked.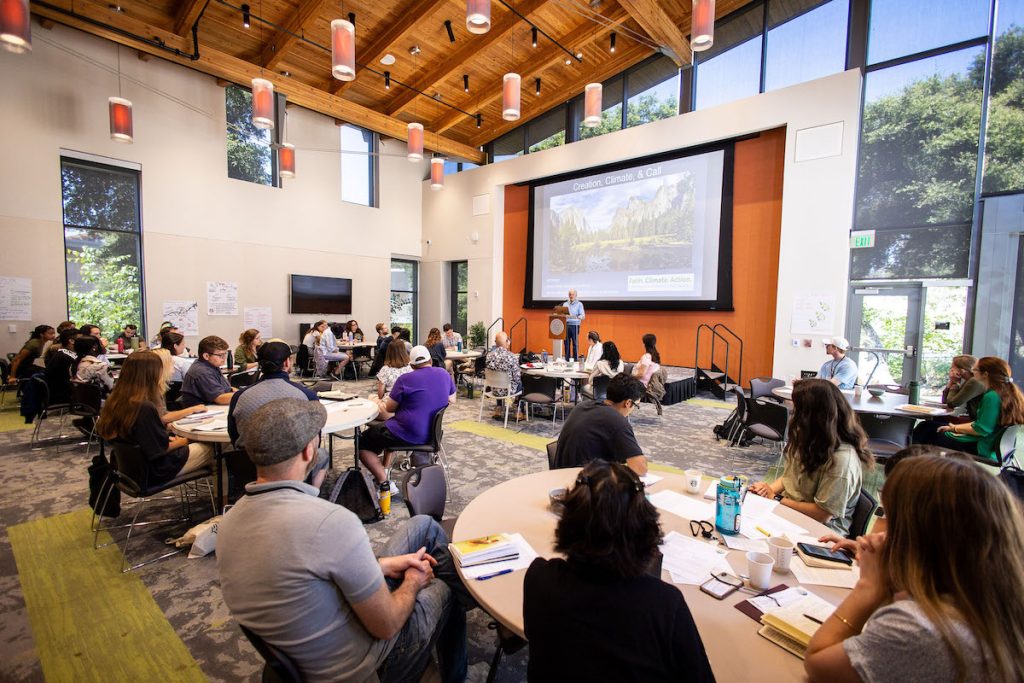 James Amadon, who served as pastor of Highland Covenant Church in Bellevue, Washington, for nearly a decade, felt a disconnect between the church and from the natural world he was immersed in during the pandemic. He is now the executive director of Circlewood, whose mission is to "accelerate the greening of faith" through media, education and an ecological retreat center on Camano Island, Washington.
Jessica Moerman, vice president for science and policy at the Evangelical Environmental Network, spoke about the intersection of faith and science as a co-founding pastor at Grace Capital City Church and a paleoclimatologist. "This is how I can join in God's ministry of reconciliation and restoration on this earth because research shows again and again that climate change impacts the most vulnerable in society," she said.
Dorothy Boorse of Gordon College spoke about the ecological effects of climate change and the nitrogen cycle crisis that scientists worldwide have identified as an even larger threat. "The scale of human impact can be very difficult to imagine," she said while pointing that the human population has grown from one billion to eight billion in a little more than a century.
Brian Webb, sustainability director at the College of Wooster, said the most politically divisive issue in the U.S. is climate change. He explored the ways the U.S. plays a unique role in environmental engagement issues. "Though we can't use the playbook from 50 years ago, it's worth noting that the issue hasn't always been polarizing," he said. "We have been able to successfully advance bipartisan environmental policy, and we have made tremendous progress on some issues related to the environment, such as cleaner air and water."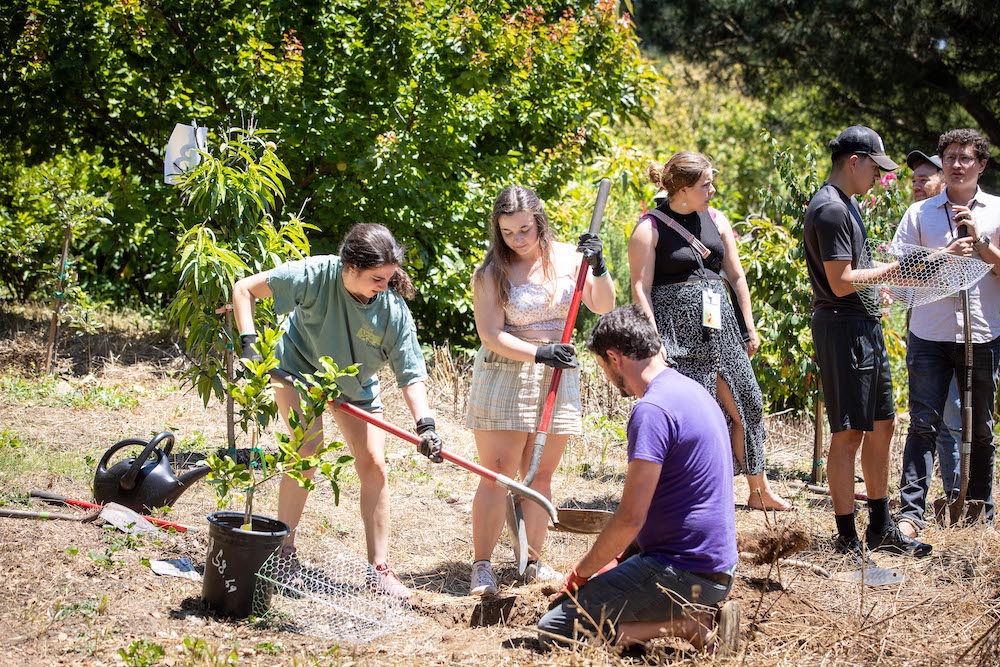 John Cook, a cognitive psychologist at Monash University, says climate change is polarizing in part because of solution aversion. "If they didn't like the solution to climate change, they are less likely to believe that climate change was a problem," he said. "This really shines a light on why climate change is so polarizing across the political spectrum not because of the science, but because of the solutions suggested to combat the issue."
Andrea Gurney, Westmont professor of psychology and a clinical psychologist, spoke about "Strategic Communication: Avoiding Polarization." She explained that we are living in a unique cultural moment where there is more narcissism, entitlement, anxiety, anger, angst, and isolation from other people than ever before. "I want you to get curious," she said. "When someone says something that we don't like or we disagree with, we become critical instead of curious."
Westmont political scientist Katherine Bryant examined the Paris Agreement and the significance to keep the rise in global temperature to below 1.5 degree C. She also warned about the tragedy of the commons, a metaphoric situation that can be applied to global environmental governance and the depletion of natural resources without regard to the impact on neighboring and future populations.
"When we think about collective action, everyone has to be held accountable," she said. "When we are looking at the provision of public goods – we want clean air and cleaner oceans – this is a collective-action problem because nobody wants to pay the costs."
Physics professor Ben Carlson explored alternative energy solutions, suggesting the federal government spend five billion dollars in fusion research over the next decade, while addressing the immediate power needs with a two-billion-dollar investment in small modular nuclear power plants.
Cynthia Toms, Westmont professor of global health and kinesiology, said a third of all the food produced for human consumption is wasted, contributing to eight percent of all greenhouse gasses. In the U.S. alone, a pound of food per person is wasted every day. "If we need to produce more food in the next 35 years with an increase in population, we will also need to change our diets in order to meet that in a more sustainable way." She suggested eating less meat and buying locally-sourced food.
Josh Low, leader of the Yale Program on Climate Change Communication, and Ben Lowe, deputy executive director of A Rocha International, offered "Strategic Communication to American Evangelical Audiences."
"The leading driver of attitudes towards climate and environment is not theology, it's politics," explained Lowe. Younger generations of Evangelical Christians, regardless of race, have similar levels of concern and awareness, he said.
People opposed to climate action have made progress, Low said, not by disproving whether climate change is happening, but by sowing doubt. "If people understand that 97 percent of climate scientists agree that climate change is real, human caused, and that there is still hope, people's beliefs change."
You might also be interested in...