Mid-Year Market Update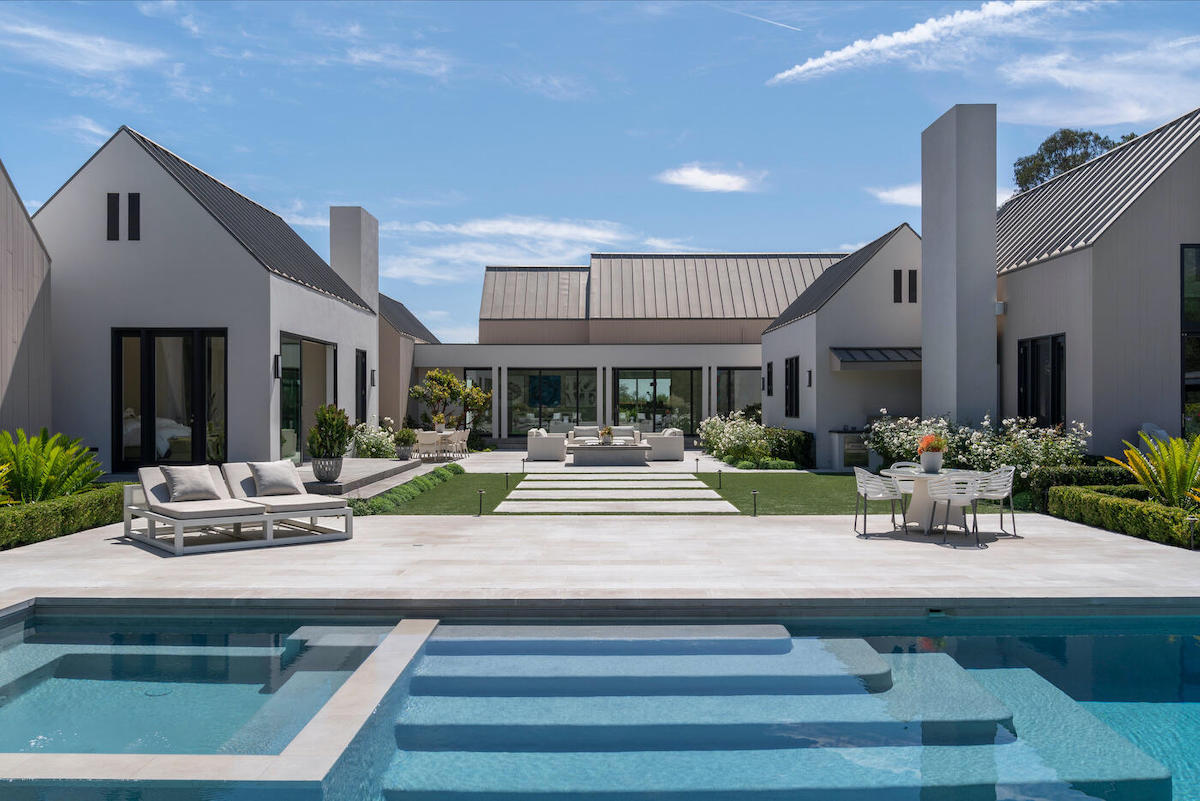 The numbers are in for the first half of 2023, and the Santa Barbara South Coast real estate market remains tight in terms of inventory and well in favor of sellers, as there is simply more buyer demand than homes available for sale. Accordingly, the number of sales is down 32% over last year, with just 370 homes and PUDs sold in South County Santa Barbara year-to-date. This is the lowest number of properties we've seen change hands in the first half of the year, since 2009! Normally by the end of Q2, we would expect to see the number of sales in the mid 500-range. 
The year-to-date median sales price of homes, estates, and PUDs is right around $2,130,000, which is down from June last year, when it was $2.25M. This is a 5% reduction in median sales price. Average sale price YTD is $3.3M, which is down 4% from last year. Sold volume is also down 35% over last year, which is a direct correlation to the lack of inventory.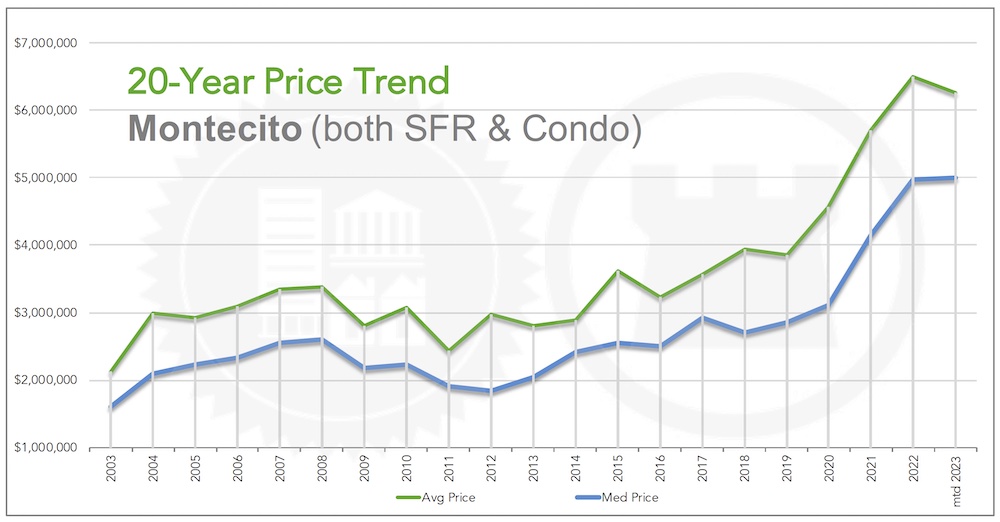 June Sales Slumped
Singling out the month of June, we saw the closing of 75 homes/PUDs compared to 104 in the same month last year. In 2021 that number was 127. Median sales prices in June was $2.25M, up from $2.225M in May. Month over month, median sales price remains fairly stable.
While June is typically a busy month with many new listings and lots of closings, our dreary weather this year played a big part in many sellers choosing to wait to list their homes. We currently have about 201 active listings from Carpinteria to Goleta. In pre-pandemic times, that number would be around 600! This translates to a 2.13-month supply of homes if no other homes are to come on the market. In June 2018, the inventory was at a 4.84-month supply, for perspective. A popularly held rule of thumb is that once you hit a 6-month supply, the market shifts in favor of buyers. While the inventory remains staggeringly low, it's the highest number of homes and PUDs we've seen on the market since September of last year. This is a good thing to lessen up the gridlock in the market.
Days on Market Decreasing
Another interesting statistic is a decrease of what we call "cumulative days on market," or CDOM. This is a number that takes into account the number of days the home has been listed, regardless if the listing was withdrawn or canceled and relisted with a different agent. In May, the average CDOM was 38, which means the sold properties were on the market an average of 38 days before selling. In June that number dipped to 23, which shows that well-priced properties are selling quicker, and many with multiple offers.
Inventory Remains Low
We've had 538 new listings hit the market in the first 6 months of the year, compared to 675 in 2022; a 20% reduction. Not surprisingly, the number of properties that went into escrow is also down 27%, from 389 this year to 530 last year.
Sales Prices Still High
In mid-2020 we witnessed a new-to-us phenomenon: the median sales price was higher than the median list price for the first time ever, and that trend continued every single month until January of this year. Both January and February we saw the median sales price dip below the median list price. But in March, the market picked back up and every month since, the sales price has exceeded the list price, painting a picture of multiple offer situations and over-asking sales. Well-priced, appealing homes are still getting the attention of multiple buyers, but maybe not 15-20 like in the height of the pandemic.
If you omit Hope Ranch and Montecito from the data, the median sales price at the end of June was $1,750,000, compared to $1,950,000 one year ago. The average sold price including Hope Ranch and Montecito is $3,260,000, which, while high, is lower than last year. There has been one sale over $20M in Montecito this year, compared to three in the same time period last year. There have also been 22 sales over the $10M mark in Montecito, Hope Ranch, the Mesa, and Carpinteria, compared to a whopping 25 sales over $10M last year by the end of Q2.
The higher-end sales remain strong, although days on market in that segment have slightly increased. The average DOM for the 23 sales over $10M this year is 80 days, compared to 66 days last year.
Condo Sales & Prices Down
Let's look at condos: so far this year there have been just 138 sales in the South County, compared to 206 last year by end of June. Active and new listings are down, while median and average sales prices are also down. The median sales price for condos is now $911K, compared to $950K this time last year. The median list price is still lower than the median sales price, reflecting a still active environment with multiple offers and bidding wars.
The number of days on market in the condo segment has increased to 32 days, which is more than double the 14 days we saw last year.
The luxury condo market is also strong: so far this year we've seen the sale of around 20 luxury condos in Montecito and Santa Barbara.
Montecito Sales Slow
Thus far in Montecito, we've seen the sale of 61 homes and condos in the MUS and Cold Spring School districts. In 2022, that number was more than double at 103. In 2021, that number was 174, and in 2020, it was 116. Sales ranged from a 2/2 condo at 1220 Coast Village Road to a $22M estate on San Ysidro Road.
Median sold price in Montecito for the first half of the year is $5.2M, which is the same as last year. Average Sold price is $6.9M, on par with the previous year as well. The first half of the year there were 14 sales over the $10M mark, compared to 16 in 2022 and 22 sales in the same timeframe in 2021. Notable sales include 2692 Sycamore Canyon Road which closed for $14.3M after being on and off the market for years; a remodeled home on Middle Road that sold off-market for $8.3M after closing for $3.4M just four years earlier; and 723 Via Manana, which sold for $5M after 242 days on the market.
The first half of the year we saw the sale of 9 condos in Montecito, ranging in price from $1.345M to $5.7M. Last year there were 20 sales the first half of the year. Average number of days on market for these sales is 19, which is less than half of last year's 47 days. Sales included units at Bonnymede, Montecito Shores, El Montecito Verde, and units in both the Upper and Lower villages.
Fewer Goleta Sales
Goleta has seen impressive sales and prices in the last few years. This year, the average sales price at the end of Q2 was $1.46M, which is on par to last year's average sales price and well above the previous year's $1.28M. There have been 137 condo and home sales in Goleta thus far in 2023.
Last year there were 43 homes that sold over the $2M mark in Goleta; this year there have been 21. Both the median and average home prices are above the median and average list prices, which is impressive, and shows that Goleta remains a popular area to purchase real estate. The values in Goleta remain elevated due to the inclusion of properties in San Antonio Creek, Park Highlands, the Boulders, Shadow Hills, and others.
The lowest-priced property to trade hands this year in Goleta was a 1/1 Encina Royale condo that closed for $515K in June. The highest priced property was a 5-bedroom, 6-bath estate in Park Highlands, which closed for $5M in in June after about a month on the market. 
What's Really Happening Out There
Interest rates continue to be an important factor in our market, especially under the $2M price point. Last year around this time we had many buyers drop out of the market due to their decreased purchasing power because of the increased interest rates. This led to fewer frenzied multiple buyer situations, which shortened the gap between list price and sale price. As mentioned, earlier this year we saw two months – January and February – where the median sales price was lower than the median list price. This was a sort of sweet spot in the market where buyers who were still active had an opportunity to make a go at homes that maybe had been on the market for a while, were over-priced, or had motivated sellers.
In March, and every month since then, we've been back to the phenomenon of having a higher sales price than the median list price. While there are still frenzied situations where multiple buyers are bidding the prices up, there are still fewer buyers in the marketplace. Pricing correctly is still incredibly important, and homes that are appealing will still sell with a few offers, or more.
We've seen a normalization of price reductions; in the heart of the pandemic it would be rare to see more than one or two properties on the "price reduced" list each morning. Now, we are seeing a small handful of those price reductions as a daily occurrence and it's a reminder that the market is normalizing. Average homes – those that are not updated, or maybe they have a design or location flaw that makes them less appealing – are tending to sit longer on the market, especially if they are not priced accurately initially.
All that being said, this market still has a lot of buyers eager to get into a home, and many whom are not affected by the interest rates. It is still a tough time to be a buyer, as the inventory is still historically low. Buyers should be ready to submit a strong, realistic offer when they see a home they love, preferably with a pre-approval letter from a local lender already in hand, or with a proof of funds if they are paying cash.
It's expected that interest rates will come down in the next 1.5 years. When that happens, we can expect that the number of buyers in our marketplace will increase, which could make it even harder for buyers to buy a home. However, if the interest rates decrease, it could also entice sellers – who will also need to buy – to put their homes on the market. While there are many layers that add to the complexity of the real estate market, when it comes down to supply, Santa Barbara and surrounding areas will continue to experience low inventory levels.
You might also be interested in...