An Order of Theater, Well 'Seared'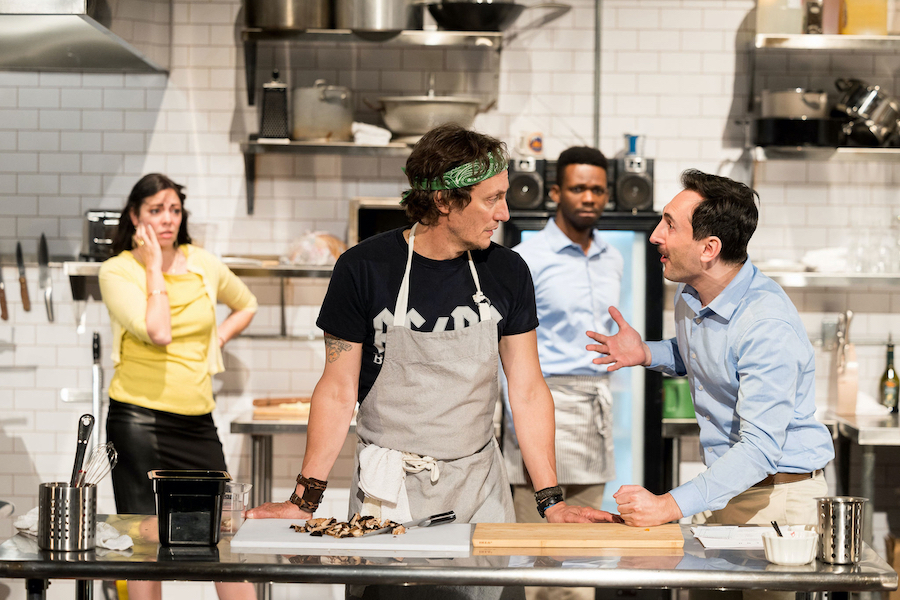 Jonathan Fox, who is departing as artistic director of the Ensemble Theatre Company after 17 years, has come up with a culinary cracker with his last production Seared, a fast-paced kitchen comedy, which is also the last show of the current season at the New Vic.
Andrew Elvis Miller does an excellent job as the chef in a small Park Slope, Brooklyn, eatery 15 years ago in the Theresa Rebeck play with extraordinary scenic design by Fred Kinney of a fully decked out restaurant kitchen, including a working gas stove with the aroma of salmon grilling – and even running water.
But his life changes dramatically after a small review in New York Magazine, where I toiled as an editor in the 1980s.
Rather than fame, Miller's character would prefer to concentrate on his food skills – much to the chagrin of his owner-partner wonderfully played by Gary Patent, whose mantra is the bottom line.
Angela Sauer as an energized culinary consultant brought in to capitalize on Miller's unwanted notoriety as a chef and, more particularly, his wizardry with scallops is an absolute delight, while Ronald Auguste as the waiter hero of the enterprise is well up to the task, eventually saving the day.
The sizzling show, which runs through June 25, leaves Miller's dining diva character eventually eating humble pie. A delightful addition to the theatrical menu.
You might also be interested in...