Our Town's 21st Annual Graduation Issue 2 of 3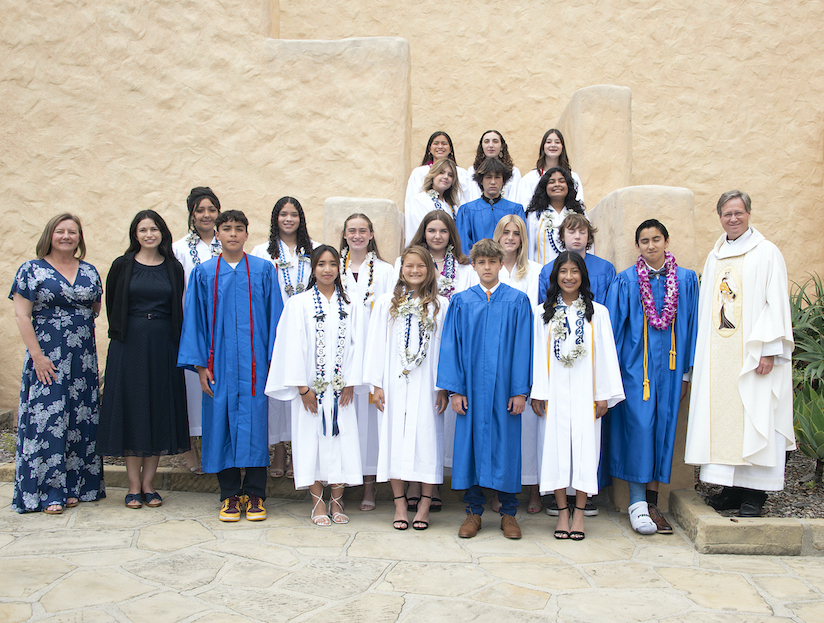 Our town's schools are holding their graduations from May 21 through June 9th this year. The eight local school graduations are covered in order of occurrence.
This issue has Our Lady of Mount Carmel and the YMCA Preschool.
The Montecito Journal wishes much success and congratulations to our graduates, school faculty, staff and parents!
Our Lady of Mount Carmel 2023 Graduation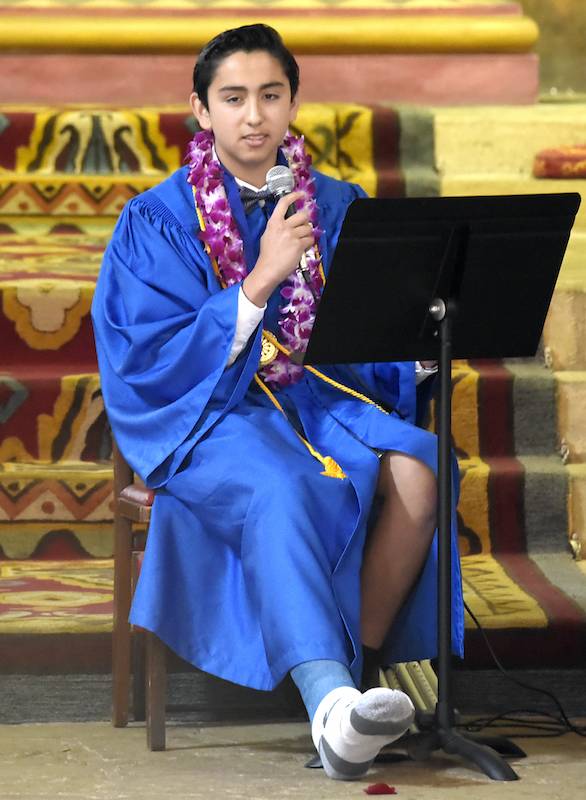 Our Lady of Mount Carmel (OLMC) 2023 Eighth Grade Graduation – "Go Lancers!" – was held on Friday, June 2 at 2:00 pm at Our Lady of Mt. Carmel Church, filled to capacity with family and friends, the first return to inside the church since 2019.
The grads processed in wearing traditional cap and gown in the school colors of blue and white, adorned with flower leis, and gold or red cords of scholastic achievement. Pastor Fr. Lawrence Seyer led the graduation Mass accompanied by students reading selected passages. Seyer said, "…like the gospel, graduation is about growth, the growth you've had since arriving here, and will experience, finding love and lasting happiness, using the guidance and wisdom from your faith." Music was by their music teacher Bridgette Snyder on acoustic guitar and vocals.
Following the service, the graduation ceremony began with the welcome by Principal Tracie Simolon, "…OLMC is a partnership and we thank the parents and friends who supported the graduates on their journey. When I look at our graduates it reminds me of the scripture passage, You were born for a time such as this, you are the divergent thinkers, leaders and compassionate servants." Seyer blessed the graduate's biographies, which they presented to their parents with a red rose. Next, teachers read vignettes about each student, and diplomas were presented by 8th grade teacher Mrs. Lauren Bergesen, Simolon, and Seyer. Citizen of the Year award to Joaquin Gaona and Ilian Perez Juarez; Lancer award to Eden Wynne, Faculty Award to Mina Handall and many receiving scholastic awards GPA greater than 3.5.
Student address by Class President Joaquin Gaona, "We finally made it, time to turn the page, this is not the end, we arrived here to be the best version of ourselves, from fires to the pandemic you are proof of being the strongest, it'll get more demanding, but you are ready."
The OLMC Eighth Grade 2023 graduates are: Bennly Cartagena Oliva, Aidan Dunn, Tiago El-Aaidi, Natalie Fleming, Joaquin Gaona, Kaitlyn Garcia, Mina Handall, Abigail Hubbs, James Kellis III, Emmett Lombardi, Syndney Masterson, Elizabeth Medina, Cora Nimmons, Iliana Perez OJuarea, Malena Sodomka, Stella Swan, Danay Urena, and Eden Wynne.
You might also be interested in...