Our Town's 21st Annual Graduation Issue 1 of 3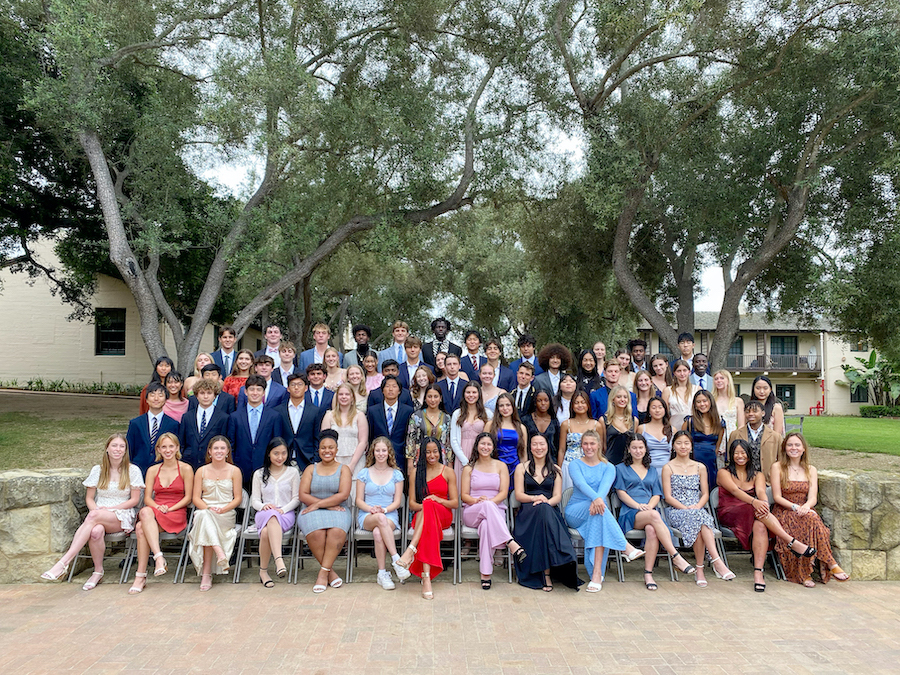 Our town's schools are holding their graduations from May 21 through June 9th this year. The eight local school graduations are covered in order of occurrence. 
This issue has Cate School leading the charge with 71 graduates.
The Montecito Journal wishes much success and offers congratulations to our graduates, school faculty, staff and parents!
Cate School Graduation 2023
The Cate School's 109th graduation ("Go Rams!") was held on Sunday May 21, at 10 am, outside at the school campus for faculty, family, and students, with a live stream for guests. The four-hour ceremony began with the graduate processional from the field to their grandstand seating area, each student clad in traditional dress whites and holding a flower of their choice representing the school's colors. 
At the podium was Headmaster Ben D. Williams IV, alongside Cate faculty and board members. Cate's new Head of School, Alex Lockett MBA,will succeed Williams in fall '23, making this the last Cate School commencement over which Williams will preside. He fought tears as he spoke and was given a standing ovation. Among his comments' high points: "What we say here, or how we say it, is less important than the fact we are here to honor a moment that deserves attention, a moment that owes its existence to so many moments leading up to this one. You are tougher than you know, faithful to each other and your identity as individuals, and a remarkable class of seniors. If Cate teaches you anything, surely it is that you have what you need, and if you need more, you know how to get that too. God speed you on your travels my friends. I will keep you with me always."
Graduate Myla van Lynde gave the Student Address, using metaphors, movement and memories. "There is motion everywhere at Cate. The class of 2023 with our array of talents, propensities, and tendencies, managed to find our footing through the lockdown. Emily Dickinson believes forever is composed of nows, moving ahead to the next singular infinity. To the class of 2023, what an honor it has been to move together in this place. Let us hold pride in ourselves and this school."
The Class of 2023 presented their Faculty Award to Science teacher Beth Caylor and Classmate award to Claiborne Beurle. Williams presented the Santa Barbara Scholarship Cup: Emily Allison; Ellis Cup: Nicole Teh and Eloise Tunnell; Morgan Gwynne Temby '69 Award: Beatrice Thompson and Desirée Alejandra Flores Grimaldi; The Miramar Award: Serigne Babacar Pouye and Charles Neil Patel; Dohrmann Pischel 1914 Medal (Bronze): Mary Foster and Wade Nieman; Nelson Jones 1948 (Silver): William Kellogg and Kennedy Kirkland; Head of School Award: Elizabeth Sutter; Santa Barbara School Medal (Gold): Cyrus Symington;William Shepard Biddle 1918 Cup: Claiborne Beurle.
New awards established this year: The Brownlee Cup 2023, presented to the alumnus it is named for, Assistant Head of School External Affairs Charlotte Brownlee, and presented as well to 2023 graduate Kendall Thorne. The Benjamin D. Williams Inquiry Award, named after Williams for his 25 years of service at Cate by the faculty, was presented to Williams himself, and to 2023 graduate Ella Chang.
History Department Chair Rebekah Barry gave the Faculty Address as requested by the class of 2023. She talked about liminality, societal change, and progress, "Hope is not magic, it is work. Dream and dig toward discovery, hope and work toward change. To make real progress we have to do both."
The presentation of diplomas by Williams and his team included a brief statement of the student's attributes and contributions. Following a collective congratulations of the class, the grads processed out to a receiving line and reception with their family and guests.
Cate School Class of 2023 Graduates:
Emily Marlene Allison, Zaqary Asuamah, Lylie F. Bechtel, Claiborne Virginia Beurle, Ava Bovet Bracher, Ella Chang, Zimo (Ella) Chen, Cathleen Linn Chow, Oliver Dworsky, Jengus Carlisle Ercil, Mary Rebecca Foster, Caden Frederick Fuchs, Andrew Luca Gansa, Grace (Gigi) Frances Geyer, Alexander Goncharenko, Eswyn Khuyen Gray, Desirée Alejandra Flores Grimaldi, Jaelen Emmanuel Hall-Collins, Phebe Gregg Hancock, Kaitlyn Elizabeth Hendricks, Jack McIntyre Higgins, Sage Chen Hou, Alexander He Huffer, Zofia Helena Oranje Ingram, Adelaide Vaupel James, Marley Joseph, Yifeng (Athena) Ke, William Brewster Kellogg, Shelby Germaine Kernisant, Arhum Khan, Benjamin Kim, Carlo Kim, Kennedy Julia Kirkland, Devon Caroline Lack, Lindsey Camille Laurence, Dongyun Daniel Lee, Jaehan Lim, Oscar Sydney Livingston, Emmett Francis Mack, Harrison Lawrence McAdam, Carly Mikel Medina, Stella Zenani Meister, Amelia Ann Montsinger, Justin Aaron Ngandi Musyimi, Emilia Nam, Nikita Nautiyal, Wade Emmett Nieman, Charles Neil Patel, Brian Edward Payne, Serigne Babacar Pouye, Thalia Chloe Ruxin, Daisy True Ryan, Elizabeth Trexler Sutter, Cyrus Kent Symington, Alex Tang, Tamsyn Taptich, Nicole Teh, Beatrice Jane Thompson, Kendall Reese Thorne, Talia Tom, Eloise Evans Tunnell, Myla Margaret van Lynde, William Chadwick Vanica, Tatiana Sierra von Bothmer, Maesa Vongkusolkit, Tue Anh (Avery) Minh Vu, Chau Anh Minh Vu, Carly Jordan Weinberger, Jack Pettigrew Whelan, Tatiana Arielle Young,and Zhiyuan (Rory) Zhang.
You might also be interested in...