Broccolini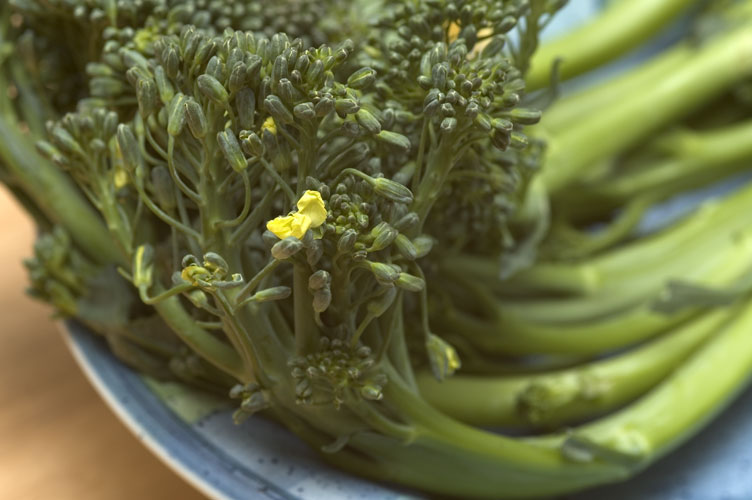 Broccolini – a gorgeous green hybrid blend of traditional Asian vegetable gai lan and broccoli – was created in Japan in 1993. What once was hard to come by is now a staple in the United States, and loved for its tender and sweet flavor. The long succulent stems of broccolini, along with its sweet and slightly peppery flavor profile, make it a super versatile and delightful vegetable.
Like its fellow cruciferous vegetables, broccolini is a high fiber wonder. Including it in your diet has been shown to keep you feeling full and satisfied, prevent constipation, and help keep your blood sugar stable. Broccolini is loaded with Vitamins A and D; a must for immune health, eye health, and glowing skin. Broccolini is also high in calcium and magnesium, helping to keep your blood pressure regulated. My favorite health benefit, though, is an antioxidant known as sulforaphane. This antioxidant has been shown to reduce inflammation, protect against DNA mutations that can lead to cancer, neutralize toxins in the body, and help to slow cancerous tumor growth. Talk about incredible health benefits! If that wasn't enough, broccolini releases a cancer fighting enzyme called myrosinase when you eat this mighty vegetable.
I love broccolini in most ways, but giving it a char on the outside is one of my favorites. When it is finally grilling season here – come on May gray! – I love to throw broccolini on the grill for a perfectly balanced flavor. Until then, you can try it in a hot pan for a similar flavor punch. I have added a gremolata to the top, this one mixed with crushed pistachios, Ojai pixie tangerine zest, and garlic…it's divine! I hope you enjoy!
Charred Broccolini with Pistachio-Orange Zest Gremolata
Yield: 6 Servings
1.75 pound broccolini
¼ cup olive oil
1 teaspoon kosher salt
Gremolata:
½ cup shelled salted pistachios
2 teaspoons Ojai pixie tangerine, zested 
5 each garlic cloves, smashed 
Directions:
1. Trim woody ends off of broccolini and half lengthwise any thickly stemmed broccolini. Wash and drain.
2. Heat a large sauté pan and add 2 tablespoons of the olive oil.
3. Once hot, add half of the broccolini to the pan and char on all sides. Season with some salt and then transfer the cooked broccolini to a sheet pan. Repeat with remaining oil, broccolini, and salt. Keep warm.
4. In the bowl of a food processor, finely chop the pistachios. Mix together with the zest and garlic.
5. To serve, arrange the charred broccolini on a platter and top with the gremolata. This dish is great hot, or at room temperature.
You might also be interested in...