Rona Barrett Foundation
Rona Barrett is most famous for her long career as a pioneering journalist, columnist, broadcaster, and producer who covered the entertainment industry for decades. The trailblazer interviewed a huge swath of superstars, including Raquel Welch and Tom Cruise, broke countless stories from the world of Hollywood, and became the public's trusted insider – documenting the careers and lives of stars of stage, screen, music, and TV.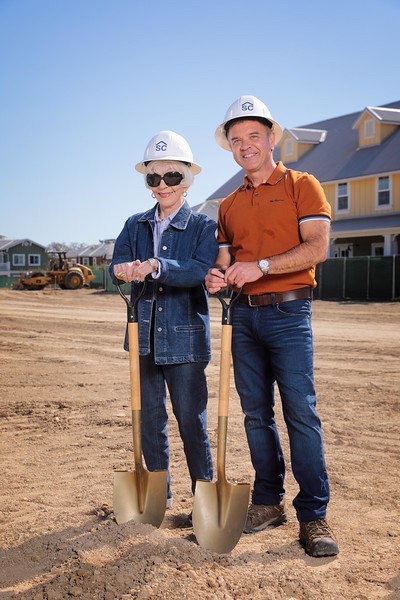 But Barrett herself happily shares that the work she's doing now for seniors in the Santa Ynez Valley and beyond is the most important thing she's ever done. That's because after she left Hollywood for Santa Ynez and cared for her father in his final years, she realized that not all seniors have the means to live out their days in comfort. With the "Baby Boomer" generation continuing to age and live longer, often without much of a financial safety net, there weren't going to be enough resources available to support this senior population.
So 20 years ago, after having retired from the industry and moved to Santa Ynez where Barrett was making gourmet food products like applesauce, cookies, and cheese with lavender, she created The Rona Barrett Foundation. The nonprofit organization was founded to provide affordable and dignified housing and care for seniors over 62 years old, the fastest-growing population on the planet.
"Rona saw that early on, and decided to do something about it," said Tony Morris, the foundation's Executive Director. "She really wants to make a difference."
With Barrett harnessing her prominence and tireless drive in service of others, the foundation acquired a parcel of land in the valley and five years ago opened its first facility, The Golden Inn & Village – a safe haven featuring 60 small apartments for low-income seniors that includes wellness services. Last year, the foundation broke ground on a second such facility, called Harry's House in honor of her father. The two-story building mirrors the adjacent Golden Inn and Village style with farmhouse-inspired architecture, porches, and outdoor courtyards.
Harry's House consists of 60 studio apartments with limited kitchen facilities but additional care services to meet the needs of its anticipated residents, many of whom might have mobility needs, Morris said.
"Harry actually lived with Rona in his final years, and she noticed that he had developed Alzheimer's, so she basically was his caregiver up until his passing," he said. "The idea is for Harry's House to be for a senior who requires more types of programs than at the Golden Inn but still wants a level of independent, dignified living. There's a special package for residents with a full meal program, transportation services, housekeeping, internet and cable TV all provided."
The facility is expected to open in late summer, and the deadline for applications for residency that were originally to have closed last week have been extended until August 31. Morris said he wanted to make sure all who might be interested and would qualify know about the opportunity, including those who might already be on the waiting list at the Golden Inn.
Potential residents are invited to apply at www.hasbarco.org/whats-new-view?id=146
Concurrently, as construction continues, the Rona Barrett Foundation is also in the midst of its continued efforts and fundraising, still making headway towards its target of $20 million to create an endowment to cover all programming and services in the future, giving their increasing total number of residents security in the years ahead.
"We provide everything ranging from a meal program to fitness classes, a hair salon, field trips, and gardening classes, sewing classes, art classes, what have you," Morris said. "It's a full range of activities to let our seniors age in place with dignity and independence. Everything is provided at no charge to the residents."
For the second year, that effort is being augmented by a charming and appropriately-themed fundraiser called the Mom & Pop Giving Opp, which began on Mother's Day and continues through Father's Day on June 18. It's a chance to honor and remember parents, other older family members, and parent-figures who may have required care in their golden years by giving back through the organization that supports seniors in their time of need. All proceeds go to the Rona Barrett Foundation's programs and wellness services at the affordable housing sites.
Visit https://interland3.donorperfect.net/weblink/weblink.aspx?name=E168045&id=50 to participate.
"The campaign was very successful and people loved it last year," Morris said. "So we wanted to bring it back again."
Other ways to help include purchasing Barrett's latest book, Rona Barrett's Gray Matters, where she shares many anecdotes and stories about aging, as proceeds also benefit the foundation. With the pandemic receding and Harry's House soon to open, the foundation also has opportunities for volunteers who may want to donate their time and talents.
Everything makes a powerful impact on the lives of seniors who need it most, helping spend their golden years with security, safety, and dignity.
The Rona Barrett Foundation
Tony Morris, Executive Director
(805) 688-8887
www.ronabarrettfoundation.org
You might also be interested in...