Rooms & Gardens Opens in Upper Village
On nearly the same day that she opened her beloved shop 30 years ago on State Street, Rooms & Gardens owner Jami Voulgaris is starting a new chapter in Montecito. Rooms & Gardens made its official debut over the weekend with a friends and family event, opening the doors for business on May 8. "When this space became available, I knew I had to have it," Voulgaris told us Monday. "I absolutely love the light-filled space, the neighbors, and the ample parking," she said about the location in the upper village next to Tecolote, which was formerly occupied by Coda Studio, and prior to that, Oliver & Espig.
Voulgaris and her team completely overhauled the space in a short amount of time; from new flooring to ceiling paneling, to built-in bookshelves, and even remodeling the bathroom, the airy building is now decked out in Voulgaris' "California chic" aesthetic. The shop features multiple vignettes of living, dining, and bedroom spaces, meant to show off the furniture, fabrics, and Voulgaris' signature style.
Voulgaris opened Rooms & Gardens 30 years ago with her husband, Eric. It has flourished into one of Santa Barbara's go-to shops for furniture, home décor, and design services, attracting local celebrities and A-list designers as well as homeowners all over California and beyond. "I like to think of it as a perfect mix of styles from both the west and east coasts," Voulgaris said.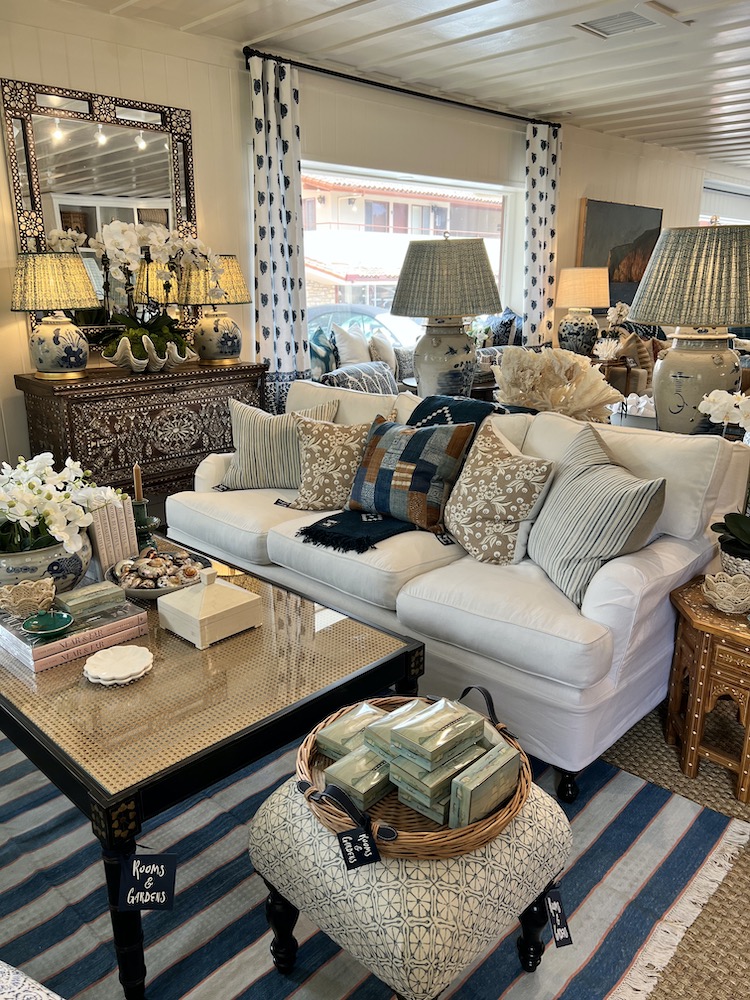 Rooms & Gardens is also a full-service design firm that can handle any part of an interior design project, from a re-furnishing of a small room or reupholstering to a full-home remodel or build. They also do custom draperies and shades, space planning, and more, and they have an in-house kitchen designer.
Jami has her own custom furniture workroom in Los Angeles, where she has her craftsmen custom-make her sofas, chairs, beds, coffee tables, and more. She also works with a custom wicker weaver based in the workroom who makes all of the wicker pieces, some of which have been featured in design magazines. There are also a handful of antique pieces, as well as imported lamps and lamp shades, textiles, dishware, candles, and gift items. "It's everything for a well-appointed home," Voulgaris said.
"After 30 wonderful years at the State Street store that Eric and I lovingly created and curated, I am excited for the new location in the heart of Montecito's Upper Village, which is being referred to as Montecito's new design district. While it has been great to be a part of the State Street culture, my local customer base is in Montecito, so this move to the new location made a lot of sense," Voulgaris said.
Rooms & Gardens is located at 1482 East Valley Road, suite 108, in Montecito's upper village. Visit www.roomsandgardens.com for more information. The shop is open from 10 am to 5 pm Monday through Saturday, and 12 pm to 5 pm on Sunday.
You might also be interested in...