Dr. Helena Ndume Awarded ASCRS Humanitarian Award
Surgical Eye Expeditions (SEE) International announced the prestigious American Society of Cataract and Refractive Surgery's (ASCRS) 2023 Chang-Crandall Humanitarian Award recipient is Dr. Helena Ndume of Namibia, who SEE has collaborated with for more than 25 years.
The award, presented on May 6 in San Diego, honors her life's work to date and continuing in the treatment of blindness and eye-related illnesses. Born in Tsumeb, Northern Namibia, she protested against apartheid South Africa in her country, and fled to the SWAPO refugee camp in Zambia to escape possible imprisonment. While completing her high school education and having a passion for the fashion industry, she was advised by Dr. Libertina Amathila to be a doctor to help her country rebuild once it became independent. She received a scholarship for med school at the University of Leipzig and ophthalmology at University of Saarland in Germany.
At the 1995 ASCRS, she met SEE International via an introduction from Dr. Solomon Guramatunhu of Zimbabwe. In 1997, she finished med school, contacted SEE, and started eye camps in her country for people without care, completing free sight restoration surgery to more than 55,000 people with cataracts. To date, she maintains her position at the Windhoek Central Hospital Eye Care Centre working with her team.
Dr. Ndume is the recipient of U.N.'s Nelson Rolihlahla Mandela Award 2015 (and the first female awarded), the Forbes African Woman Social Impact Award (2022), the Lions Clubs International Humanitarian Award (2022), BBC's 100 Most Influential Women (2018), Grand Commander of the Order of Namibia First Class, and many other awards.
On her way to San Diego, she stopped at the Goleta SEE offices for meetings and a Zoom interview with me on Monday, along with President and CEO of SEE International Donald W. Bell.
Q. Looking back, what advice would you give to your younger self?
A. When I look back, I think, thank God there were guiding angels. You have to know that when you are young, you think you know it better. In my culture, we were brought up to listen to the elders, and when elders tell you to do something, you don't talk back. So, when I was told that fashion is not enough and it's rubbish – although I was very annoyed – I had to do what my elders told me, that we were fighting to liberate our country, and when we liberate it, we need people who are trained in different fields, and [I] should be a doctor. Looking back, I say, "Oh, they were very right, today we are changing people's lives. I can still do fashion on the side."
Did fashion circle back into your life?
I was married in Germany, and eight months into my pregnancy, my husband had been killed in the war in Angola. It was a lot for me. When Namibia became independent in 1990, fortunately I just finished medical school. I did a one-year internship back home and I had left my son in Germany with my "German family" there because of the unstable war situation in Namibia. How that happened is back to fashion again…
When I was a student in Germany, there was another Namibian student in the same small town I was in, who told me, "You like fashion, there is a German woman with a boutique who makes dresses and sells them once a month, maybe you can come to her store and find something." So, I went on the train to get there with my son in a pram. It was winter and cold; there was a line to get in. I think they felt sorry for me with a child, and they let me in.
They asked if they could look at my baby and were saying, "Wow he is black, already with curly hair…" and on about him.They invited me for lunch on Sunday and picked up me and my son. They fell in love with my son and made me their adopted daughter. They have a son and daughter my age. They helped me bring up the boy, especially when I was studying. He got very spoiled and very loved, and to this day we are a family – the grandmother is 93. I did like the fashion in the shop and ended up going with her to fashion shows in Milan and Dusseldorf. It is a beautiful story.
Your daily routine?
I wake up happy that every morning I am healthy and able to do the things that I do, especially in changing people's lives. I wake up at 4 am and join my team at 4:30 am for exercise. We climb hills near where I live. It is so nice to start the day that way with exercise.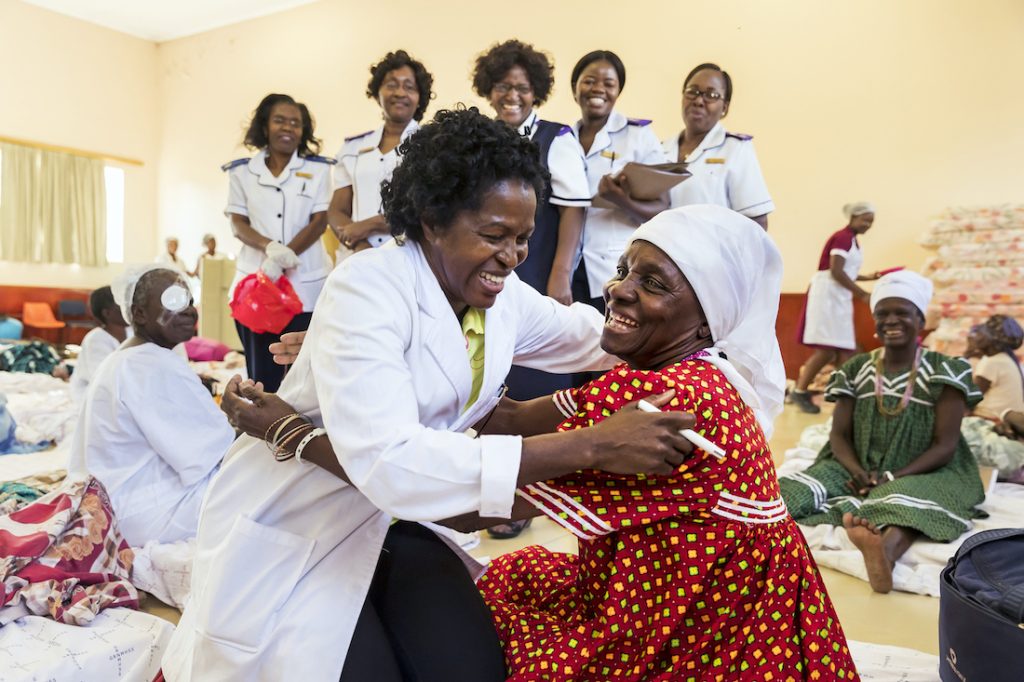 How many doctors do you need at the clinic?
I would like as many as possible. When I started, it was just myself. Today, we have three doctors who came back from training in Cape Town. As we speak now, we have two going into training, and four more we are preparing to go for training. It has been a relief, because I was always alone. Now I have pushed back, and another young doctor has become the head of the department. I am so happy we have trained these young people to take over, and we can be their advisors and guide them.
Would you like to create your own foundation?
I've always wanted to create my own foundation, but because of my work it has not allowed me the time to do it, and you need lots of funds. It has always been a wish of mine. Most important for me is to set up a well-equipped central hospital and training here, so we don't have to send doctors away to be trained.
I met Dr. Harry Brown, who started SEE International when I was a student. He told me to call him when I finished, which I did. And SEE has been helping us since 1997. It is well-known here and has become a national anthem, as our government has so much health care to take care of.
In your 2022 video interview with The Namibian, you said you grew up with community upbringing. Is this still present in Namibia?
That has changed quite a lot. Too much urbanization has taken place; it has become very individualistic. It is very expensive to live in the cities; no more common parenting – unfortunately. You will find community in pockets in the rural areas.
I think community upbringing is important, because today sometimes you don't even know who your neighbor is, sometimes you are scared to help them and that is very sad. I remember our house growing up was always full, sharing equally what we had during those days, with some people who were not even our relatives, the care was there, and some of us are still like brothers and sisters to this day.
And that "One important thing is learning culture…"
From my point of view, culture shapes an individual. You have to know where you are coming from before you know where you are going. My first time when I went to West Africa at 16 for school, it was Islam and a completely different culture from mine. Then, there are these types of things like female genital mutilation, which is the norm for some people; however, these things have to be stopped. Other things like the way people pray, you learn to respect, and take the good part of the culture, like in my culture when men have returned with the cattle there is drumming and singing and it's very beautiful.
When I went to Germany to study, it was completely different for me, very shocking. I never heard of young children answering back to their parents. Culture depends on how a person takes it. I've learned to respect other people's cultures and not look down on them.
Bell concluded our interview with SEE's appreciation:
"Dr. Ndume is far too humble to tell you all the work she does. She's among the giants of the global ophthalmology community and believes no one should be needlessly blind in the world with a procedure that takes 15 minutes and costs $50. She has done over 50,000 surgeries for free for her countrymen. I really can't think of a more compelling example of an individual who, through perseverance and strength of character, has overcome tremendous personal hardship to devote herself to her country and its citizens. She has single handedly changed the eye health trajectory of her country of 4 million people. Dr. Ndume is a legendary figure in ophthalmology in Namibia and globally, and a remarkable ambassador for SEE International for over 25 years, talking about the cause and sharing her story. We consider ourselves at SEE to be incredibly fortunate to be associated with her, to have played a small part in her life's work and for her taking us along the remarkable journey of her accomplishments in Namibia."
411: www.seeintl.org
You might also be interested in...