The Princess and the English Pea
The English pea is popping up at the farmers market and I made the most divine soup out of them… I even tricked some clients by making it vegan and they were amazed! The English or garden pea is a shell pea, meaning the pod is too fibrous to eat. These gorgeous pods are not actually a vegetable, but a member of the legume family. English peas are a great source of plant-based protein. They are rich in fiber and iron, making them excellent for production of red blood cells and transporting oxygen around the body. Peas contain magnesium, B vitamins, and vitamin C, making this legume great for supporting blood sugar management. In fact, the fiber in English peas is a prebiotic, making them so beneficial to the gut microbiome. The fiber in peas, called amylose, is known to slow digestion – which helps support blood sugar balance. Magnesium, potassium, and calcium, antioxidants such as Vitamin C, and phytonutrients including carotenoids and flavonols – all support heart health and cardiovascular function, and lower LDL cholesterol. Saponin-containing English peas and other legumes are also thought to protect against some cancers. 
This soup is equally wonderful with frozen peas, but if you can find fresh English peas, take the extra time to shell them. You can even make a stock with the pods, some onion and garlic.
Sweet Pea Soup with Mint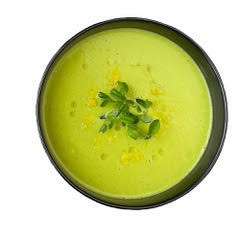 Yield: Serves 4
1 tablespoon olive oil 
1 tablespoon Miyoko's butte
1 cup sweet onion, chopped
1 tablespoon garlic paste
2 teaspoons sea salt 
1/2 teaspoon freshly ground black pepper 
2 1/2 cups homemade or good quality vegetable or chicken broth 
3 cups shelled fresh English peas 
1/2 cup unsweetened oat milk
1 teaspoon lemon zest 
2 tablespoons fresh mint leaves 
Topping:
1 cup crispy shallots
Directions:
1. In a large pan over medium heat, melt the butter and the olive oil. Add in the onion and sauté for 3 to 5 minutes or until wilted and lightly browned. Add the garlic, salt, and pepper.
2. Add in the broth and peas and bring to a boil. Reduce the heat to medium low and simmer for about 5 minutes or until the peas are tender.
3. Remove the pan from the heat, add the oat milk, mint, and lemon zest. Transfer to a Vitamix or using a handheld immersion blender, blend until smooth and creamy.
4. Serve with crispy shallots on top.
You might also be interested in...