Biltmore Alterations at MBAR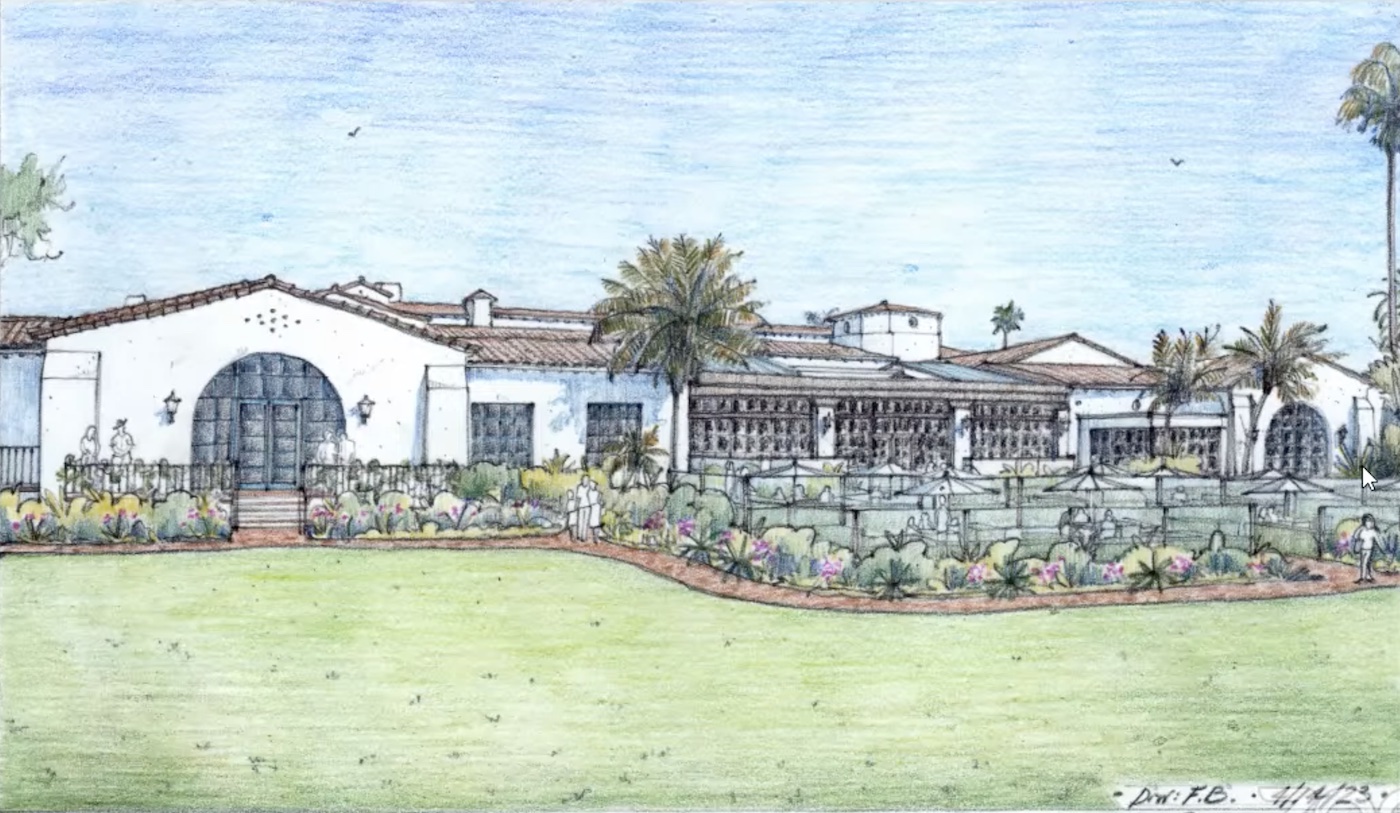 On the heels of receiving approval of changes to operations at the Coral Casino by the Montecito Planning Commission – and subsequent appeals to those changes from five Coral Casino club members – Biltmore and Coral Casino owner Ty Warner's team was in front of the Montecito Board of Architectural Review last week, asking for preliminary and final approval of exterior alterations to the historic hotel, which has been closed since March 2020. 
The alterations include reconfiguration of the existing stepped terrace outside the La Marina dining room, with an increase in size of the middle and lower terrace. The existing terraced patio on the south elevation is three levels, with the upper terrace deck being the access deck to and from Bella Vista Restaurant, the middle terrace deck being a relatively small landing deck, and the lower terrace deck being the main outdoor guest seating area for the Bella Vista Restaurant and the Ty Lounge. While the existing upper deck configuration and area will remain unchanged, the middle and lower terrace deck areas are proposed to increase approximately 150 square feet in size and be reconfigured into a classic rectilinear design that will improve guest circulation, privacy, and views. The proposed dining patio is to be staggered, with pockets of plantings to provide privacy between the tables.
Reconfigurations of the windows are also proposed, including new double doors – which are planned to be incorporated into the existing arched window on the south elevation. The new double doors will match the existing window and doors at the Ty Lounge. Other proposed alterations include the addition of stairs, a new raised landing, and construction of pedestrian gates and existing easterly and westerly pedestrian entrances.
The Biltmore opened as a resort hotel in 1927 and the complex is comprised of 26 separate buildings housing a total of 236 guest rooms, multiple dining rooms, reception areas, commercial retail shops, a beauty salon, meeting rooms, offices, a spa, swimming pools, and maintenance operations. Approximately 60 percent of the property is landscaped grounds, pathways, and open space areas.
MBAR members were generally positive about the alterations to the hotel back in February, asking the team to restudy the pathway layout, restudy and refine the details of the patio, provide photos of existing gates and doors, and continue to work with an architectural historian to retain historic elements of the hotel. Last week the Board granted preliminary approval for the project, asking designers to come back with details of design elements including brick patterns, and lighting and railing details.
No details yet on when the hotel, which is located at 1260 Channel Drive, is expected to reopen. 
You might also be interested in...