Spring Asparagus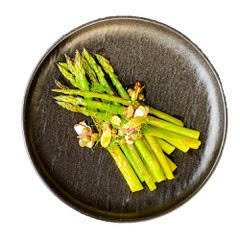 Warm weather is trickling in slowly, Santa Barbara – and I am here for it! Spring in the farmers' market is such a glorious time, crowded as it is with all the vegetables that begin popping up after our rainy months… artichokes, snap peas, fava beans, arugula, and asparagus… just to name a few. This week I was drawn to the sublime asparagus – sprightly spears that come in an array of colors from green to white to purple, and from super thick to the pencil thin ones. I tend to love the ones in the middle, those perfectly plump green asparagus that taste just like spring – grassy, bitter in their earthiness, and subtly sweet. Is there a better description of what spring is? The asparagus contains a vast array of health benefits, ranging from its small amounts of micronutrients such as iron, zinc, and riboflavin, to its high doses of Vitamin K, which is essential for blood clotting and bone health, to folate, which is necessary for cell growth and DNA formation. Asparagus also contains antioxidants Vitamin E and Vitamin C, and polyphenols such as quercetin. The dietary and insoluble fiber in asparagus is excellent for digestive health, reducing the risk of high blood pressure, heart disease, and diabetes, and is a wonderful prebiotic to feed the healthy bacteria in your gut.
I tend to love my asparagus prepared simply, letting the beauty of its flavor shine through. Below is one of my favorite asparagus recipes; I hope you love it, too!
Roasted Asparagus with Almonds, Dill, and Crispy Capers
Yield: Serves 6
1 pound asparagus, woody ends removed
1 tablespoon olive oil
1/2 teaspoon kosher salt
1/4 teaspoon black pepper
Topping:
2 tablespoons Miyoko's butter
3/4 cup sliced almonds
2 tablespoons Miyoko's butter
1/2 cup baby capers, drained and dried on a paper towel
1/2 cup fresh dill, roughly chopped
Directions:
1. Preheat oven to 425 degrees. Line a baking sheet with parchment paper.
2. In a large bowl, toss together the asparagus, olive oil, salt and pepper. Arrange in a single layer on the prepared baking sheet.
3. Transfer to the oven and roast for 8 to 12 minutes or until the asparagus is tender and lightly caramelized. Time will depend on thickness of asparagus. Transfer to a serving platter while you prepare the topping.
4. In a small sauté pan, melt the butter over low heat. Once melted add the almonds and fry for 1 to 2 minutes, stirring frequently to prevent the almonds from burning. Pour the butter over the cooked asparagus.
5. In the same sauté pan, add 2 more tablespoons butter and melt. Add the capers and fry for 3 to 4 minutes or until crispy. Drain on paper towels. Add the capers to the asparagus and top with the chopped dill. Serve hot or room temperature.
You might also be interested in...