One805 is Off to a Sunny Start at Sunstone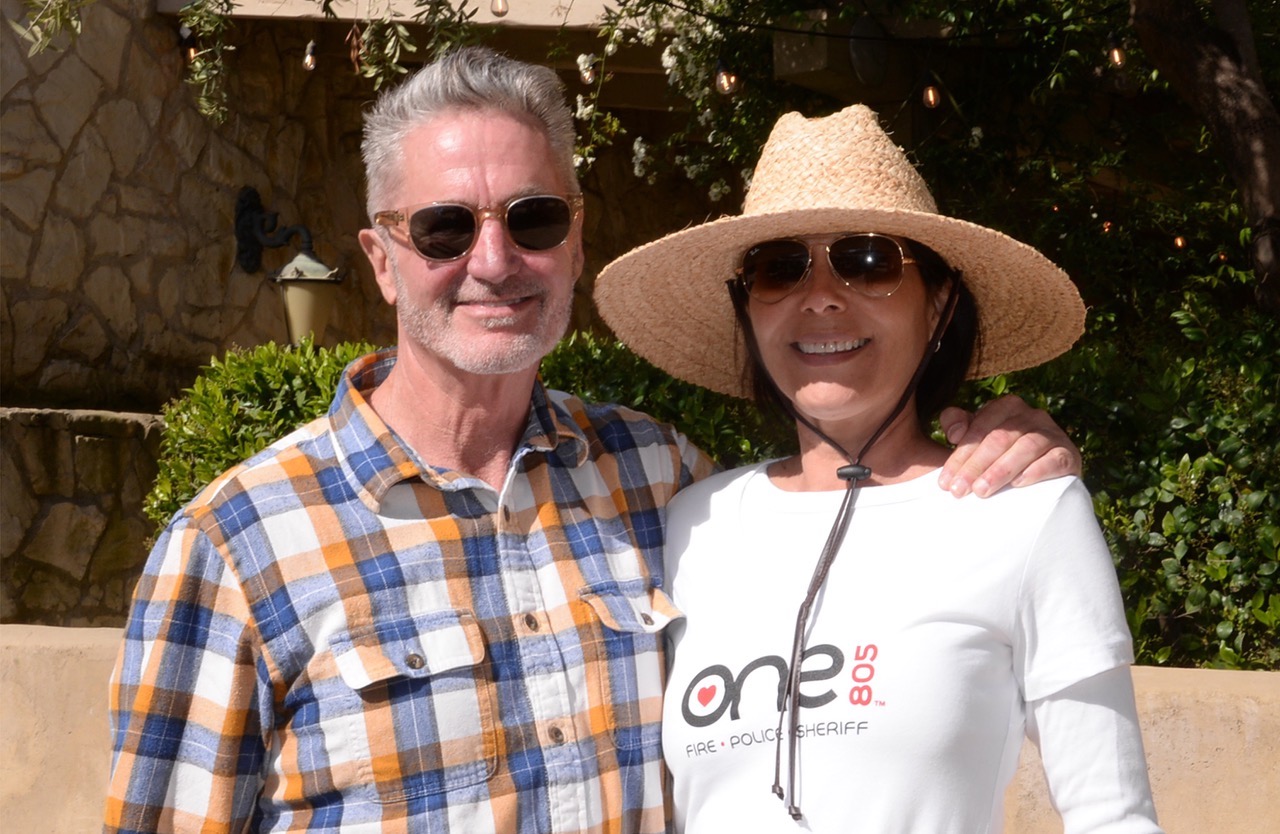 One805 – the local nonprofit dedicated to supporting First Responders across Santa Barbara County – gave supporters a foretaste of its flagship One805LIVE! gala event in September (that will include rockers Maroon Five at the Summerland oceanside estate of Oscar winner Kevin Costner) with a boffo bash to a crowd of 500 at the Sunstone Winery in Santa Ynez, raising $90,000.
The fun fête featured keyboardist Ed Roth and The Session Kings; a combo comprised of six in-demand session musicians who have worked regularly with major stars.
Roth, who has played with Ringo Starr, Annie Lennox, and Coolio, assembled a galaxy of major talent including vocalist Andy Vargas, lead singer of Santana for the last 20 years, guitarist Linda Taylor, who has played with Art Garfunkel, Tracy Chapman, Thelma Houston, Sheila E.,and Christopher Cross; bassist Travis Davis who worked with Kiss, Toto, Chicago, and Alice Cooper; and drummers Leo Costa, whose past collaborations include Sérgio Mendes, Diana Ross, and will.i.am; and Rock Deadrick, who has worked with Diana Ross, Ziggy Marley, and Tracy Chapman.
Ubiquitous KEYT reporter John Palminteri and KLITE radio host Catherine Remak emceed the event, which also included an auction of guitars signed by Katy Perry, Robbie Krieger of The Doors, Adam Levine of Maroon Five and the entire band, a drum signed by Danny Seraphine, Grammy Award-winning drummer of Chicago, and a helicopter trip and a champagne lunch at the historic Rancho Santa Barbara
donated by Adam's Angels.
Among the hordes of guests, hosted by Sunstone owners Teddy and Djamila Cabugos, were Alan and Lisa Griffiths Parsons, Dean and Susan Wilson, Donna Reeves, Maitland Ward, Adam McKaig, Rick Oshay and Teresa Kuskey, Keith and Mary Hudson, Drew Wakefield, Carol Marsch, former mayor Helene Schneider, Alastair and Ann Winn, Michael and Tracy Bollag, founders Richard and Kirsten Weston-Smith, Diana Starr Langley, Nick Fuchs, Christine Emmons, John Thyne, Sheriff Bill and Donna Brown, Montecito Fire Chief David Neels, and Santa Barbara City Fire Chief Mark Hartwig.
You might also be interested in...