USS Santa Barbara Bash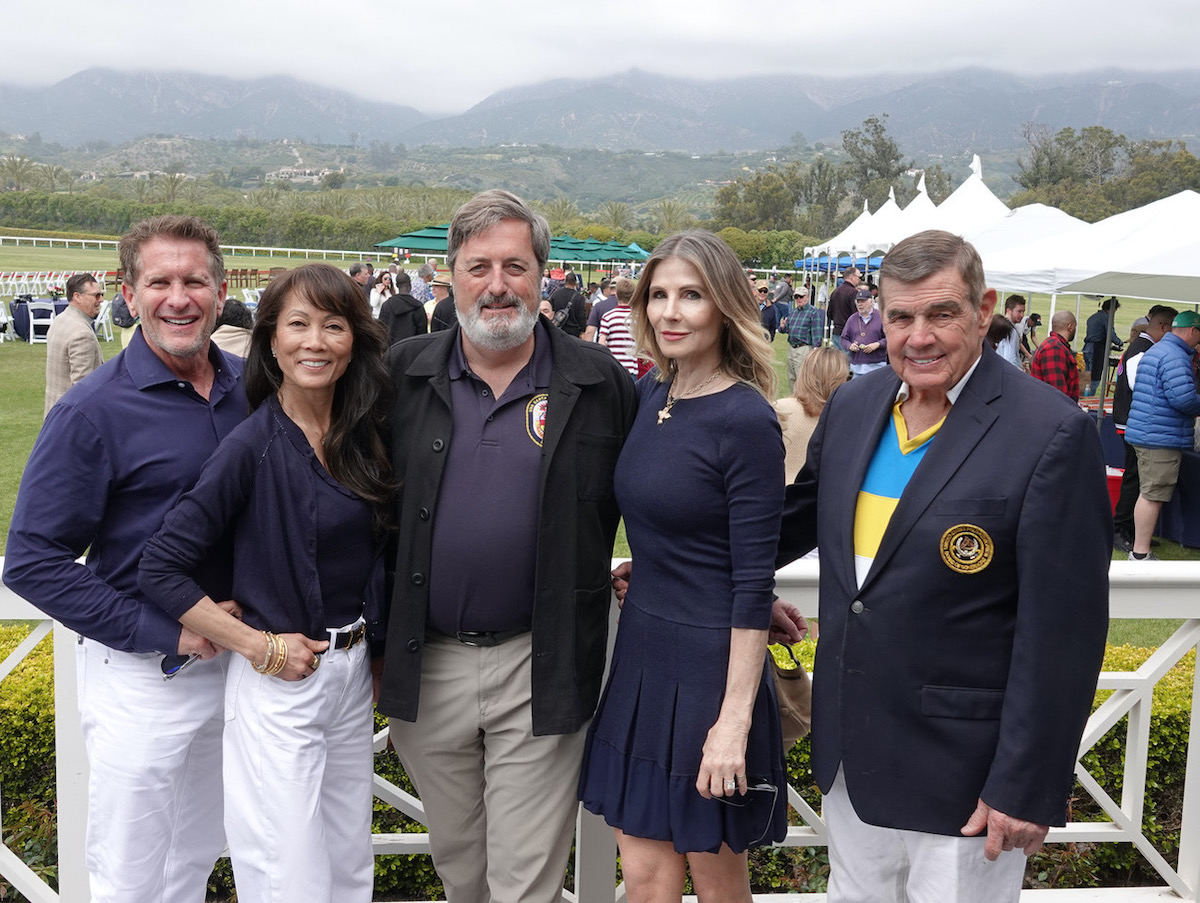 It was definitely a ship to shore moment when hotel magnate Pat Nesbitt and his wife Ursula hosted a boffo bash for the captain and crew of the newly commissioned USS Santa Barbara at Bella Vista, their scenic oceanside 20-acre Summerland estate.
The fun fête, assisted by the local council of the U.S. Navy League, also consisted of a highly competitive three-a-side polo match with Air Force and Navy teams, won narrowly by the Maritime marauders of Marlin Taylor, Patrick Uretz, and Jimmy Wright (9-8) with Santa Barbara Polo Club polo manager and announcer Melanja Jones calling the shots.
The new 70-crew, 418-foot-long littoral combat ship, the third vessel to be named after our tony town, was launched in 2021 after construction in Mobile, Alabama, at a cost in excess of $700 million. She was commissioned at the Naval Base Ventura County at Port Hueneme before sailing to her permanent base in San Diego under captain Bryan Sparks.
Host Pat, a former polo patron and president of the U.S. Polo Association, never actually served in the Navy, but studied in the Air Force as a possible astronaut before transferring to the parachute jumping program.
"That's why I'm so short," he quipped, referring to the inertia his body suffered from so many jumps.
Among the many eateries showcasing their wares at A Taste of Santa Barbara were Tre Lune, Via Vai, Lucky's, the Rosewood Miramar, Ca'Dario, Los Agaves, Jeannine's, Sol Wave, the Santa Barbara Polo Club, and Mier's Ice Cream.
Forbes magazine has just released its 37th annual World's Billionaires list, with 2,640 billionaires worth a total of $12.2 trillion ranked, down by $500 billion last year.
At Number One is Frenchman Bernard Arnault, 74, the owner of Louis Vuitton, Christian Dior, and Tiffany for the first time with $211 billion, while Tesla magnate Elon Musk, 51, is in second place with $180 billion, and Amazon tycoon Jeff Bezos, 59, is third with $114 billion, $57 billion less than 2022.
Local resident Larry Ellison, 78, is at number four with $107 billion for Oracle computers, Warren Buffett follows with $106 billion, and Microsoft's Bill Gates, 67, at number six with $104 billion.
There are 150 newcomers including basketball ace LeBron James, 38, with $1 billion, golfer Tiger Woods, 47, with $1.1 billion, and fashion icon Tom Ford, 61, with $2.2 billion.
The list's average age is 65, with the U.S. having the most billionaires – 735 of them, with a total net worth of $4.5 trillion. China is ranked number two with 562, and India third with 169.
As usual, our rarefied enclave is well represented with Google tycoon Eric Schmidt, 67, who bought the Solana estate from Bill and Sandi Nicholson, ranked 104 with $16.2 billion, and frequent visitor Dallas Cowboys owner Jerry Jones, 80, whose team trains in Oxnard during the summer, at 133 with $13.3 billion. Rosewood Miramar owner Rick Caruso, 64, is listed at number 497 with $5.3 billion.
Beanie Baby tycoon Ty Warner, 78, who owns the San Ysidro Ranch and the Biltmore, is ranked 511 with $5.2 billion while mega director George Lucas, 78, who owns a sprawling beach house in Carpinteria, is ranked 534 with $5 billion. Mall magnate Herb Simon, 88, comes in at 852 with $3.4 billion.
Real estate investor and Santa Barbara Polo Club patron with his Antelope team Geoff Palmer, 72, is at 905 with $3.2 billion followed by former TV talk show titan Oprah Winfrey, 69, listed at 1217 with $2.5 billion, and Hotel Californian owner Bill Foley, 78, is ranked 1804 with $1.6 billion.
He shares the spot with Montecito's Peter Sperling, 63, son of John Sperling, the founder of the online University of Phoenix.
You might also be interested in...