Society Does National Walk Day with Denise Austin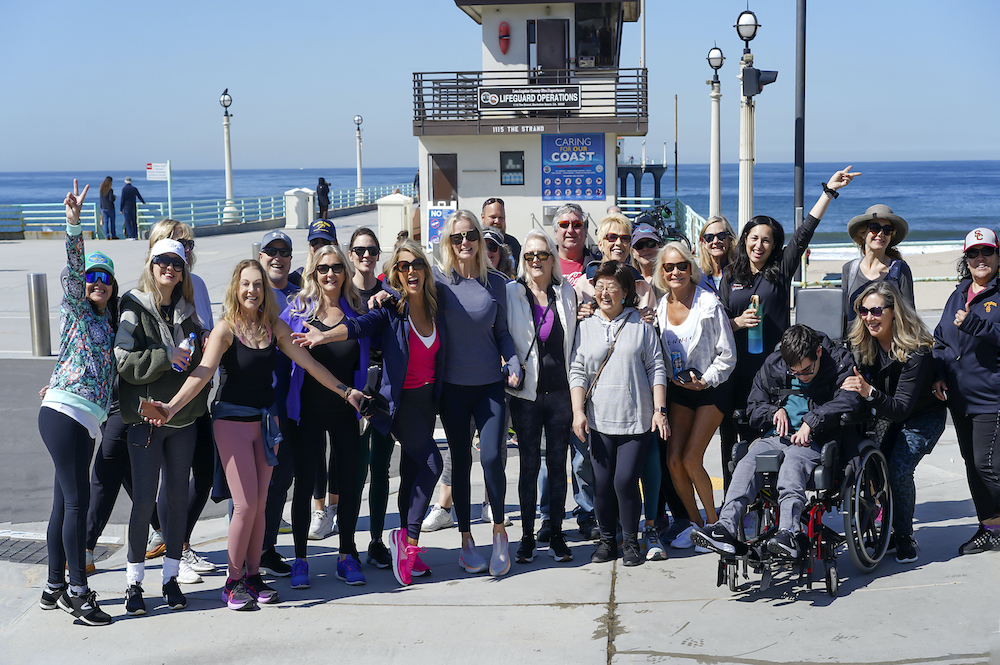 A society news reporter goes where the news is, and this week the spotlight is on fitness. Get those sneakers on kids! April 5th marked the annual American Heart Association's (AHA) National Walking Day—and the start of your new exercise goals during April walking month.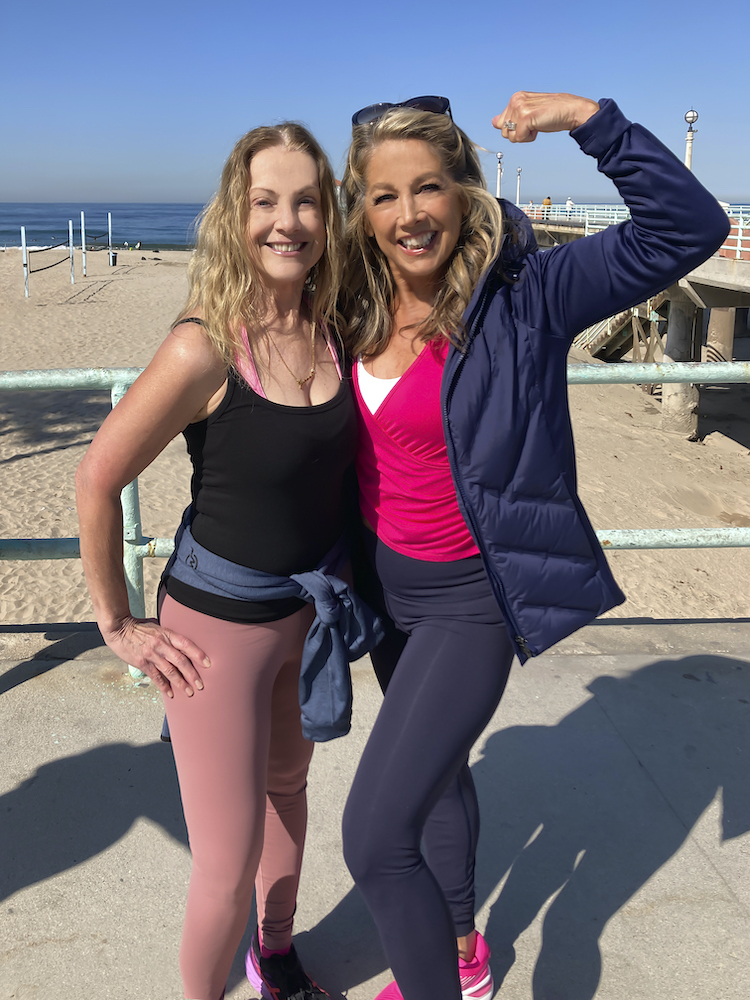 To celebrate it in true California-Girl style is fitness icon and 40-year fitness industry pioneer Denise Austin – whose social media is calling on all locals of any ability to join her on Manhattan Beach, April 5, at 10 am. Why? For a brisk two-mile walk together—the inaugural daily walking distance recommended by the AHA. Indeed, my gear was packed! I've taught exercise, aerobic dance, and have been a dedicated runner for over 20 years. And yes – I've done Austin's workouts online. Her routines incorporate the core principles of responsible physical training – body alignment, high-and-low-impact cardio, stretching, weights, and positive self-talk – offering everyone at any level a chance to reclaim a life of daily activity.
I left our town early, arriving at Manhattan Beach just before 9 am, super excited to meet and walk with Denise, possibly (I imagined) alongside a few hundred fans. While waiting for her to arrive I met so many interesting people in their 30s and up, who told me their stories of discovering Austin's workouts, and how her regimen changed their fitness, outlook, mental health, and lives for the better. Some had worked out with her in the local LA gym back in the '80s – "that 20-minute abs routine really got me in shape!", while others had dutifully followed her fitness TV shows. Most are now subscribing to her online workout platform.
We cheered her on as she arrived at the pier wearing brightly-colored magenta walking shoes and matching top, navy leggings, and zip front jacket. She greeted each one of us with a big smile and hug and posed for photo ops. At 10 am she gathered us together to warm up with her signature routine … a pinch me moment for everyone to be working out live with her. Following our warm-up, she led the way for our two-mile-plus power walk along Manhattan Beach's world-famous oceanfront walkway The Strand. Throughout the walk, Austin touched bases with everyone, sharing stories. She had us increase the pace, add arm exercises, cheer people along the way who we saw working out, and encouraged us to invite other walkers to join in. At the midpoint we stopped again for some stretching and a group photo, then continued to the finish line where Austin took another group photo with all of the finishers. She thanked and wished each a great day. Comments heard included, 'I didn't know doing a power walk would be so easy' to 'I feel great, let's get brunch!' Everyone left feeling energized and positive, for certain!
When she found out I was doing a news report on her National Walk Day stroll in the Montecito Journal, her face lit up – "Omg, MONTECITO!" Turns out she's a big fan of Montecito and the Rosewood Miramar Beach Resort.
A native of San Pedro, her CV highlights include having a 10-year TV fitness show on ESPN, 14 years on Lifetime, and workout videos – leotards-to-leg warmers in that Jane Fonda fitness epoch – selling upwards of 25 million copies. Denise has been twice appointed to the President's Council on Sports, Fitness, and Nutrition; holds a BA in PE from California State University [with a minor in exercise physiology]; publishes her own magazine, Fit Over Fifty;and recently collaborated with women's comfort brand Easy Spirit to design fitness shoes.
Last year Austin broke through yet another beauty barrier – ageism – when she was selected by Sports Illustrated Swimsuitto walk the runway at their Miami show in 2022. There she joined her daughter Katie Austin, SI Rookie of the Year. Denise writes, "When I had the opportunity to walk the runway with my daughter for Sports Illustrated Swimsuit, going for fast WALKS was my go-to!! I bumped my daily walk up to 45 minutes, and really saw the results!!"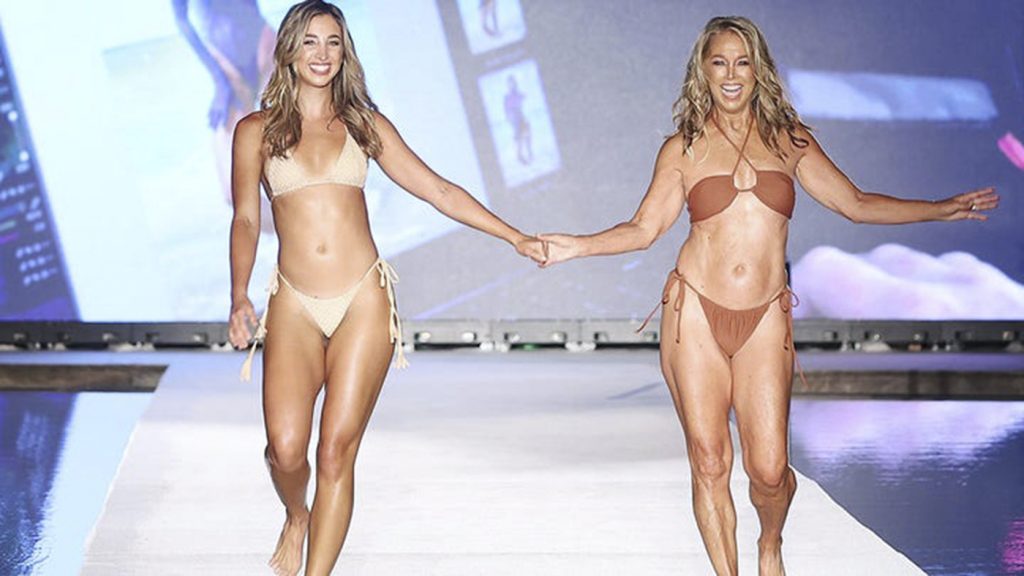 Let all who read this be inspired to get out, get fit, and enjoy the positive vibes that accompany tuning yourself up. Fitness is not a destination, it's a way of life. We are born to move, so find your groove and have fun!
The invite Austin extended on her social media and website says it all: "It's National Walking Day and I'm here to kick it off, along with Easy Spirit's workout shoes walking challenge!! Get up and walk every day this month for 20 minutes … that's it! Just a little bit of walking goes a long way. It's great for your mind and your body! I hope each of you join me in this challenge and pay it forward – challenge three of your friends!!"
National Walking Day – launched by the American Heart Association in 2007 – takes place on the first Wednesday in April. Studies show brisk walking for thirty to sixty minutes per day can help prevent type II diabetes, cancer, heart disease, and help with weight loss.
411: www.deniseaustin.com
Insta: @deniseaustin [official]
You might also be interested in...