Strawberry Fields
The Central Coast has some of the most amazing strawberries I have ever tasted. They are beginning to make an appearance again and I for one am so thrilled. At one of my favorite Farmers Market vendors, I asked about the crop this year and was told that many of the fields were flooded with the recent deluge of rain. That does mean that we might have fewer strawberries than usual, so you might need to run, not walk, to make sure you grab some. The strawberry is beloved both fresh and in any other form – from salads to compotes. One of my favorites is the dessert form. This luscious berry is known to reduce and control glucose levels with their low glycemic index. Strawberries are also very high in antioxidants known as polyphenols, and a good source of manganese, potassium, and Vitamin C. Strawberries have been shown to improve memory, their flavonoids helping to decrease inflammation – and thus mitigate the age-related cognitive decline associated with systemic inflammation. This low-calorie berry may also reduce the risk of some cancers. 
A treat that I used to eat growing up in Alabama, a Strawberry Buckle is an old-fashioned dessert that is a basic cake batter with fresh fruit folded in, giving it a buckled appearance. This one is vegan because that's how I love to make it, but feel free to change up the plant-based ingredients for your favorite ones. I love it served warm with coconut whipped cream or oat milk vanilla ice cream. Enjoy!
Strawberry Buckle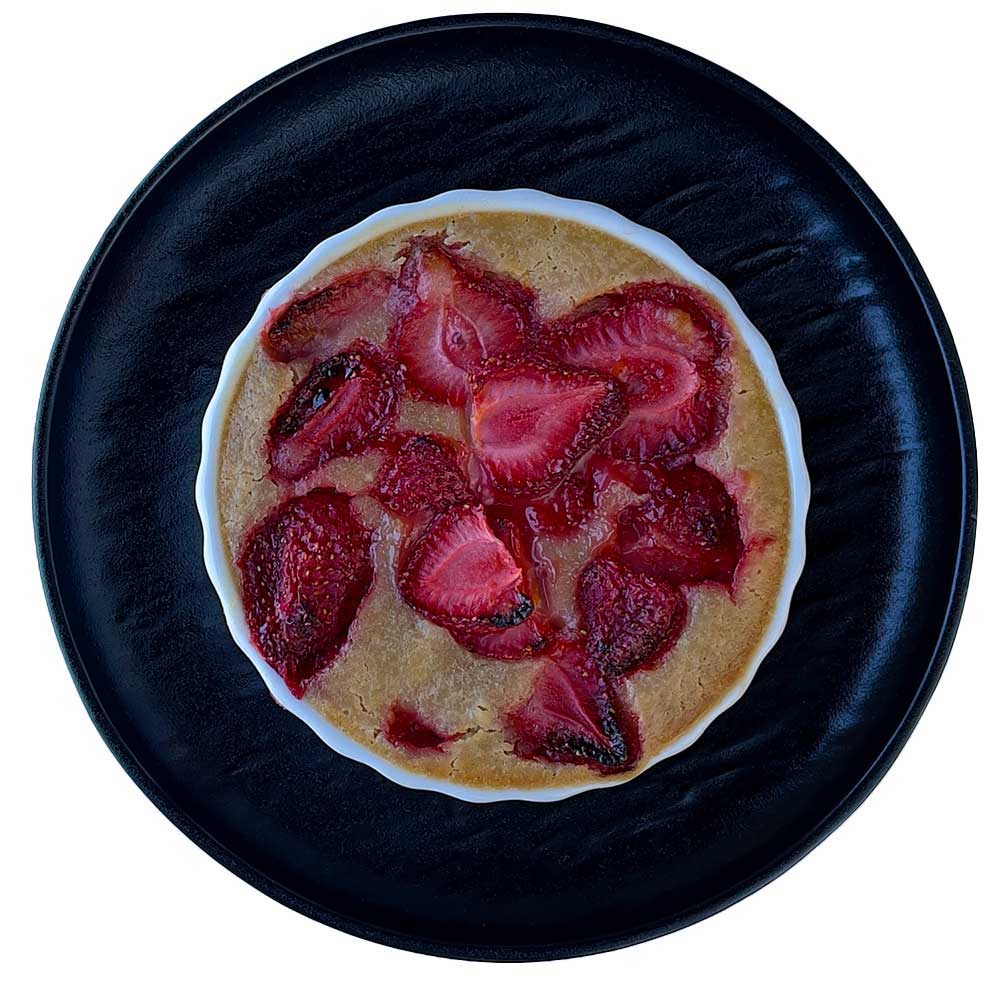 Yield: Serves 4 
3 cups fresh strawberries, hulled and sliced 
1/2 cup unprocessed organic sugar 
Batter
1 cup all-purpose flour 
2 teaspoons baking powder 
1/2 teaspoon sea salt 
1/2 cup unprocessed organic sugar 
1 cup unsweetened oat milk 
1 teaspoon vanilla extract 
8 tablespoons Miyoko's unsalted butter, melted 
1 teaspoon lemon zest
1 teaspoon lemon juice
Directions:
1. Preheat oven to 375 degrees. Grease a 9-inch baking dish.
2. In a medium bowl, combine strawberries, sugar, and lemon zest and juice. Allow to sit while you make the batter.
3. In a large bowl, whisk together the flour, baking powder, salt, and sugar.
4. Add in the milk, vanilla extract, and melted butter.
5. Stir until just combined. A few lumps are ok.
6. Pour batter in greased baking dish and then top with sugared strawberries.
7. Place on a baking sheet and transfer to the preheated oven.
8. Bake for 30 to 35 minutes or until golden brown and set.
You might also be interested in...