Praises for New Provost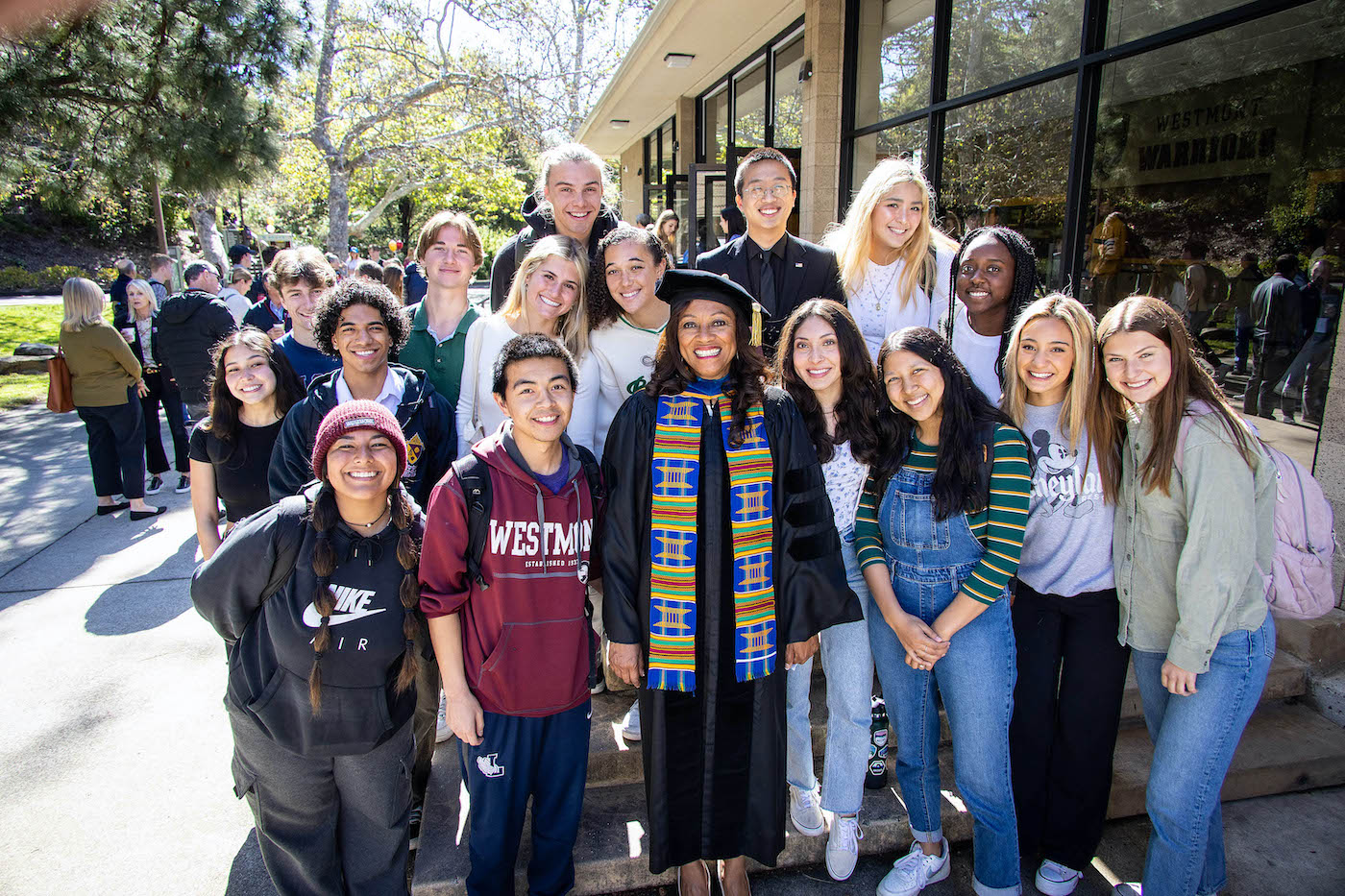 Westmont officially installed its new provost and dean in a joyful celebration of the life, faith and career of Kimberly Battle-Walters Denu, who began her accomplished professional arc as a first-generation college student from South Central Los Angeles.
"This is a culmination of my childhood play," she said. "When I was young, for as long as I could remember, my two great passions were the church and the academy – a love for God and a love for learning."
Denu recalled lining up her dolls and pretending to be a teacher when she was a child. She also preached to her German shepherd. "I'd ask him to sit so that I could preach the sermon. He was going to be saved and sanctified," she said to laughter from more than 1,500 people on March 31 in Murchison Gym. "Some might say I was destined to be a preacher and a teacher," she said. "I don't know, but I can say the greatest part of my story is Jesus Christ. If there's anything good about me, it's only because of Him."
The service included the Westmont College Choir and musicians performing a stirring rendition of "Total Praise" by Richard Smallwood.
Guest speaker Albert Tate, founder and lead pastor of Fellowship Church in Los Angeles County and the author of the book How We Love Matters: A Call to Practice Relentless Racial Reconciliation, described Denu as a wife, mother – and woman of God, integrity and character. "You embody leadership," Tate said.
His advice to her came in three parts: leadership is hard, do it anyway; stay encouraged; and don't lose hope. "As you face hard moments and hold onto your hope, don't forget to plug into God," he said. "Because inevitably the One who created you is the One who will sustain you."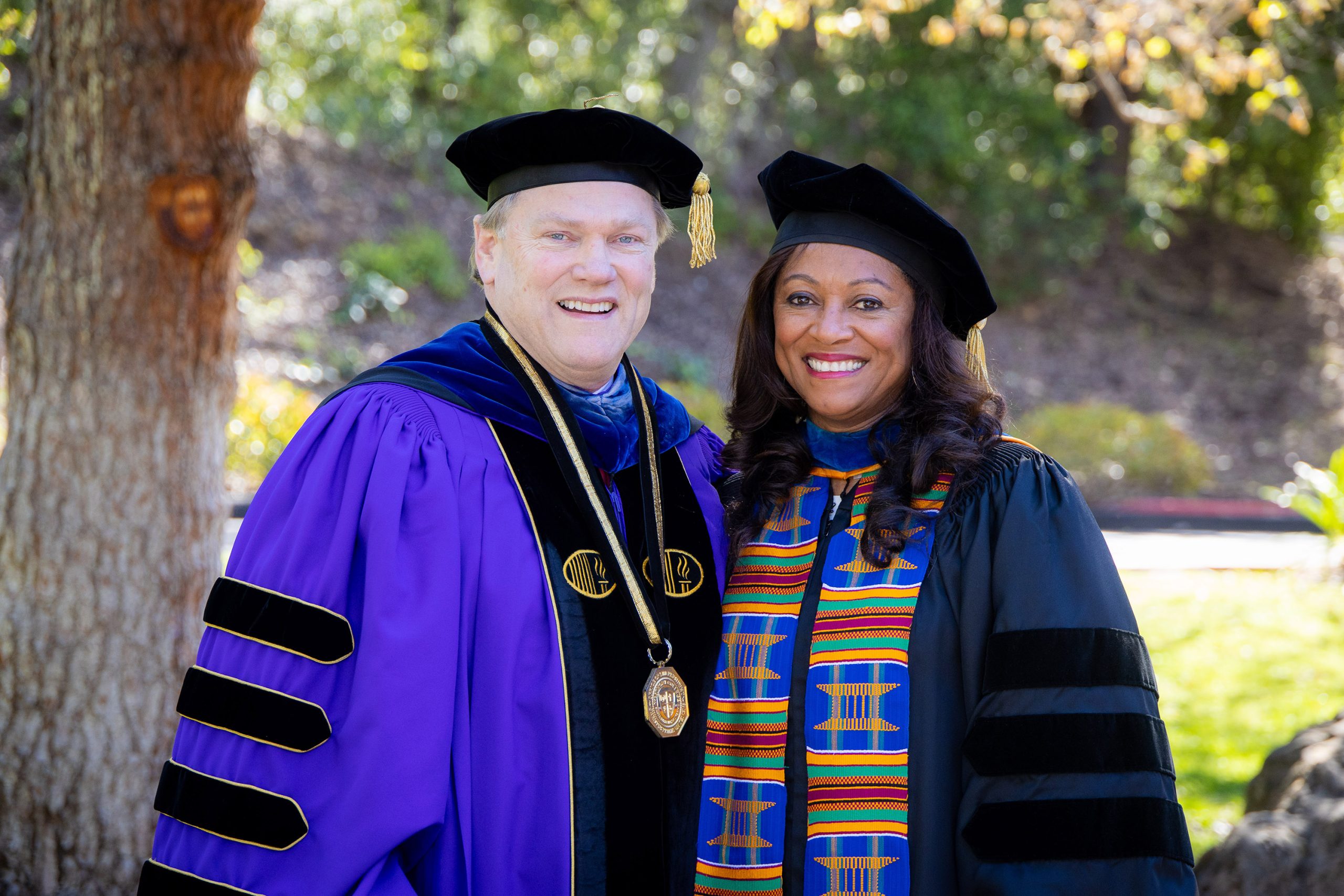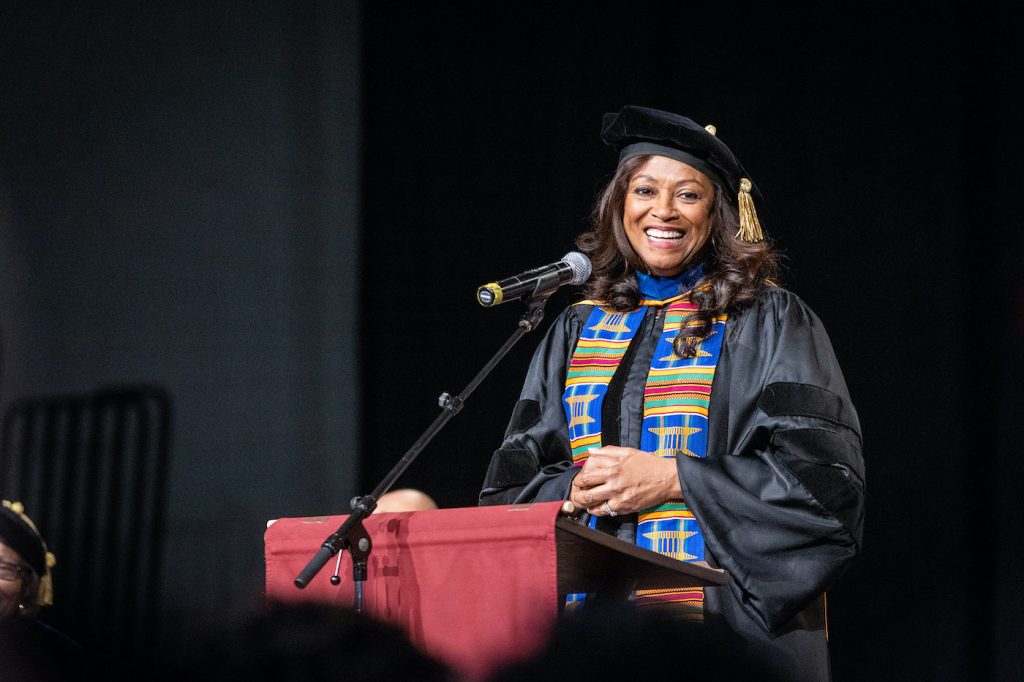 "Leading faculty has at times been compared to herding cats," said Jesse Covington, professor of political science and vice chair of the faculty. "Part of faculty's comparison to cats is a good thing – we are curious! And our diverse disciplines, perspectives, experiences and aspirations are a vibrant asset to the college and to the Kingdom."
"Don't hire faculty who have an agenda," said Edee Schulze, Vice President for Student Life, on behalf of students. "The education we provide must teach (students) to think about today's issues, but also to think beyond today's issues and to endure the test of time. Keep showing us how to not just be respectful, but to truly listen and honor people where they're coming from and where they are in their development. Keep us moving toward better and more whole solutions and agreement. Keep Christ first and education second. Keep education fun and enjoyable, celebrating and enjoying the quest of knowledge and wisdom."
President Gayle D. Beebe welcomed Denu's family and friends, praising Kim's creative problem-solving, sound judgment, compassionate response and wisdom.
"You come at a time in our college's history that's fraught with opportunity and challenge," Beebe said. "We have experienced your enormous capacities and your bedrock integrity. You bring a wealth of credibility to the post and you inspire the confidence of all your colleagues and peers, including myself and the other members of the executive team. Help cultivate the culture that allows us to impact every life impacted by our college. And finally, help us expand our global footprint so that the impact that we desire to have in our community can ripple out into our culture, our country, and indeed our entire world."
You might also be interested in...