Motown Magic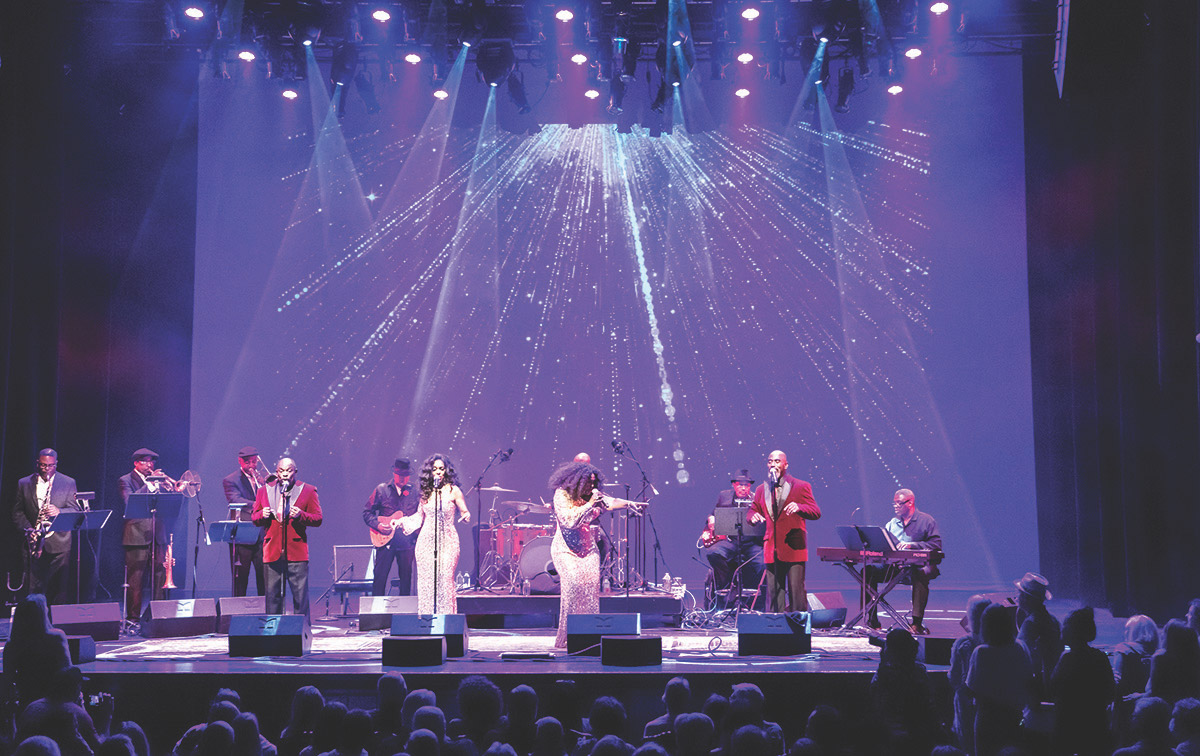 The audience at the Lobero was transported back to the Swinging '60s when Los Angeles-based tribute band The Magical Music of Motown returned to the historic venue after appearing in our Eden by the Beach last May.
The vibrant and colorful two-hour show paid homage to the legendary Detroit-based record label. Founded by now 93-year-old Berry Gordy, Motown Records became one of the country's most successful soul music labels with an absolute avalanche of iconic acts including Marvin Gaye, Stevie Wonder, Diana Ross, Martha and the Vandellas, the Four Tops, and the Temptations.
All were represented handsomely in the Motown Sound presented by musicians that played with the original bands or those inspired by the legendary music.
It was a delightful trip back to my youth…..
Court Trial Resolved
It took a Utah jury just two hours and 20 minutes to return a verdict in favor of Montecito actress Gwyneth Paltrow – who emerged victorious in her four-year legal battle with Salt Lake City septuagenarian Terry Sanderson.
The Oscar winner, 50, bunked in Park City's exclusive Colony at White Pine Canyon during the trial, where homes sell from $10 million to $50 million. Paltrow was awarded a nominal $1 in damages while Sanderson, who was suing for $300,000 is now on the hook for her hefty legal fees.
He claimed the collision on a ski slope in 2016 left him with four broken ribs, a permanent brain injury, and that his active lifestyle had been affected.
But the Goop founder's attorneys showed Facebook photos and posts of him riding a camel in Morocco, trudging up Machu Picchu in Peru, zip lining, bike riding, hiking, doing Zumba, and playing mini golf – all after the ski crash.
After the decision was announced Paltrow walked over to Sanderson, 76, and wished him well.
But many observers thought for a retired optometrist his litigation against a major Hollywood star very short-sighted…
Theater Roots
Ensemble Theatre Company is branching out!
The company has partnered with One Tree Planted, a nonprofit that aims to plant trees around California.
For every ticket purchased to The Children – the company's upcoming New Vic play – Ensemble will plant one tree.
"The play explores the effects of climate change on our planet and what one generation owes to the next," says Scott DeVine, Managing Director. "The mission of One Tree Planted complements the show's storyline, and this partnership expands the way in which the company influences and impacts the community we serve."
Getting back to its roots…
A Fast, Furious Auction
A 2000 Nissan Skyline R34 GT-R, driven by the late Santa Barbara actor Paul Walker in Fast & Furious 4 14 years ago, is set to have its own starring role when it is sold at auction in London.
Described as "one of the most famous modern-day movie cars," the "one and only authentic" car was the vehicle used to shoot all the closeup scenes of Walker at the wheel.
While there is no pre-sale estimate for the car ahead of the April 28 sale, Bonhams says it expects the Skyline to exceed $1.3 million when the hammer drops.
Provided to Universal Film Studios in 2008, the second generation 2000 GT-R – widely referred to in the motoring world as 'Godzilla' – was uniquely customized by Daryl Alison of Kaizo Industries to Walker's specifications, including the installation of a custom roll bar, a bespoke dashboard, mounted PC and CMP, and custom racing bucket seats.
A Turbonetics intercooler was added to the 2.6-liter twin-turbo straight six engine, twinned with a six-speed manual transmission.
All very timely as Fast & Furious 10 is about to be released.
A Dry Spring
Santa Barbara warbler Katy Perry has made a pact with her British actor fiancé Orlando Bloom to quit booze for three months.
"I've been sober for five weeks," she revealed at a cocktail event at Mister Paradise in Manhattan.
Katy, 38, added: "I've been doing a pact with my partner and I want to quit. I can't cave. I made a promise. Three months."
I'll drink to that…
Sightings
Former NYPD Blue actor Dennis Franz noshing at Pane e Vino… Former TV talk show host Ellen DeGeneres checking out Wunderkind in the San Ysidro Village… Former L.A. Laker-turned-TV host James Ager Worthy at Fieldside at the Santa Barbara Polo Club for the basketball team's summit.
Pip! Pip!
You might also be interested in...