Inclusive Playground Moves Forward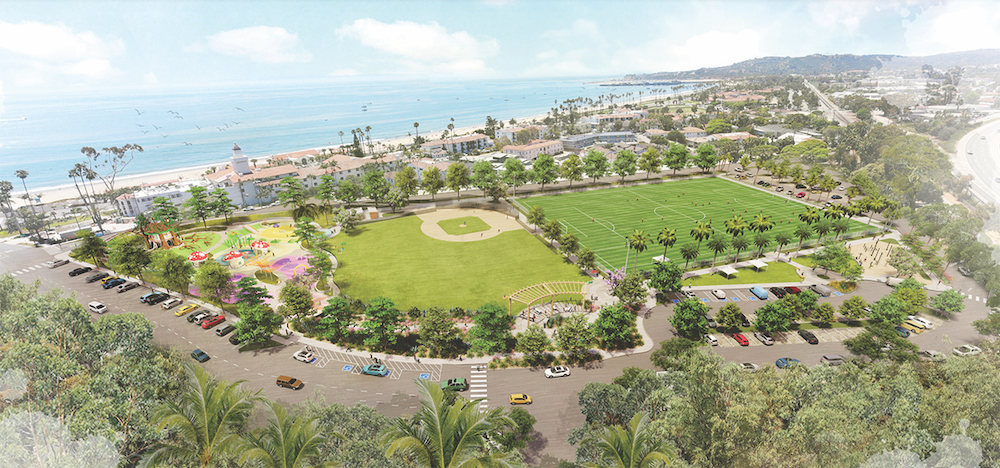 An exciting update to a story we've been covering for years: the Gwendolyn Strong Foundation announced earlier this week that it has hit its $6M capital campaign goal to create a fully accessible and inclusive playground located on a 10-acre property near the Santa Barbara Zoo. Gwendolyn's Playground will be the first fully inclusive playground in Santa Barbara and the Central Coast.
A second significant donation from the Manitou Fund as guided by Nora McNeely Hurley – with contributions totaling $2,050,000, including the underwriting of the playground's Magical Tree – carried the campaign over the finish line. The news comes on the heels of Congressman Salud Carbajal's securing of $1.5M in federal funding to support renovating park land, which includes the Dwight Murphy field site where Gwendolyn's Playground will be located.
Victoria and Bill Strong have deep roots in the community, founding the Gwendolyn Strong Foundation (GSF) after the birth of their first daughter, Gwendolyn, who was born in 2007. At six months old, Gwendolyn was diagnosed with a rare genetic disease, Spinal Muscular Atrophy (SMA), which causes atrophy in the muscular system, and often leads to severe disability or death. Even after Gwendolyn's passing in 2015, the foundation continued to raise millions of dollars in funding for SMA, ultimately leading to life-changing treatments, including the approval of the first drug dedicated to treating SMA.
In 2018, the foundation launched a capital campaign to create the first and largest inclusive playground on the Central Coast. While profoundly disabled, little Gwendolyn thrived during her short life, possessing and sharing an exuberance for life and inspiring kindness in her friends and strangers. She attended elementary school, had many friends, danced hip-hop, ran half marathons, adored reading, and loved adventures and travel. "We lived big when we could and she cherished the simplest of gifts along the way. But what she couldn't do, was 'be one of the kids' at local playgrounds," Victoria told us back in 2021. "While many Santa Barbara playgrounds are ADA compliant, not a single one allowed Gwendolyn to play alongside her friends or participate fully on the equipment."
"Our hearts are full of awe and pride for this community, who rallied from all corners to help us realize this vision," said Victoria. "Local leaders, the business community, philanthropists, and thousands of families came together with a common passion and goal to create a magical, empowering, and inclusive destination for all children. We are eternally grateful to the Manitou Fund for their tremendous gift, and for every single gesture that was offered to our effort – from lemonade stand profits and piggy bank coins to corporate and nonprofit grants and matching contributions."
A universally accessible playground is a space designed to remove physical barriers to allow children of all abilities to play side-by-side. Using evidence-based principles of inclusive design, the playground will incorporate the needs of children and adults with physical disabilities, but also consider the needs of individuals with autism and sensory impairments, intellectual disabilities, and visual and hearing loss. A custom, one-of-a-kind multi-story Magical Tree is the centerpiece of the planned playground, filled with imaginative play, STEAM interactive experiences (Science, Technology, Engineering, the Arts and Mathematics), and allowing for the exploration and full accessibility of every visitor. Other features include inclusive swings, sensory spinning, a butterfly plaza, art sculptures, a musical garden, a slide hillside, climbing features and much more. Construction is anticipated to commence in 2024.
"I am inspired as much by the way this campaign galvanized the community toward a common goal as I am the enchanting features of Gwendolyn's Playground," said Hurley, adding that witnessing the tremendous passion for the cause at November's Butterfly Ball is what inspired a second contribution. "The Manitou Fund's support of Gwendolyn Playground is not a gift but an investment in the standard we hold for this special corner of the world. Unbridled, unrestricted, and totally inclusive play is what truly fosters social growth, empathy, and joy. Its impact ripples out and benefits us all; it elevates us as a society."
With the park features and the playground fully funded, the Gwendolyn Strong Foundation will pivot focus on their endowment efforts, which will support long-term maintenance and future equipment needs along with programming. The connected baseball field, multi-sport field, and family pavilion are still looking for support in the range of $4M with naming opportunities.
"Gwendolyn's Playground endowment fund will allow the space to evolve with emerging needs and technologies and remain a dynamic inclusive destination for generations to come," added Strong. "Magical joy will always be the key element, as guided and inspired by Gwendolyn's beautiful spirit."
If you are interested in learning more visit www.nevergiveup.org. 
You might also be interested in...