Waterhouse Gallery Takes a New Stand in Montecito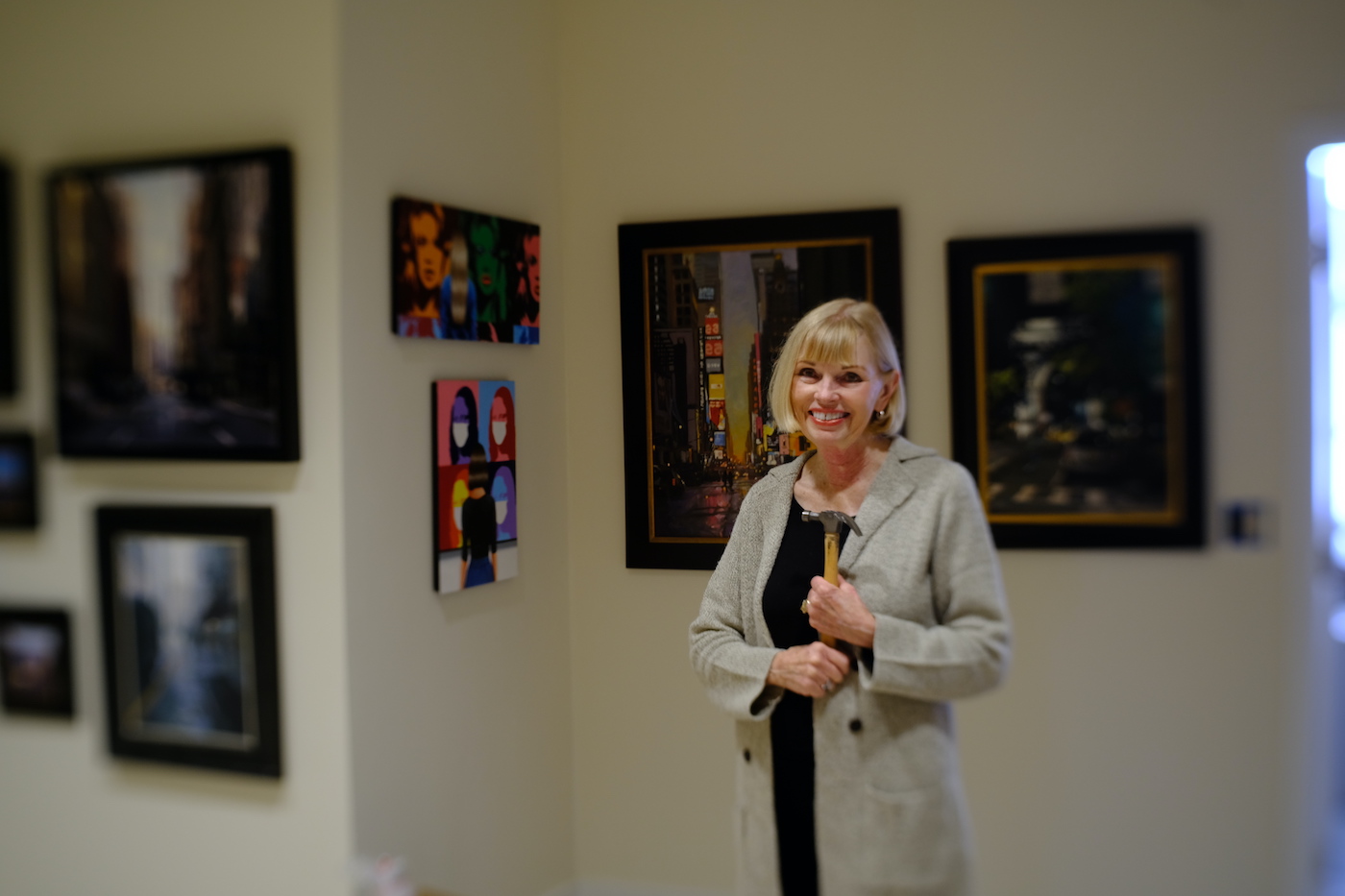 After having contemporary, abstract, and fine art galleries color the town of Montecito, there's another one on the horizon ready to captivate your senses. The Waterhouse Gallery, located at the Coast Village Plaza (1187 Coast Village Road, Suite 3, formerly the Scoops store), is where traditional contemporary works engage your art spirit, delight your eyes, and warm your heart. 
The owners Diane and Ralph Waterhouse, longtime residents of Santa Barbara, have another art gallery under the same name in La Arcada Plaza – right in the heart of downtown Santa Barbara (1114 State Street, Suite 9). Waterhouse Gallery Santa Barbara opened its doors in 1984, and the Waterhouses are absolutely thrilled to open their new gallery in Montecito. As Diane expresses, "We are very excited about this new opportunity, and it is going to be an adventure."
Indeed, the new art gallery will represent a variety of local and national artists whose paintings represent an array of genres, from landscape to figurative work, and many different styles and mediums to offer their clientele. With materials spanning acrylic, watercolor, pastel, and oils, you'll find a wonderfully varied and striking collection in which to immerse yourself. What you'll see in their gallery is a simple reflection of what they cherish in art. "We adore traditional contemporary work, and we show the kind of work that we love and that we would want to buy and have in our home."
From Ralph Waterhouse being an amazing and profound painter himself, to Diane Waterhouse's admirable acumen and artful eye supervising the gallery, one could say they make a formidable couple. "I have such a great love of paintings and artists. I love to hang exhibitions," Diane recalls pensively. "We are a great team, and we work well together."
They've been in the art business for 39 years, which affords them a legitimate position in the industry, and in the art scene of Santa Barbara. In fact, Diane has been involved as a member of the Santa Barbara Museum of Art Women's Board for 13 years, and also served on the Santa Barbara Historical Museum board for two terms. She was a curator for the Santa Barbara Museum of Natural History Art Walk for many years, and fulfills the same function now for the "Artist's Table," an event whose goal is to help raise money for children's better education. "I'm very proud and pleased to do it."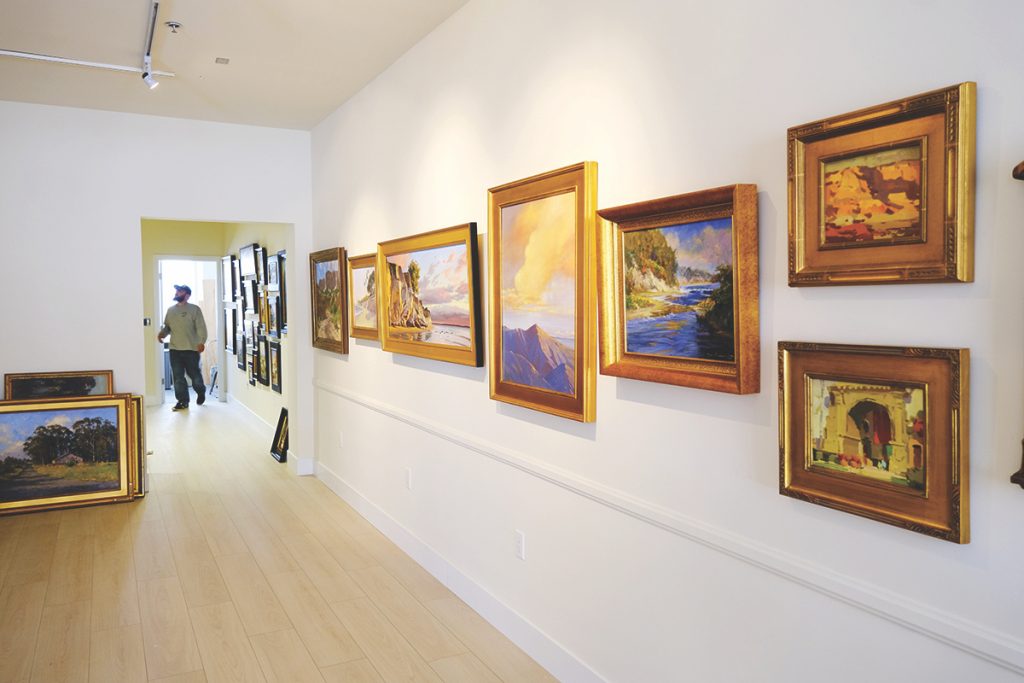 Not only are Diane and Ralph Waterhouse the Santa Barbara Chapter Chairs for the California Art Club, they've also participated for many years in the art scene around Santa Barbara County and throughout California. They've been associated with the Academy of Art University in San Francisco, where over the years they've advised young artists on the subjects of art and business. To this day, they are closely connected with the artists they represent. "A lot of artists approach us because we've been around for such a long time," comments Diane. For instance, in 2006 they were able to bring many artists into their gallery for the first edition of the Great American Figurative Show Exhibition. As Diane explains of that theme-based event, "We were really one of the first."
Over the years, the Waterhouses' expertise and status in the art community have afforded them the privilege to be introduced to many extraordinary individuals, and to work closely, for instance, with Scott M. Haskins, Conservator of Fine Art in Santa Barbara, whose skill is in the careful restoration of paintings in need of resuscitation. "They're art magicians," claims Diane. Whether damaged from fire, flood, or smoke, precious paintings find their rescue in the team from Fine Art Conservation Laboratories. Thus, Diane and Ralph Waterhouse have both developed an essential and heartfelt connection with their surroundings. "We've met so many incredible people and developed wonderful relationship with our artists over time."
So, what to expect in this new delightful art gallery? To fall in love with paintings that will charm your soul. "Choose with your heart, it has to touch you and make you happy," mentions Diane. Besides being overcome by feelings of emotion, what else will you experience in the gallery? Expect to be surprised, and to encounter conversation-spurring figurative paintings, landscapes of local scenes – from Butterfly Beach and the Historical Santa Barbara County Courthouse to Arroyo Burro Beach. "It is interesting that the locals love local scenes – and the tourists love the local scenes too," points out Diane. As they open their Montecito art gallery on April 1, 2023, the couple can't wait to meet and greet people, as Diane reflects. "I think it is exciting when somebody buys a painting for the first time, and I say you will always remember this day. When something is touching your heart," she added, "you should have it, because otherwise you'll regret it in the long run." In short, if you like it in the gallery, then you'll love it in your home.
A word to the wise – you should surely meet the owners for their grand opening, and then be introduced to the incredible artworks and, just possibly, the painters themselves, who will be available to speak with you in person. "We always look, we always keep our eyes open for really wonderful talent," Diane says. For now, let's celebrate the venue of their artists Nancy Davidson, Derek Harrison, Ray Hunter, and Thomas Van Stein.
The gallery will be open on Saturday, April 1st, at 11am and the reception will be held from 3 pm to 6 pm at 1187 Coast Village Road, Suite 3. The Waterhouse Gallery will be open from that date forward, every day from 11 am to 5 pm. We hope to see you there.
Amélie Dieux is a French-born freelance writer and world traveler – on a mission to provide information with articles that delight and inspire
You might also be interested in...