Costa on the Coast: A New Brunch Locale with a View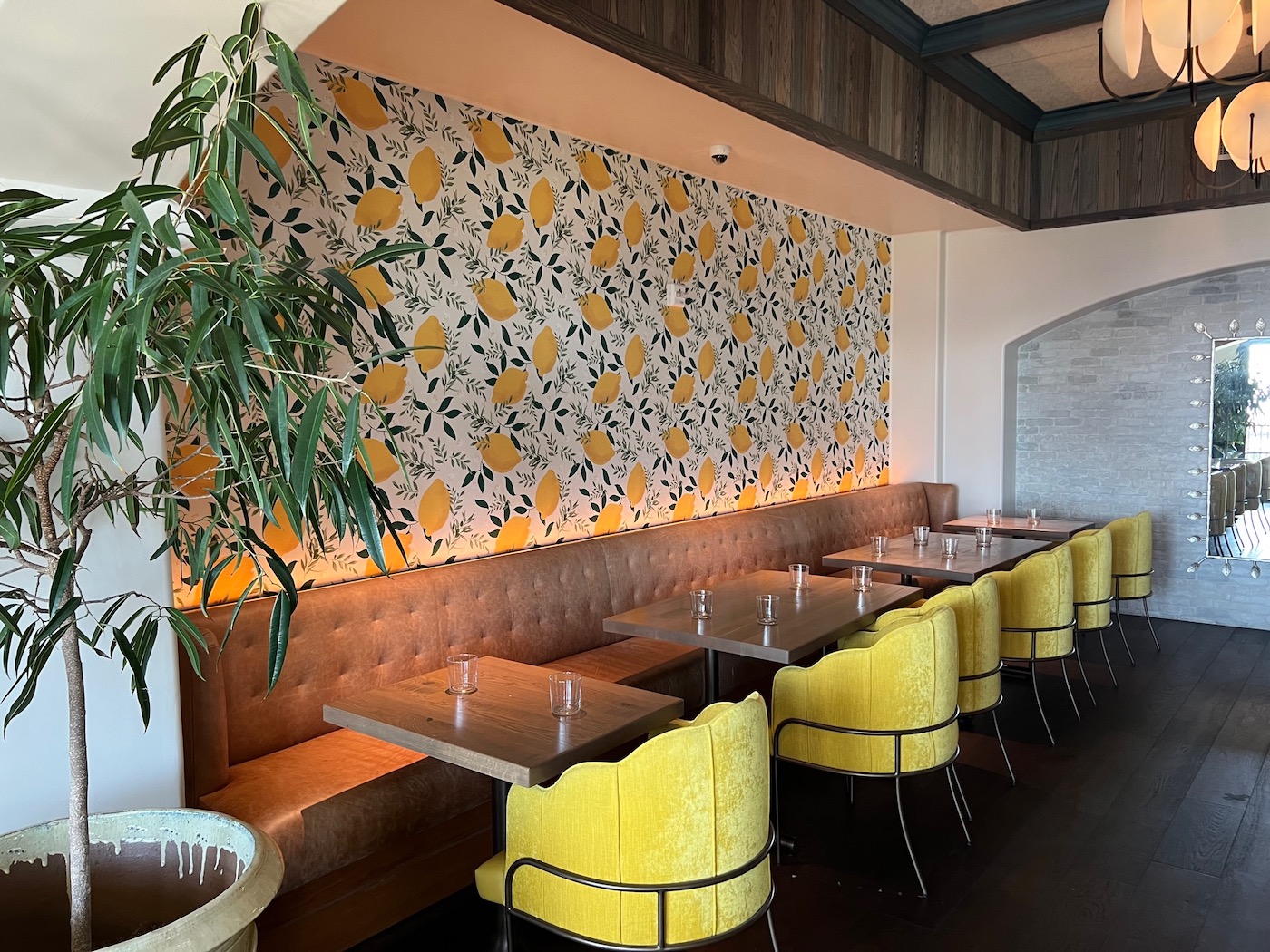 Brunch is often the best part of a weekend. Walk along Cabrillo St. on an early (but not too early) weekend day, and the winding lines outside of restaurants will confirm the popularity of this all-encompassing meal that straddles breakfast and lunch. While many locals have their favorite place to brunch, there is a new contender in town. Costa Kitchen & Bar – set in the newly renovated and re-visioned Mar Monte Hotel – is now offering brunch.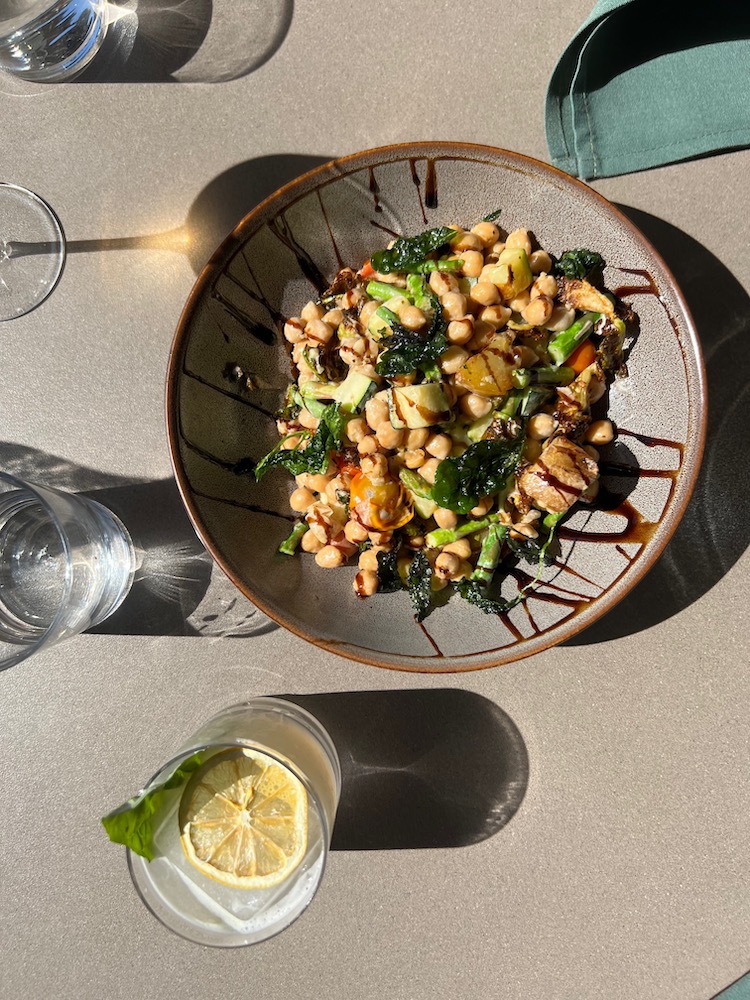 Visitors enter Costa through the Mar Monte or its own door next to a seating alcove that welcomes waiting guests. The dining room is adorned with lemon-patterned walls, natural tones, and Meyer yellow plush chairs. Of course, the outside dining area is the ideal spot to spend a sunny Sunday brunch, with views of East Beach and the blue Pacific to complement the delectable dishes.
Brunch goers can begin with light starters like a local fruit plate or Greek yogurt parfait, as well as shared experiences, such as a charcuterie board or the Speck Ham + Melon that accents this classic flavor combo with sweet, jellied membrillo, pistachios, and drizzles of lemon olive oil. There are also two salads including a beet and feta blend or a squash and kale variety. The brunch menu offers some more traditional fare like a California omelet, breakfast sandwich, or even the simple classic "two eggs any style" plate.
There are two egg benedict varieties. The "Costa" rendition is given its own spin with thin slices of the cured capocollo and an Italian salsa verde hollandaise, plus the enticing option to add a short rib. Layers of smoked salmon sit atop its own benedict and has a gentle hickory note with a buttery, over salty, quality. Pickled red onions brighten up the dish and a caper hollandaise brings all of the other flavors together.
Would it really be California beachside views without avocado toast? The Costa version has hearty slices of burrata below heaps of avocado. The soft bite of green and white are contrasted by the crunch of crispy kale and toasted pine nuts. Bursts of confit cherry tomatoes and drizzles of a white balsamic glaze give this dish a dash of acidity that balances the other flavors. Adding bacon and a poached egg turns this west coast necessity into a full brunch.
Costa brings its own flair to traditional brunch fare, however there are a few unique items that aren't always on your typical weekend menu. A lemon ricotta French toast is a fit for those looking for something sweet. On the other end of the brunch spectrum, is a Scotch egg that wraps breakfast sausage around a soft-boiled egg and surrounds it with a slightly smoky Calabrian chili hollandaise sauce. The biggest brunch punch comes with their pink peppercorn-crusted NY steak served with eggs, duck fat hash browns, roasted Brussels sprouts, and a classic French Bordelaise red wine sauce to tie it all together.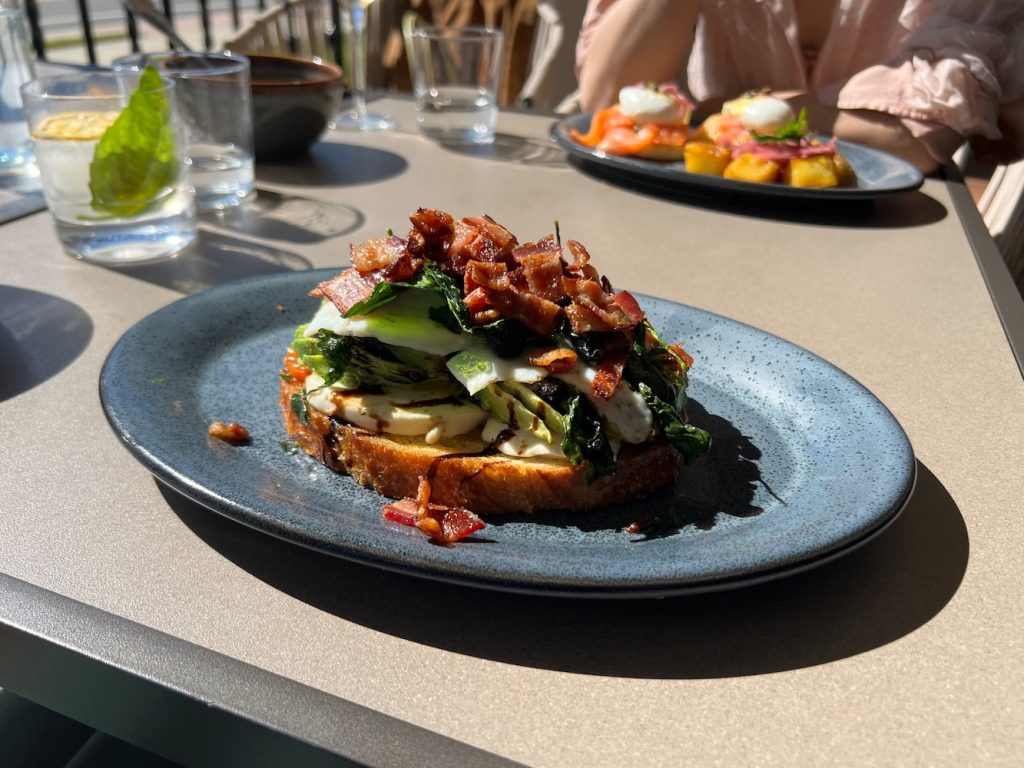 One of the standout dishes was the Farmers Market Vegetable Hash. Chickpeas are tossed with sautéed tomatoes, zucchini, kale, and other local veggies. Juicy bites of orange and a light tahini sauce give this dish a refreshing, sunny quality that sharpens the flavors and accents the beach views. Listed as a main course, this dish can easily serve as a starter salad for two or more. Adding an egg helps bolster the blend of varying textures, colors, and flavors, making it into a full meal that will stick with you long after brunch is done and the day is going. The Garden Party cocktail is a natural accompaniment to the vegetable hash, adding a bright herbal tone to the dish with its mixture of citrus, cucumber, gin, and lemon-basil vodka.
While diners can order from their normal set of cocktails, local beers, and wines, there are several brunch-specific options as well. The Build Your Own Mimosa kits come with the choice of classic bubbly or rosé, plus three liquid additions from a list that spans OJ and grapefruit juice to exotic options like passion fruit or rose water syrup. The Mint to Bee cocktail is mimosa-adjacent with mint, grapefruit juice, and honey being added to prosecco. The Rise & Shine is an uplifting blend of Tito's Vodka, espresso liqueur, and heavy cream with a vanilla-cinnamon syrup to spice things up. There's also a Bloody Maria to go along with the restaurant's Spanish themes, or the Orange You Glad that brings together dark rum, citrus, bubbles, and beach vibes.
Of course, with unforgettable ocean views and memorable flavors, Costa brunch goers are going get beach vibes no matter what they order.
You might also be interested in...