Clay Studio's Art Exhibition for Women's History Month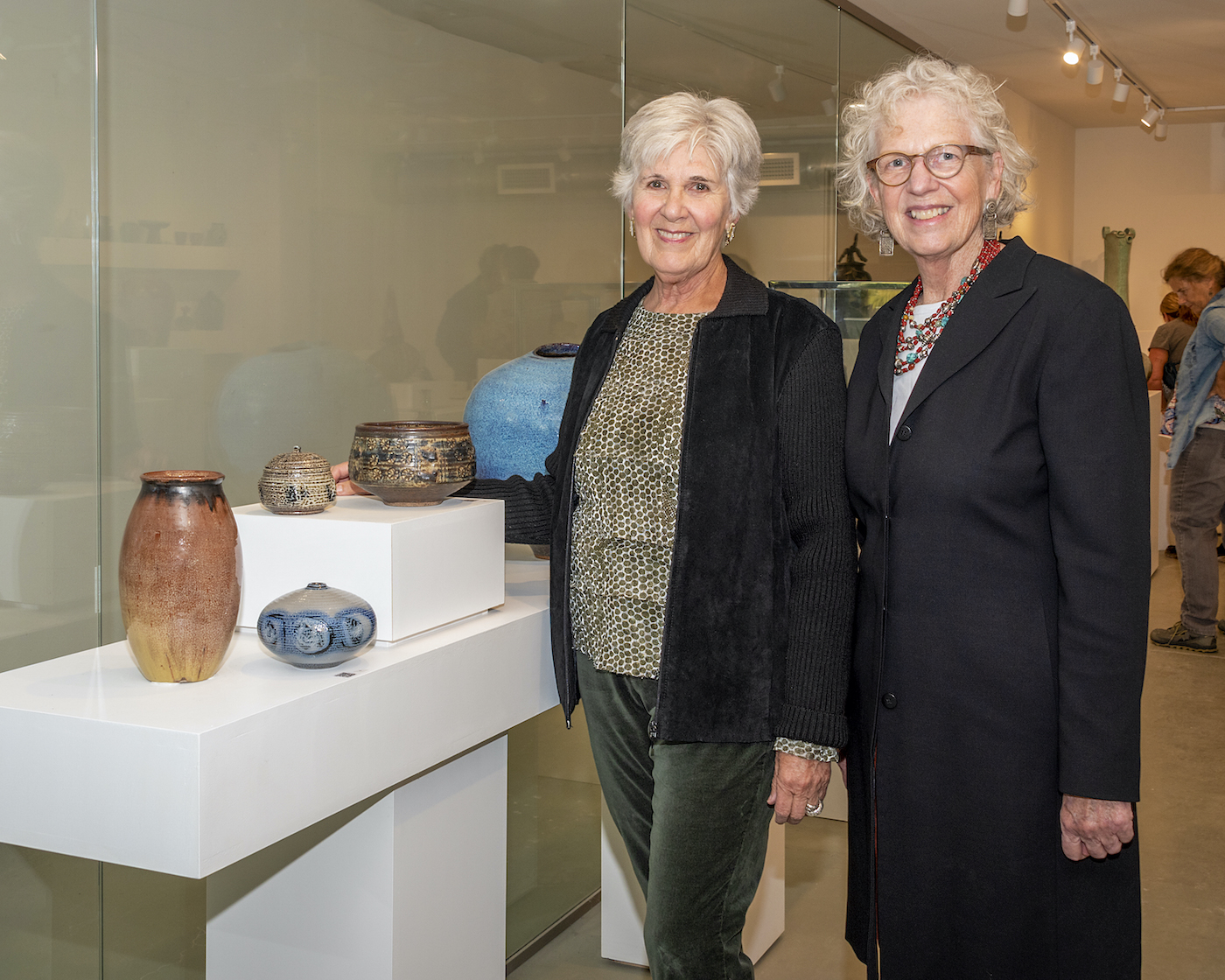 Clay Studio, founded by Patrick Hall in 2012, held its first exhibition to honor women in ceramics as part of Women's History Month at its new facility in Goleta. The show, titled Women Makers, Then, Now, Here, opened on March 8, drawing 300 visitors to its three-year-old 24,000-square-foot facility. The showcase is on view through May 2023.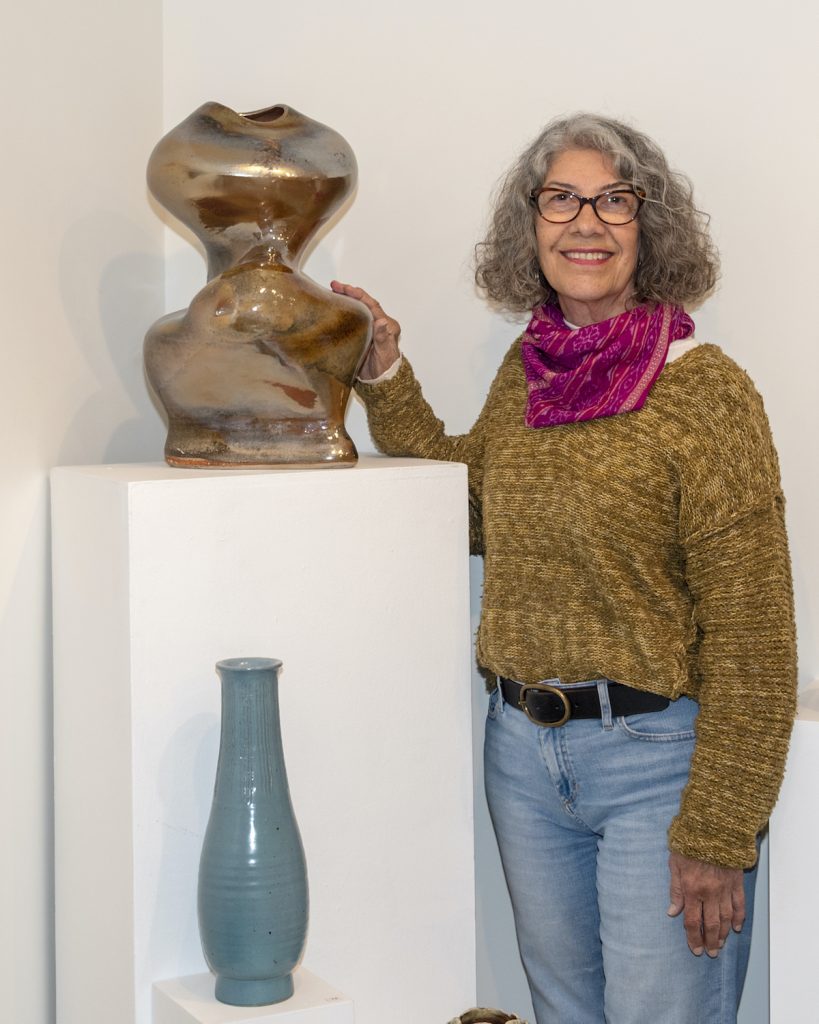 Conceived by James Haggerty, the exhibit prioritizes having historic women ceramicists such as Adelaide Alsop Robineauand Lucie Rie displayed alongside current Clay Studio women artists. On view are a total of 131 major works spanning from early 20th-century artists – Edith Brown,Tillie Block, and Linna Vogel von Fogelstein Irelan through 2023 – Lou Ann Smith, Mona Higuchi, Linda Haggerty, Terri Stelzer, Tess Cruz, Gwen Dandridge, Lillie Hodges, board President Marsha Bailey andboard member Lynda Weinman. A QR code next to 26 of the historical pieces in the show provides biographical information about the artist.
During the exhibit, guests toured the facility, watching artists at pottery wheels, desktops, and some helping to recycle the clay. Currently there are 78 studio members, 18 work-traders, and close to 100 artists enrolled in Clay Studio classes.
Before the show started, I was given a tour by Jean Range, chair of the Clay Studio Gallery Committee and co-curator of the exhibit. Range, a ceramic artist, is a graduate of Rhode Island School of Design. She introduced me to artists Cheri Owen and Reena Bajaj. Owen, a blind Air Force veteran living with multiple sclerosis, has found clay to be an immersive and fascinating extension of her tactile world. Her work in the show, For All That I Can See (2022), is "… a mixed media work in which I have included text on my stoneware vessel using Braille, a universal system of raised dots used for reading by blind people. The text, 'It is you I prefer,' is derived from a love poem my wife, Jenni Sorkin, wrote for me. Her poem is displayed above the vessel both in English and Braille."
Bajaj, a ceramic artist for more than 30 years, explained, "My work in the show, Mother Earth, is a large-scale homage to the female figure, hand-built with coils and fired with three different glazes. Now that I'm teaching at Clay Studio, it is both joyful and meaningful for me to impart technical knowledge gained from studying under master potters and share my experience with others, so they might begin their own journeys in clay."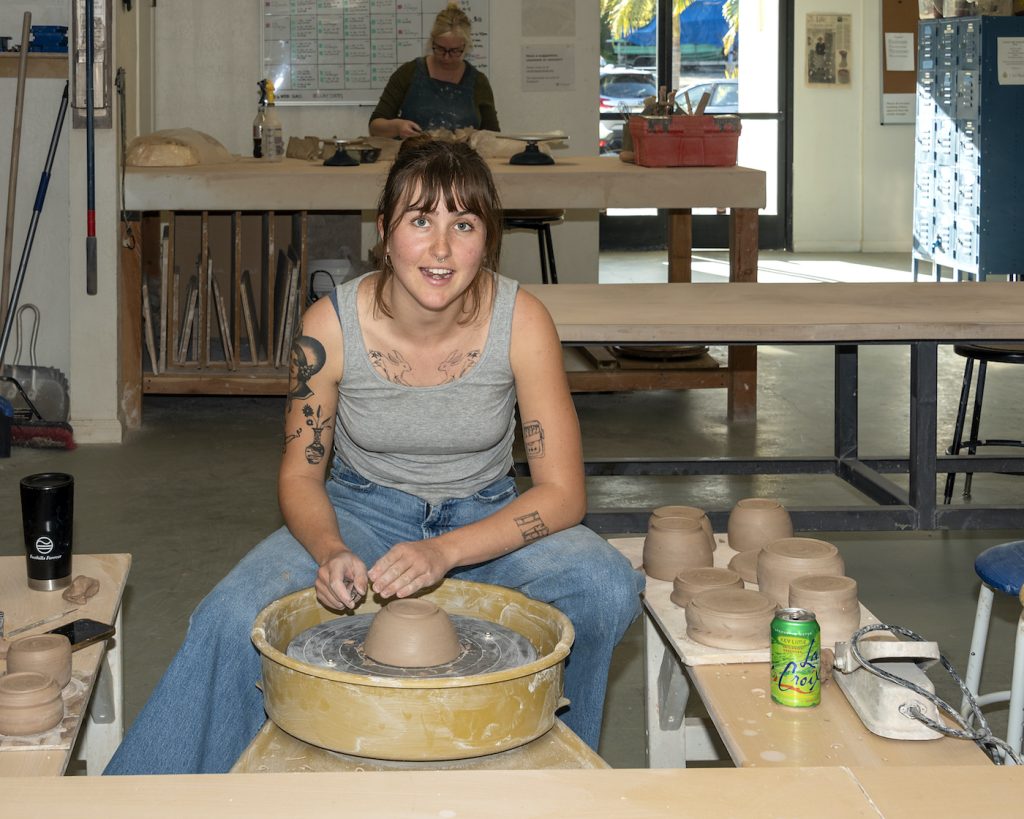 Range and Haggerty co-curated the exhibit and explained that for the non-student work, they reached out to museums, private collectors, and artists for works to show across the timeline. For the Clay Studio artists, Barbara Loebman and Genie Thomsen (also exhibitors) juried the work for the show.
On honoring women artists, Range shared, "It's common knowledge that making art is a tough way to make a living, and that it's even tougher to be a woman artist in a pervasively male-dominated field. Couple that with the fact that making pottery is hard. It is physically demanding, takes strength, patience, time, and has many socio-economic barriers to entry like equipment, space, and access to ingredients. Historically, women were, and still are in many parts of the world, relegated to handling the surface decoration on man-made pottery. Not here. Clay Studio is more than a world-class facility. It's an inter-generational and diverse community, something women are generally very good at embracing."
411: https://claystudiosb.org
You might also be interested in...