Inconspicuous Beauty
What a couple of weeks it has been in our beautiful town – rain, snow, and high winds! With the weather, I am still in the winter mode of craving warming and comforting foods and was drawn to the inconspicuous beauty of the celery root, bulbous on the bottom with bright greens on top. The farmers market this week is still teeming with winter vegetables, even though we are all wishing for that elusive spring to arrive. 
Celery Root, Celeriac, Knob Celery, and Turnip-Rooted Celery are all names for the same super-healthy root vegetable that is related to celery and native to Italy. Its herbaceous, celery flavor is subtle and teeming with health benefits. You may eat it raw or cooked and its versatility is considerable – slaws, soups, salads, and stews all lend well to this root vegetable. Celery root is an antioxidant-rich vegetable and is a great source of Vitamin B complex, Vitamin C, and Vitamin K – making it a natural way to combat inflammation. It's high in dietary fiber, which makes it great for gut health. It contains high levels of Potassium and Vitamin K that help to regulate blood pressure and prevent the buildup of calcium in blood vessels. Celery root is also a good source of minerals, such as phosphorus and manganese. Let's get in the kitchen and make something delicious!
Celery Root Soup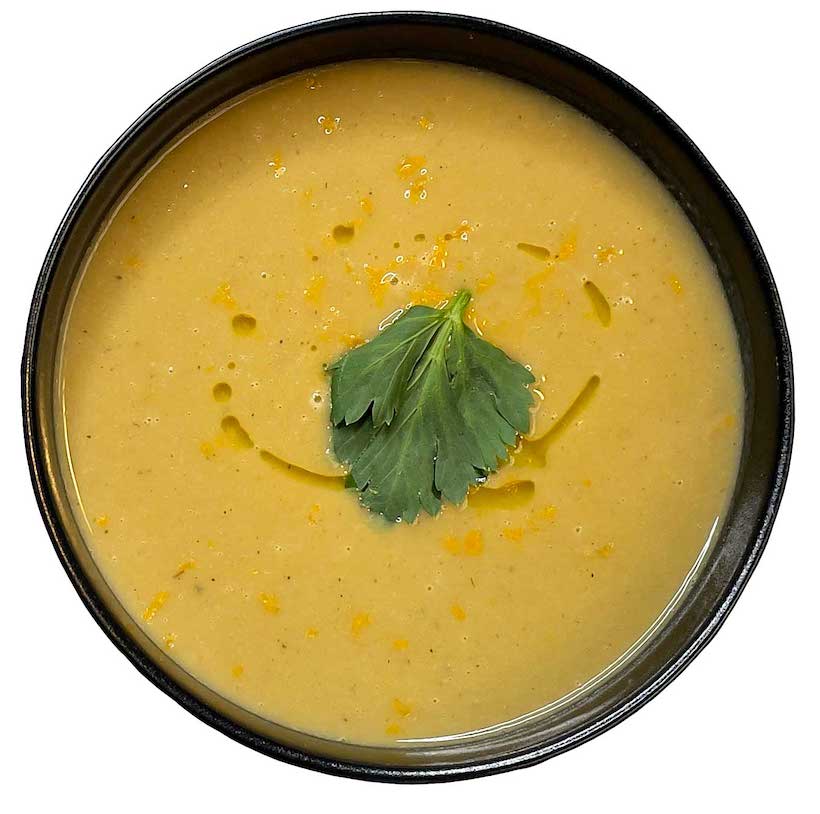 Yield: Serves 4 to 6
2 tablespoons Miyoko's Creamery vegan butter, salted 
2 tablespoons olive oil 
2 each leeks 
2 each shallots, peeled and finely chopped 
1 teaspoon dried thyme 
1 teaspoon garlic, minced 
2 each celery root, peeled and roughly chopped (save tops for garnish)
6 cups vegetable broth 
1 tablespoon orange zest 
1/2 teaspoon kosher salt 
1/4 to 1/2 teaspoon freshly ground black pepper 
Directions:
1. Trim the dark-green part of the leeks off. Slice the white and light-green part in half lengthwise and then cut into half-moons. Wash thoroughly to remove dirt and sand.
2. In a heavy-bottomed stock pot over medium heat, add Miyoko's butter and olive oil. Once melted, add the washed leeks and shallots and sauté for 3 to 5 minutes, stirring occasionally until lightly caramelized and tender.
3. Add in the dried thyme and garlic and stir until fragrant, for about 30 seconds.
4. Add in the celery root and stir to combine, allow to cook for 5 minutes, stirring occasionally.
5. Add in the broth, turn the heat up to high, and bring the mixture to a boil. Reduce heat to medium-low and simmer for 20 to 30 minutes, or until the celery root is tender and falling apart. Remove from the heat.
6. Working in batches, add the mixture to a high-powered blender or Vitamix, and purée until smooth and creamy. Stir in the orange zest, salt, and pepper.
7. Serve topped with washed celery root leaves as garnish.
You might also be interested in...