Elizabeth Webb Woodworth: August 17, 1921 – February 20, 2023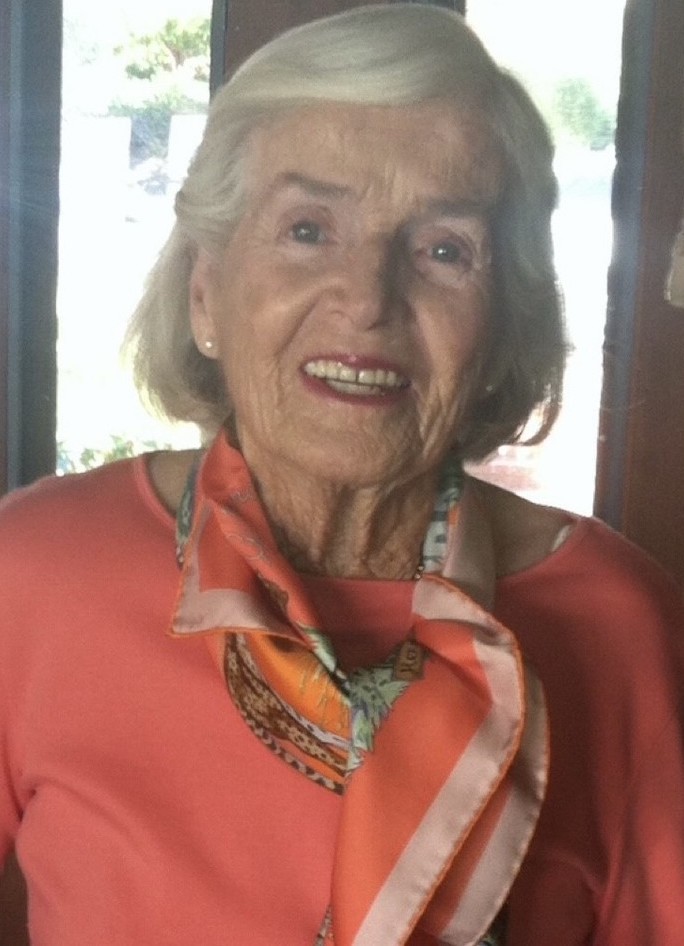 Elizabeth (Betty) Webb Woodworth died of natural causes on Feb. 20, 2023, in Santa Barbara, Calif. She was born on Aug. 17, 1921, in Hamden, Conn., to Anne Pinkney Webb and Paul Webb. Betty was a people person who loved life, no matter the moment or the environment.
Betty's early years were spent in Spring Glen and New Haven, Conn. She was the fifth of six children. Betty attended a Connecticut junior college and later earned her undergraduate degree from the University of Chicago. In 1939, Betty met the love of her life, Stanley (Stan) Woodworth, at a fraternity party at Trinity College in Hartford, Conn. During Stan's Navy service, they had an extended courtship, became engaged, and married in 1943. Their first son, Stephen (Steve), was born in Stillwater, Okla., in 1945, while Stan was attending the Japanese Language School. In 1948, the family crossed the country to Southern California, where Stan had accepted a language teacher position from Curtis Cate, the founder and headmaster of a boy's secondary boarding school in Carpinteria, Calif. The adventure began.
Betty's new West Coast life on the Cate School Mesa became a 70+ year adventure. The family grew in number to five children. Betty became actively involved with the Junior League of Santa Barbara and the Music Academy. In 1957, Cate hired Betty as its first school librarian, a role she loved dearly and the initial source of her legacy on the Mesa. She became an avid hiker – on the trails surrounding Cate, on the beaches of the California and Oregon coasts, and various landscapes around the world. She thrived on her daily walks and accompanying social interactions with friends well into her 90s. And she loved to play Scrabble and Backgammon with whomever would take her on.
Betty and Stan traveled to many countries and took yearlong sabbaticals off the Mesa, living in France, Spain, Italy, and Greece. Betty relished her time abroad, immersing herself in each culture, and enhancing her culinary acumen. As a couple, Betty and Stan made enduring international friendships, such as with the Leredu family, whose bond has become multigenerational. Stan died on Bastille Day in 1989.
Betty was a devoted St. Joseph's Catholic Church parishioner in Carpinteria. She also volunteered countless hours to the Carpinteria Historical Museum.
After acting as Cate's librarian for many decades, she became its archivist and was a fierce champion of the history, traditions, and stories that impacted the Cate campus as well as the greater community. She retired as archivist after 48 years of service to Cate. However, she continued well into her mid-90s, to act as an unofficial hostess to a variety of Cate events, activities, and volunteer efforts. A highlight for Betty was Cate's centennial celebration in 2010. In 2015, she wrote and published a memoir entitled Sea to Sea, with the invaluable help of Gaby Edwards, a Cate teacher. Betty was admired and celebrated by many Cate School students over the years. Haluk Topaloglu, the family's Turkish exchange student, is among those beloved Cate alumni.
When Betty left Cate Mesa at the age of 96, a new chapter began for her in Santa Barbara, where she took residence in assisted living communities. Betty enjoyed socializing and actively participated in Bingo, blackjack, and jigsaw puzzles. When the music started, she was always the first to hit the dance floor.
Betty will be dearly missed by all who knew her. She embraced her family, the Cate community and friends around the world in an open and transparent way that was welcoming, forgiving, and loving.
She is survived by her sons, Stephen Davis Woodworth (married to Robin), Scottsdale, Ariz., and Peter Webb Woodworth (married to Beverley), Vista, Calif.; and by her daughters, Susan Slade Johnston, Santa Barbara, Calif., Anne Allcott Parkford, Santa Barbara, and Elizabeth Ives Hansen (married to Brooks), Carpinteria. In addition, she is survived and loved by 12 grandchildren and eight great-grandchildren. She was preceded in death by her loving husband, Stanley Davis Woodworth; her parents, Paul and Anne Webb; her brothers, Peter Webb and Charles Webb; and her sisters, Mary Webb, Helen Mulvey, and Anne Haas.
Betty nourished people around her with love and kindness. A memorial mass will be held on Saturday, March 18, at 11:30 am at St. Joseph's Chapel in Carpinteria (Ash and 7th St.). A celebration of Betty's life will be at Cate School Chapel on Sunday, June 4, 2023, at 10:30 am, followed by a reception. In lieu of flowers, gifts may be made in Betty's honor to the Woodworth Family Music Fund at www.cate.org/donate or to Hospice of Santa Barbara at www.hospiceofsantabarbara.org.
You might also be interested in...