SB Museum of Art Women's Board New Members' Luncheon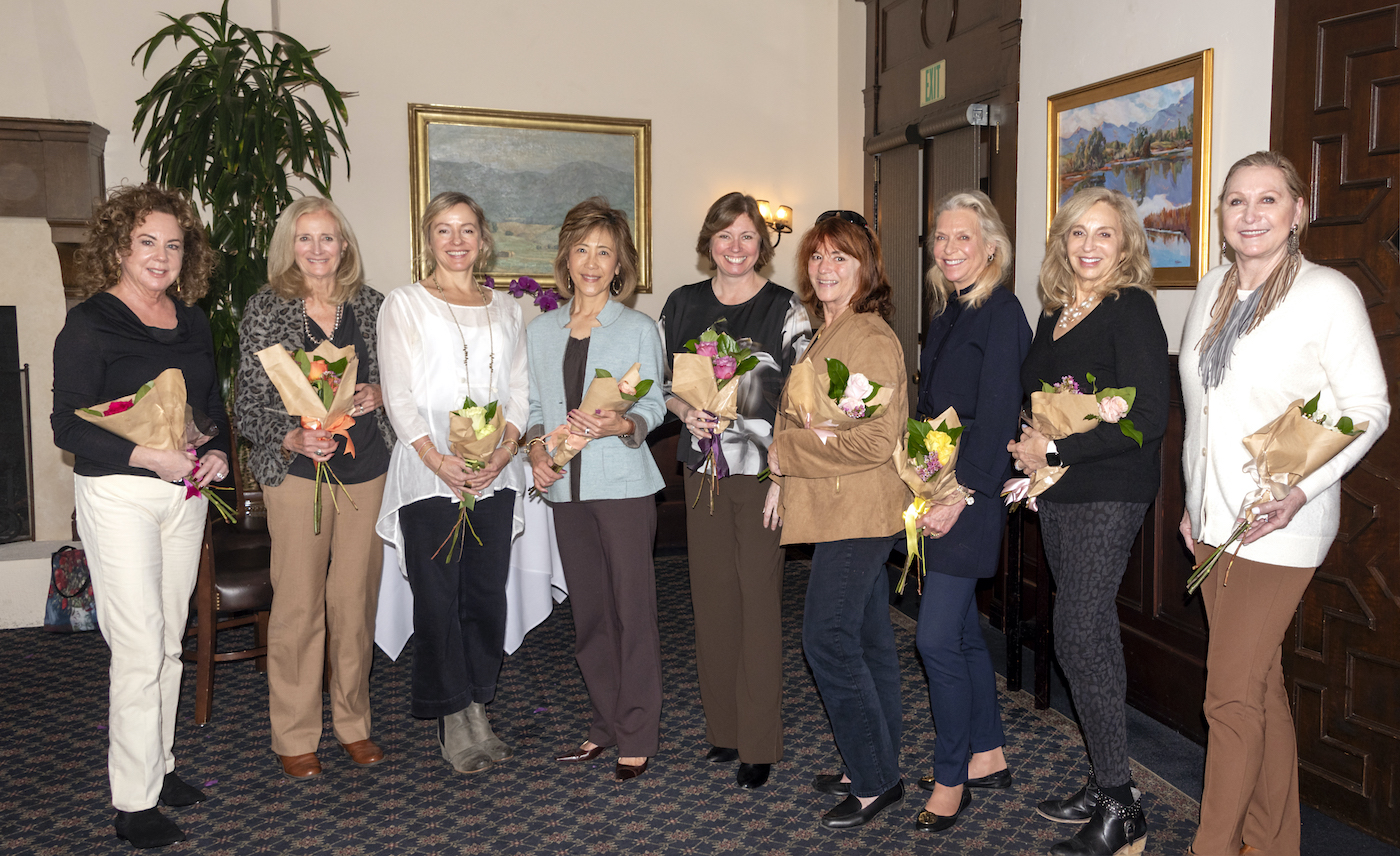 On Feb. 21, the Santa Barbara Museum of Art (SBMA) Women's Board held its annual New Members luncheon at the Santa Barbara Club downtown. The event was chaired by board Vice President Karen Tenzer and the event committee was President Paula Farrington, Jean McCourt, and Linda Wortham.
The private gala was artfully done with fresh rose centerpieces complementing the formal sit-down luncheon. The beautifully printed program, a rare find at events, showcased the 11 new members appointed to the board.
They are: Linda Butterwick, a special education teacher and realtor who has worked with many nonprofits including the School Power Foundation Board, the National Charity League, and CALM; Stacey Byers,owner of Captured Spirit Photography SBand career as a Contemporary Art Gallery director and feature film set designer; Ann Cooluris, a fourth-generation Californian working as an interior designer for private clients and on movie sets; Stephanie Hubbard,owner of the boutique architecture firm SiteCreativeis a registered landscape architect and LEED AP accredited professional; Emiko Kirshman from Tokyo, Japan, is a custom floral designer; Carol Linn is a professional public speaker and former faculty at San Francisco State University, with a 30-year career in the natural gas and oil industries and serving on many nonprofit boards; Sandy Kelley Marshall holds a career in radio hallmarked by replacing Howard Stern and does voice-over commercials; Jean McCourt, an investment banker, has a long history of volunteer work including the Junior League, Children's Hospital L.A., Westside Guild president, and is a Las Madrinas member; Diane Pannkuk is the president of the Silver Creek Corporation following her work as a U.S. Dept. of Defense contract negotiator and volunteers at many nonprofits; Michele Profant has an undeniable passion in art education for children with an art history degree and as a teacher of it; and Sue DiCicco Smith was one of two women working in animation at Disney Features, is an author, illustrator, sculptor, and founder of the Peace Crane project 2012.
The luncheon drew more than 100 members to welcome the new members. Key attendees included Larry J. Feinberg the Robert and Mercedes Eichholz Director of the SBMA with board member spouse Starr Siegele, SBMA Women's Executive Board Vice President of Development Isabel Wendt, Vice President of Communications Deb Joseph, Vice President of Social Activities Debra Cochrane, Treasurer Martha Townsend, Secretary Hsiu-Zu Ho, Parliamentarian Julie Blair, and SBMA Assistant Director of External Affairs Susan M. Bradley.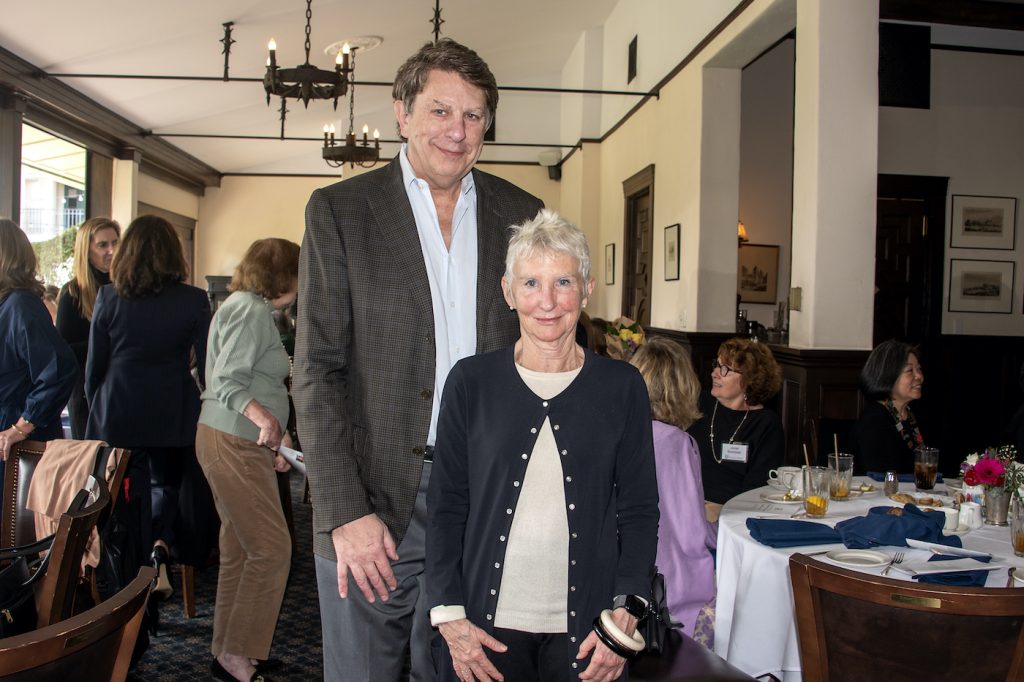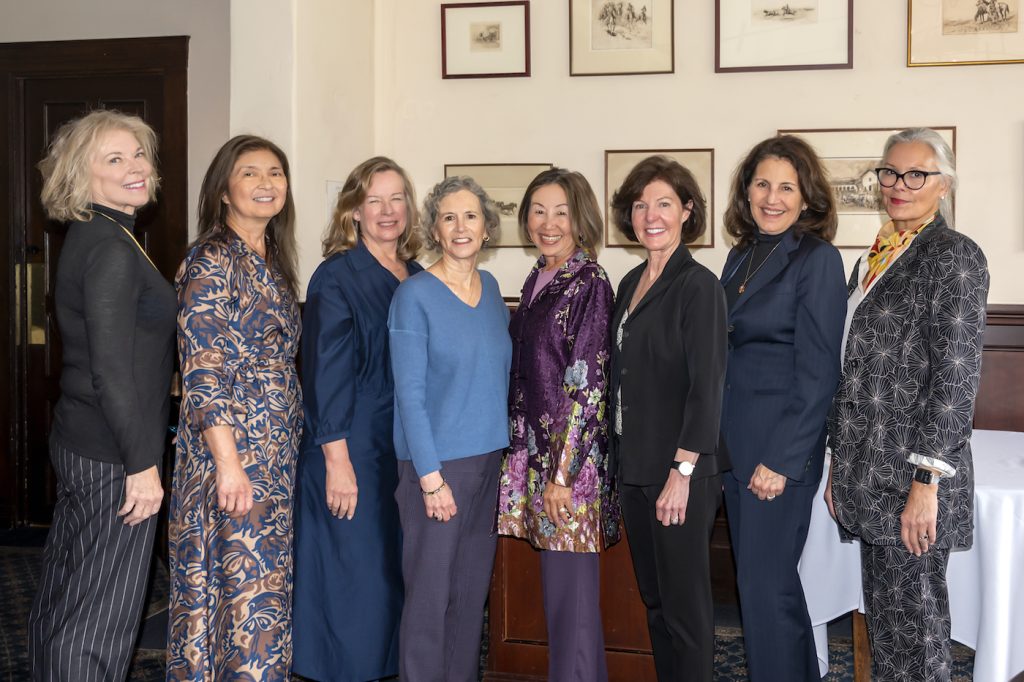 The program commenced with a warm welcome by Ms. Farrington, who acknowledged both sustaining and regular members. "We are happy to welcome eleven new members to the SBMA Women's Board. We are a working organization and appreciate their diverse talents, enthusiasm, and ideas. Their contribution helps ensure the continuation of our mission of fundraising for and building awareness of the museum in our community," she said.
Ms. Farrington then introduced Mr. Feinberg, who recently announced his retirement from the museum earlier this year. After noting the 11 new members, Feinberg's speech was dedicated to laud and thank the Women's Board for supporting the museum to help purchase major works of art, underwrite exhibitions and events, and many other avenues of support for the general well-being of the museum. He added this would be his last attendance at their annual new members luncheon.
Next, Ms. Tenzer introduced each new member who was presented with flowers and a generous applause from the attendees. The event concluded with photo-ops and warm exchanges.
411: The Women's Board of the Santa Barbara Museum of Art was established in 1951. The board's purpose is to support the museum by raising funds for its exhibitions, acquisitions, educational programs, and special projects. The board is composed of more than 100 active and sustaining members, who organize and sponsor fundraising events each year that also promote community awareness of and interest in the museum.
Visit https://sbmawb.org for more information
You might also be interested in...