Orchids: The Adventure Returns via SB International Orchid Show Inc.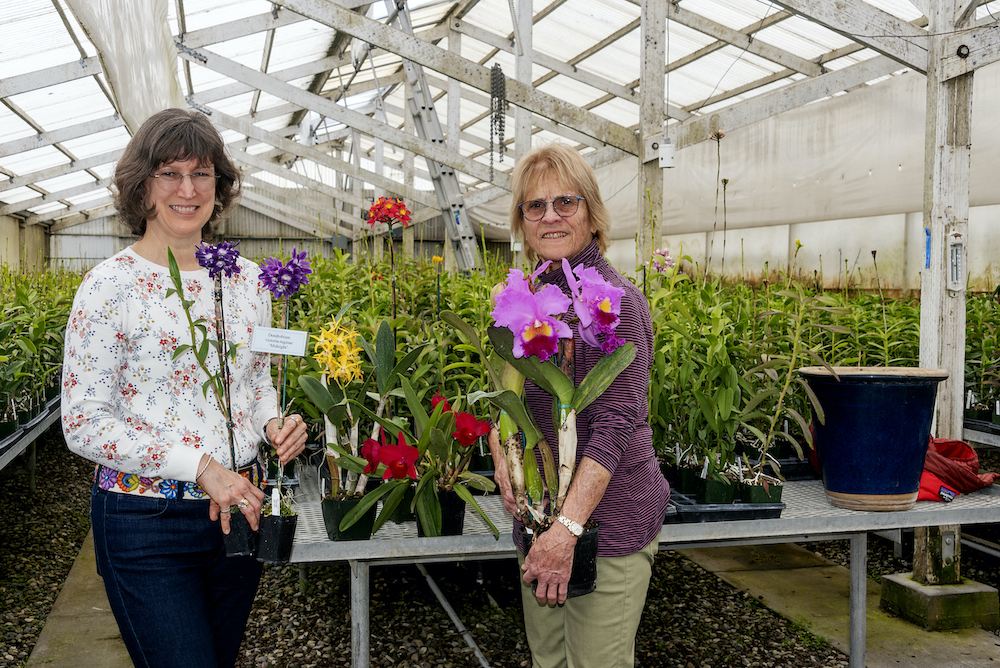 Lauris Rose, board president of the SB International Orchid Show, Inc. (SBIOS),is unstoppable in her quest to keep orchids healthy, thriving, and in the public's view. Their annual showcase event on March 10-12 at the Earl Warren Showgrounds is once again in bloom.
Known as the all-things-orchids global expert, she and her husband have more than 50 years in the commercial orchid business as co-owners Cal-Orchid, Inc. in Goleta. This year, the SBIOS is said to be a definitive platform of international award-winning growers through young grasshoppers learning the basics.
The Royal Botanical Kew Gardens in England, using orchid DNA to create a family tree and protect species at risk, writes:
"Orchids are an incredible evolutionary success story in the plant world. They are found on every continent on the planet, in almost every habitat, and even found north of the Arctic Circle. In fact, there are nearly three times as many orchid species as there are species of birds alive in the world today."
I couldn't help but wonder, what exactly is the lure this ancient plant has? Is it that the name "orchis," given by Theophrastus in 300 B.C., means "testicles" in Greek, and their medicinal use was an aphrodisiac and the promoter of virility? Is it that researchers have dated orchids from the Jurassic period to the Mesozoic era (195 to 136 million years ago) and the Cenozoic period (64 million years ago)? Or the Chinese poems written about orchids during the reign of Confucius and their use in medicinal teas for cancer, immunity, and eyesight?
Yes, all of it and more!
Meeting and interviewing Rose was like experiencing a time machine on the subject. I arrived as she was germinating a new species with DNA samplings from seeds she cultivated. For plants needing care, she has an Orchid Health Spa greenhouse, and she houses plants for select owners such as movie directors and Thai Buddhist monks.
Our two-hour interview includes three on-site teaching videos of Rose in action recorded by yours truly to accompany the story on the MJ website and YouTube Channel. Twenty-year orchid grower and SBIOS historian Heidi Kirkpatrick was also on hand with data points.
Joanne A Calitri (JC): What makes this year's show different, and what is the 'adventure' theme?
Lauris Rose (LR): More than 200 years ago, collectors in Europe sent explorers around the world to hunt for rare orchids. There was a sort of orchid fever going on, and plants that came back from these adventures were coddled in conservatories by the very wealthy. When these plants took hold and flowered, artists were hired to paint them life-size, and then books were produced that were available by subscription by other avid growers who wanted to see what was newly discovered.
The theme for 2020 was meant to spark displays depicting plants in the wild staged for discovery. Of course, COVID (restrictions) shut us down, without anyone getting to come and see the displays and celebrate the adventure of orchid discovery and cultivation, so we decided to re-launch, an adventure for those of us involved with the show! And it is a fun theme.
JC: How many varieties of orchids (Orchidaceae) will be on display, and are any on the endangered list?
Heidi Kirkpatrick (HK): Part of the adventure of the SBIOS is that we never know what our exhibitors and vendors will bring each year. We do know that there will be thousands of blooming plants and plants for sale. There are over 28,000 recognized species in some 850-plus genera, and that's not even addressing the 100,000 plus hybrids. Even the most comprehensive show or orchid collection can only represent a fraction of the orchid family. But we have vendors and exhibitors from all over the world, and each one brings a unique selection of orchids to the SBIOS.
I've been involved with the show for over 20 years, and I still find something new and interesting, a new hybrid, a species I haven't seen before, a specimen grown better than I've ever seen it grown, a plant I've read about but never seen in person.
As for orchids on the endangered list – that is a whole article in and of itself! Many orchid species are endangered in their native habitats due to habitat loss or over-collecting, and importation of orchid species is highly regulated. Some of the SBIOS's past and current vendors and exhibitors are involved with orchid conservation, whether as a public collector keeping rare species alive or as a participant in nature reserves in areas rich in orchid species.
LR: We will have a giant Wardian case on display that is coming down from San Francisco with many species displayed in a natural setting, with tree branches, moss, and mist. It is a first for the show to have this magnificent case! There are some orchids that are rated as "Appendix 1," and no trade in those species is allowed by law. Otherwise, all orchids are lumped together as "endangered." Even hybrids. It is a frustration for those of us who make hybrids, grow the seed here in the U.S. in labs, and then plant them out at our nurseries for sale. We still are required to obtain documents to track them being sold outside of the U.S.!
JC: How many growers are displaying and from where?
HK: Our vendor and exhibitor lists have not been finalized, but we do have vendors and exhibitors from all over California, plus Florida, Hawaii, Colombia, Peru, Ecuador, Japan, Taiwan, and Thailand.
LR: So far, we have 30 growers, whereas most shows only have 10. Santa Barbara always provides tremendous diversity with little overlap. To bring in plants from outside of the U.S. requires a tremendous amount of work – documents just for the transport of orchids are required, several inspections by agriculture inspectors abroad, and in the U.S. each plant must be packed for travel via air freight. Still, we attract growers from around the world as the show attracts serious growers, and sales are good.
JC: How is the show set up at Earl Warren?
HK: The show fills two buildings at Earl Warren. The gold-domed Exhibit Pavilion holds the show's displays. Plant vendors, local nurseries, local and regional orchid societies composed of hobby growers, and local individuals install displays of blooming orchids. Los Floralias Floral Design Club produces fabulous cut flower arrangements. The Santa Barbara Art Association manages a juried art show of orchid-themed art and photography. In the vendor hall, visitors may purchase plants from one of our local, regional, or international vendors. For me, the Exhibit Pavilion sparkles with wonder and excitement, but the Vendor Hall is pure temptation – blooming orchids of fabulous colors or exciting scents, seedlings that haven't bloomed yet and are like an exciting lottery ticket… it's hard not to go a little crazy buying plants to bring home! Each booth sells and collects their own money. Foreign vendors appreciate cash, as they don't have U.S. bank accounts.
JC: What is the criteria list for judging winners?
LR: Teams of judges are on hand, and although they have varying criteria to recognize, the basics are points for size, shape, color, flower count, and overall display balance/beauty.
HK: Judging revolves around flowers that are exceptional. There are SBIOS trophies and American Orchid Society trophies awarded. 
Judges look for the following:
– a shapely, symmetrical flower form
– clear colors, patterns (spots, stripes) that are pleasing
– uniform flowers that are larger than others of similar type
– a plant that is robust and healthy
– a plant that is floriferous
– overall aesthetic appeal of plant and flowers
JC: Can anyone join the SBIOS, Inc?
LR: We are the longest running show in the United States.As of now, people can sign up for the email list and get updates and interesting facts about orchids. The show board members are nominated by other members as needed, and emphasis is on having a good representation of local commercial growers and noted local business people who have orchid collections and want to ensure the future of the show as a noteworthy tradition.
HK: Orchid enthusiasts who would like to join a club of like-minded orchid hobbyists can join one of the societies and clubs in Southern California, most of which meet monthly and charge a small annual membership fee to support their monthly lecture program. Santa Barbara is home to the Orchid Society of Santa Barbara, which has an exhibit and a vendor booth at the show. Some of the other societies exhibiting at the SBIOS this year include Five Cities Orchid Society, Ventura County Orchid Society, Conejo Orchid Society, and San Fernando Valley Orchid Society. Orchid enthusiasts may also join the American Orchid Society or the Orchid Digest, both of which publish magazines featuring orchids.
411: http://sborchidshow.com
You might also be interested in...