Hope Sterling Kelly February 2, 1929 – January 8, 2023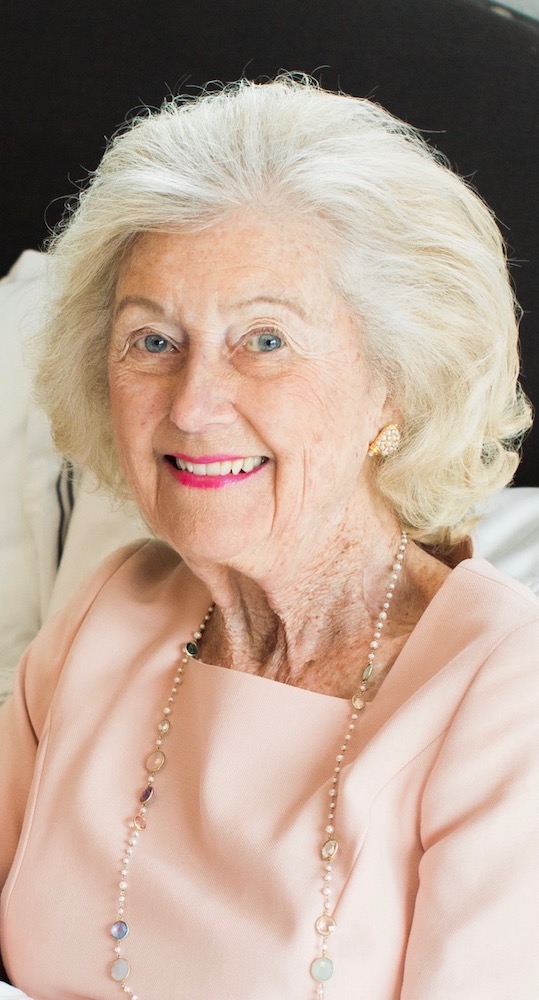 Hope Sterling Kelly passed away peacefully in Santa Barbara on January 8, 2023. She was a loving mother, grandmother, great-grandmother, and friend to anyone she had ever met. 
Hope was born on Groundhog's Day, February 2, 1929. She grew up in West Los Angeles and attended University Elementary School, University High School, UCLA for two years, and then transferred to Stanford University, where she graduated in 1950.
Hope married Richard Sawyer in 1951 (Div. in 1965), and they soon had their son Richard (1952) and daughter Rebecca Sawyer (1954). They lived in Brentwood, where they raised their kids around close family and friends and lived just down the road from her loving parents, Ted and Eve Sterling.
Hope grew up loving ballet, tennis, Campfire Girls, the theater, going to the beach, and playing any competitive sport she came across.
She was a lifelong member of the Assistance League and was active in the Nine O'Clock players group, where she took many leading roles such as Cinderella. Her love for travel and adventure led her to working as a travel agent at Bel-Air Travel.
In August of 1970, Hope married Laurence (Larry) B. Kelly, and they moved to Santa Barbara, where they fell in love with the picturesque scenery and community. Hope and Larry were members of the Valley Club and L.A. Country Club, as Larry was an avid amateur golfer. They also belonged to the Santa Barbara Yacht Club, where they celebrated many holidays with family and friends.
Hope and Larry were a fun, loving, and adventure-seeking couple who traveled the world to exotic places and always came home with fascinating stories. Their home was always open for entertaining and hosting friends and family at their cottage a.k.a. "Hotel Hope."
Hope's positive attitude and radiant spirit were contagious and the second you met her, you felt like a lifelong friend. She was a guiding light, a pillar of support, and someone who you could always count on. Hope was a very involved grandmother and great-grandmother until the end, attending school events, cheering on her grandkids in their various sports, and always available as a trusted confidante. She remembered numerous family and friends' birthdays with cards, flowers from her garden, and gifts which had her signature left-handed script.
Hope was very active with the Lobero Associates, raising funds for theater projects and bringing in new members. Because of her involvement, the Lobero Theatre stage curtain was named in her honor in 2022, which was a highlight. In the last 20 years of her life, Hope became a competitive ballroom dancer with the Santa Barbara Dance Studio, traveling to events throughout California, Nevada, and Hawaii. She loved getting dressed up, learning new routines, and competing in the ballroom.
Hope loved attending church and gained a deeper spiritual understanding of her purpose-driven life while attending the quaint Summerland Presbyterian Church.
Hope Kelly was preceded in death by her husband, Larry Kelly (1916-2006), and her sister Jacqueline Sterling Williams (1926-2021). Hope is survived by her son, Richard Sawyer (Kathleen Barron), her daughter, Rebecca Conway, her three stepdaughters Pauline Kelly, Pamela Bento, and Patricia Morehart, along with her grandkids Barron Sawyer (Kerry Sawyer), Holly Misic, Steven Conway (Chelsea Conway), Carolyn Doyle (Christopher Doyle), and Lauren Kerstner (Nick Kerstner), along with 12 great grandchildren whom she absolutely adored.
In lieu of flowers, you can honor Hope by donating to The Lobero Theatre Associates – 33 E. Canon Perdido St., Santa Barbara, CA 93101.
You might also be interested in...