Golf Max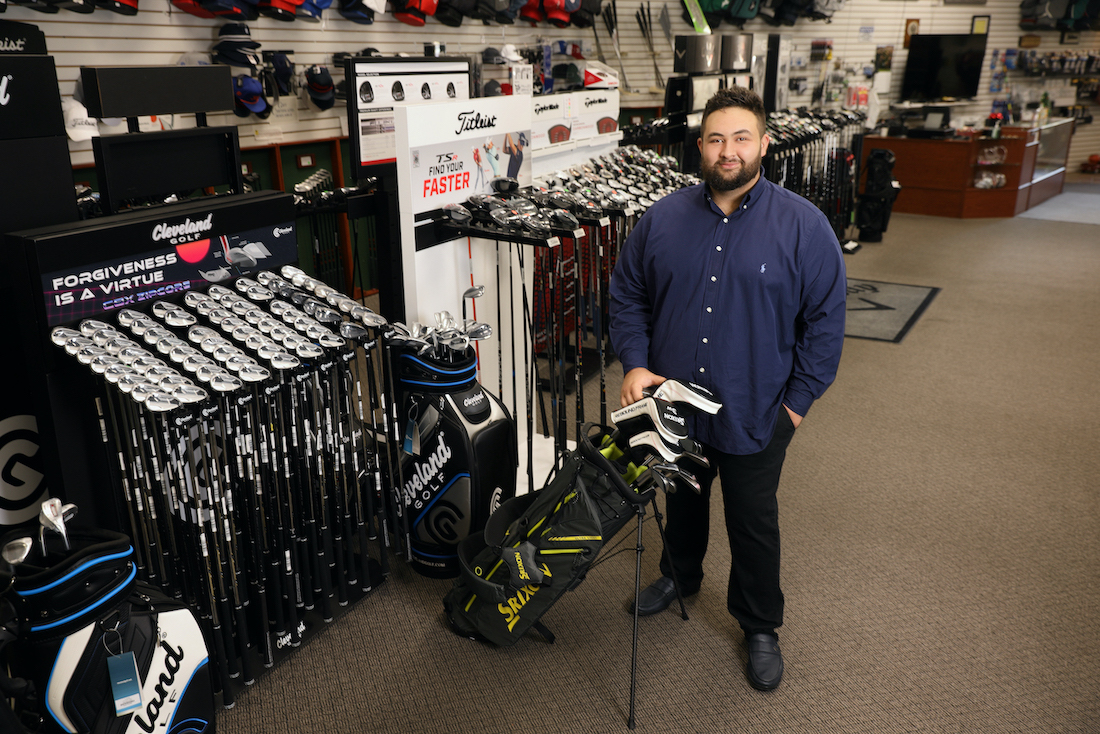 The largest golf store in Santa Barbara and Montecito is under new ownership, featuring 25-year-old local resident Alex Bollag at the helm. Golf Max is located next to Harry's Plaza Café in Loreto Plaza and opened for business last fall.
The location was formerly a golf store called The Golf Klub; owner Tom Noyes announced his desire to retire last summer, and the idea of owning a retail golf store appealed to Bollag, who had recently graduated from Chapman University at the beginning of the pandemic and was working remotely for a governmental contracting agency. "It was hard to find a job I was passionate about in a world where most businesses were closed because they weren't considered essential," Bollag told us earlier this week during a visit to the store. "I've always loved golf and have been a sort of 'gear-head' when it comes to golfing. The timing lined up really well."
After making a deal with Noyes to buy out his inventory and signing a new lease with the owners of Loreto Plaza, the young entrepreneur went to work modernizing the shop and bringing in new brands to appeal to a wider range of golfers, many of whom took up the sport during the pandemic. "Golf has become cooler in the last few years, and now it seems everybody wants to play or is playing," said Bollag, who has been playing locally since the age of 12. According to Bollag, the industry has broadened from a more traditional, formal game, to become more casual and appealing to a younger generation.
Bollag updated the store with new fixtures, flooring, new point-of-sale systems, and brought in a state-of-the-art simulator for testing and fitting. New brands including Cobra Puma, Bad Birdie Clothing, Lab Putters, Srixon, and Asics have been brought in to join the classics including Titleist, TaylorMade, Ping, Callaway, and others. "I'm working on finding the perfect balance to appeal to all demographics," he said, adding that the shop is now offering a wider array of apparel and clubs for women as well. "Appealing to women is one of the biggest ways we can hit our full potential as a golf retail store."
In addition to an extensive array of retail items including clothing, clubs, shoes, bags, balls, and more, Golf Max offers full-service fitting and repair including grip change, re-shafting, and more. Bollag said the shop is the largest golf offering in the area. Bollag is on-site every day, managing inventory, helping customers, and repairing golf clubs. "Custom fitting is also a big part of the business. It's our job to figure out exactly what someone needs in a club, from the weight, length, kick point, grip point, head shape, et cetera," Bollag said.
The store has done well with the local community thus far, Bollag said, adding that he and his three employees – including a Dos Pueblos High School student working toward career hours – place an emphasis on stellar customer service. "We've had a good reception so far, and we're grateful for that," Bollag said.
Golf Max is located at 3313A State St. next to Harry's. Call (805) 687-6300 for more information. The shop is open every day except Sunday from 11 am to 6 pm (11 am to 5 pm on Saturdays).
Correction Issued for Body Wise Column
In the Feb. 9 issue of the Montecito Journal, the Body Wise column was titled "Astrid de Wild of Simpatico Pilates." That was an error on our part. Astrid de Wild of the former De Wild Pilates Studio now works solo out of her beautiful home in the foothills of Montecito. She is not associated with Simpatico Pilates. Astrid can be reached at (805) 451-7837.
You might also be interested in...