Black History Month Part 1: Darrell M. McNeill and Sally A. Foxen-McNeill SB Black Culture House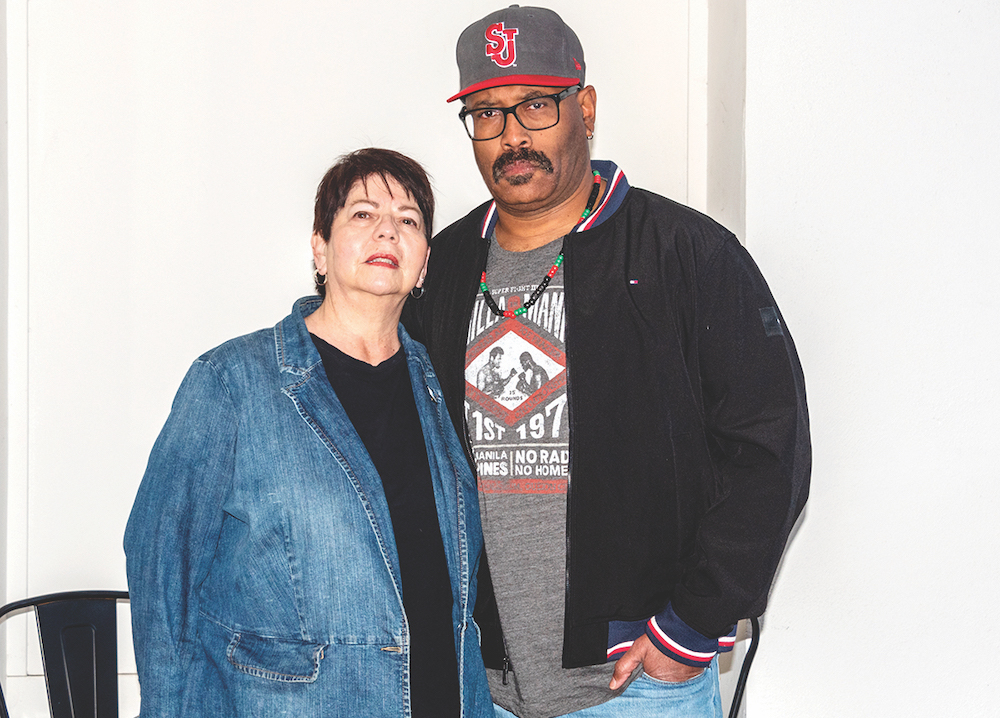 Black History Month (BHM) is an annual national celebration during February that commenced with Negro History Week (February 1926) initiated by Carter G. Woodson, founder of Association for the Study of Negro Life and History (ASNLH). Later in the 1940s, Blacks in West Virginia began to celebrate February as Negro History Month, and by 1960 in Chicago, cultural activist, Frederick H. Hammurabi, started celebrating Negro History Month.
In 1976, the ASNLH used its influence to shift from a week to a month and from Negro History to Black History. In addition, February's Black History Month is endorsed annually by Presidential Proclamation, which started with President Ford. The ASNLH renamed itself ASALH (Association for the Study of African American Life and History) and continues to promote the study of Black history all year.
This feature story for BHM shines a light on Santa Barbara Black Culture House founded in 2020 by Darrell M. McNeill and Sally A. Foxen-McNeill. Their mission is to present and illuminate the Black experience through events that showcase the art, culture, and history of the African diaspora in the city of Santa Barbara: "It serves not just as a spotlight on the vibrancy of Black life, but as a reminder of a once thriving Black community in America's Riviera."
Brooklyn-born McNeill is the CEO of PoetWarrior Productions and Backlit Media and director of Operations for the Black Rock Coalition, a 501(c)(3) advocacy group for BIPOC artists whose work defies and challenges reductive narrowcast genre and cultural classifications and stereotypes by the music industry. He also serves as vice-chair of the Santa Barbara Arts Advisory Council, in addition to being a musician, producer, composer, journalist, critic, broadcaster, and historian. He holds a BFA in print journalism from the School of Visual Arts NYC.
Foxen-McNeill, a native of Santa Barbara, is dedicated to her city. She is a proud graduate of Santa Barbara High School, sits on the board of directors of the SBHS Alumni Association, and is a member of the city's Neighborhood Advisory Council representing the Lower West Side community. The majority of her career was spent at UCSB as a student advisor, working with primarily students of color and their journey toward graduating with bachelor's and graduate degrees at UCSB.
SB Black Culture House, currently in its fourth year, operates annually as a one-month cultural pop-up, located this year at Soul Bites Restaurant on State Street. I met Darrell and Sally there to talk about their organization and their work for our Black and Brown communities.
Q. What was the defining impetus for you to create the SB Black Culture House?
A. For Sally, she'd grown up in a Santa Barbara community that was far more diverse and cross-cultural than it is presently with every Black History Month having only a few programs here and there scattered around town. She wanted to create a single space that would host multiple events throughout the month and bring larger groups of people together. Darrell moved to Santa Barbara in 2017 after 10 years of maintaining a long-distance relationship with Sally. He was seeking opportunities to continue producing live events. His last job in New York was associate producer of Music Programming at BAM (BrooklynAcademy of Music). There didn't appear to be much bandwidth in Santa Barbara for the diverse programming he was accustomed to producing. Knowing the limited available space, Darrell suggested seeking out unused or underutilized public space, or "pop-up" models, which have been wildly successful in New York and other major cities, and the concept for Black History Culture House was born.
What is the mission for Black Culture House, and how is that coming together for you?
The mission remains the same: In the spirit of love for community, to create a safe space for Black culture, art, history, current events and general life to be shared with the greater Santa Barbara community.
We have come completely out-of-pocket to produce these events and make them free and available to all of Santa Barbara. Getting money and resources together is always the main challenge. We have been very fortunate to receive two city/county grants, and we come out of pocket for the balance of the expenses. We have developed many invaluable relationships that have allowed us to continue this work. The strategies necessary to do the work – fundraising, networking, marketing, and community outreach – always change, but the focus never does. Love for the work and love for the community.
Is Black Culture House a blueprint that can be replicated in other communities?
Other communities do similar conceptual work all the time. Nobody "owns" the concept. We certainly hope as many people replicate the creation of cultural space wherever it's felt to be needed, especially in communities where cultures are underserved.
As to a blueprint, we don't really have one. There was no roadmap, other than our experience producing events. The blueprint is constantly changing and there's a huge learning curve. Every year we've done this, we've had to pivot for one reason or another. We started in 2020 at the former Youth Interactive space across the street from the Granada Theatre and paid for everything ourselves. We were very fortunate to have friends and allies support our efforts. Then, during the pandemic of 2021, we had to do all our events online. At that point, the Youth Interactive program and that space was shut down. Fortunately, we got our first arts grant from the Santa Barbara Office of Arts and Culture and the City of Santa Barbara in 2022, and we rented the Alhecama Theatre.However, because of a COVID spike, we had to move events from February to April programming. And, again, what the grant didn't pay for, we paid for.
This year, there weren't enough available dates for February at the Alhecama, but because we met with the owners of Soul Bites – and they are such staunch advocates for underserved communities – they offered their space to us.
So, there's no real blueprint. You have a concept, and you position it in the place that makes the most sense at that given time. And if something goes sideways, you have to be ready with Plan B.
Ultimately, would you prefer to be a brick-and-mortar organization versus a pop-up?
It's more important for Culture House to build as large and as loyal a community as possible, to secure sponsorship and funding to expand our programming and our marketing reach.
We would like to present cultural events in spaces year-round, not just February. Mainly, we just need people coming through the door and talking about or posting about the work we do here, and bringing more people. Long term, a brick-and-mortar would be nice, but brick-and-mortars in Santa Barbara are extremely hard to develop here, even for commercial ventures, never mind art spaces and nonprofits.
Other cultural organizations like ours are trying to get buildings and are really going through the wringer right now. And this is still relatively new for us. It's only our third year of in-person programming. We still have a lot of infrastructure work to do. We still need to formulate a 501(c)(3) for Culture House.
We're still getting a handle on what our bandwidth could be programmatically. There's a lot of programs we'd like to do that we haven't done, because we are still developing relationships across a number of different counties for artists, resources, and community.
And your February events?
We have two more weekends of events at Soul Bites Restaurant, 423 State St.
Doors open at noon. All events are for all ages and free to the general public.
Saturday, Feb. 18, 1 pm – Panel discussion: "Black Women Rock."A pre-taped video conference of five dynamic Black women who've carved out careers in the rock music genre. Featuring Maureen Mahon, author/professor at NYU, and artists Sophia Ramos, Shelley Nicole, Leah King,and LaFrae Sci.
Sunday, Feb. 19, 1 pm – Live blues/rock with Jellyroll. Popular Santa Barbara blues rock band led by vocalist/harpist Morganfield Burnett.
Saturday, Feb. 25, 1 pm – Live jazz/funk with L.A. trio, The Funky Neighbors. Contemporary instrumental group featuring L.A. musicians: bassist Stevie Martin, keyboardist Damon Wilson, and drummer Terrence Huggins.
Sunday, Feb. 26, 1 pm – Live music with L.A. Supergroup, The Cookies, back by popular demand. Featuring legends: vocalist Maxayn Lewis, bassist Bobby Watson, and guitarist Allen Hinds.
411: Mailing list: SBBlackCultureHouse@gmail.com 
Facebook and Instagram: @SBBlackCultureHouse 
Black History Month: https://asalh.org
You might also be interested in...