Off the Record with Cady Huffman, Anthony Edwards, and Dante Di Loreto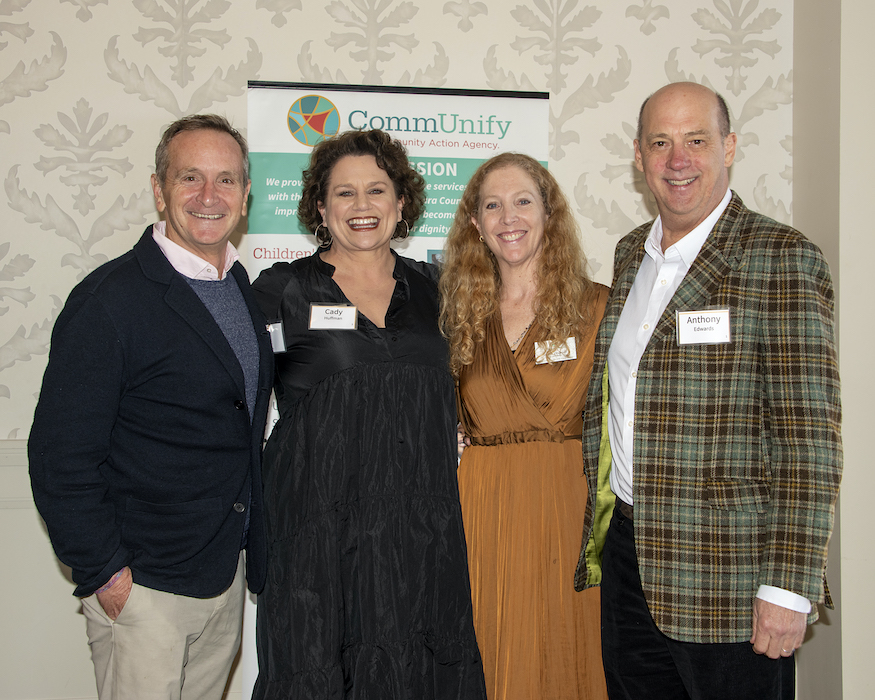 At her "Off the Record" event on Feb. 4 at the El Encanto Hotel, Julie Weiner, Chief Development Officer of CommUnify, stated that she hopes it will be an annual fundraiser. The event is a novel approach by the organization – this speaker engagement series features some of our town's finest top stars with an intimate audience of 50 people, followed by a VIP dinner.
For this "pilot" event, the interviewer of the celebrity guests was our own well-bred and read, witty and warm Montecitan Dante Di Loreto. Guests were multi-talented and awarded actor-dancer Cady Huffman, and awarded actor-director Anthony "Tony" Edwards, both Santa Barbara born and San Marcos High graduates.
They shared that growing up in S.B. was a town with multiple avenues of live performance theaters, including their high school stage, noting much respect for their strict and demanding drama teachers and directors. For Cady, it was her dance instructors who saw her talent, providing ways to help out at the studio so she could pay for lessons. They went from teenagers to the top in their respective genres. Cady got to Broadway and was selected from 1,000 dancers by Bob Fosse. She was in many plays including the Big Deal, La Cage aux Folles, The Producers,and also in film and TV. Tony went from high school performances to Los Angeles, and was cast in films such as Fast Times at Ridgemont High, Top Gun, Revenge of the Nerds, Miracle Mile, and the award-winning television series ER.
Of keen interest to the audience were those unpublished, behind-the-scenes stories told at the event, with much laughter and insider quips. The conversation and learned wisdom culminated when Di Loreto and the others discussed what happens when things don't work out, and the simple question of: What is creativity?
The key take-aways were that most of the time it does not work out. It is rare that all the pieces and the team have a similar synergy on set; you have to persevere in the face of constant rejection, and yes, the set isn't always a happy place (note well, Top Gun fans), but it gets done.
Many times, while doing the work, its impact, greatness, and lasting legacy is not a concept realized until after it is all done and out there. One of the lessons learned from their genius mentors, such as directors John Huston and Fosse, was that even they had to buck against the tide to get their dream projects supported.
In closing, Cady said, "Broadway and movies are notthe destination. You have to go out and get your next gig. Your job is to know what your gift is and go out in the world and do it." And on creativity, Di Loreto added, "It's essential to our existence."
Guests at the event included CommUnify Chief Executive Officer Patricia Keelean, Judy and Rob Egenolf of the EgenolfGroup, Carole Ridding of Silverhorn Jewelers Montecito, Scott Zegar and Ary Rosales of the Zegar Foundation, and Montecito Bank & Trust President and COO George Leis and its MClub Director Maria McCall, and Rod Lathim.
Founded in 1964 by the SB County Board of Supervisors, the organization's mission is to support residents to improve and maintain their health, resilience, and financial security, via educational programs and services including Head Start, seniors' needs, job training, financial advisors, and addressing the causes of poverty.
411: www.communifysb.org
You might also be interested in...