Designing the Dessert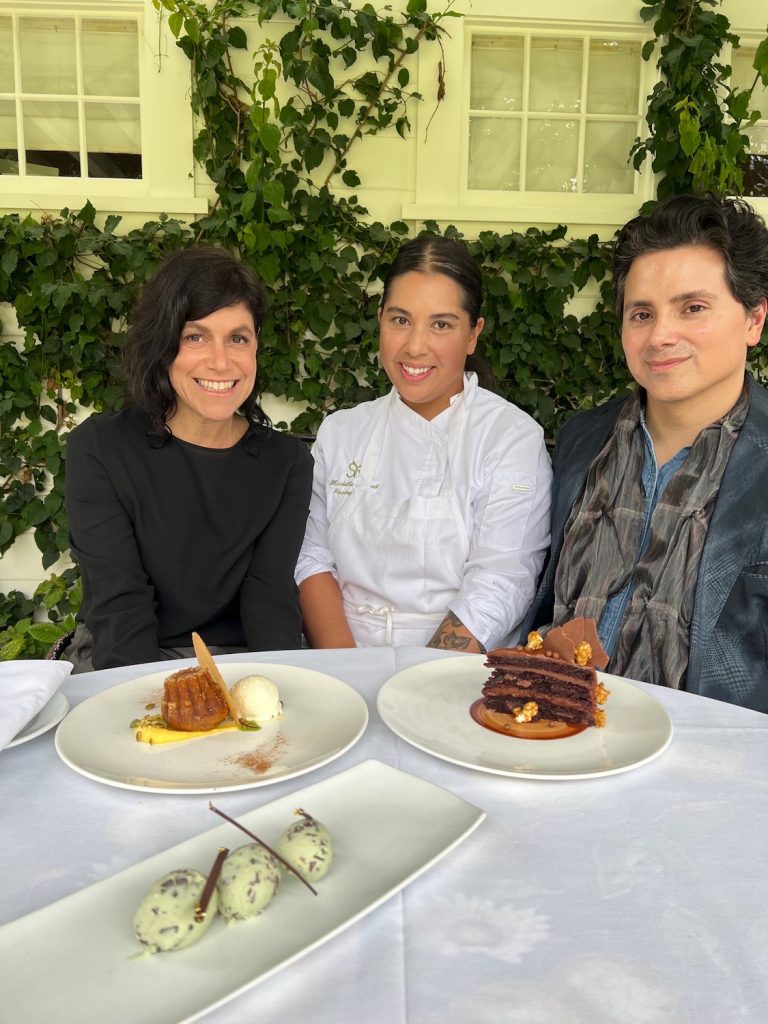 One of the most memorable aspects of dining out is a well-made dessert that sets the tone for a night on the town.
On the heels of the awards season, the world's fashion designers are preparing to roll out their latest luxury creations. Similarly, local pastry chefs have added to their menus a smörgåsbord of desserts inspired by haute couture and the silver screen.
Pastry chefs fold many talents into one mold. They are part artist, architect, and designer. Their job is about creating the right balance of flavor, texture, and structure to tantalize the senses and transport the diner to another place and time. It's an art form that supports the menu's narrative while creating a new culinary experience for food lovers.
It's no secret that pastry chefs look to the world of fashion for culinary inspiration. And like a well-constructed gown, there is nothing more decadent than a well-made dessert.
"It's the marriage between function and creative art, and a little bit of fantasy," said Louis John. "Dessert and couture are indulgences to be admired and savored."
As the owner of Louis John Boutique, a high-end consignment shop located in a nondescript building formerly known as Sears at La Cumbre Shopping Center, he is constantly on the lookout for classic wardrobe pieces to add to his boutique's collection of gently worn luxury clothing with a mission to please fashion enthusiasts looking for sophisticated wardrobe staples, and also doing his part to reduce fashion from landfills or incinerators.
John – who was recently hired by a local auction house to catalog and execute the auction of some 700 pieces of fashion wardrobe belonging to the late society fashion maven Lady Ridley-Tree – is no stranger to high-end fashion. His boutique offers a Who's Who of fashion staples from Yves St Laurent, Chanel, Armani, St. John, Jimmy Choo, Manolo Blahnik, and Gucci, just to name a few.
John is equally comfortable discussing the latest fashion trends as he is what's trending on local menus. Design inspiration is his favorite topic, particularly if it takes place in the kitchen.
Recently, John joined MJ for a dessert tasting in search of designer appeal.
Stonehouse at San Ysidro Ranch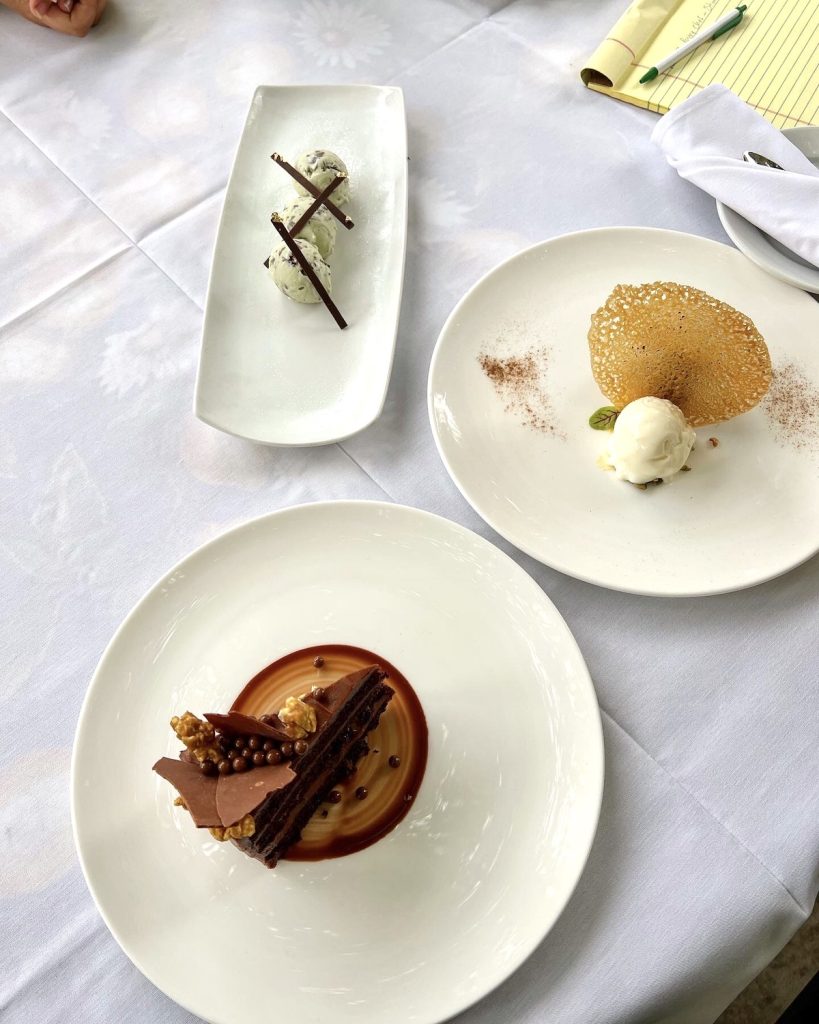 The Designer: Pastry Chef Michelle Straub
The Creations:Grand Marnier soufflé ($24) served with Tahitian vanilla crème anglaise and cardamom gelato; spiced pumpkin cake ($20) served with fromage blanc gelato, roasted pepitas, and accented with an orange lace tuile; the triple crunch chocolate cake ($21) layered with salted caramel and milk chocolate feuilletine crunch; Meyer lemon tart ($20) made with raspberry meringue and poppy seed sablé.
MJ: San Ysidro Ranch features some inventive desserts on its dinner menu. Where do you find your culinary inspiration?
Michelle Straub (MS): I look for inspiration in nature. There's a lot of that here. The ranch is a huge inspiration; it's homey so you don't want to elevate (the dessert) in a way that feels out of place. I take inspiration for flavors, garnishes, and colors from our Meyer lemon trees, lavender and rosemary bushes, mint and flower gardens throughout the property. The Meyer lemon tart utilizes lemons from our trees, and our mint chocolate chip ice cream is made with fresh mint from our garden. I constantly rotate flavors like lavender from our property into specials to match the season and mirror the beauty of the property.
I start by jotting down a few flavor concepts, drawing bubbles with offshoots of flavors that go together and figure out how those flavors fit into the dessert. Often I ask myself if an element would go really well on a dessert or how I can take that inspiration and turn it into a dessert. It's a lot of building on ideas and testing those ideas. First, I begin with a base, and then I think about what's going to complement the flavors.
MJ: The ranch's Grand Marnier soufflé is perfectly puffy, refined and simply divine. How do you assemble it?
MS: Grand Marnier is the base of the seasonal soufflé. It's dusted with powdered sugar and then served with a dollop of cardamom gelato. The server finishes it tableside with a Tahitian vanilla crème anglaise (a custard sauce) infused with whole vanilla beans.
[John and I share a moment of silent ecstasy as we savor a bite of the soufflé and gelato on our palates, and then another and another.]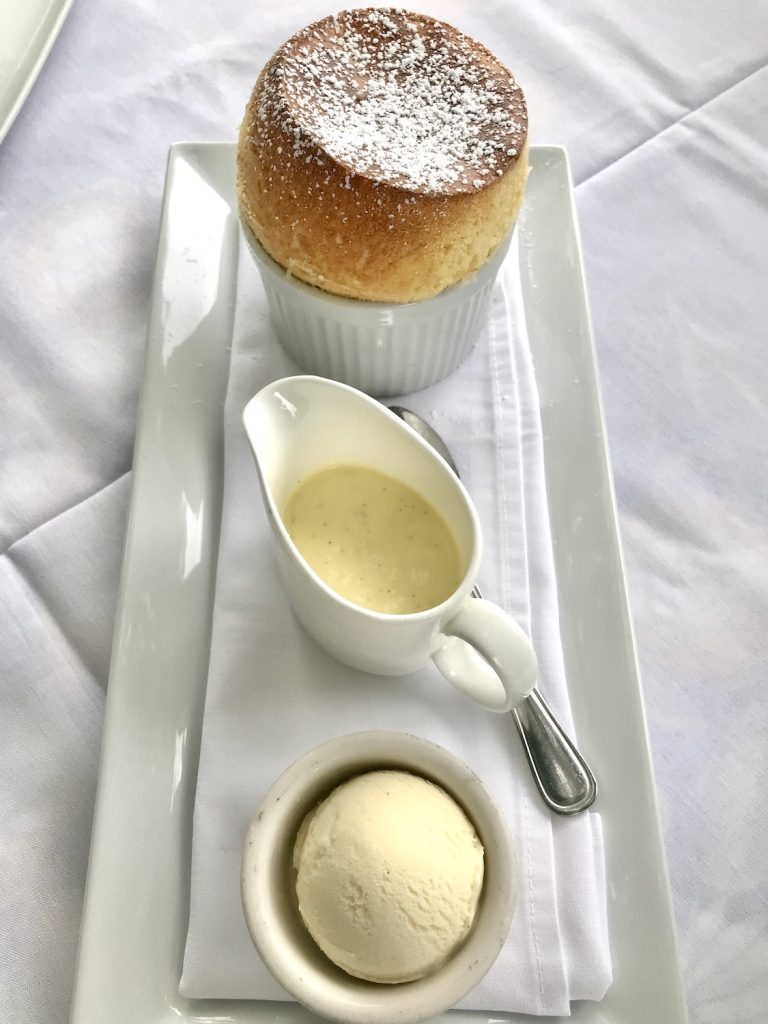 Louis John (LJ): The sponge-like texture of the Grand Marnier soufflé reminds me of the classic bouclé fabric of a canary yellow Chanel bouclé jacket.
MJ: It's light and fluffy and the cremé anglaise is smooth, rich and very satisfying. For some reason, I'm thinking of the film Clueless right now.
MS: The spiced pumpkin cake is another popular menu item. It's served warm and features allspice cardamom and cinnamon. The cake itself is situated on a pastry crème made with kabocha squash, which is a Japanese squash.
After the cake is situated on the kabocha pastry crème, I place a decorative orange tuile in between it and a scoop of fromage blanc gelato, which tastes like a tangy crème cheese ice crème. The orange tuile is made with sugar and orange zest. Then I add roasted pepitas (on the kabocha crème) for a little crunch.
LJ: The gelato has the appearance of a smooth and satiny Dior gown, but if you look at the whole dessert – the boldness of the orange tuile looks like embroidered lace – it has a Guo Pei feel. It's a beautiful ensemble.
MS: The triple chocolate crunch cake is the ranch's homage to the seven-layer cake. It features chocolate cake, salted caramel, and a sour cream-like chocolate frosting. There are chards of milk chocolate feuilletine (a crispy confection made from thin, sweetened crêpes) in the frosting, so each bite has a subtle crunch.
MJ: For the chocoholic, this is a memorable dessert. I love how the layers of this cake are thick like a trifle. It is bejeweled in crunchy cocoa-colored shiny pearls and caramelized popcorn. A pair of decorative chocolate wafers rise up like wings of a bird. It's a bit avant-garde.
LJ: It's like wearing pearls with a little black dress, but the contrast of the pearls and the golden popcorn make it sophisticated with a touch of youthful edginess.
MS: Those elements are like accessories, yet you don't want the details to over-power the dessert; you want them to complement the texture and flavor. I want to add a new dimension and a little bit of flair to my desserts.
Lucky Steakhouse
The Designer: Leonard Schwartz
The Creations: The salty turtle sundae ($15), made with vanilla ice cream, homemade caramel sauce and chocolate sauce and sweet and salty pecans; Gene's affogato ($15) vanilla ice cream and espresso with a side of button cookies; classic cheesecake ($15), served with berry compote; mixed berry shortcake made with fresh baked biscuit, raspberry compote, fresh whipped cream, and seasonal berries.
MJ: Lucky's offers a delicious, easy-going dining experience here, with a bit of discretion in the air, like an old Hollywood establishment.
Leonard Schwartz (LS): We get our inspiration from notable and historic establishments in Chicago, New York, Los Angeles, and San Francisco, such as Tadich Grill, among others. These desserts reflect a kind of Americana, though to some extent they're based on French cooking technique. They're still classic American desserts.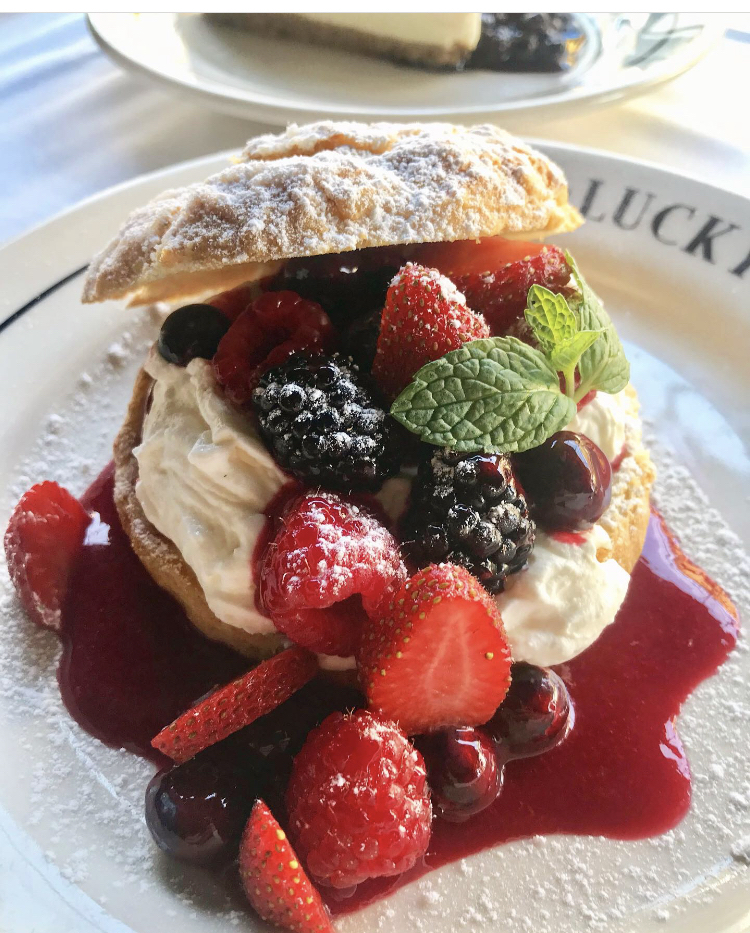 The salty turtle sundae, without shame, is made with Häagen-Dazs ice cream. We make our own homemade caramel sauce and not-very-sweet chocolate sauce. The pecans are boiled and then cooked in brown butter with sugar, and we make our own whipped cream in-house. We sell more of these than any other of our desserts combined.
Gene's affogato is my favorite dessert because it has everything I want in a dessert, which is espresso and ice cream.
For the shortcake, we bake the biscuits and prepare raspberry purée sauce daily. The whipped cream is made fresh and served alongside an assortment of seasonal berries and powdered sugar on top.
MJ: The shortcake bread is elegant, not quite like a biscuit but more like a pastry biscuit.
LJ: The taste and texture are a bit extravagant, similar to the desserts and costume design (by Milena Canonero) you see in the film Marie Antoinette, with heaps of whipped cream and luscious berries.
LS: The cheesecake with berry compote is also very light. It's basically a variation on a New York-style cheesecake. The graham cracker crust is made with butter, graham crackers and a hint of cinnamon.
LJ: There's a balance of sugar that isn't too crusty. The ivory cake and golden crust drum up visions of Lana Turner's costume design (by Irene Lentz) in The Postman Always Rings Twice (1946).
MJ: Stealing a man's wife is one thing, but don't even think about touching his dessert!
You might also be interested in...