Foraging Thyme: The Dance from Ballerina to Chef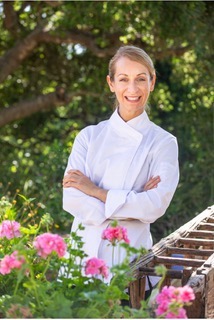 Little did I know that my life would take the turn from young ballerina to celebrity personal chef in NYC or later that I would end up as Executive Chef and partner in a meal delivery start up in Santa Barbara. And now, I get to write to you, the readers of the Montecito Journal, and chronicle the bounty that we have in our backyards.
My life journey started in Birmingham, Alabama. I was born into an eclectic foodie family. My mom is Jewish and my dad Sicilian, making food the epicenter of most every childhood memory. Ballet was my focus until the age of 18, when I realized that nourishing my body was something that I wished to learn more about. I loved feeding others but had a hard time allowing myself the pleasure of nourishing my own body. That changed when I did an apprenticeship for Frank Stitt, the James Beard award-winning Birmingham chef. Frank became my mentor and encouraged me to attend culinary school.
I attended Johnson & Wales University from 2000 to 2004. My alma mater believes in learning through life experiences, so I had the pleasure of working for a prestigious bed and breakfast in Charleston, South Carolina, the test kitchens of Cooking Light magazine, and graduating top of my class with a Bachelor of Science in Culinary Nutrition, while receiving the high award of Apprenti Cuisinier. I furthered my education with a dietetic internship at Emory University Hospitals, adding the title of Registered Dietitian to my name.
My move to New York City took me on my next adventure: celebrity personal chef. After 13 years in the city, I grew to have an A-list clientele including Lucy Liu, Christy Turlington, Ed Burns, Andrew Garfield, Rachel McAdams, Danny DeVito and Rhea Pearlman, Leslie Jones, and Demi Moore. During this time in NYC, I was afforded the honor of being a guest chef at the Hilton Head Health Institute and Stonewall Kitchen. I also embarked upon my career as a cookbook author, and I have just completed my tenth one. I adored my time in the city, but the West Coast was calling to me. I followed my intuition and moved to Santa Barbara at the end of 2017.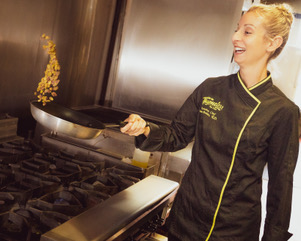 Finding my center while in this magical town was a winding road, but one that has opened my heart to the most beautiful path imaginable. I am now a single mother to an utterly incredible daughter. I, along with my partners and incredible team, started a plant-based meal delivery service that nourishes the greater Santa Barbara area, Thymeless My Chef SB. This service allows me to reach and touch more lives with my food and passion for plant-based meals, all while utilizing the bounty of the Central Coast. I cannot wait to tell you about the fresh fruits and vegetables that I find in our local farmers' markets, detail the health benefits of what I find, and give you a recipe to take home and create in your own kitchen. It is an honor to be here with you. Let's get cooking!
Finding the Color of the Season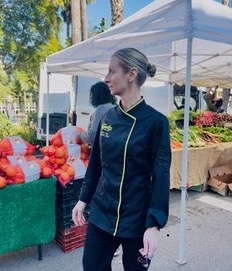 Upon walking through the farmers' market this week, I found myself craving the comfort of winter squashes and root vegetables. With the rain and chill Santa Barbara has been feeling lately, comfort and color are what I want. My eyes were drawn to the super sweet honeynut squash and red and gold beets. Eating with the seasons is so crucial to getting the most from Mother Nature. We are provided with the fruits and vegetables that are naturally ripened on the tree or vine, have the best flavor, and packed with the utmost nutrition.
Honeynut squash is such an excellent source of Vitamin A and Beta-carotene. In fact, it has about three times the amount of beta-carotene as butternut squash. It is also a good source of B vitamins and contains calcium, copper, iron, phosphorus, potassium, and zinc. I hope you enjoy this recipe that I adapted from my cookbook, The Plant Based Cookbook.
Hasselback Honeynut Squash with Cranberries and Hazelnuts
Yield: Serves 4
4 1/4-pound honeynut squashes 
1/4 cup water 
2 tablespoons avocado oil 
1 teaspoon sea salt 
1/2 teaspoon freshly ground black pepper 
1 each shallot, minced 
2 each garlic cloves, minced 
3 tablespoons maple syrup 
2 tablespoons Dijon mustard 
2 tablespoons apple cider vinegar 
1/2 cup dried cranberries 
1/3 cup hazelnuts, blanched so skins can be removed, toasted and roughly chopped 
1/3 cup fresh chives, thinly sliced 
Directions:
1. Preheat oven to 425 degrees. Line a rimmed baking sheet with parchment; set aside.
2. Using a vegetable peeler, peel the skin from the honeynut squash, leaving the stem intact. Cut the squash in half lengthwise and scoop out
the seeds.
3. Place the squash, cut side down, on the prepared baking sheet and add the water. Transfer to the oven and roast for 20 minutes.
4. Remove the squash from the oven and allow to cool for 10 minutes or until it is cool enough to touch.
5. Place the squash, cut side down on a cutting board and using a sharp knife, cut thin slits (about 1/8"). Do not cut all the way through. Repeat with other squashes. Return to the baking sheet.
6. In a small bowl, whisk together the avocado oil, salt, pepper, shallot, garlic, maple syrup, Dijon, and vinegar. Brush the sauce over the top of the squash, making sure some of it gets down into the cuts you made. Use about half of the sauce to brush.
7. Transfer the squash back to the oven and roast another 10 minutes or until golden and tender.
8. While the squash is roasting, add the remaining sauce to a small saucepan over medium heat until it comes to a simmer. Reduce the heat to low and simmer for 2 to 3 minutes or until slightly thickened.
9. When the squash is done, remove it from the oven and transfer it to a large platter. Pour the remaining sauce over the top, sprinkle with dried cranberries, hazelnuts, and chives.
Roasted Beet and Jerusalem Artichoke Carpaccio with Citrus Salad and Maple Glazed Pistachios
Yield: Serves 4
Beets are such an impressive root vegetable! They have been shown to lower blood pressure and enhance athletic ability. These folate-rich vegetables are also rich in manganese and copper. Nitrates are in high concentration in beets as well and have been shown to lower blood pressure, reduce the risk of heart disease and stroke. I hope you enjoy this recipe that I adapted from my cookbook, The Plant Based Cookbook.
1 cup shelled pistachios, roughly chopped 
1/4 cup maple syrup
1/2 teaspoon sea salt 
1/8 teaspoon cayenne pepper
1 each large golden beet
1 each large red beet
1 tablespoon avocado oil
4 each mixed citrus, such as blood orange, pink grapefruit, sumo tangerine, and cara cara orange
1/2 cup extra virgin olive oil 
1 tablespoon Dijon mustard
1/2 teaspoon sea salt
1/2 teaspoon freshly ground black pepper
1/3 cup Jerusalem artichokes or
sunchokes, peeled and thinly sliced 
4 cups wild baby arugula
Directions:
1. Preheat oven to 400 degrees. Line 2 baking sheets with parchment; set aside.
2. In a medium sauté pan over medium low heat, add the pistachios, maple syrup, cayenne, and salt. Cook, stirring frequently, until nuts are toasted and caramelized, about 3 minutes. Spoon onto one of the prepared baking sheets and set aside to cool.
3. Peel the beets and cut into eighths. Arrange in a single layer on the other prepared baking sheet and drizzle with oil. Transfer to the oven and bake for 30 to 35 minutes or until tender.
4. Section all of the citrus while the beets roast. Remove the peel and pith with a knife. Then cutting between the membranes remove each segment. Squeeze the juice of each citrus and reserve.
5. In a medium bowl, whisk together 1/2 cup of the reserved citrus juice, Dijon mustard, salt, and pepper. Slowly drizzle in the olive oil to combine.
6. To assemble, arrange the roasted beets on the bottom of a platter, arrange the shaved Jerusalem artichokes on top, then the segmented citrus, then the arugula, sprinkle the crushed glazed pistachios on top. Lastly, drizzle with the dressing
to serve.
You might also be interested in...